In the courtyard of the month of November, which means that it is time to sum up the results of 2012. That's the doing in London yesterday all those who graced the annual ceremony of British Fashion Awards 2012, which gives the awards for his achievements in the world of fashion in the United Kingdom. Under the cut list of winners in major categories and a review of the traditional red carpet ceremony.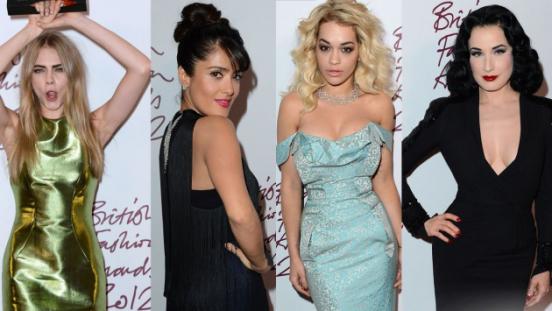 Designer of the Year - Stella McCartney
Designer Brand of the Year - Stella McCartney
Designer accessories - Nicholas Kirkwood
The designer menswear - Kim Jones for Louis Vuitton
Designer dresses for the red carpet - Roksanda Ilinchich
Model year - Cara Delevingne
Style Icon - Alexa Chung
Award for excellence in fashion - Manolo Blahnik
Salma Hayek appeared at the ceremony in the creation of his girlfriend and part triumfatorshy event Stella McCartney. In recent years, Stella moved away from some superminimalistichnogo style and began to create clothes with small elements and decorations in one of these and it was Salma. Black dress-holder decorated with fine fringes in an Art Deco 20s and completed a wonderful diamond necklace, lipstick fuchsia satin and the shuttles. I am happy with the image stylization, but terrible shoes here, unfortunately, do not apply.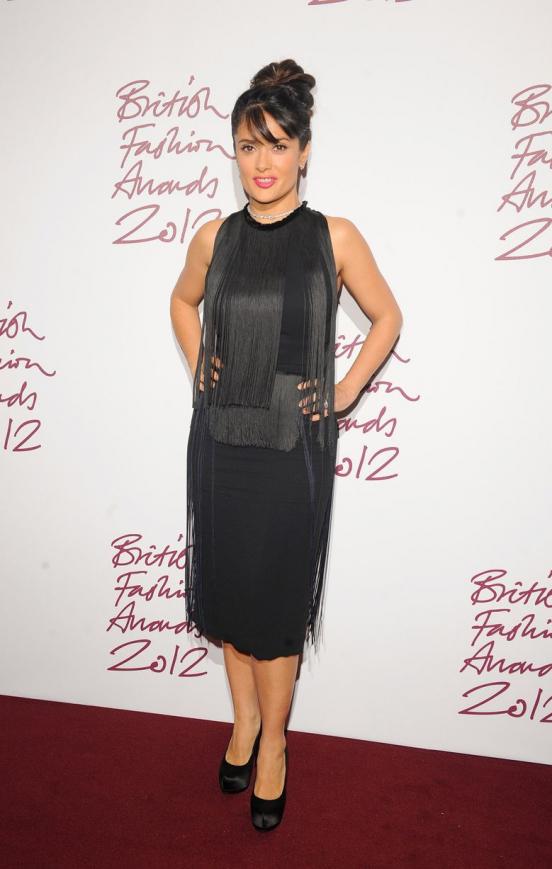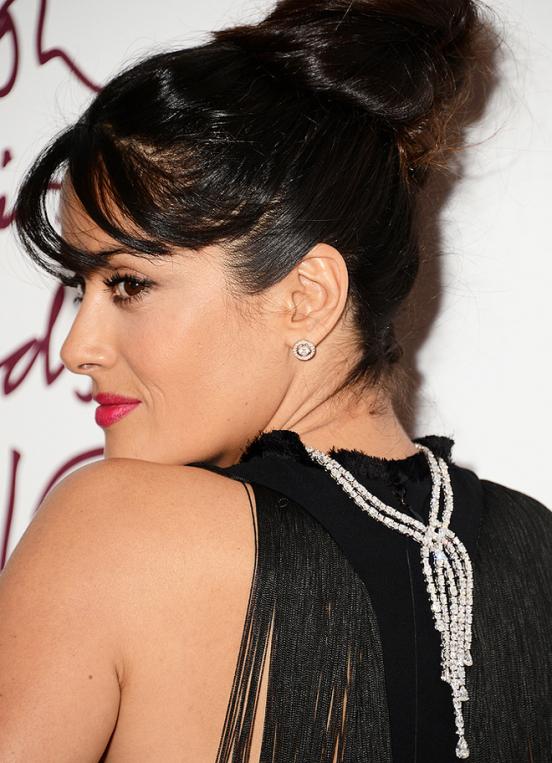 By the way, I came to the ceremony Salma sleek coat of white wool without any details. It was then felt corporate minimalist style of the brand Stella McCartney.
Although not the best outfit Pregnant Lily Allen just glowed with happiness. And this attitude and radiant smile is often more important than all sorts of dresses and shoes.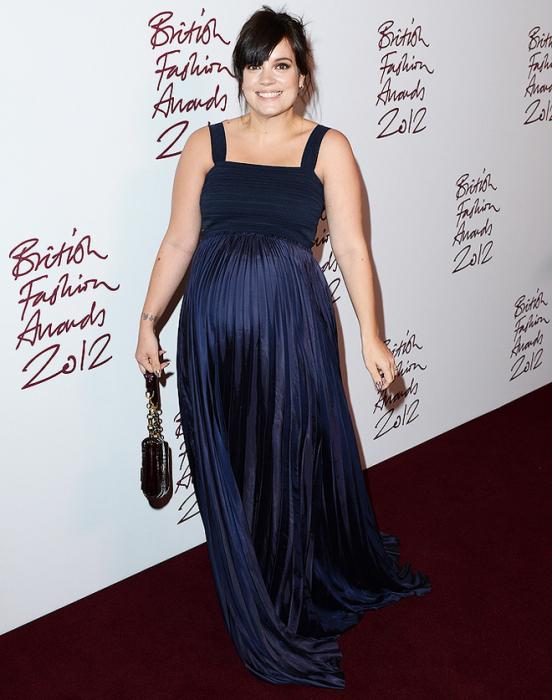 Amber Valletta - another fan of designer creations by Stella McCartney - chosen for the passage of the red carpet evening dress in the colors of autumn with a decoration in the form of drapery on the chest and light ruffles on the skirt. This dress - one of those outfits that just need the correct selection of accessories, otherwise the entire image will be ruined. In our case, stylists Amber fully coped with its task, framed color toilet "noble rust 'golden earrings with large stones to match the dress, golden sheath LV and blue satin sandals with ornaments. They were we, unfortunately, can not see, but they are there! The only negative attire Amber - a crumpled tissue, but it is an eternal misfortune of satin dresses.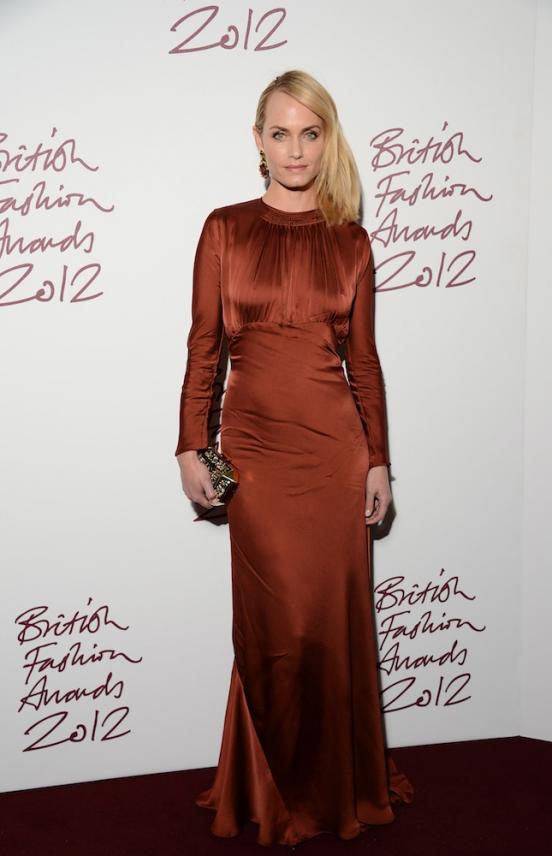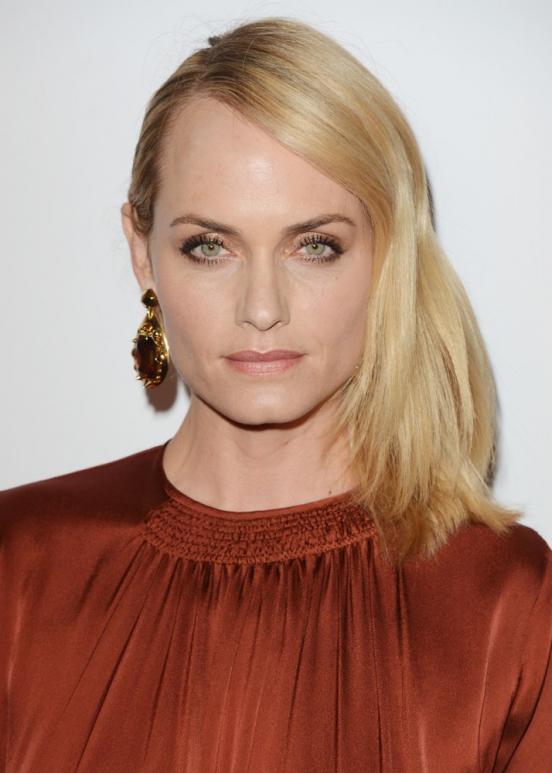 Dita Von Teese, as always, was great. Burlesque queen hardly changed its style, but its image by Jenny Packham looked very modern and had no explicit hint of retro style. The dress looks great, decorations on the sleeves and cuffs perfectly complement the outfit and add the image of multi-layered skirt solemnity. Corporate makeup Dita brings up the image of the absolute ideal.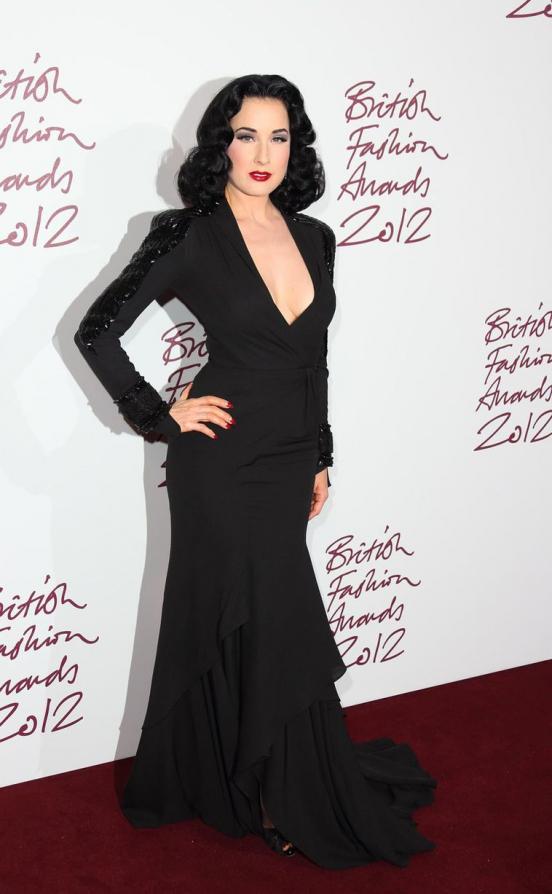 Dita and his admirer and friend Valentino Garavani good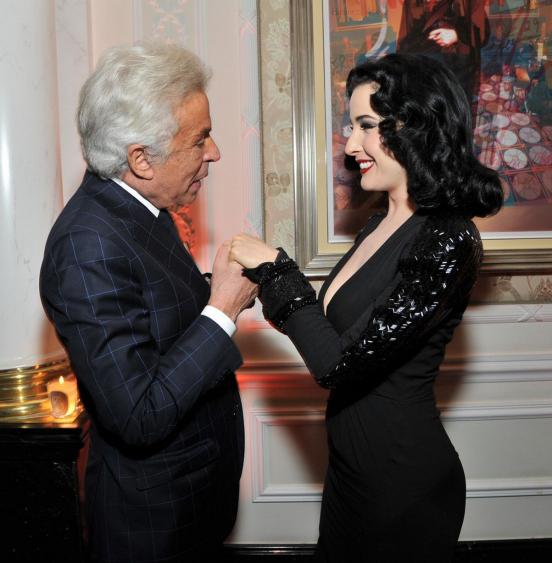 Yesterday's ceremony in London attended as well and special blue bloods - Princess Beatrice. The girl was very pretty floral print dress with a simple style without any frills. According to most of Beatrice, she wanted to create a very simple way, and therefore complemented her dress a small black clutch and black lacquer seed pans. I am not against minimalism and brevity, but these shoes have time to stop to let out because they have already namozolil our eyes.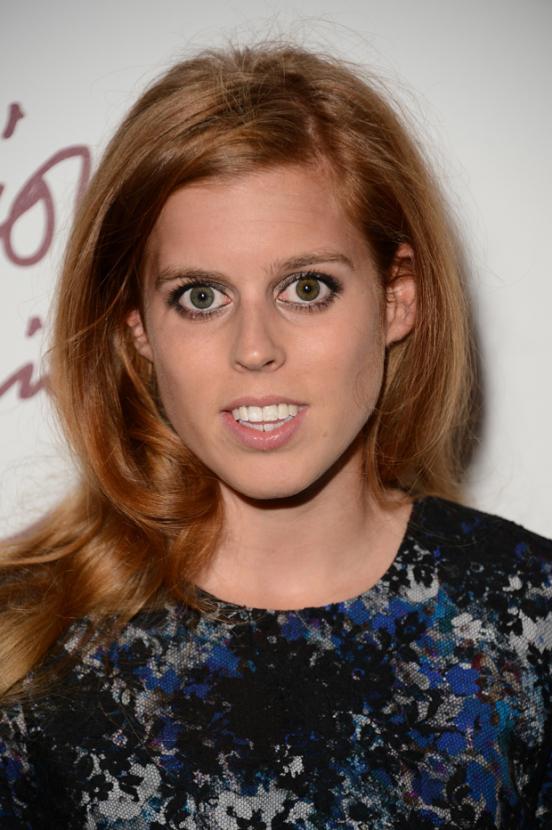 Amber Le Bon does not care about leaving the autumn and winter approaching and tried on a summer dress from rezortnoy collection Christopher Kane. Style of dress is very simple (no strapless, full skirt silhouette with a hint of style 50th), but the "pink" print in shades of brown looks very interesting. This picture reminds me of black and white roses from the collection of Lanvin, but looks much warmer and softer. Accessories were chosen for the dress rather strange principle, but in the end turned out good way. Nevertheless, I would still replaced silver for gold jewelry, that the image was united in its warm colors.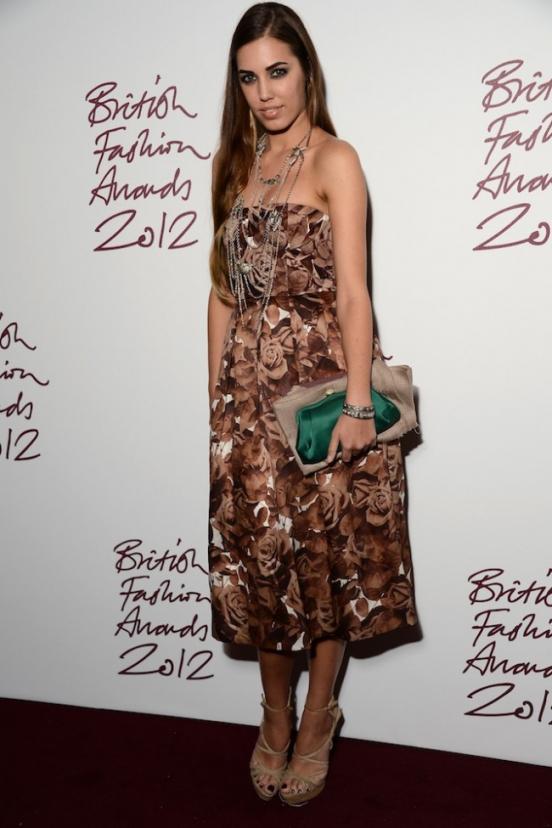 In my memory this is the first evening dress that looks great on Rita Ora. Icy-blue toilet with a print (I believe that this leopard, although I could be wrong) is very advantageously combined with platinum curls singer and emphasizes all the advantages of her figure. I like that superzhenstvennoe selecting a dress, Rita moved away from its corporate hooligan style with ornaments on the fabrics and original styles.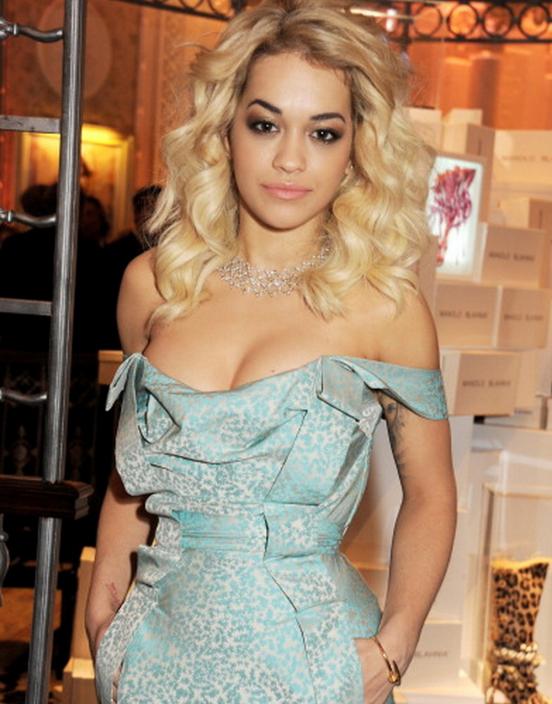 Creation Vivienne Westwood - not the only way in which shone in the night Rita. Later, the singer donned an ensemble of light cardigan with pearl collar and white pants with arrows (which, incidentally, would not hurt a little shortened). The image could be considered superklassicheskim, if not futuristic holographic leather accessories. That is now a successful mix of styles.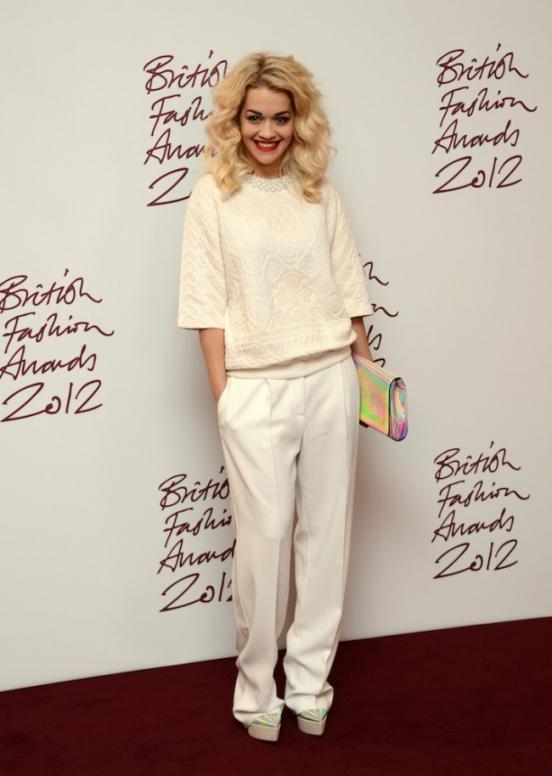 And here is the one who for the third time in a row takes home the award for "Style Icon". This, of course, on Alexa Chung and her lovely dress Simone Rocha. Despite the fact that the images of 29-year-old Englishwoman always very controversial, I can not not mention the fact that they look almost always very interesting and original. I especially like the way Alex picks accessories. That whoever thought of this supplement lace dress boots with embroidery? Yes, no one! We would once again got ugly boat lacquer or satin. In general, I personally believe that the award Alexa once again got it deserved.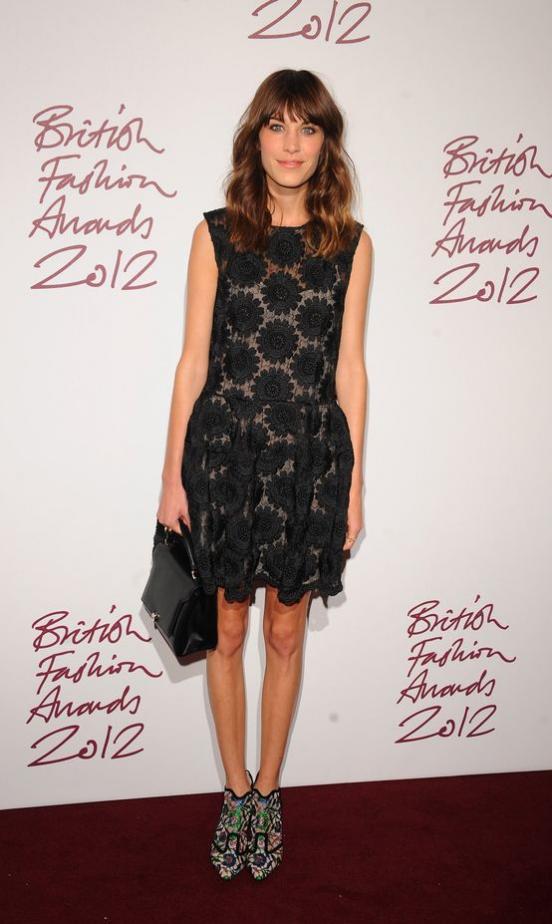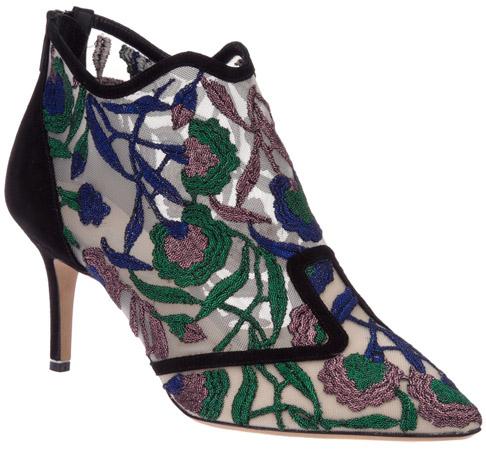 Gemma Arterton in Stella McCartney. I'm not the first time I've seen this suit on the red carpet (before that same worn Shailene Woodley at the 2012 MTV Movie Awards) and I really like this classic with a hint of sexy. First of all, this dress creates a stunning silhouette, and this is a 50% success rate. The remaining 50% should take the accessories, which is the problem here. I'm not sure that the holographic shoes - this is the shoe that is ideal for overalls and the orange bracelet obviously got there by mistake.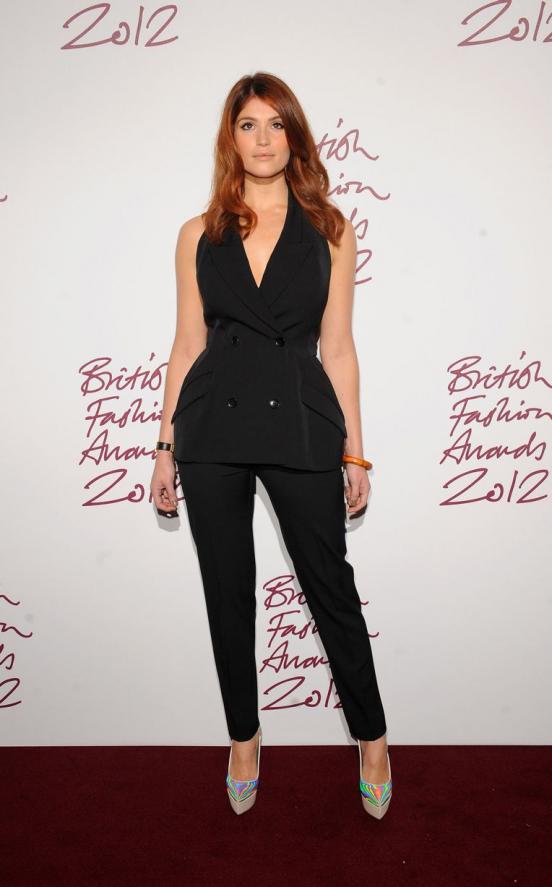 "Model of the Year" Cara Delevingne received their reward in the form of the spring collection of Burberry Prorsum. Young Englishwoman chose a gown of metallic leather lime green and pretty python shoes, also with a metallic sheen. I really like the way, and how it looks Kara. And, yes, I really like her eyebrows.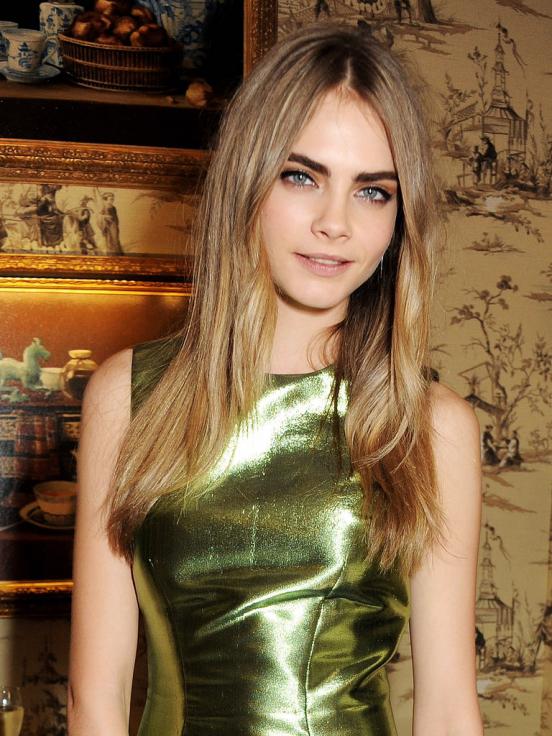 Kelly Brook did not izgalyatsya and wore to the ceremony a simple black dress of medium length, 3/4 sleeves and seductive neckline. And no wonder that even in this modest apparel, it looks brighter than many on this red carpet.
Pixie Geldof at Jonathan Saunders. The image of the controversial, though not devoid of charm. Personally, I do it like most colors as red and blue make an excellent combination with leopard print. But on the style and silhouette I doubt - very much cut this dress like the one worn by the Soviet Union in the mid-70s.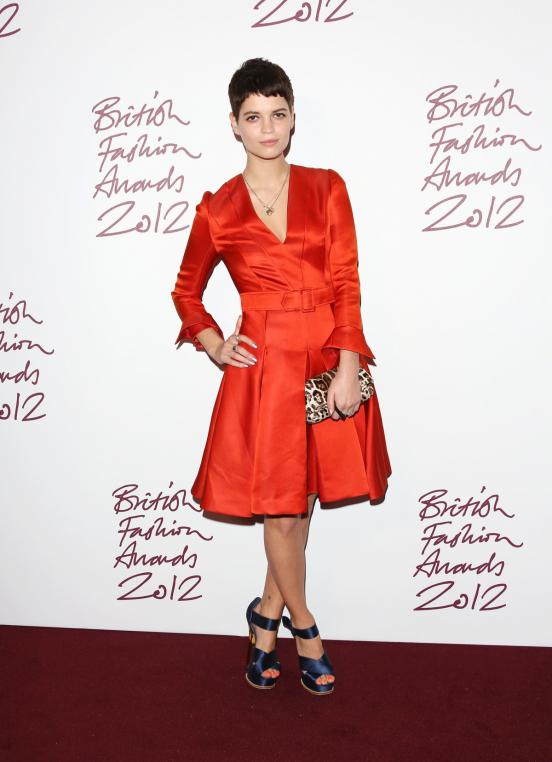 Lily Collins transformed into a kind of vamp, dressed in black long dress with leather elements and spikes on the straps. The important role played in this image Accessories - original gold earring, wine lipstick and nail polish with a metallic sheen. I like it.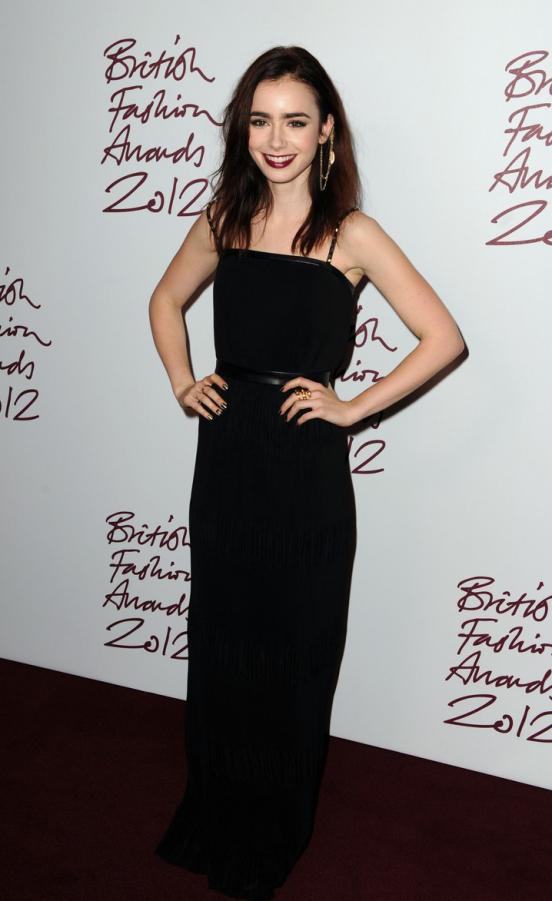 Lily and her boyfriend Jamie Campbell Bower. It turned out very harmonious couple.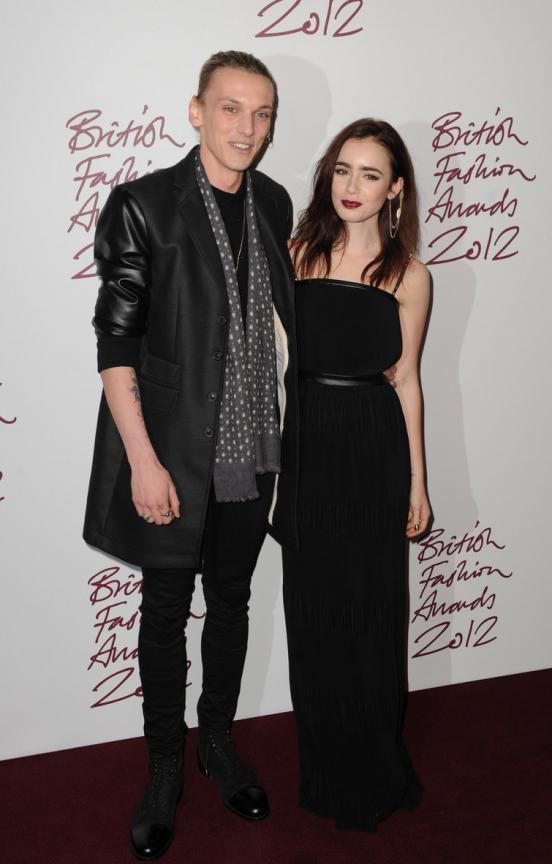 The winner of two prestigious awards ceremony Stella McCartney, as usual, appeared on the red carpet in a dress of their own design. At Stella wore a black strapless jumpsuit with a shimmering finish on the side seams. This outfit stands out from the crowd of cocktail dresses, but I'm not quite sure how advantageous it presents a female figure. Silhouette is very, very controversial.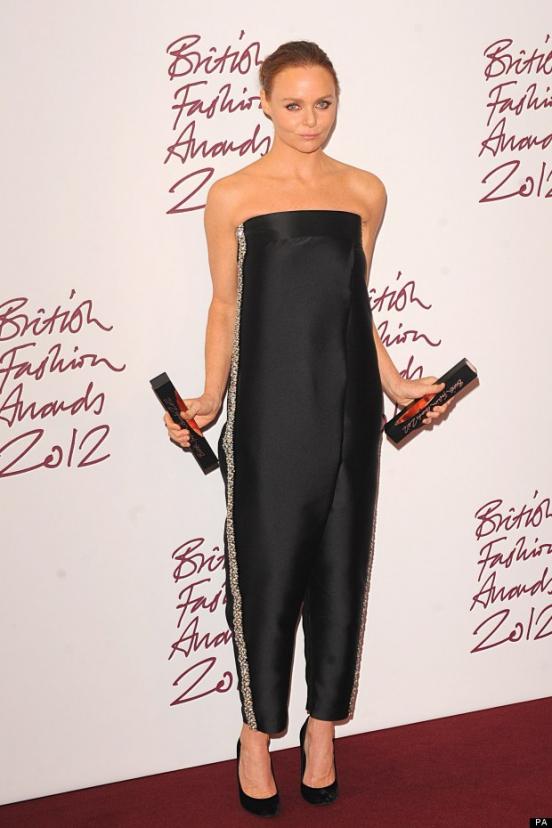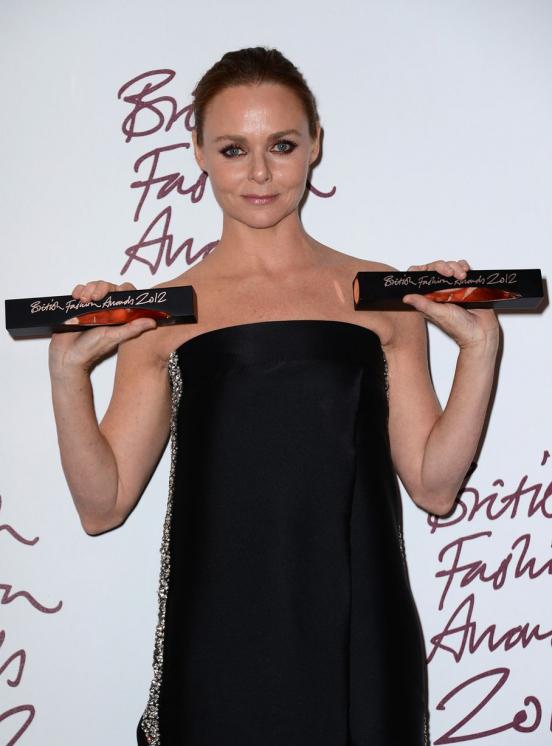 And here is the designer Roksanda Ilinchich, which has become the best designer images for the red carpet. In fact, this year we have seen a lot of her dresses design on all sorts of activities, but did not even know the name of their creator. I'm not talking about getting to know him in the face. Incidentally, the outfit, which was chosen for the ceremony Roksanda different from those in which she wore his star clients. In the past, there is virtually no discernible decor, although the presence of contrasting volumes and color combinations on the face.
Among the clients listed Ilinchich and royals and famous actress, and ... Lady Gaga.