The careful and very attentive to the child before its birth is to practice every expectant mother. Kate Middleton is already demonstrates that it cares about the health of her daughter, which she wears under her heart. The Duchess does not appear in the tummy squeezing dresses and affect fetal position high heels. Her choice - the most modest wardrobe, mainly composed of the free clothes and shoes with a small heel and lifting.
Furthermore, the whole of England, with bated breath, waiting for the event. There were a lot of unpleasant rumors that Kate can not have a child, and so lingering expectation is understandable. Even prophesied that soon the prince with her divorce, but still something so like the tabloids did not happen. Instead, Kate and William with smiles on their faces said that waiting for the firstborn. It happened on December 6 last year, on the threshold of the hospital King Edward VII, where Middleton was taken after an acute attack of morning sickness.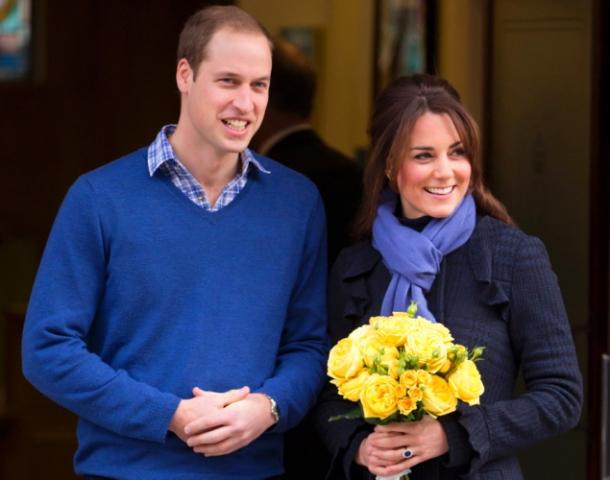 During pregnancy, Kate attended a variety of charity events. Speaking for a healthy lifestyle, in February, she made an attempt to direct on his own path of women whose life revolves only around drugs. Of course, the example it can not show how to break out of this vicious circle, but it can tell us how there was her destiny, and how they can change their. Action Princess that night chose a gray dress Max Mara.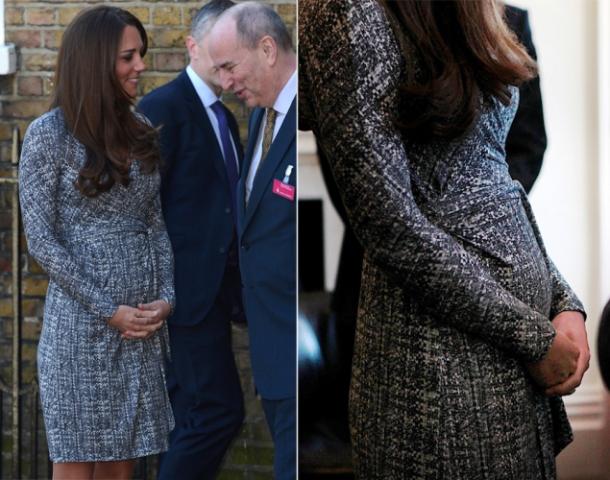 Fresh as a May rose. Kate in a cream coat, worn over dresses with a democratic label Topshop.
The sudden appearance of a high-ranking person in the «Cheltenham Festival» caught many by surprise. Someone was happy to see Kate, someone skeptical staring in her direction (apparently just do not admit it), but it did not change his style and came to the races in an elegant peach coat of Joseph, Stuart Weitzman boots and hat beloved Betty Boop. In the first months, many slender girls unable to hide his position, but after the 6th tummy growing "by leaps and bounds».
"And she really pregnant?" - Asks the majority. In March, Kate was still reed and no sign of pregnancy but it liquid as apples, cheeks were not. Moreover, it is perfectly picked up the clothes so as not to attract undue attention.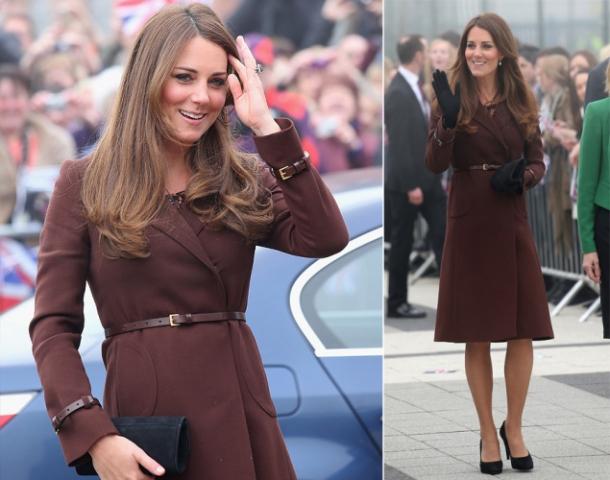 On St. Patrick's Day, accompanied by husband Keith appeared in dark jade coat.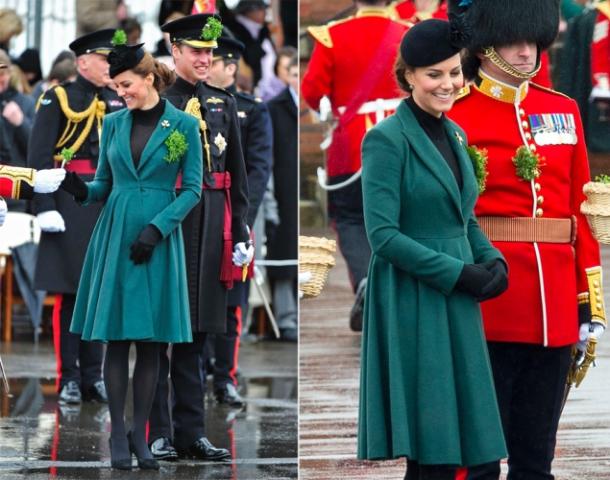 Scottish cage appeared just to the place in Glasgow, where the royal couple came to look at the arrival of riders and support their compatriots.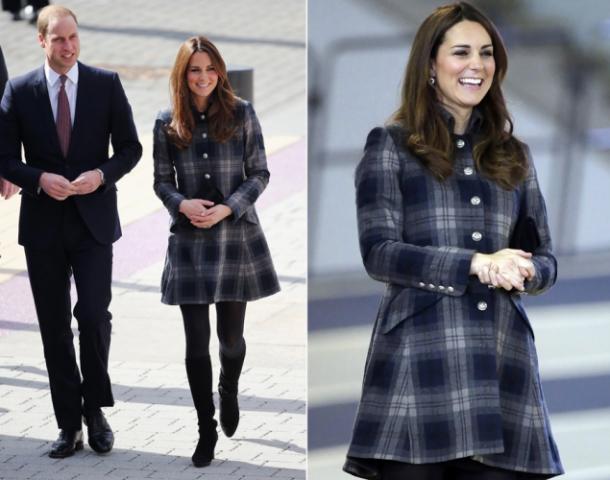 As always refined ensemble Kate showed the world in celebration of the 150th anniversary of the London Underground.
After a series of celebrations pregnant Duchess visited the camp of scouts in the classic skinny, rubber boots and a khaki jacket.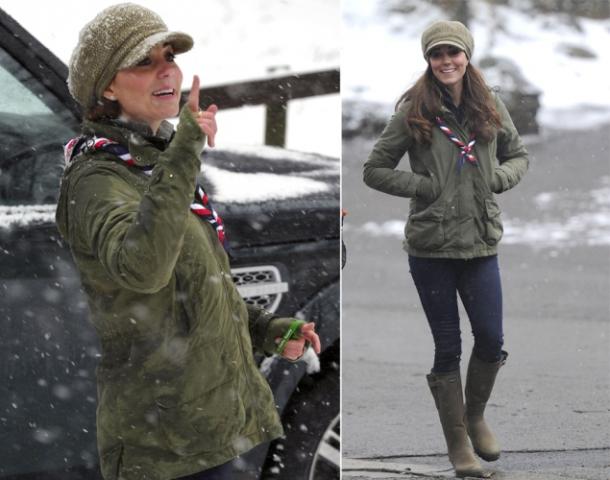 Continuing the tour of Scotland, Keith decided to add their appearance of brightness. In a good mood the driver delivered the princess in Ayrshire.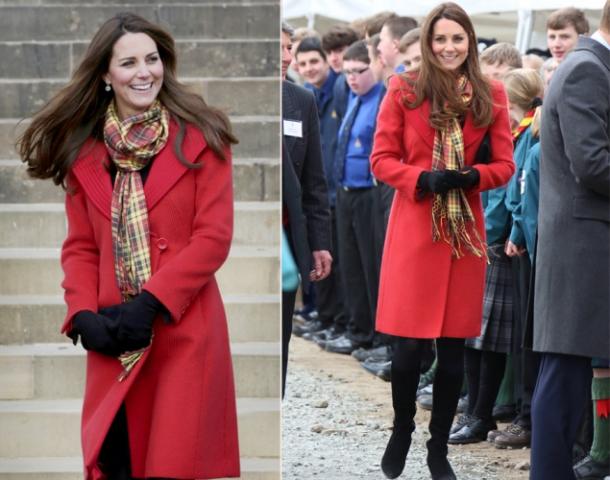 And here is the 6 month to reveal all cards. Kate appeared in a gentle coat Mulberry.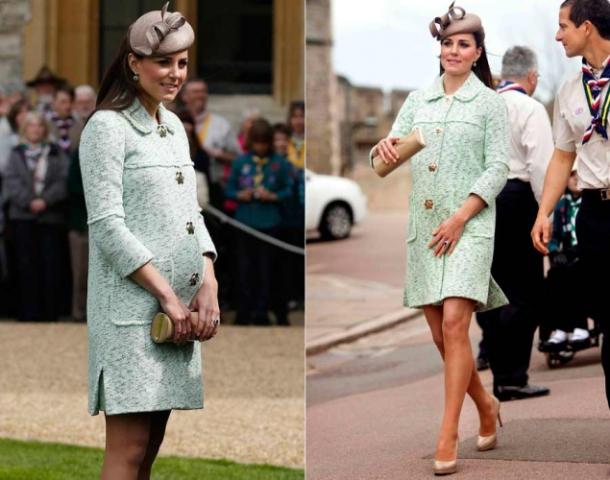 In late April, Kate visited «Willows Primary School» in Manchester. Especially for kids who like interesting prints, Middleton wore a light dress krasnochnoe Erdem.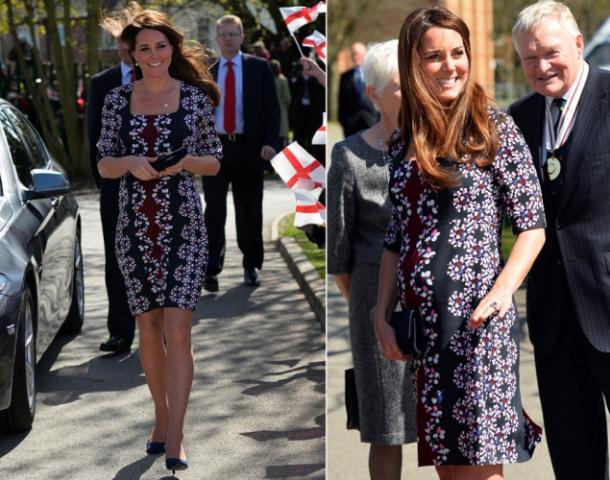 On a more official receptions she chooses plain things. For example, a sleeveless dress Emilia Wickstead.
During a visit to Warner Bros. Studios Middleton wore a playful polka-dot dress, which supports a fitted black blazer and clutch / shoes to match.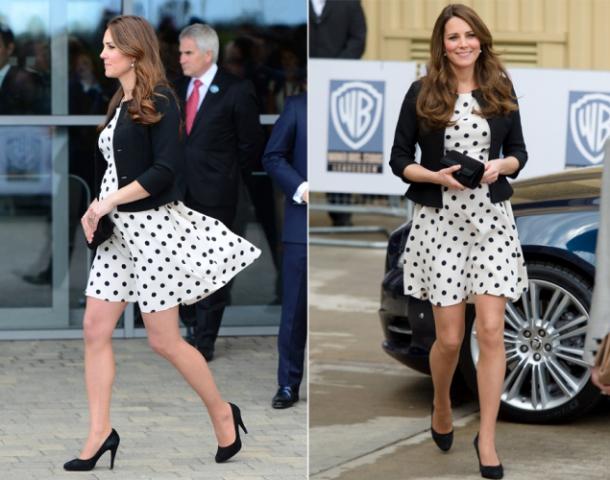 As a bright ray of sunshine lit up by his presence, Kate is the large garden of London, owned by the grandmother of her husband, Elizabeth II. She was glad to see his granddaughter happy mother, but still forbidden to call future daughter Kate Diana, as originally intended.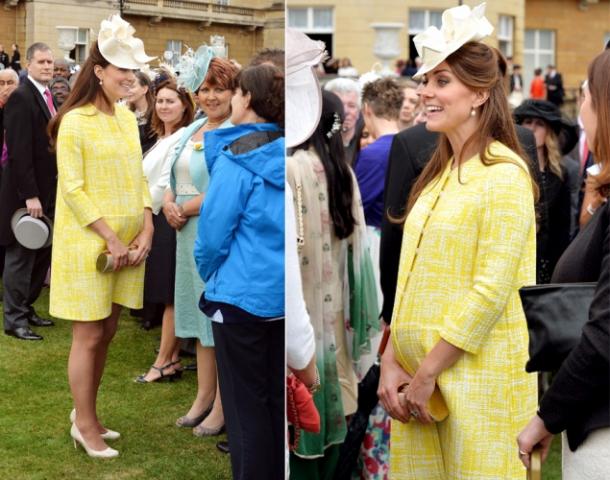 Kate, William and Harry in a hurry to celebrate the 60th anniversary of the coronation of Elizabeth II (Grandma is very punctual, which is required from the other). Dresses in pink still hint at what will be the girl, not a boy, as a dream Uncle Harry.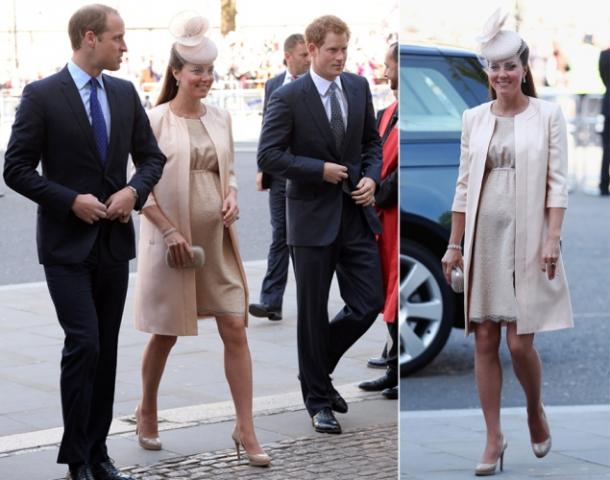 One of the latest outputs Kate was not the best. Apparently the Duchess so worried before birth that she wanted to protect themselves from anything and everything using animal prints. A little aggressive and not her style, but it is permissible.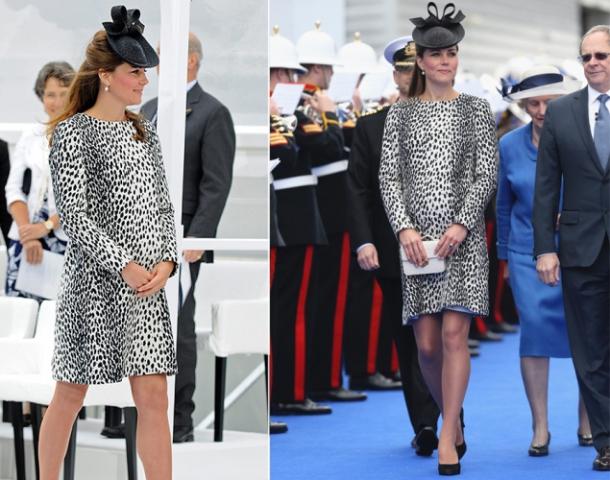 Last public release in pale pink coat Alexander McQueen was flawless. Very soon, namely in the next month should appear in three people in line to the throne. Who will it be - a boy or a girl - remains a mystery, but the man must inherit the beauty and the mind of Kate and William's courage and determination and he sure will be a great governor of his state.