From the words of the author: In the Burj Al Arab, I was invited to the presentation of New Year's menu. Administrators were called at five main editors of the countries where most tourists come to Dubai. The demonstration took place in the most expensive room. Royal Suite impression - two floors of rich decoration - but most of all I remember the most expensive cocktail Burj Al Arab, which includes real gold ...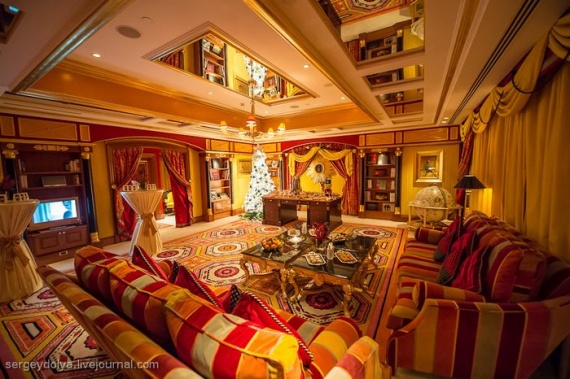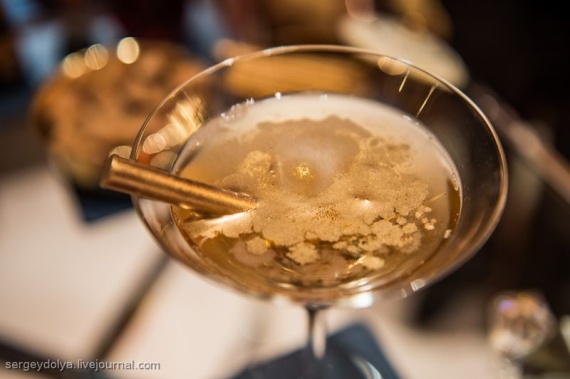 In the elevator rank of butlers: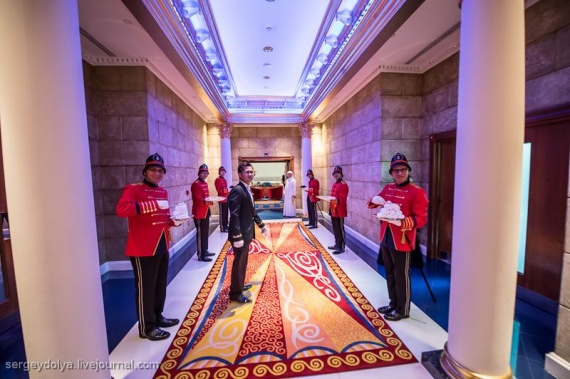 At the door, visitors are welcomed by a beautiful girl:
This is the number itself: in the same corridor, the hotel staff - noted that the prevailing European officials: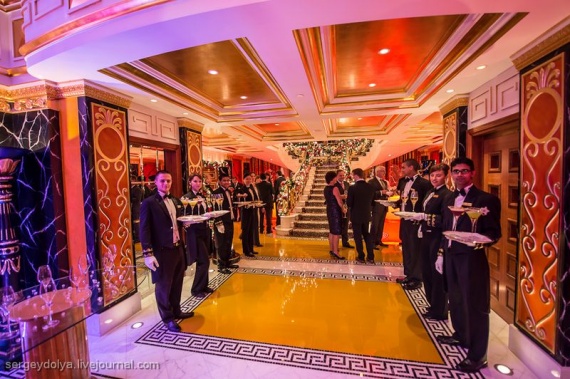 The bartender prepares the most expensive cocktail worth 1500 euros:
In the glass, inlaid with Swarovski crystals ...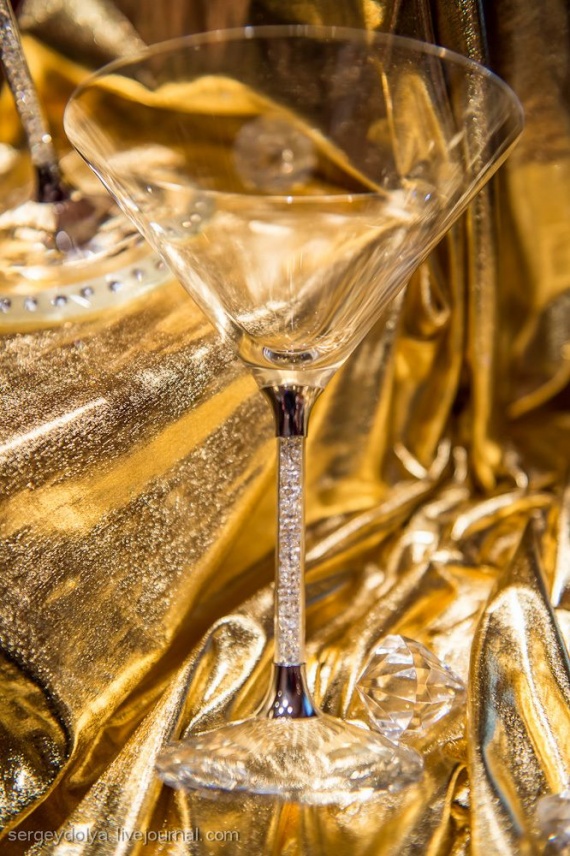 ... Put a sugar cube soaked in bitters and Jerry Thomas' Own Decanter ...
... Then poured insanely expensive cognac in 1906 and ...
... Filled with all the champagne:
In the bottle, by the way, floating pieces of gold leaf eating:
Ends cocktail golden sugar stick. Solution, it forms a thin gold film.
It's a classic cocktail with champagne and cognac and favorite cocktail Coco Chanel. By the way, it is present in the new menu Aeroflot (only without the gold and crystals, of course):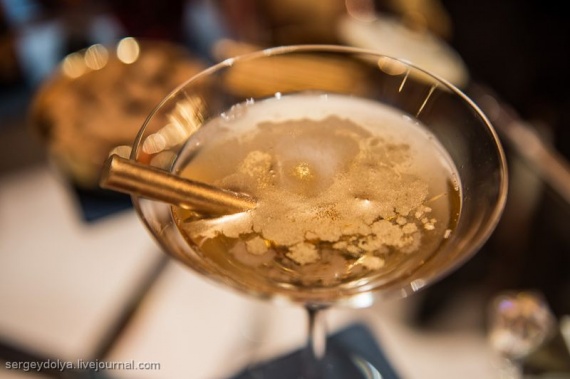 Royal Suite, as well as all the rooms in the hotel consists of two floors. In the first few rooms, where you can invite guests and organize receptions. In each room there were chefs, each of which offers its own course - someone oysters, some pasta with fresh truffles. This dessert in the form of gold bullion: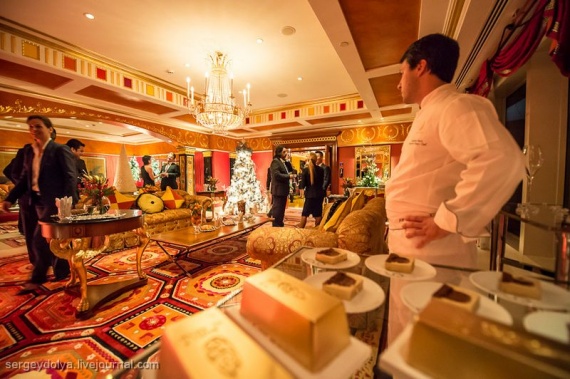 At every step of Christmas trees: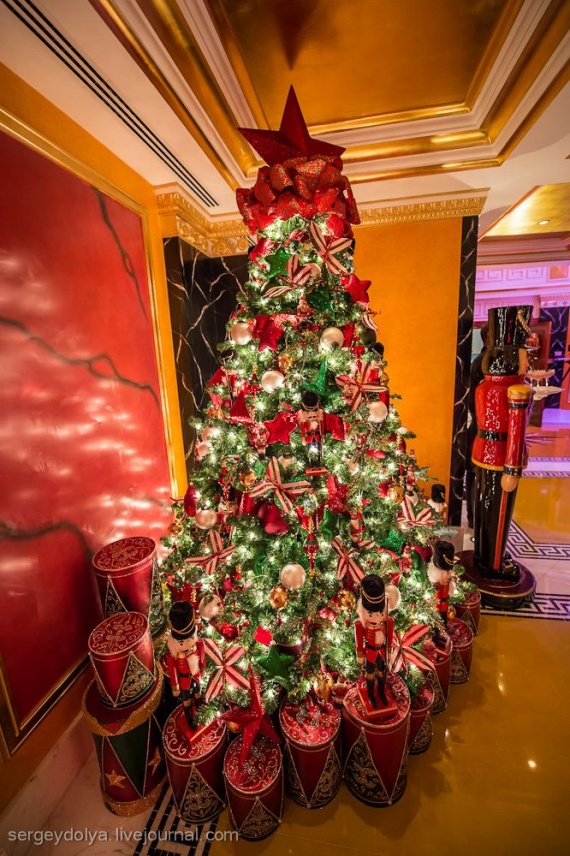 I liked the white: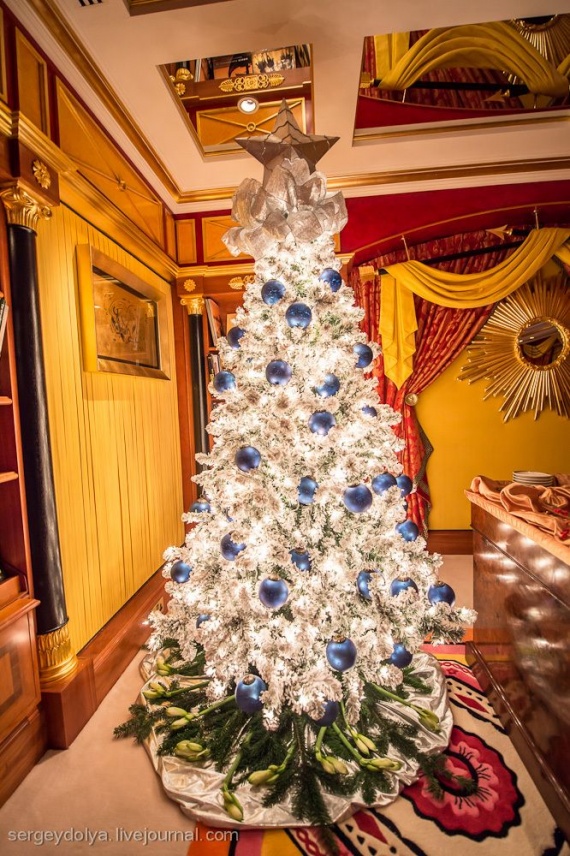 And so it will lay the table for new year and Christmas - Nutcracker, turkey, and, of course, gold: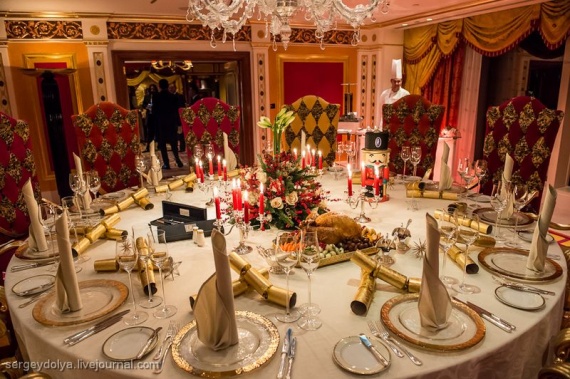 Fresh truffles, brought the day before: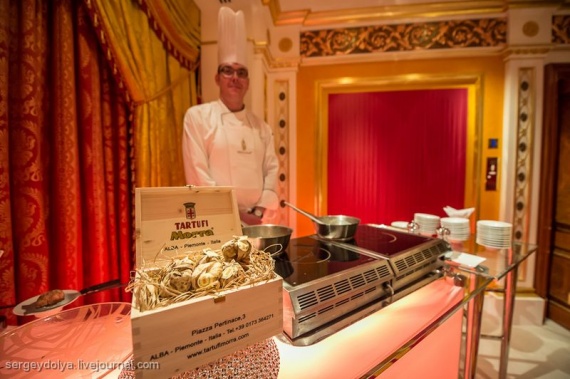 Stairs to first floor: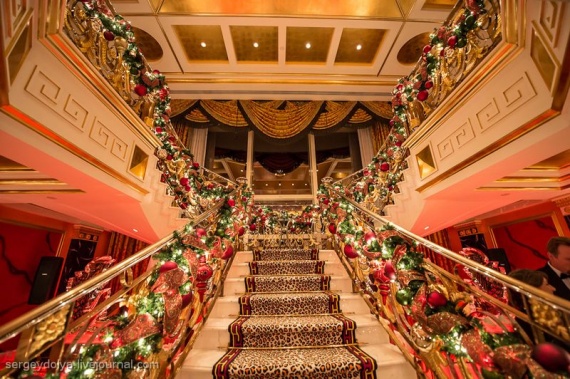 The whole evening musicians played classics:
The main room on the second floor - bedroom, there is a bed the size of a children's carousel. A comparison is further enhanced by the fact that the bed is rotated from the remote: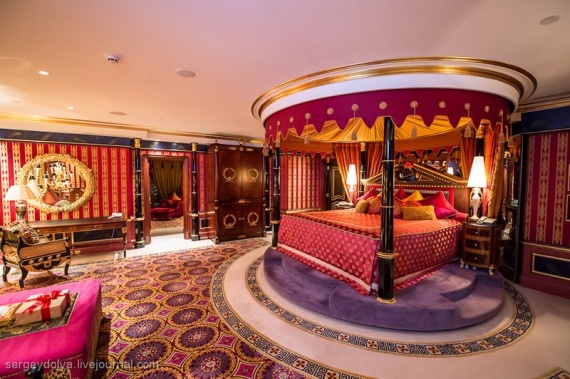 Dressing with excellent views of the city. Officially, it is the 25th floor, but given that all rooms consist of two floors, in fact, the fiftieth: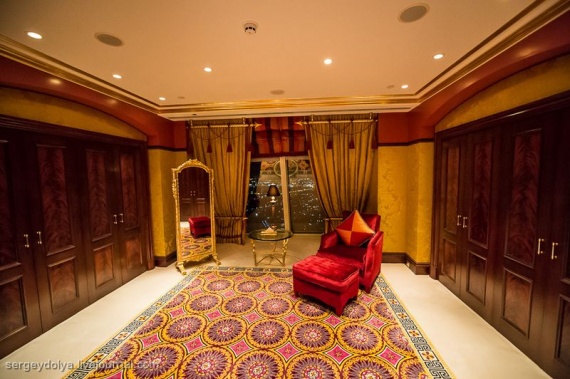 Bathroom Royal Suite: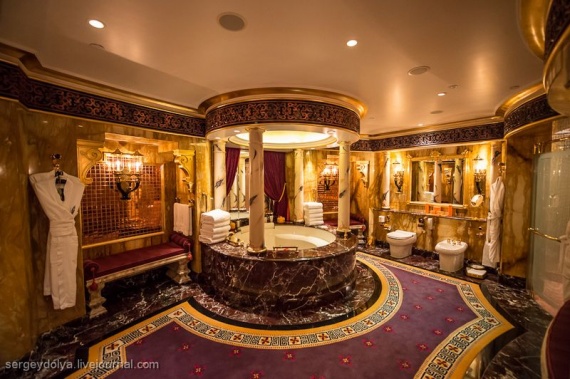 Another room on the second floor, in front of the second bedroom: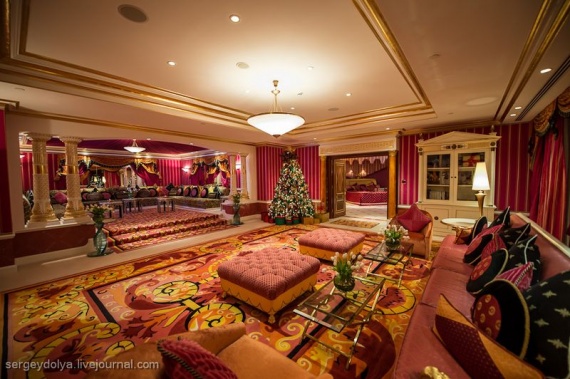 The second bedroom. There is already a bed rigidly mounted: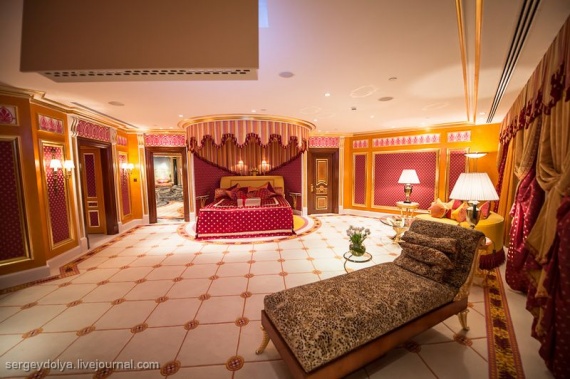 Second bathroom: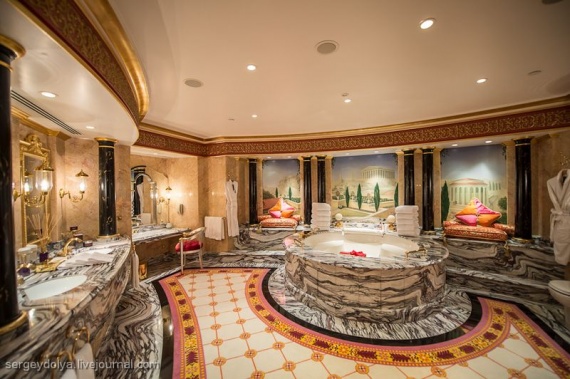 Is the general manager of the hotel:
- Burj Al Arab in anything that looks like gold - and there is gold. But the most important thing is not the decoration of the rooms, and the service and care that we offer to each of our guest: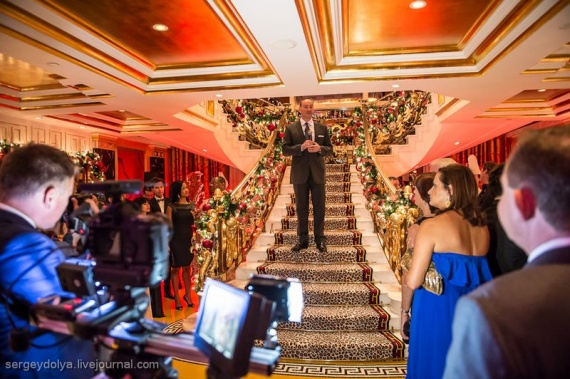 Another option herringbone:
Nutcracker: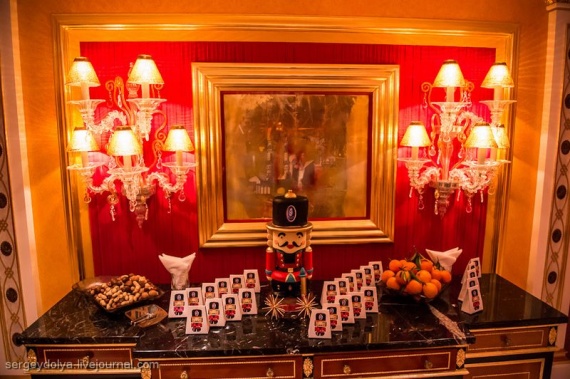 Fresh oysters, brought the day before the event from France: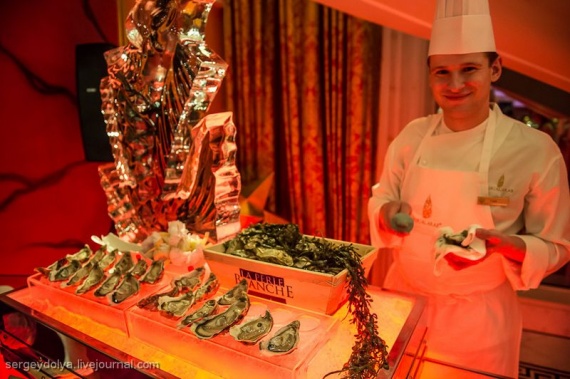 Delicate, delicious salmon: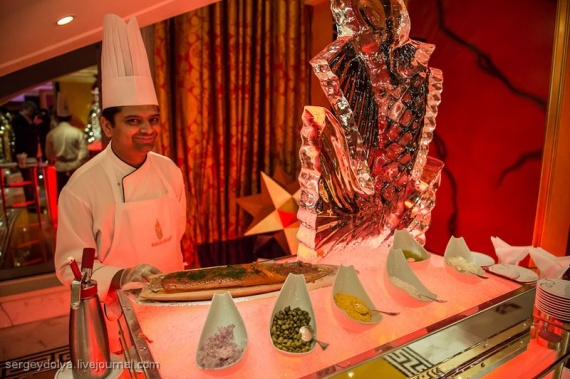 And finally, the cost of the rooms is the easiest number will cost 80 thousand rubles a day, the most expensive - Royal - half a million:
Source: sergeydolya.livejournal.com