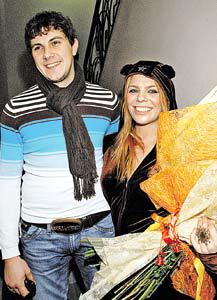 - Twenty-five years - the date of the round, as the will to celebrate?
 - I have a small apartment, and come at least twenty people: beat all the dishes, spill wine on the wall. Therefore, I note at the restaurant. No fireworks and the show will not be. I only invited friends and relatives will not be any stars.
 - Do not friendly with colleagues?
 - Like it did not happen. Communicate, but my friends from the institute and those with whom I played in the theater.
 - Recently, you had disappeared somewhere. The doing now?
 - My brother, actor Mike Paul, going to shoot the movie. I plan to have a brother to play. And the new songs we write. Rather, it is a question for my producer Philip Kirkorov. Of course, I have concerts, tours, but nothing new in the works not occur. But recently I got a call. Said Philippe said on the radio that I was in love with him, but he turned me down, so I told him almost mschu. I can tell you, it was really, but do not want to shock people. Maybe I'll write a book about it.
 - The book will only Kirkorov?
 - The brightest moments, crazy, crazy and terrible in my life was, of course, Philip. Four years next to the man of the past, like ten.
 - You were in love? Oh, admit it ...
 - I was fascinated by them. Philip can be sweet and at the same time a tyrant. He once confessed to me: "Nastya, I - UFO!" And he's in the right, because people with incredible energy that can mesmerize others besides him there.
 - Is it true that Pugachev was jealous?
 - Alla - a smart man. And that's all - just a part of show business. People need those stories where there peppercorn scandal. I just have this image was formed - red beast that took away Philip from the family. But I do not back away!
 - And someone saw you in the days of "Chicago" kissing passionately on the plane ...
 - (Laughs). We do not kiss with Kirkorov, unfortunately. I was a child and on what not claimed.
 - But Philip was fascinated by you?
 - He wanted to show that he is not only a singer, but also a good producer.
 - Are you for many years close to the actor Alexey Sekirin, best known for the TV series "Happy Together". They say that you've been married ...
 - Officially, no. But we secretly married. Now I have the time, the contract with Kirkorov finishes in a year, so I want to have a baby.
We want a boy and a girl, in general, as God wills.
I'm very good, comfortable with Lesha. This is my second half. He knows me more student Nastya Stotskaya. And then I'm not looking for anyone. In December, there will be six years, we are together, and I can not imagine anyone else beside him.
 - Alex is jealous of you, probably ...
 - No. I do it sometimes say, "Well, porevnuy that be!" (Laughs.)
 - A curses? How he reacted to the fact that the scandalous photos with your house party hit the press? Yes, and how they got there?
 - It is very cloudy history. When I saw them, the first thing I thought how my parents would react. My friend and photographer stolen laptop, which contained these pictures. Of course, the reputation because of them I have bad. But I'm not a drug addict! It was a simple house party and nothing more. I did not need not call, we just "lit" at home. Someone climbed into my private life, and it is - a crime.
*TVNZ*