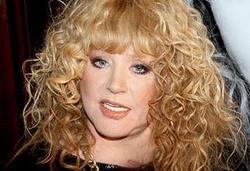 Alla Pugacheva has long intrigued the public unique relationship with Maxim Galkin. A couple of years ago, there were even rumors of the star couple's wedding. Then Alla denied the rumors, but now it can be considered as a married woman.
Sensation took place on the set of the show "Two stars", "Komsomolskaya Pravda". Galkin, as they say, not very much laudatory epithets diva awarded their former husbands Eugene Boldin and Philip Kirkorov.
"Well, thank God, her husband Eugene Boldin number three and number four husband Philip are satisfied," - the beginning of his speech Alla.
But here Alla Borisovna interrupted Maxim Galkin. "But I am not happy! Number five is dissatisfied! "- Said the jealous husband. Alla Pugacheva has managed to hush up the conflict, saying "Five," a compliment.
Maxim trick again led to the fact that Pugacheva began to torment questions about marriage. Someone even said that a diva is a wedding ring again.
However, information on the status Alla denied.
"Again, put the stamp in the passport? I do not want, do not want to! - she said. - What if the person next to me, who for several years, then consider that I'm married ».
A source