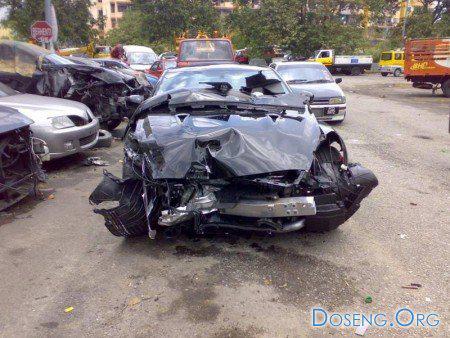 One of the residents of Malaysia, apparently, decided to demonstrate the strength of his body supercar Nissan GT-R: after a strong head-on collision of the car is damaged only the front part, but the cabin remained intact.
This is the second case when the driver is unable to cope with the management of Nissan GT-R: in January a resident of Hong Kong crashed his supercar in the trash.
Apparently not fall into the wrong hands, these two cars. If the wheel of Nissan GT-R gets a real professional, the results of its drive please. For example, recently the journalists edition of Car and Driver was carried out a test-drive version of the American supercar, and that's what makes a performance Nissan GT-R:
Acceleration to 60 miles per hour (96, 56 km / h) is 3, 3.
A quarter of a mile (402 m) passed for 11, 5 at a speed of 200 km / h.
Maximum speed is 307 km / h (cut-off worked at 7000 rev / min).
The length of the braking distance (from 122 km / h to 0): 44 m.
Fuel consumption during test: 15 liters per 100 kilometers.