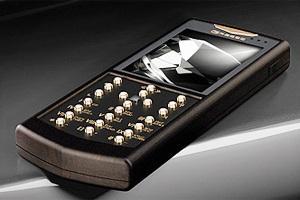 The company Gresso, known in the circle of the most wealthy people as a manufacturer of ultra-expensive luxury cell phones, on the Russian market its new collection - White Diamonds, which has become the most luxurious and most expensive collection of the brand.
All phones White Diamonds are made of extremely beautiful and rare material - African Blackwood, which age is more than 200 years. Function keys The device is made of Gold using ultra-precision turning technology (the technology in the world has only a company Gresso), which allows to achieve high precision and impecable shape of each detail. The keys encrusted with dazzling white diamonds. Frames the screen with durable sapphire crystal of 42 carats. The keyboard also has a special titanium coating, scratch-resistant, which was developed and patented by Gresso, and the back cover is made of stainless steel and decorated with leather.
It is known that the presentation of the new collection Gresso will be held in the framework of the International Economic Forum in St. Petersburg, which will be held from 6 to 8 June 2008. World elite will feature 2 models - Royal White Diamonds and White Diamonds.
The pinnacle of craftsmanship can be called a limited edition of only 200 telephones Royal White Diamonds. "Royal" model worth 33,000 euros decorated by 23 function keys, made of gold and encrusted with magnificent white diamonds weighing 2 53 carats. It is noteworthy that for the first time on a mobile phone keypad Gresso used Roman numerals.
The series phones White Diamonds White Diamonds are encrusted with only four navigation keys, total weight 0, 44 carats. All other function keys are made of Gold using ultra-precision turning technology. The cost of phones from the collection of White Diamonds much lower - 9,000 euros. On the front panel of both models phone decoration became an inset of gold in the form of a triangle, and the back panel is crowned gold logo of the company Gresso.
By the way, from the collection of phones White Diamonds, in addition to the elegant appearance and have excellent technical characteristics. Their assembly is given special attention: the phone is created by craftsmen. The back cover of the phone, which is closed to a special magnetic clasp is made of stainless steel. The handset is equipped with TFT-display size of 240x320 pixels, displaying 65,000 colors. The phone supports three standard GSM 900/1800/1900, GPRS (class 10), Bluetooth 1.2, a synchronization with your PC. The device also boasts an operating system, Windows Mobile 6 Standard, 64-tones polyphony and a 2-megapixel camera.