The new device of HTC Diamond Series Touch, one of the first devices on the market that combines high-tech perfection, intuitive controls and great design.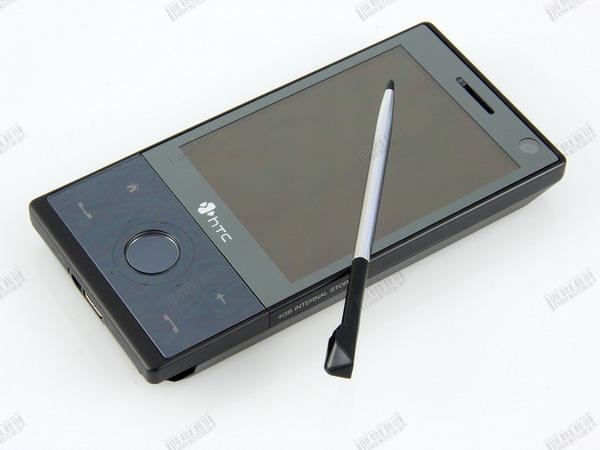 We are all accustomed to the fact that such a clever device as a Windows Mobile device, should look strictly, but with the release of the model HTC Touch Diamond, these stereotypes are crumbling. It must be said that the experiment of HTC with the launch of a functional device with inherent design image model failed. For instance, a test batch of smartphones HTC Touch Diamond in the amount of 50 pieces were sold online shop in just one day. So quickly did not sell phones Apple iPhone even when they are first placed on sale. By the way, even packing HTC Touch Diamond says that a company with a lot of love and attention reacted to his new offspring. Even a standard USB cable bundled with your device is made in the spirit of the HTC Touch Diamond.
Communicator HTC Touch Diamond is enclosed in a stylish lacquered body with elegant facets. A feature of HTC Touch Diamond is a touchscreen TouchFLO 3D interface with the effect of light vibration when touched, responding perfectly to your finger gestures when scrolling through contacts, while working in the Internet and run multimedia files. Also, the device boasts a VGA-display, 3, 2-megapixel camera and GPS-module. Communicator HTC Touch Diamond is designed to work in networks GSM / GPRS / EDGE (4 band) and UMTS / HSDPA / HSUPA (7, 2 Mbit / s), is equipped with two 8-inch VGA-display, processor Qualcomm MSM7201A processor with a clock frequency 528 MHz and 4 GB of internal memory I which can be expanded with memory cards microSD. Communicator HTC Touch Diamond runs on the operating system Windows Mobile 6.1 Professional, has a built-in GPS-receiver and FM-radio. From wireless modules, there are Wi-Fi and Bluetooth 2.0. Dimensions HTC Touch Diamond comprise 99x51x10, 7 mm.