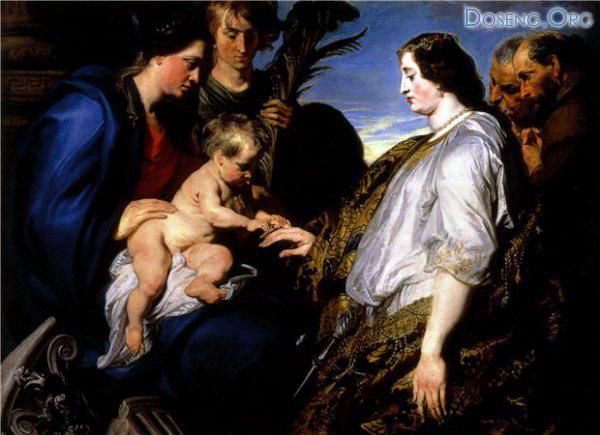 Anthony van Dyck was born in 1599 in Antwerp in a pious family of merchants. Anthony, like his brothers and sisters, received a good education. In addition to the Flemish language, he owned Spanish, Italian, French and English, knew the history, theology and culture of the world. His art education began in the boy of 10 years in the studio of Hendrik van Balen, the famous Antwerp artist. In 16 years, Van Dyke has had his own workshop.
In the 1618-20 biennium. He worked as an assistant to P. Rubens, was strongly influenced by his lush, full-blooded brushwork. Varying elaborated Rubens images and techniques, Van Dyke gives the heroes of his paintings more elegant appearance ("John the Baptist and John the Evangelist"). However, the true vocation of the artist was the portrait genre. His talent is outstanding portraitist manifested already in his early works ("Family Portrait»).
At the end of 1620 Van Dyck went to England, where he worked for some time at the court of King James I. King appoints him "annual pension", but to stay in London Van Dyck did not want to. After reading the royal collection of paintings by famous Italian artists, the artist in 1621 he left for Italy - to complete his artistic education.
It took more than six years Van Dyck to study Italian art. He traveled to Rome, Naples, Turin, Palermo, Florence, Venice, Genoa, and even in Sicily. At this time, it produces and perfects the type of ceremonial portrait Baroque, which play an active role posture, posture and gesture of man ("Portrait of Cardinal Bentivoglio G."). For a long time the artist lived and worked in Genoa, where he created a gallery of brilliant formal portraits of urban elite (paired portraits: the old Genoese and his wife, the Marquis AJ. Brignole-Sale and his wife Paolina Adorno). At the same time Van Dyck created acute evocative images of people of high intelligence and creative giftedness ("Portrait of the sculptor F. Duquesnoy"). In total, Italy Van Dyck was written over a hundred paintings.
In the 1627-32 biennium. Van Dyke again lived in Antwerp, occupying the position of court painter Archduchess Isabella. These years were the highest for the period of the artist's creative heyday. He continues to work in the genre of the portrait ("Portrait of Marie-Louise de Tassis", "Portrait of the painter F. Snyders') creates a religious and mythological compositions (" Rest on the Flight into Egypt "), provides a unique edition series of engravings" Iconography Van Dyck " consisting of one hundred portraits of famous contemporaries.
In 1634 Van Dyck was elected dean of the guild of painters of Antwerp, which was the undisputed recognition of his brilliant talent. However, the artist at that time was far from the native land. In 1632 he went to England, where he won a seat main painter at the court of King Charles I. King surrounded by Van Dyck unprecedented honor and even granted him a knighthood. In London, Van Dyck lived in extraordinary luxury: Keep servants, carriages, horses, musicians, singers and clowns who entertained him titled visitors who came to pose for portraits.
In 1639 Van Dyck married maid of honor to Queen Mary Ratven. In 1641 they had a daughter Justinian.
Years spent by Van Dyck in England, were filled with great difficulty. During this time they were created about four hundred paintings, including more than 35 portraits of Charles I («Portrait of Charles I on horseback", "Charles I on the hunt," "Charles I in the three angles"), 20 portraits of the Queen and their children. Among the best recent works by Van Dyck - "Self-Portrait with Endymion Porter," "Portrait of George. Stewart," "Portrait of F. Wharton," "Portrait of T. Chaloner».
Hard work and social life, takes too much time and effort, led by Van Dyck, brittle by nature, serious illness. December 9, 1641 the artist died and was buried with pomp and circumstance in the ancient church of St. Paul.