On the night of Wednesday, 28 October, near the southern part of Japan, there was a collision of two large ships - the Japan Self-Defense Force destroyer JS Kurama and civil ship Carina Star from South Korea. The vessels came under a bridge linking the Japanese main island of Kyushu and Honshu in the narrow Kanmon Strait, said the representative of the Japan Coast Guard Seishi Izumi.
Injured three sailors from the destroyer - one received injuries, two smoke swallowed.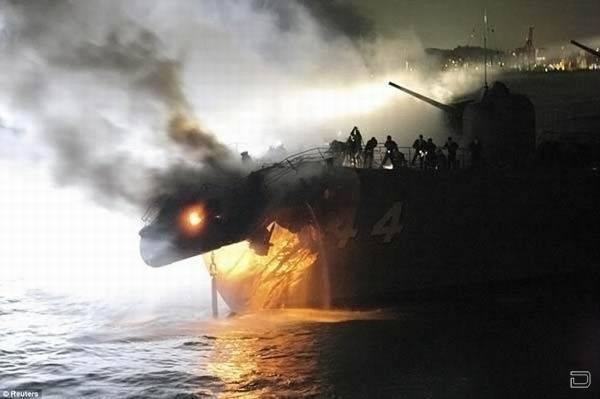 None of the 16 crew members of a South Korean ship was not injured.
Team container ship with a displacement of 7400 tons quickly coped with the fire, and went on, but the destroyer suffered much more serious - he destroyed the nose of the fire could not be put out in a few hours. The fire was localized - but only just. Presumably, the ship caught fire with combustible material warehouse.
The destroyer continued to move, but the exact extent of the damage is only to be classified as a state of emergency otsenit.Poka professional negligence.
On board the destroyer is 360 sailors. He went to the home port, on the island of Kyushu, Sasebo. Defense Minister Toshimi Kitezoa gathered an emergency press conference and expressed regret at the accident and promised to find and punish the perpetrators, the AP reported.