The use of turf geogrid, for decorating Parking lots and flat roofs allows you to create extremely beautiful and attractive faces of the adjacent territory to the building. Also this kind of solution will allow you to obtain a wonderful terrace and will give more practical restore the lawn after the placement of vehicles or temporary stay of objects. It also allows you to receive certain benefits and opportunities in the formation of the plane of the pitch.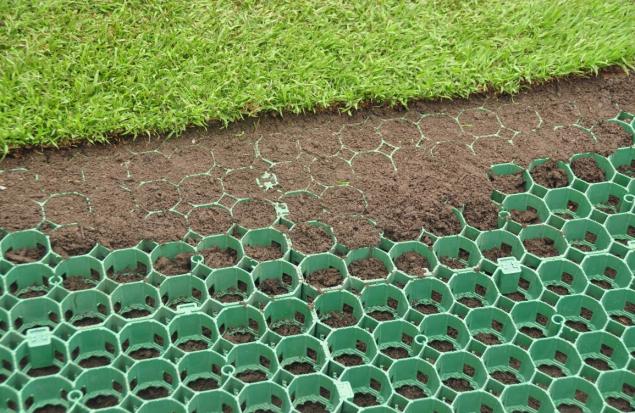 Main advantages and technical possibilities of the use of turf geogrid
In the modern world the major part in the regeneration of the surrounding area is lawn and for its formation there are many solutions. An excellent example can be selected lawn geogrid. It will be a quality example protection and is able to offer a number of advantages to the usual planting of a lawn, namely:
solid polymer structure that allows to hold the root system without damage;
structurally located cells that allow you to create an additional frame for the subsequent recovery and reconstruction of the lawn;
easy mounting design allows for placement of the item on their own, in any soil or existing coverage;
environmentally friendly materials based on lattice, will not affect the fertility of the soil, and will not destroy its structure.
These criteria allow us to talk about the practical use of turf geogrid and that the optimal cover on any area of the site or area of the Parking area. It is also possible to note significant opportunities to embed the lawn geogrid is not on the hard-Packed soil, which does not allow to bend the whole structure and as a result sink to the lawn. This is achieved through tight frame and three-dimensional solutions for each of the cells based on solid polymer.
What is the difference of flat and lawn geogrid
The main difference between the two constructive solutions will be the method of placement and technical capabilities. in the case of flat geogrids, we can talk about the use of material for road works and the formation of bulk plane of the soil. Because it allows you to keep loose materials and form a Foundation for the relief of the terrain. But in the case of lawn geogrid, will form a certain layer of the root system of the lawn, protecting plots systematically located above the covers and giving a reason not to violate the integrity of the structure. This solution also allows to distribute the load from a just formed layer of the turf evenly on the ground.