Women's hair and feet should always be in good condition. If the first still can be hidden in the beam, then the second needs special care. Chipped nail Polish or broken nail can ruin even the most stylish way. And Yes, if your manicure has long been poor, it is unlikely that you expect success and recognition.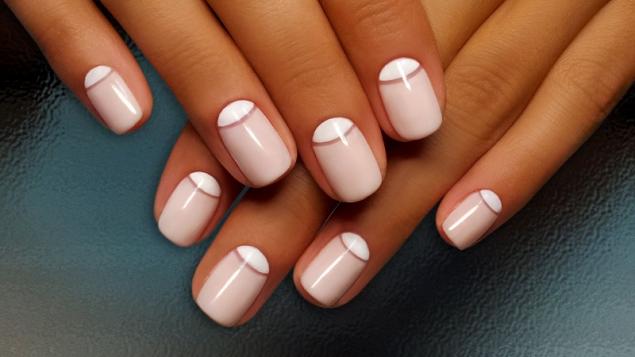 This does not mean that you need every day to go to the manicurist and to empty your wallet. Edition
"Website"
will tell you about the 13 tricks
of home nail care
. Your friends won't even realize what you do the manicure herself.
A perfect manicure
Softening cuticles
Cuticles always need to remove, in fact it makes the manicure is ugly. But your fingers don't turned into a bloody field, it is necessary to take care before to cut. Dip your fingers in warm water for 5 minutes, then gently push the cuticle orange stick. Next, prepare emollient, mix 3 tablespoons of body lotion and one tablespoon of olive oil. Warm up the mixture in the microwave for 30 seconds, apply on cuticles and then put on gloves or even warm socks and leave on overnight. Hands will look well groomed, the cuticle will become pliable and you can easily remove it.






The whitening of the nail plate
Often bright coating leaves nails with a pigment that does not take away the means for removing nail Polish. But don't worry, there is a great way to get him out. Scrub the nails with a brush and toothpaste to foam. Leave it for 1 minute and wash away.




Removes dead skin
You need to follow not only for nails but also for your hands. She was gentle and nourished, make a simple scrub. To do this, mix sugar, coconut or other oil and add a few drops of lemon juice for a mild bleaching effect. Apply, massage, leave for a few minutes and wash away.




The ideal application
To deftly correct deficiencies when applying paint, get a thin brush. With its help you can easily distribute a varnish on the edges of the nail plate or remove errors, moistened it in liquid varnish remover.




Another secret to a perfect application
So as not to spoil the skin around the nail before applying the varnish put on it, vaseline or any cosmetic oil. Clear error will be very easy. Can also lubricate the skin around the nail with white glue. Then you can easily remove all the excess.



The right nail file
To prevent nails from kailis and well grown, use only glass nail files. No wonder they are used in most good salons.



Reanimation of a broken fingernail
With salons mend a broken nail with silk and a special gel. In the home can safely use tea bags. Cut a piece the required size, and follow our instructions.



Whitening nails
If frequent cover bright varnish or any other reason your nails turn yellow, is a great way to bleach them. Prepare a mixture of 1 tbsp. hydrogen peroxide and 2.5 tbsp of baking soda. Gently treat her nails. The tool will have a bleaching effect and will return to the nails natural color.



Degreasing of the nails
To varnish went smoother and held longer before the manicure should be to degrease nails. To wipe them with a tool for removing the varnish, even better, vinegar.



Drying of the varnish
If you use regular paints, you know how long you need to wait until they dry out. But if pressed for time, then use the following hack. Just dip your fingers in cold water for 5-7 seconds. Just bear in mind that water should be very cold.



Quick-drying
There is another method of quick drying varnish. Just sprinkle it hair, not wishing to ready manicure. In addition, this trick prolongs the life of the coating.



Matt varnish
Matte finish nail for several seasons in fashion. Everyone has long known that to make glossy nail Polish matte, you need to blow the hot air dryer on the nails. But in order not to overdry the skin, we advise you to prepare a matte top coating. To do this, simply mix clear Polish and starch.



Hand protection
To have a manicure you happy for a long time, always use rubber gloves while cleaning and washing dishes. regularly wet and nourish the skin.



With these simple and effective tips your hands will always look well maintained. Share useful information with friends in social networks.
Now everyone can publish articles
Try this first! To WRITE an ARTICLE the Author

Oksana Dudnik Loves painting, ready to admire the pictures all the time! Oksana knows a lot about perfumes, well versed in fashion trends and will give odds to many well-known beauty bloggers. Her love of sport supported by sports category in sailing! Xenia prefers meat dishes, can not imagine a day without them. Favorite book charming girls — "the Emperor" Niccolo Machiavelli.