Not so long ago, such notions as nail trends or
tendencies in design of nails
, almost non-existent. Now it's a whole industry, and experienced craftsmen are able to create on your nails are real works of art. So today stylish spring manicure is not limited to red nail Polish or French. On all the main trends of the pores of love and flowering will tell you the edition of
"Site"
.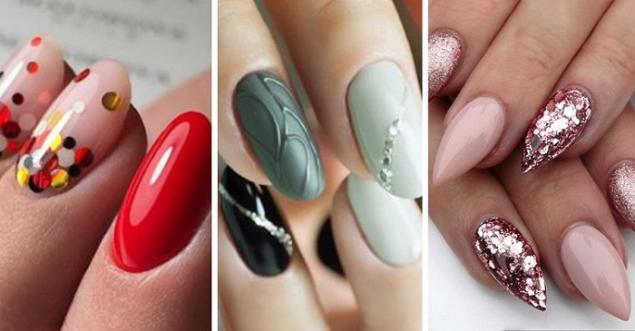 Before moving on to the trends of the manicure, note that now held in high esteem not only short nails natural form, as it was last year or two. Pay special attention to the
almond-shaped nails
medium length look very elegant and do not interfere in household Affairs.
Spring manicure
What could characterize the spring better than the first flowers? These drawings look very gentle and fresh.




If the quiet colors don't match your mood, feel free to choose shades of Burgundy or purple, and the flowers can be made from rhinestones or stickers. Don't overdo it with shiny elements, so as not to look cheap.




Designers around the world have declared pink the main color of the coming spring. So use all of its shades-and-match among themselves.




Geometric patterns are still fashionable.




Imitation drops of morning dew says that very soon there will be warm days.



If you love very bright colors, then make sure the transitions were smooth, and colors are combined.



Sky blue wonderful complement bright outfits. This is a great replacement for the usual by sudovym shades.



But without nadovich shades can't also do. This is the most versatile manicure that will surely fit any image. To prevent nails looked very dull, you can paint a few gleaming with varnish or add drawings.



The holes always look good.



The effect of broken glass has already won the hearts of many fashionistas.



Matte coating is also in trend. Only you need to dilute it with other textures. The main requirement for a matte manicure — perfectly flat and smooth the nail plate.



This nail design looks very spring and just shows that everything comes to life.



Experiment with with French. It can be elegant, bold or bright.



The drawings in the form of insects, or their wings will also be in trend.



Golden manicure looks very noble and, no doubt, very fashionable.



Spring is the season of love. Cute hearts will convey the mood of the season.



Fans of black nails is also not left behind.



Shining stripes will complement any color and will decorate both long and short nails.



Another option gentle manicure, from which emanates the spring.



Don't be afraid to experiment! Another proof that the French can be varied.



I must say that the manicure 2017 impresses with its diversity. This eccentric images and light light and rich glow. Stylists this season has greatly expanded the usual boundaries
of nail design
. To look fashionable, combine shades of nail lacquer and images and create your own, unique style.
Tell us in the comments what kind of manicure do you prefer more — a classic or bright and unusual. Share samples of spring manicure with girlfriends!
Now everyone can publish articles
Try this first! To WRITE an ARTICLE the Author

Oksana Dudnik Loves painting, ready to admire the pictures all the time! Oksana knows a lot about perfumes, well versed in fashion trends and will give odds to many well-known beauty bloggers. Her love of sport supported by sports category in sailing! Xenia prefers meat dishes, can not imagine a day without them. Favorite book charming girls — "the Emperor" Niccolo Machiavelli.