According to expert estimates, about 5 billion plastic particles floating in the oceans today. This is enough to fill almost 600 aircraft Airbus.
Getting rid of such a large-scale pollution at first glance it seems too difficult. However, in the near future will be launched a project designed to improve the situation.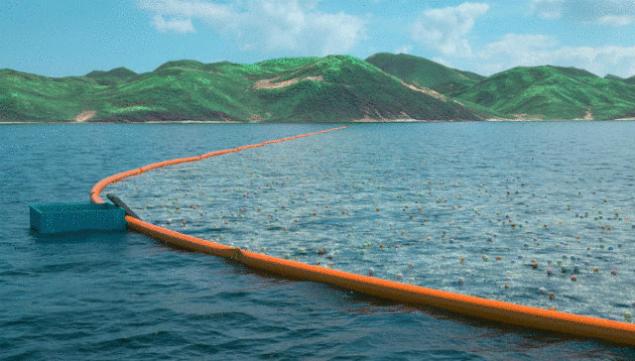 The concept called Ocean Cleanup ("Clean ocean") should start in the second quarter of 2016 in the waters between Japan and South Korea.
This system was developed by a group of researchers under the guidance of Dutch Slat Boyan (Boyan Slat), 20-year-old founder of Ocean Cleanup. Like a huge checkbox in the ocean floating structure will be the longest ever deployed in the ocean.
Slate managed to collect for the pilot phase of 2.1 million US dollars. Also his brainchild was recognized as the winner of the 2015 Designs of the Year.
The original idea was that the longest floating spirals collected particles of plastic floating in the ocean. The system is in some sense passive, as the plastic waste to the spirals themselves are pushing sea currents. And as the Ocean Cleanup platform located on the surface of the water, it will not cause appreciable harm to marine life.
The Ocean Cleanup system will be deployed off the coast of Tsushima island in the Korean Strait. Experts believe that about one cubic meter of dirt for every resident each year falls from Tsushima in the ocean, and this prompted the Japanese government to find innovative solutions to problems.
The length of treatment facilities will be 2 kilometers. For comparison, the previous record for length among other floating structures, Tokyo airport, Mega-Float, stretched just a kilometer.
However, this is only the beginning: over the next five years, Slet plans to create a 100-kilometer system near the Great Pacific garbage spot.
According to the developers, this method of struggle against plastic waste will be 33 times cheaper than existing methods.
"Trash, polluting the World ocean, is one of the biggest environmental problems facing mankind, says Slet. – Our system will not just cleaning the first array that contribute to the maintenance of clean waters and shores. It will also be our first step to getting rid of the Great Pacific garbage spot. The first deployment will allow us to explore the efficiency and durability of the Ocean Cleanup".
Detailed description of the technology, which continues to be tested by the creators is on this project page.
In August 2015, Boyan and his team are planning to hold a "mega expedition" (Expedition Mega), which will hit the waters of the Pacific ocean from Hawaii to the United States. To participate priglashyonnye volunteers who speak English.published
P. S. And remember, only by changing their consumption — together we change the world! ©
Source: www.ecology.md