British premium brand Aston Martin has already tested himself in the role of manufacturer of environmentally friendly cars two years ago. Then the British, in close cooperation with German Corporation Bosch has presented a pilot version of a hybrid modification of the DB9 coupe. On the show car at the time, it does not matter, but the German firm has tested whole range of its security systems.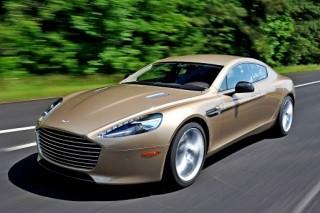 Recently it became clear that Aston Martin up for the membership in the eco-segment being taken seriously and going to try again, only this time with another model and in a more fashionable trend. According to the publication Automotive News, Aston Martin is preparing at this time a pure electric vehicle on the basis of the four-door coupe Rapide.
About the intentions of the producer mentioned in an interview, the Executive Director of Aston Martin, Andy Palmer. According to him, the implementation process under the hood Rapide electric power plant will not be tied to the change generation model coupe will have the same database in the current generation. Moreover, the determined time is not long, the electric car should be available by the end of 2017. Moreover, in creating power base the British are not going to use the help of his new business partner Mercedes-Benz.
At the request of Mr. Palmer, whose words translate into Russian we have helped a translation Agency perekladach.ua electric installation total impact of 800 HP, the British built themselves. It is also known that the car will definitely be AWD, and power reserve on a single charge of the battery reaches 320 km from the Pre-head of the firm announced the price tag of the future electric Rapide – about 250 thousand dollars. For a coupe with a conventional engine are now asking for the minimum of 205 thousand. The circulation of the electric version should not exceed 300 vehicles per year, but for Aston Martin and this figure seems large luxury brand many models are generally released individually.
It is already known that the battery for the new Aston Martin will develop one of the Korean manufacturers – either LG or Samsung, which had previously agreed to the development of batteries for the new electric crossover Audi Q6. published
P. S. And remember, only by changing their consumption — together we change the world! ©
Source: zeleneet.com/aston-martin-vypustit-lyuksovyj-elektromobil/33239/