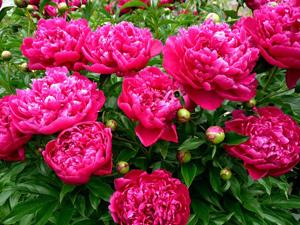 Peony — a symbol of generosity
Peonies (Paeonia) from ancient times to the middle ages was considered only of medicinal plants. Translated from Chinese means "most beautiful". It is a symbol of spring, tenderness, beauty and feminine nobility.
Overview Peony – culture family pionowych belonging to the genus peony (Paeonia L.). This genus has about 40 species and many varieties. The most common types are:
Paeonia kesrouanensis;
Paeonia vernalis;
Paeonia taurica;
Paeonia biebersteiniana;
Paeonia lithophila;
Paeonia officinalis.
Peony flowers lush, spherical, diameter up to 15 cm with a visible heart inside. Color, form and fragrance deserve special attention, and equal to them, probably not.
Luxury perennial to complement its large white, pink, maroon and even yellow flowers in any garden in may and June. The bushes peony spreading, can reach 60-80 cm in height, with delicate leaves divided into oblong lobes. Dark green in summer and crimson in autumn, lush foliage, majestic shrubs also will be a wonderful decoration of any plot or garden.
Peonies are hardy and durable. Plants do not require special attention, however, to ensure that they decades grew in one place and pleasing to the eye of the owner, it is necessary to approach the planting and care of soul and responsibility.
Photo gallery widowing space and soil for planting a place in the pion is selected in open, lightly shaded area. A month before planting, you must dig a hole with a diameter of 70-80 cm and a depth of 35cm, 2/3 fill it with a mixture of ground with humus. The mixture is added to 500 g of ash and 250 g of superphosphate. For abundant flowering, you can add a spoon of iron sulphate.
The most favorable time for planting delanoc in the soil is the autumn season. To frost, the root system time to grow and strengthen, helped by the rainy weather. With the aim of achieving maximum survival delenki should be treated with a solution of IAA.
In a pre-dug hole should be pour fresh loose earth. You can add a little crumb of a red brick or a piece of iron. On the prepared cushion plant your tree so that kidney regeneration was sprinkled to a height of 3-5 cm.
Roots delenki sprinkled with fertile soil and a peat mulch. Closer to frost's landing is desirable to hide. In the winter time under a young peony Bush, it is desirable to pour the snow, and with the coming thaw a good to stamp down. This will give the opportunity to slow down the wild growth and to prevent freezing.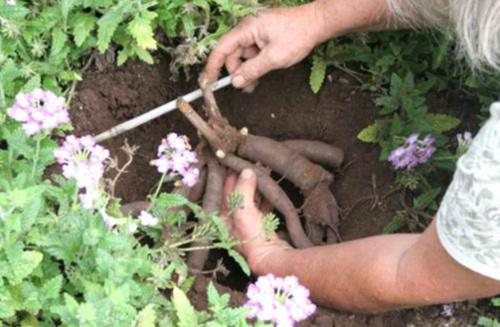 Landing telenok peony
Care and cultivation of the peony, Though not capricious, like any other cultivated plant needs care. This care is especially necessary during the first year after transplantation. Young peony Bush requires abundant watering and loosening the earth. For watering one plant you should have at least 10-15 liters of water.
The appearance of buds in the first year after planting, they should carefully remove, give the plant a chance to build up the root system. Adult bushes to retrieve a small number of large and bulk flowers with side buds should nip off when they reach the size of a pea.
As the foliage of peonies is quite heavy and large flowers, strong wind or rain a Bush can fall apart, to lie down on the ground or break. To avoid this, it is advisable to put backups in the form of rings.
In follow-up care is mainly pest control by spraying, timely fertilizing, watering, weeding and preparing for winter. In late autumn the stems of peonies should be cut off leaving small stumps to spring accidentally dig this place.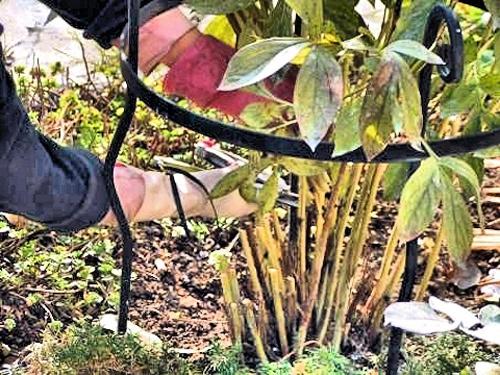 Maintaining the peony Bush
The reproduction of the Main propagating herbaceous peonies are vegetative method — by dividing the Bush. Seed propagation is much rarer, because it is aligned offspring and the plant may take the form, close to the wild. And bloom peonies from seed only for 4-5 years of life.
Depending on the aridity of the region and soil the bushes peony divide for further planting in the period from mid-August to end of September. The root system of the peony is powerful enough and the volume can go up to 80 cm in depth. This should be considered when dividing the Bush, with the aim of maximum preservation of the root system.
After thorough washing of the roots and pruning of shoots with leaves for a length of 7-8 cm can disengage roots of adult 3-4 years of Bush in parts – telenok, each of which must be at least 2-3 buds resume. Formed by the division of wound and cuts the rhizomes should be covered with charcoal.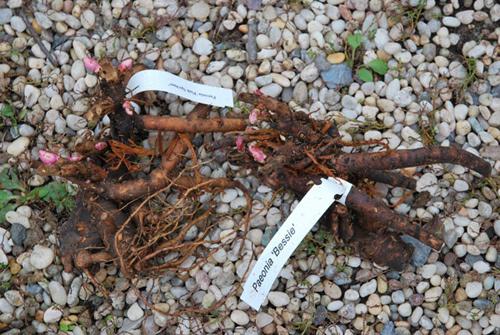 Division of the peony Bush
Common mistakes when planting Transplanting adult Bush without separation of the root system. Overgrown root system of plants prevents further development of the Bush because of the rhizomes are growing on each other, interfering with each other, which adversely affects flowering.
Planting plants excessively deep. Recessed planting peony often leads to stop its flowering. However, no external signs of diseases of plants is not observed. In this case, you need to check zahlamlennost roots, gently podkopov Bush. If necessary, the plant is transplanted in compliance with all applicable planting requirements.
You need to remember! Kidney regeneration on the rhizome when planting should be below ground level by more than 5 cm.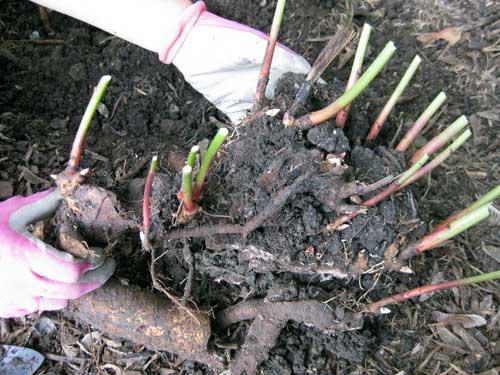 Dug a peony Bush
Disease prevention and fertilizing in the Spring the soil at the base of the plants should be sprinkled with ashes, in order to avoid Botrytis infection. In the future, with the goal of preventing, treating fungicidal drug. Fertilizer is distributed under a Bush before the first thaw. Further organic fertilizer applied together with the irrigation in the formation of buds and 2-3 times over the summer. In the case of fertilizing peonies mineral fertilizer at planting, following their introduction must be not earlier than 2-3 years.
Ants for the pions represent a danger. They can in the period of development of the buds to inflict enormous damage, bringing fungal diseases and podgoriza petals. Treatment of buds to protect from ants, is one of the most important types of prevention. For prevention use a 10% solution of Malathion, intavir, parafon and other insecticides.
Medicinal properties since ancient times, the peony was considered a medicinal herb. Curative effect of the plant roots. They are used in the form of infusions and decoctions as anti-inflammatory and antispasmodic. The roots of peonies are widely used in medical practice for hepatitis, cardiovascular diseases. A decoction of the petals with a strong cough, and the pollen of flowers, according to the Chinese, helps rejuvenate.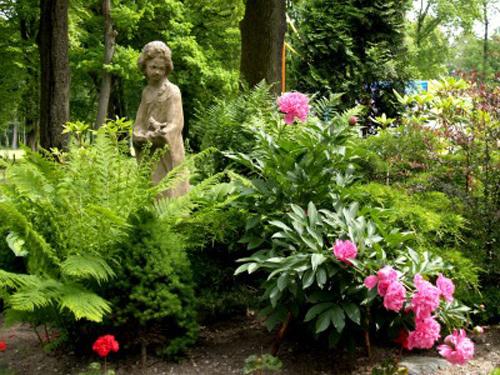 A wonderful combination
Use in landscape design, Graceful and noble peony, both independently and in conjunction with other horticultural crops can be a wonderful decoration of the infield. A variety of color palettes and intoxicating aroma of peony flowers create a delicate and intimate atmosphere.
The effect of luxury will create a Bowl of Beauty, peonies varieties of Neon will give the site a touch of lightness and elegance. Sumptuous dark-green bushes of peony blend seamlessly with green lawns and a ball-shaped flowers add volume to the background.
Source: 101dizain.ru