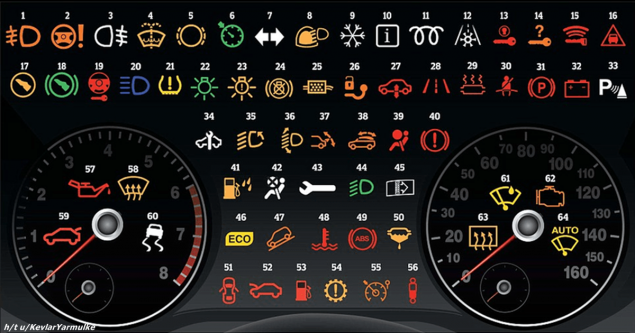 Are you familiar with such situation: on the dashboard suddenly starts to flash a symbol that you've never seen before? And you have no idea what it means?
The website
publishes a list of 64 meanings of the most common symbols on the instrument panels of different cars.
So, remember!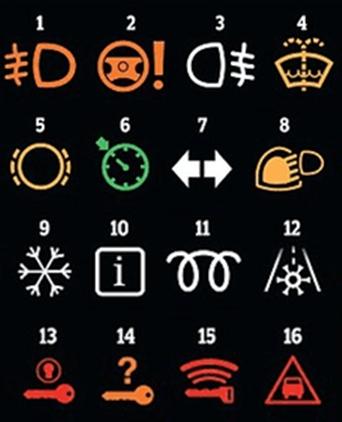 Fog lights (front). Failure of power steering. Fog lights (rear). Low level windshield washer fluid. The wear of the brake pads. Icon is included by the cruise control. Included turn signals. Sensor for rain and light. The winter mode. Indicator information message. Indication of the glow plug. Frost. Indication of detection of a contactless key. The key is not detected. Key battery needs to be replaced. Threat reduction distance.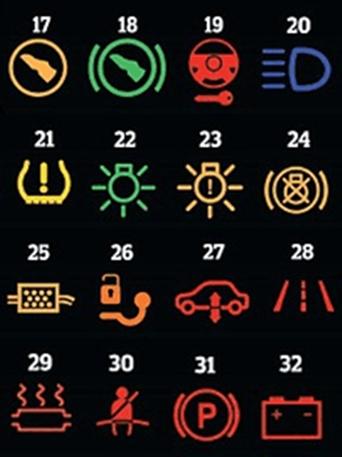 Press the clutch pedal. Hit the brake pedal. Steering column lock. Distant light. Low tyre pressure. The on indicator outdoor lighting. Malfunction exterior lighting. Not working brake light. Warning the diesel particle filter. Warning towbar. Warning the air suspension. The lane change. Overheating of the catalyst. Not wearing a seat belt. Activated Parking brake. The problem with the battery.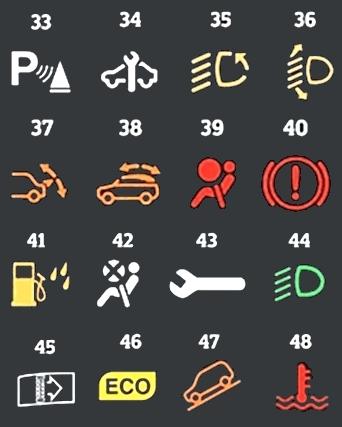 The system of assistance when Parking. Maintenance required. Adaptive headlights. Malfunction of the auto-tilt headlights. Malfunction of the rear spoiler. The failure of the roof in a convertible. Error airbags. The fault is the hand brake. Water in the fuel filter. Airbag is deactivated. Fault. The low beam headlamps. Contamination of the air filter. The fuel economy mode. Help system the descent from the mountain. Fever.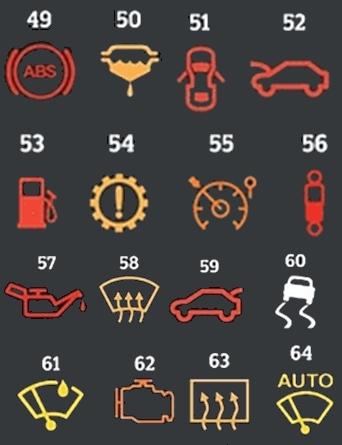 Malfunction of the antilock braking system. Malfunction of the fuel filter. The door is open. The bonnet is open. Low fuel level. Malfunction of an automatic transmission. An automatic speed limiter. Suspension shock absorbers. Low oil pressure. Heated windshield. Open the trunk. Stabilization system is disabled. A rain sensor. The problem of the engine. The rear window defogger. Automatic wiping of the windshield.
via lifter.com.ua/post/4246