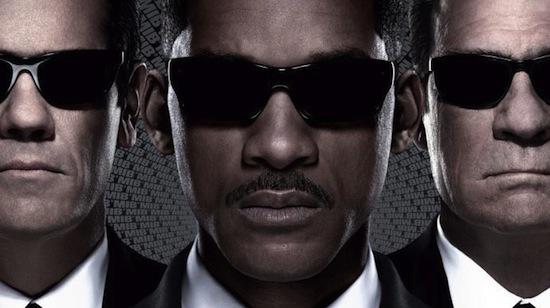 Will Smith, who made the biggest break in his career, returns to the screens in the hit comedy sequel "Men in Black"! We have compiled ten of the most interesting facts about the movie and watch it in comfort, you can here.

1. rope descent system, shown in the film away from the starting point, "Apollo", really exists. It was established for the "Apollo" and subsequently expanded to the program "Space Shuttle". During emergencies, the crew had to descend into the cockpits of steel rope lines down to the explosion protected bunkers. For astronauts mastering system is part of training, but it was never used in a real emergency.

2. For the role of Boris considered candidates Sacha Baron Cohen.

3. Jay travels back in time 43 years ago and found it to Kay, played by Josh Brolin. But Josh is 43, but only 21 years younger than Tommy Lee Jones.

4. When Boris blows up the wall in the prison, sucks out all the guards, but when he comes, no one body is not around. However, the body is not able to fly into space since the Moon has gravity.

5. When the shooting started, the script has not yet been completed. This led to delays in the shooting process, as some scenes had to reshoot later to bring them in line with the script.

6. Previous part of the "Men in Black" came out the same year as the film "Spider-Man." In 2012, they again matched "Men in Black - 3" and "Amazing Spider-Man." Incidentally, one of the writers of "Men in Black - 2" interrupted work on the film, to take part in writing the script for "Spider-Man." The same writer has worked as a team, "Men in Black - 3».

7. Michael Bay, director of "Armageddon" and "Pearl Harbor" has expressed interest in working on "Men in Black - 3". But it somehow did not take.

8. On May 18, at the premiere in Moscow, Barry Sonnenfeld said he wanted a sequel: "I really want to remove the fourth part, but it can be done, if the third will be successful. Ideally I would like to remove Will Smith, Tommy Lee Jones and Josh Brolin together. " Will Smith and Tommy Lee Jones said they also do not mind to go back to the 4th part.

9. «Men in Black - 3" - the only film in the series, followed by Will Smith has not released any signla or video clip.

10. Chef Chinese restaurant was not lying about at least one fish. Fish-drop ("a sad face with big" nose, "") is really a terrestrial origin.


funny comedy "Men in Black - 3" you can watch online cinema Viaplay at any time and in excellent quality. The service works not only on computers but also on Apple devices and Android, so that the collection of new films, you can always carry with them!

blockquote>

via factroom.ru