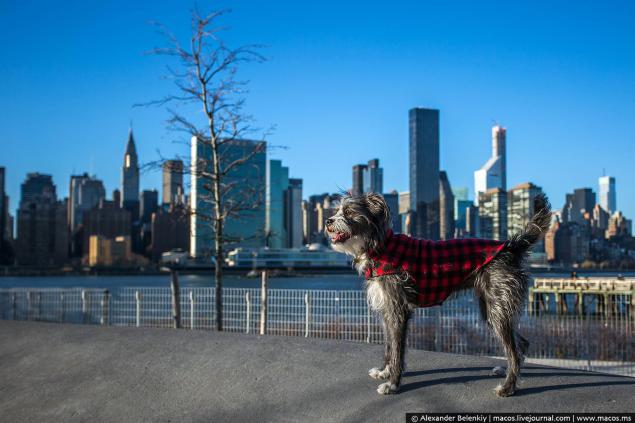 Neighborhood Long Island City is located in Queens. Interesting place, especially those that are actively changing. For a long time there were single-storey sheds, repair shops and warehouses taxi. Location it is very good - right in front of Manhattan's Midtown, one station by metro to the center. In this case, there is no dense development, sense of space (and wind).
Great sign "Pepsi-Cola" historical worth here for seventy years. All that is left of disposable once the factory of soda. One of the most significant places in New York, even appeared in several films this sign.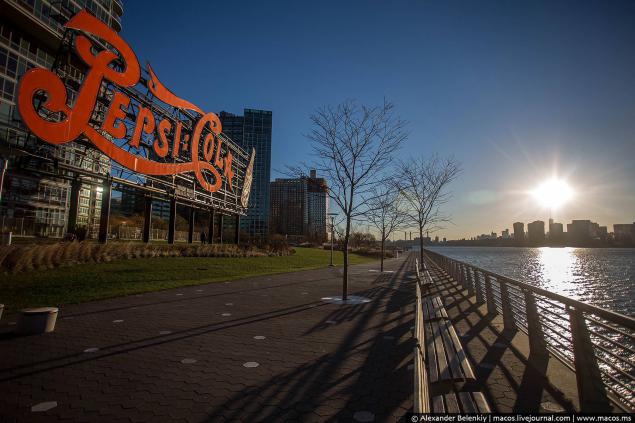 Residential complex of seven buildings of different heights, built a few years ago. Five of the seven - "yield" of the house, such a system is very common in America. That is, the houses owned and operated by a single company. The two remaining home - with housing condominiums for sale.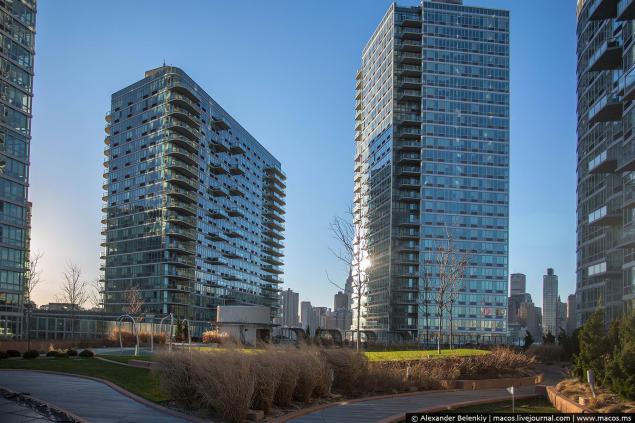 All the apartments in the five model homes and are for rent. If you wish, you can also purchase, but usually buy elsewhere, everything here "enchanted" by removal rates.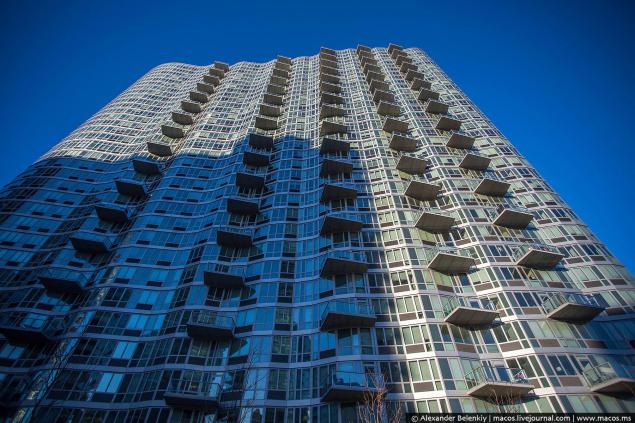 Layout of the building stands in the lobby. It also meets a polite man in a suit. Similar to some black comedian. Dmitry says he realtor, and I - a potential customer who wants to rent an apartment in the area. Male, in turn, is also an agent, but from the "yielding" the company. There is often, when in real estate matters all together decide to representatives from both sides. That is, your realtor will do business with a realtor homeowners. Can be removed and most, if knowledgeable in the subject.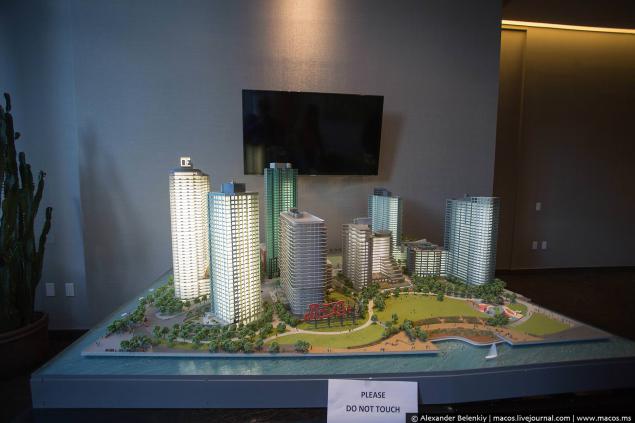 All the same corridor system. Very similar to a hotel. But so are arranged apartment buildings. All doors are the same note.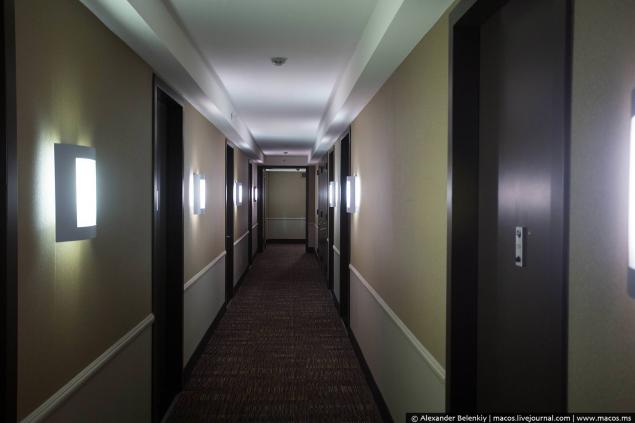 Separate laundry room. Also standard for good homes. In bad public laundress is right next door and worth the money. Some apartments may have their own stiralki, some do not.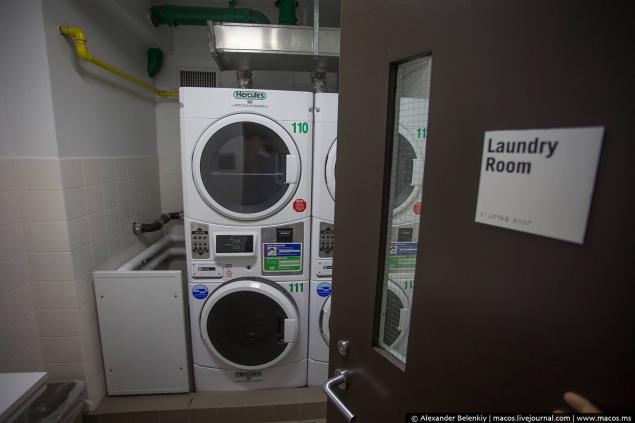 View! That's because of what this apartment is worth probably five hundred dollars more expensive than others in the nearby area. Huge windows, Kuinsborsky bridge.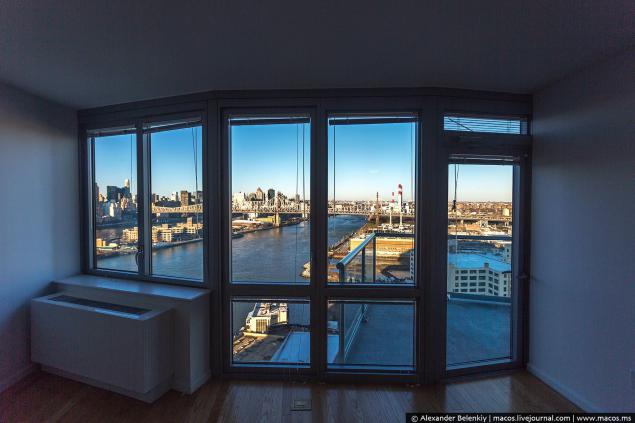 Balcony on which to sit well in warm weather, and drink wine.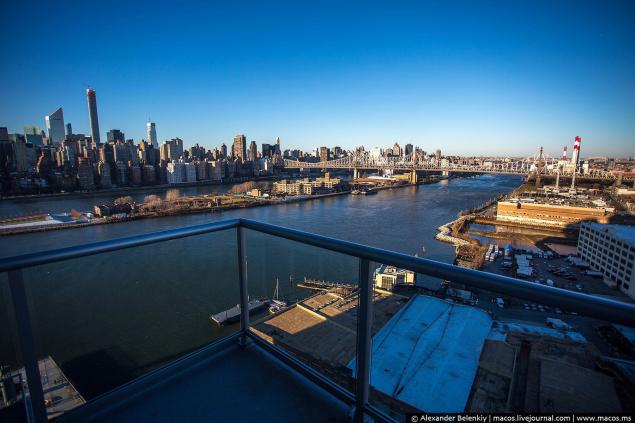 In the other side look more depressing. But ten years later, he changed. Just looked all Long Island City until recently.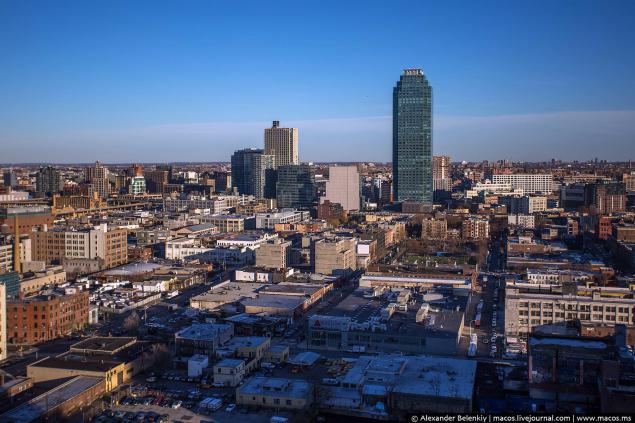 Apartment - two bedroom, if it is in our opinion. By American standards "dvuhspalnevaya." It is considered to be the number of bedrooms and the living room, as it were self-evident in all the houses of the country, unless it is the studio. Separate kitchen is often not, it is combined with the living room.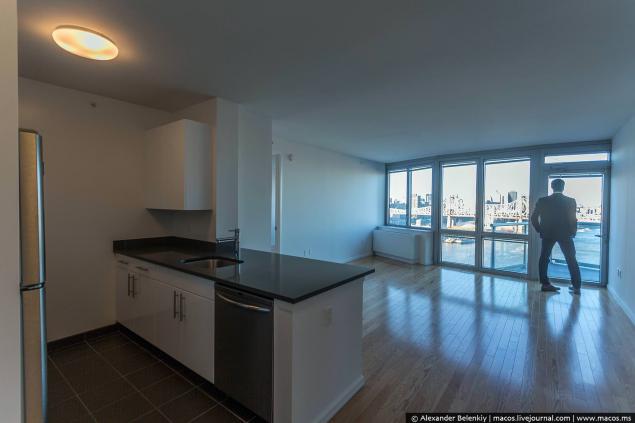 Corridor and one of the rooms. Little, 15 meters high. Entrance to the bathroom from the corridor.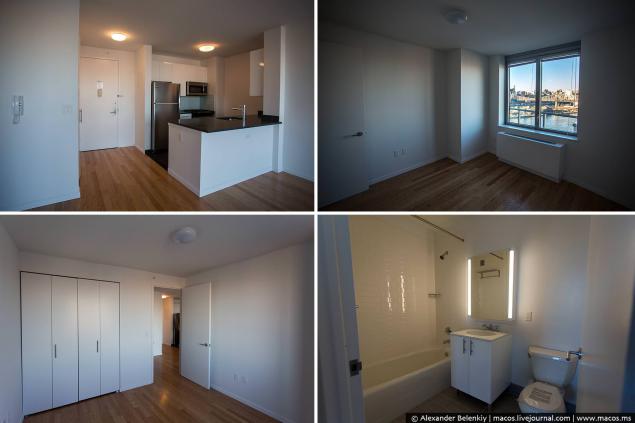 The second room is a little more extended, "give" her a maximum of 20 meters. And here is one more bathroom, access to which is right out of the bedroom. The apartments are empty, unfurnished, though this at least has a refrigerator and microwave. No frills in the interiors of all, just white painted walls, unassumingly tiles in the bathroom. There is not usually show off.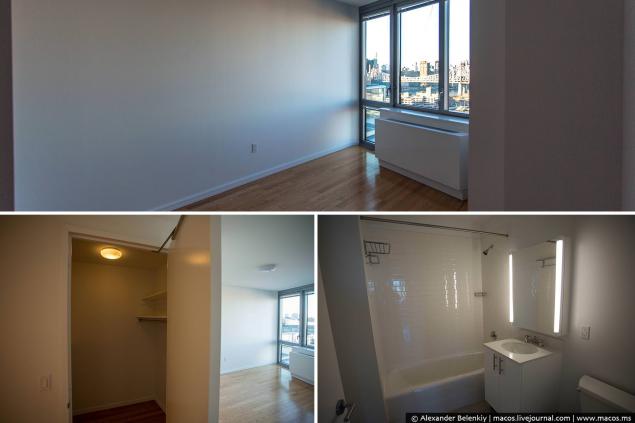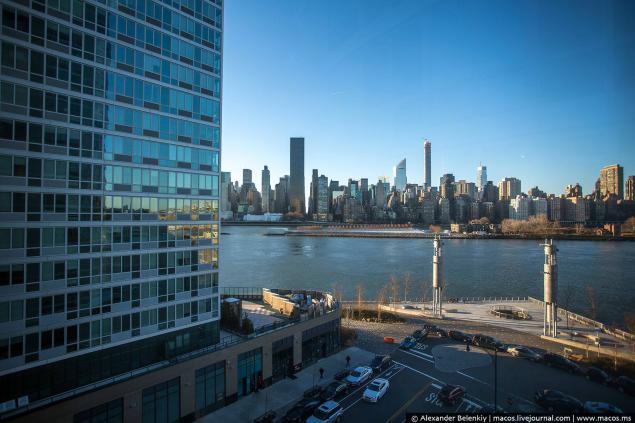 But when you rent an apartment in such a residential complex, you pay not only for the square meters. In addition to personal space, there is also public, and it is in the American system of values ​​is very important, it is very social people.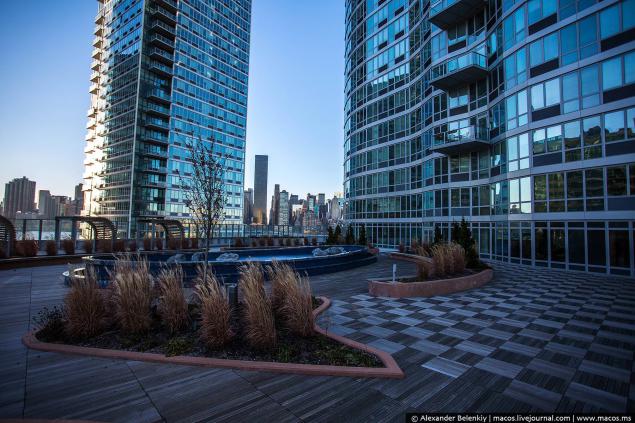 In the courtyard fountain and beauty. In winter, of course, does not work. Touches a warning that you can only watch. Looks like trying to swim in the heat.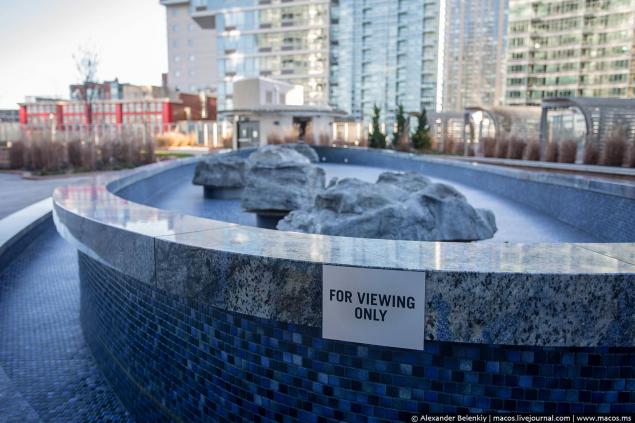 Playground. Everything is here, in the courtyard, your child will come out. Damn, and then had to be photos of the fitness center and lounge room, but disappeared somewhere photos. As it looks, you can see in the post about "pradzhekty."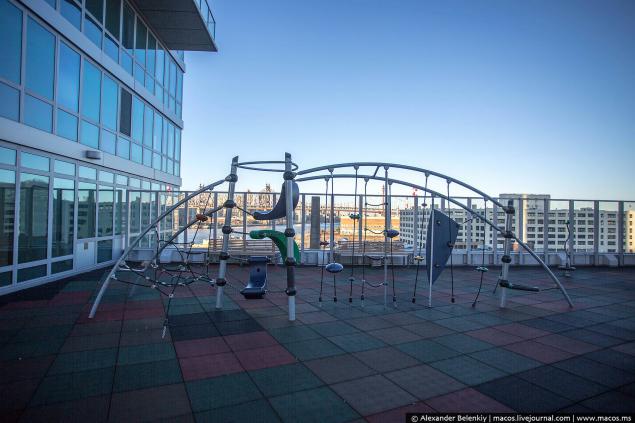 The apartment was nice, but four thousand ... I think that it is very expensive! It is at the current rate - 220 thousand rubles a month !!! How much you need to earn to afford such an apartment?
In America, a formula that allows us to understand what cost to the apartment you can count on. Annual income should approximately 40 times the monthly rent. That is, if the apartment is worth 4,000 a month, a year of its tenant must earn 160,000 dollars. This is a very good salary, even for New York. Shown before deduction of taxes that are too large sum. But if the family has two person apartment is quite "lift».
This is just an example, the ideal case, when you pay the rent only one-third of his salary. Many people can not afford it, and remove half with someone. Just like we have, in general. Although the apartment of this post, of course, for married people with children, not for students.