Unmanned aerial vehicles, or drones copter today no surprise. From novice modelers and ending Hollywood all buy, collect, "fly" and fill the sky around us flying robots. Shelves, especially the Chinese, are filled with ready-made kits and spare parts and any housewife can now afford to drone. Let then yes, but operated with him? If you have or had copter, then you know that without the skills of piloting such a machine live at the owner did not last long - either fly or crash. Recently began to appear aids operating in the semi-avtamaticheskom mode and to automatically sosobnye mission. But, anyway, we have to manage this copter and need for specific skills.
I, as the owner of a video-copter and, moreover, as a lover of active sports, always dreamed that someday will come a time when I can finally get into the same frame. And as the protagonist, and without the remote control unit. Just enjoying the downhill snowboarding, or riding on a motorcycle on motorcycle track.
Until yesterday, it was only a dream. Unfortunately none of the drone in the market was not capable of this. In the world of DIY enthusiasts have long tried to do something like this: add to the normal function copter tracking object. For example for the mobile phone. Managed it with varying success, is unreliable and required the pilot to raise the drone into the air, activated the following, then put on and off. And the technology-following coordinates on the GPS receiver is also far from ideal, because Error GPS ± 5-10 meters.
But just recently happened!
Appeared
AirDog
. More precisely became available for pre-order on Kickstarter
. Declare themselves the developers a few months earlier in a network
FaceBook
and
YouTube
.
So, what kind of a beast?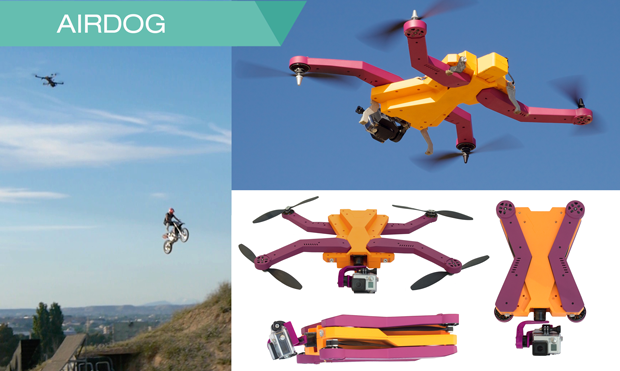 AirDog - a small folding "sport" quadrocopter, able to do everything for you himself. Sam takes off, flies, shoots and sit down. Moreover, it should be of any subject, simply attach a special sensor - copter and the dog will just follow any movements of his goal - catch up, will bring the camera and not fall behind until the battery dies :) It's a good idea reflected in the part of the advertising video, which shows a drift bike.
Developers AirDog argue that copter is not afraid of bad weather, no rain nor snow, flying at a speed of up to 70km / h - a real extreme! Even his promise to provide a variety of shooting modes to appropriate the specifics of different sports, such as surfing - delayed start to the shore and landing there.
Uniqueness AirDog'a in his remote control, or target, followed by the drone.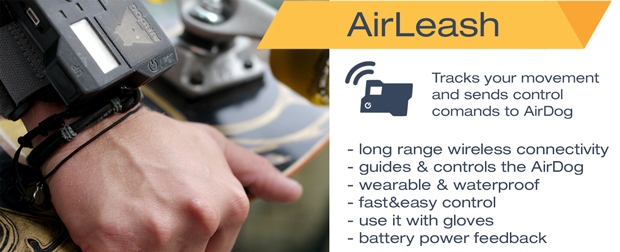 & Quot;
This remote is waterproof, easy to use with gloves on without even looking at it, thanks to large buttons located on the sides. Just the console and provides accurate tracking of the movement of the "target", since not only is equipped with GPS, and a whole set of inertial sensors: three axis gyroscope, accelerometer, compass, barometer. The developers have also added a gadget Long Range Bluetooth module and the promise of the remote radius of 300 meters, which is enough, given the wide-angle camera sites GoPro.
Bribes also that AirDog initially focused on extreme athletes, both professionals and amateurs. That is, the drone must be hardy and easy to use.
Not without a special application for smartphones. With its help, you can configure various settings, and edit the flight path for the special regime, when the target moves on prerecorded track. Apparently it helps AirDog'u more precisely fit into corners and around obstacles. Yes, it's worth mentioning - AirDog sees nothing around except his goal. This means that the user will still have to think about how to drone flew high enough and away from potential hazards. Saves the situation convenient buttons on the remote control, by which copter can instantly raise higher or "move" or give a command to stop and sit down. This approach to management seems intuitive and obvious to anyone of crazy extreme. The developers claim that bypass obstacles technology is in development and will soon be available to all owners as an additional module.
In general, the project looks very promising, and it seems that soon everyone will be able so easily to the store to buy a smart "flying dog».
P.S. I think to say that personally I have a project AirDog directly involved as a developer, but due to the natural modesty chose the form of a description of a third party, please understand and forgive.
Source:
habrahabr.ru/post/226881/