Little Prisayda sitting in a dirty stream, while her parents work at a gold mine in the vicinity of La Pampa in the region of Madre de Dios. As a result of the miners, washed with water jet land in search of gold, there was a real lagoon. Miners know that soon they will be evicted from here. The Peruvian government has declared all informal gold mining - illegal.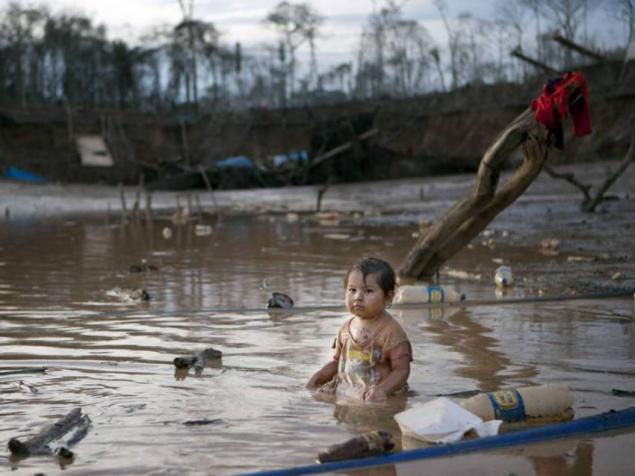 After the rain stopped, Johan's father tied a cloak around him, playing in the yard of his makeshift. Immediately, in the mountain camp in La Pampa, satellite TV dish installed. In this camp are not only the miners, who are threatened with economic disaster, as well as their families and children. All of them live at the expense of how much their father namoet gold per day.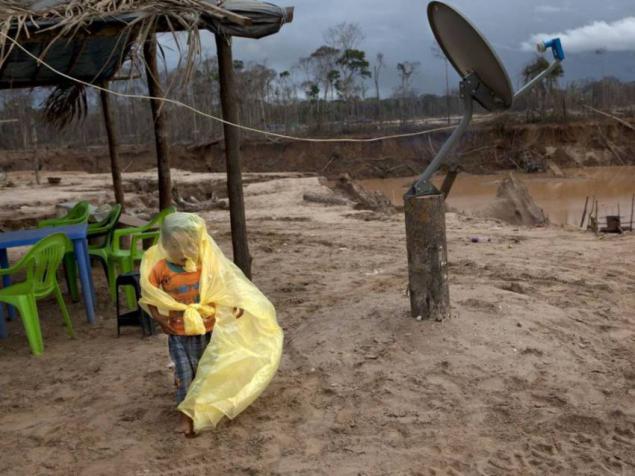 Two washed sand miners in search of gold in La Pampa.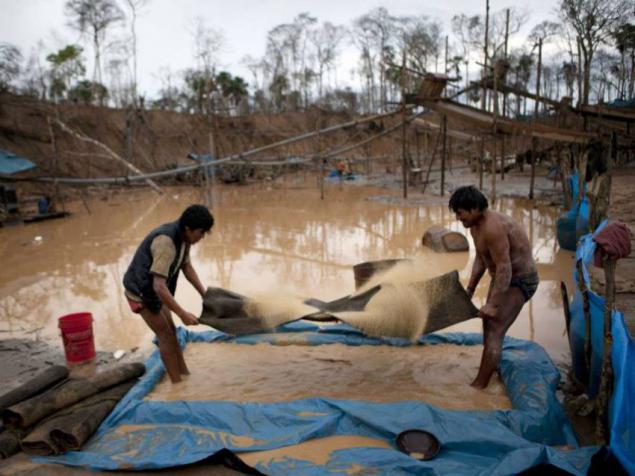 Shakhtar stands next to a pipe used to transport gold-bearing soil of the crater to the gateway, which is lined with a special carpet to filter gold.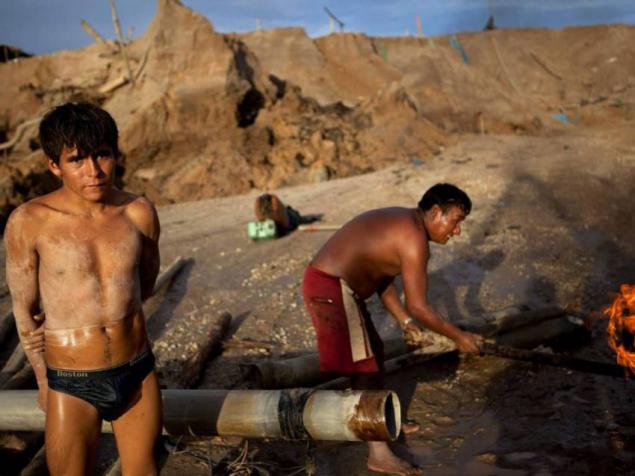 The miners, known as "maragueros" mostly former villagers, who in search of better wages and not come to work the illegal gold mines. On a huge area, exposed to the forest known as La Pampa, currently employs about 20,000 miners.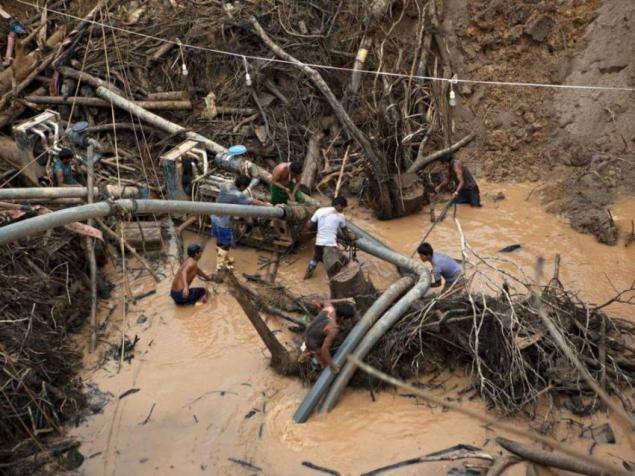 A huge camp, this village of La Pampa began to grow here after 2008 in these Amazonian jungle gold deposits were found. These miners work until the last minute because they know that in the near future will be evicted by the decision of the Government of Peru.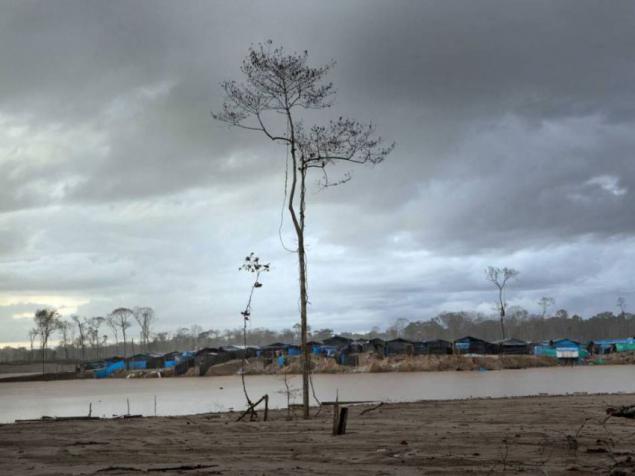 Illegal miner separates the gold from the sandy alluvial soil with mercury in the gold mine in La Pampa.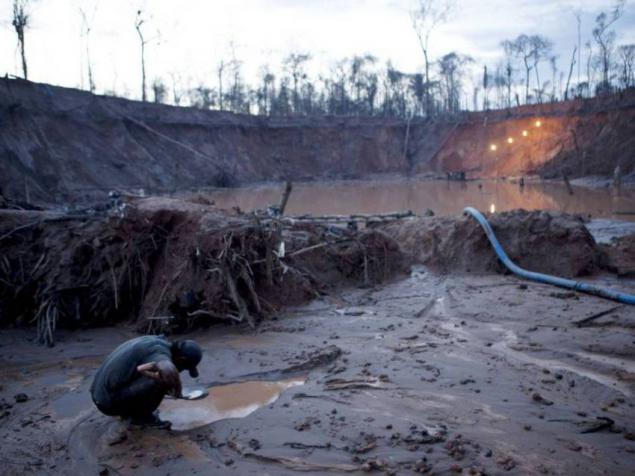 Miner uses a rubber boot to fill the radiator with water antediluvian type hydraulic machine, called by local prospectors "Chipadera" and used for the extraction of gold at a gold mine in La Pampa. Constantly being in the water at the gold miners shoes quickly unstuck and out of order. Therefore, the work of a shoemaker in the village of miners also very popular.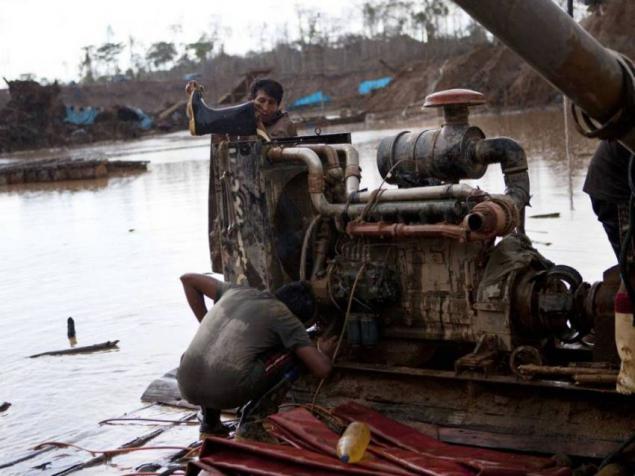 Shakhtar is to wash the ribbon - contraptions lined with a special carpet to filter gold.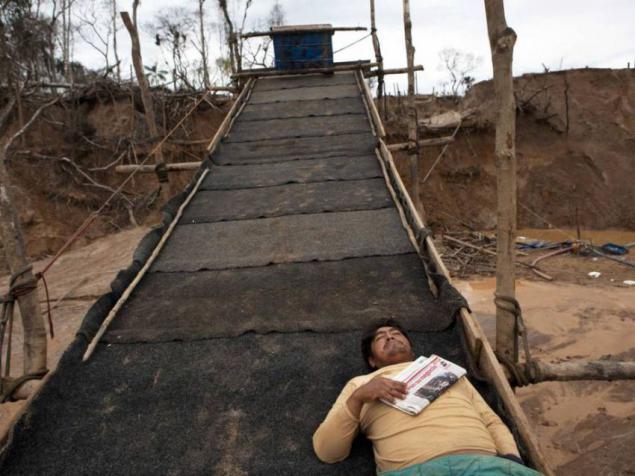 Cumulative water jet passes over the two miners' maragueros "that remove the stones and pieces of tree trunks, falling in the flow of hydraulic jet. Hydraulic Machine "Chipadera" powerful jet stream of water washes away the earthen soil, which will then be protsezhena and sifted in search of gold-bearing sand.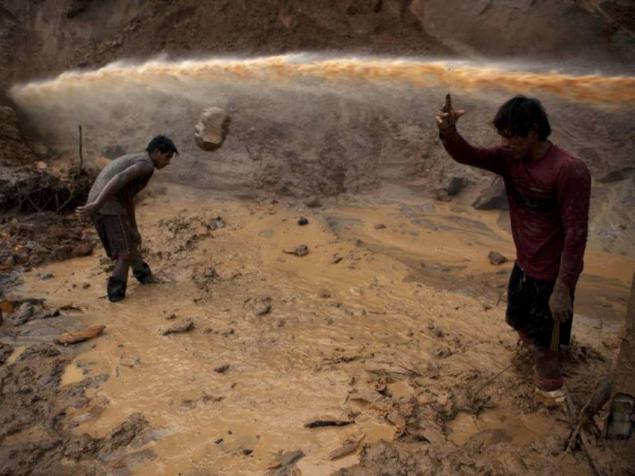 Shakhtar is holding an amalgam of mercury and gold mined after working 28-hour shift at the illegal gold mining company in La Pampa.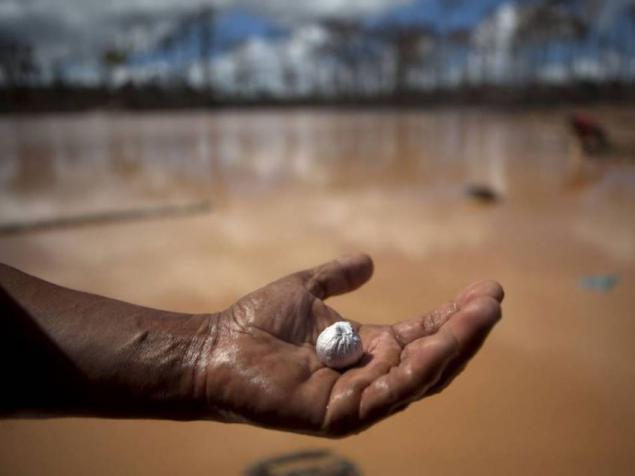 Miner clothing continues to search for gold in the muddy water at the illegal mine in La Pampa. The Government asserts that the informal miners destroyed the surrounding forests and pollute the environment with the help of mercury used to extract gold.
Illegal gold mining in La Pampa. According to experts, about 20,000 miners work in these malarial bare expanses of forest known as La Pampa.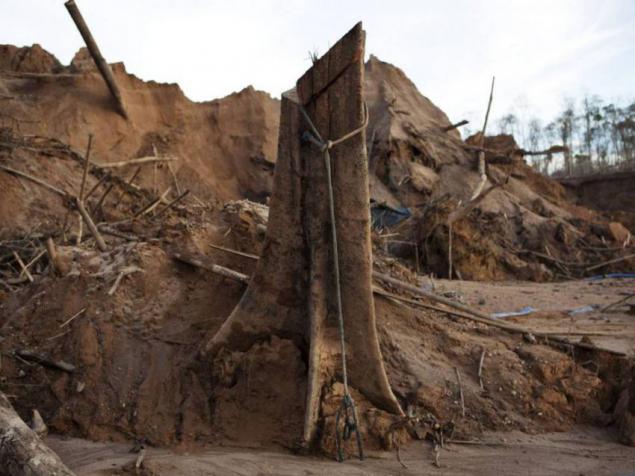 Taxi delivers the goods mattresses in the mining camp in La Pampa.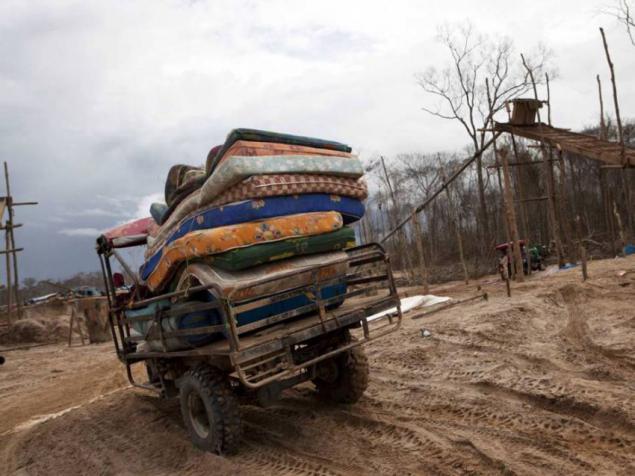 Shakhtar estimates about a handful of gold from them for more than 24-hour shift work at the mine in La Pampa.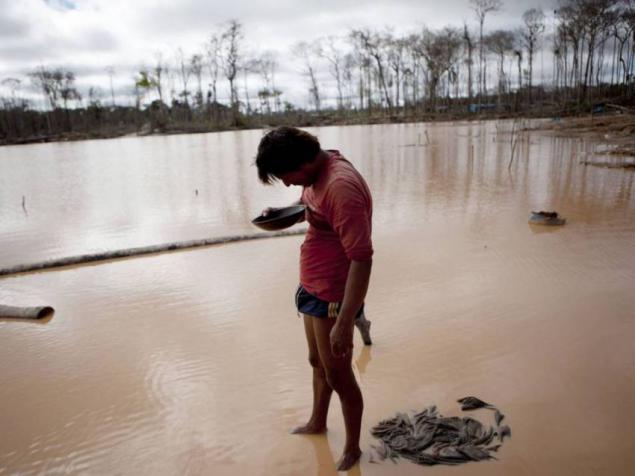 Shakhtar sleeps near his workplace in La Pampa. Thousands of illegal artisanal miners are working in appalling conditions in 28 - hour shifts. To get over this change of a few grams of gold, they suffer difficulties, danger of debris, toxic mercury poisoning. The miners chew coca leaves to ward off fatigue, which can lead to fatal PE.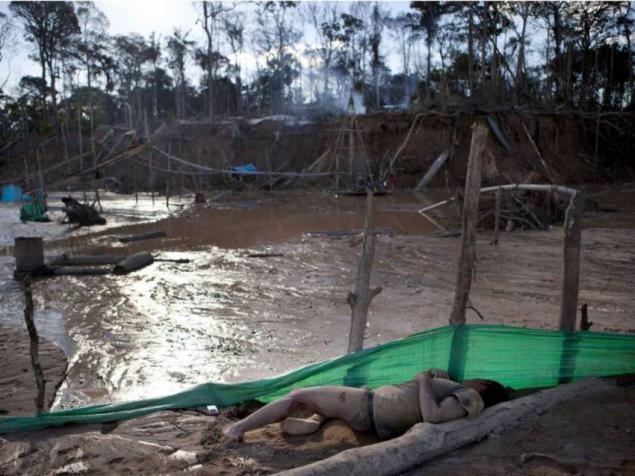 Shakhtar melts amalgam of gold and mercury in La Pampa. This is a primitive, medieval method of extracting gold from amalgam. This vaporized mercury vapor, leading to pollution and cut down thousands of acres of the Amazon rainforest.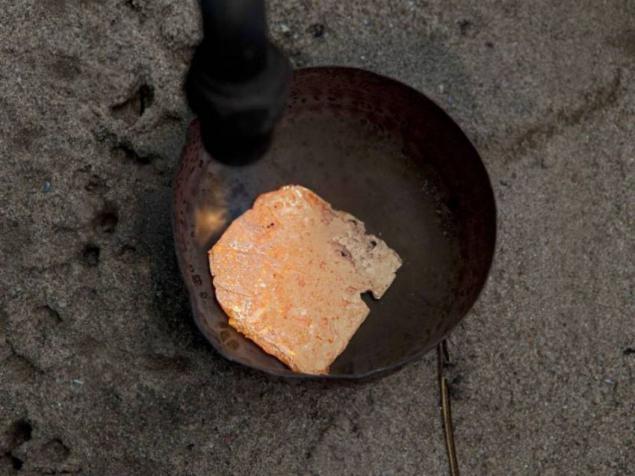 The gold rush of the 21st century began in Peru in 2008.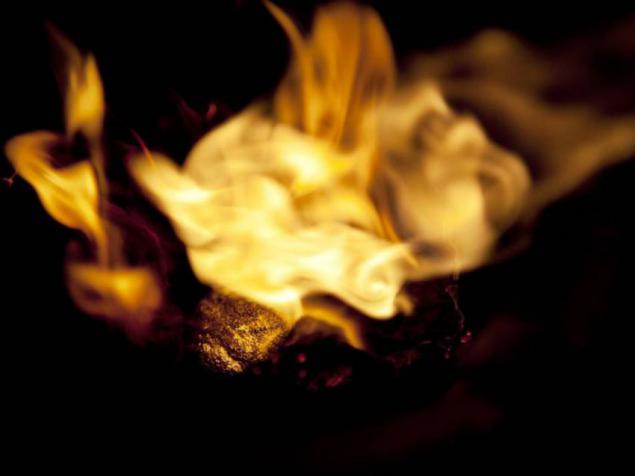 Miners waiting for their turn to melt them in makeshift amalgam gold at the illegal mine in La Pampa.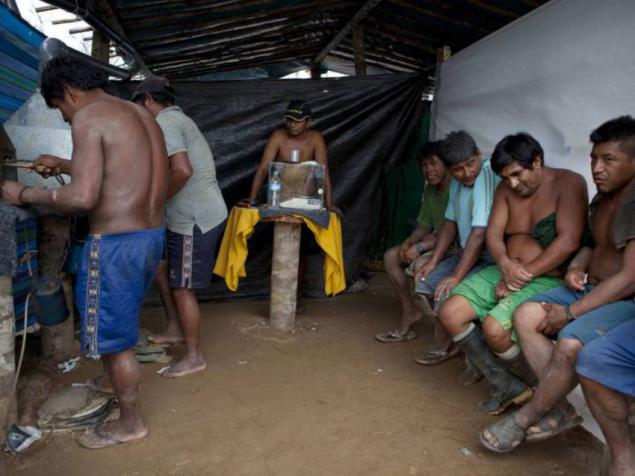 Hooker, who works at a local bar, also illegally built on illegal gold mine in La Pampa in the Peruvian region of Madre de Dios. Artisanal gold mining in La Pampa began in 2008 and results in the felling thousands of acres of the Amazon rainforest.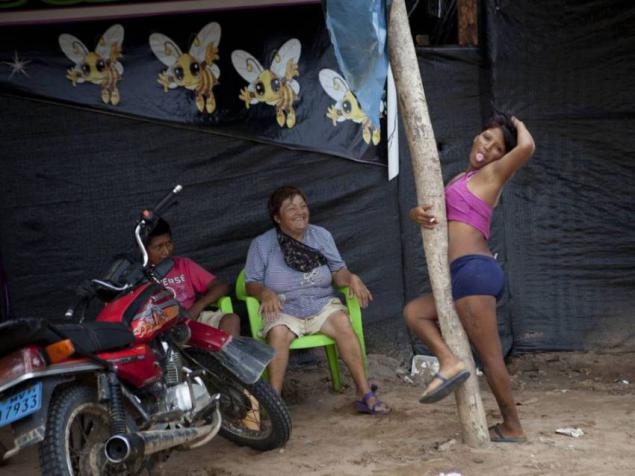 No one knows how many land contains gold in Madre de Dios, Peru, but overall ranked sixth in the world and first in Latin America for the extraction of gold.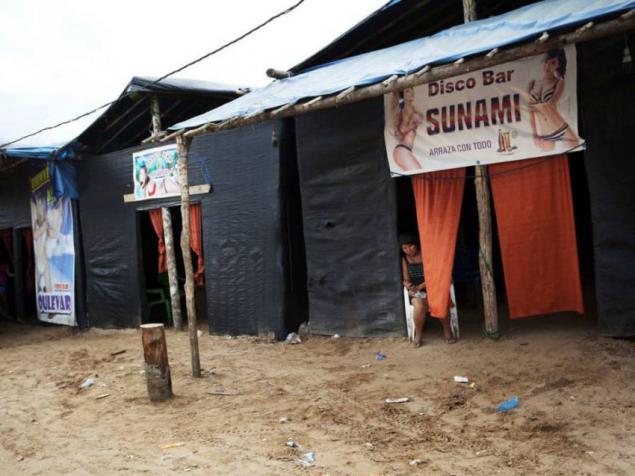 The prostitute is sitting with potential customers at the bar "La Rica Miel", which translates as "delicious honey" in La Pampa. Due to the unauthorized construction of dwellings that lack basic sanitation facilities are flourishing diseases such as malaria and tuberculosis.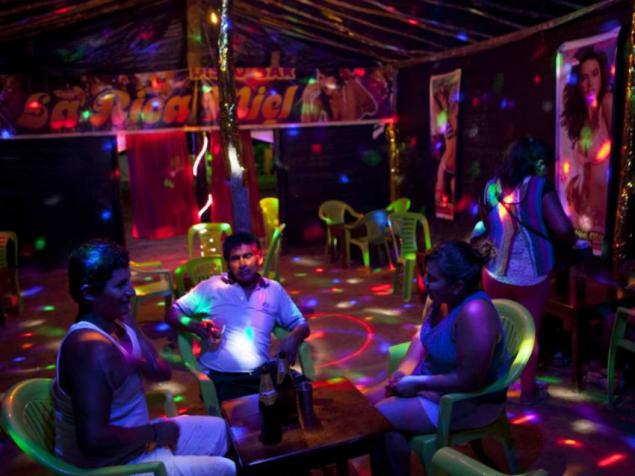 A prostitute waits for clients at the bar in La Pampa. Life is cheap is valued in the mining camp. Mortality among gold miners are not registered. Tons of toxic metals discharged into rivers, contaminating the fish, humans and other animals and plants.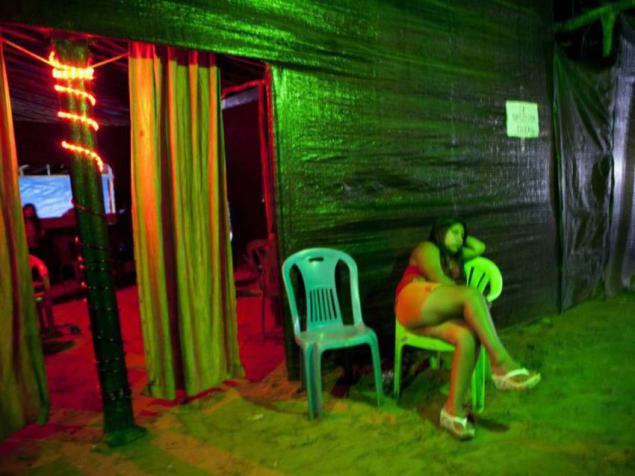 Source: terraoko.com