Double Eagle - (Eng. Double Eagle) - US gold coins in denominations of $ 20, which were minted from 1849 to 1933. They have several varieties. Double Eagle 1933 is the most expensive coin in the world.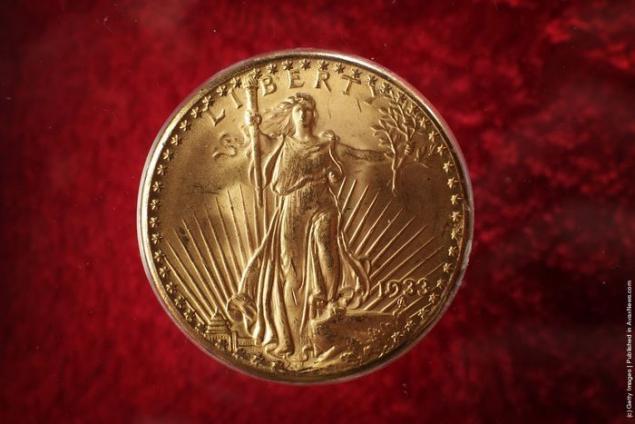 A prerequisite for the emergence of 20-dollar gold coin was the discovery of new gold deposits in California and the consequent "Gold Rush." Engraver James Longekrom has developed the design of two new coins - gold dollars and 20 dollars. The image on the obverse of these coins is similar.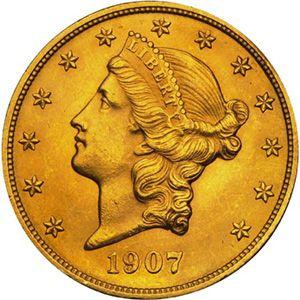 At the end of the Civil War in the United States due to sharpen the religious feelings of many Americans who have lost relatives or are tired of military hardships, March 3, 1865 a law was passed that all silver coins more than 10 cents and gold - more than $ 3 shall contain a motto «IN GOD WE TRUST». Since 1866, began to mint coins with the motto on the reverse.
In 1877, there was a third type of coin. Engraver Charles Barber were produced by small changes in the images of Liberty and bald eagles. Also denomination «TWENTY D.» was replaced by «TWENTY DOLLARS».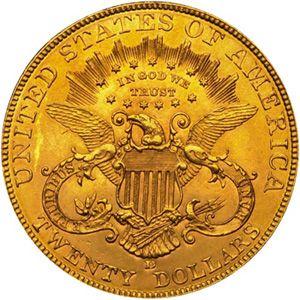 1849-1907
The design of a new type of coin has been designed under the personal instruction of the 26th US President Theodore Roosevelt's famous American sculptor Augustus Saint-Gaudens, on behalf of which it got its name. The first coins minted by different high-relief image, the dating of Roman numerals and the lack of the motto «IN GOD WE TRUST». Release of "Godless" coins was deliberate, as Roosevelt saw mention of the word «GOD» on coins sacrilege. However, putting the motto «IN GOD WE TRUST» on gold coins for more than 3 dollars it was defined Coinage Act 1864. Several members of Congress have insisted on discontinuation of "Godless" coins.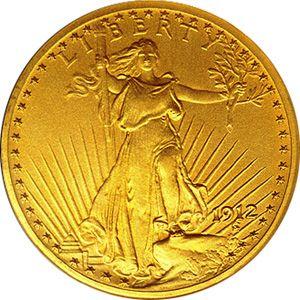 In 1933, due to the economic crisis, dubbed the "Great Depression" of the US were forced to abandon the gold coin standard. Gold coins were subject to removal from circulation and melting. Coined somewhat earlier 445 000 500 copies were melted.