Especially impressionable kindly requested ... yes, in principle, still look, so start. Co-author of the post, Sergei Nikolaevich (Maksimych).
Until the mid-twentieth century in Europe and America act circus troupes, in which people work with a variety of abnormalities, the so-called "circus freaks". Posters promised viewers submission involving human-elephants, people, lobsters, people, cigars, people, barracudas and others ... Not only the owners and organizers of the circus show, but are themselves owners of genetic abnormalities on his misfortune earned good money in those days.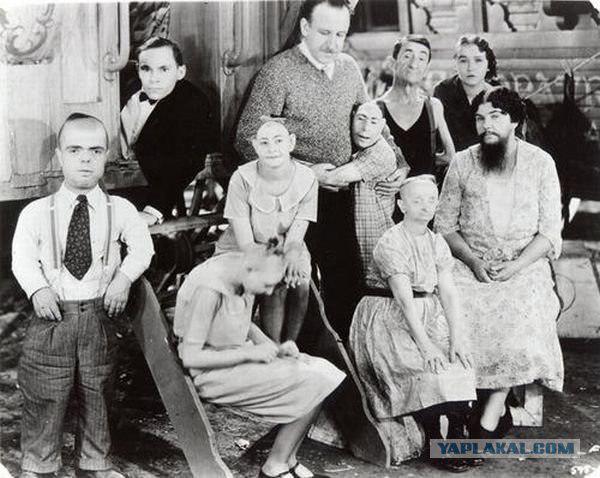 Over all, thanks to the shelter by his doctor Frederick Trivzu and later starring in the 1980 David Lynch film glorified Joseph Merrick, the so-called Elephant Man.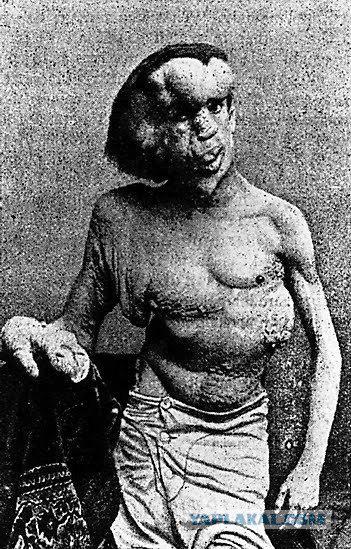 ...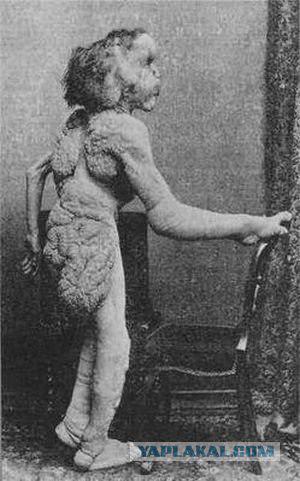 Joseph Merrick suffered from Proteus syndrome and neurofibromatosis. Merrick himself explained his ugliness that during pregnancy his mother was greatly frightened elephant. The process of deformation started at Merrick at the age of 5 years. At age 11, Joseph lost his beloved lifelong mother and the father married a second time, left home and wandered, first working galantereyshikom and then sticks to the traveling circus.
"It was the most disgusting representative of the human race, what I just saw, - he wrote about his new acquaintance Dr. Trivz. - Released most of its feature was its huge, irregularly shaped head with huge bony growth on his forehead where usually eyebrows, while the back of the head hanging spongy folds of skin, the surface of which was comparable with brown cauliflower buds. On top of growing number of long thin hair. The build-up on the face of almost hid one eye. From the upper jaw bone grew another outgrowth. He was sticking out of his mouth like a pink stump, upper lip was turned out. The nose was just a piece of flesh, and understand that this nose, it was possible only by location. The back was terrible, because with it hung to mid-thigh, huge, baggy fold of flesh covered with the same leather-like disgusting cauliflower. " Subsequently, however, become acquainted with Merrick, Trivz began to feel the deepest sympathy for the Elephant Man. In his later recordings Trivz wrote: "As a human
a creature of flesh, Merrick was shockingly ugly, but his soul if
it could be seen, it seemed to us to belong to someone
noble and heroic, clean and soft, his eyes shining
warm fire ».
The man of the 19th century, Joseph Merrick, despite its outward ugliness, has a rich inner world. He not only knew how to read and write, he also wrote good poetry and prose. His hand belongs to a private "Autobiography." The unique creation - a model of the church, which was visible from the window of Merrick, he made a one-handed from a cardboard - is kept to this day in a museum in London.
Due to the deformation of his body Merrick had to sleep sitting up. April 11, 1890, remained in his room alone, he decided to go to sleep with his head on a pillow. In 13 hours and 30 minutes in the age of 27 she died of asphyxia Merrick - heavy head leaning thin neck.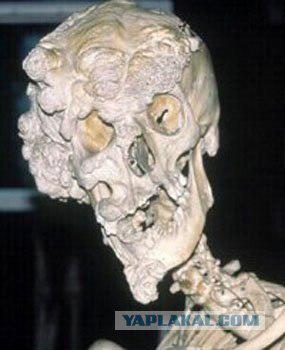 Reproduction shows what could be Joseph Merrick, if not suffering from these terrible diseases.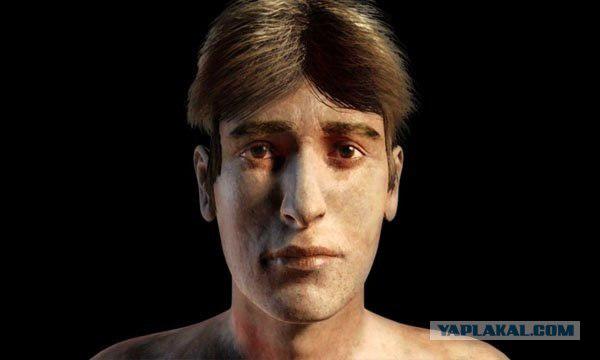 The Sicilian Francesco Lentini and the German Georg Lippert had three legs.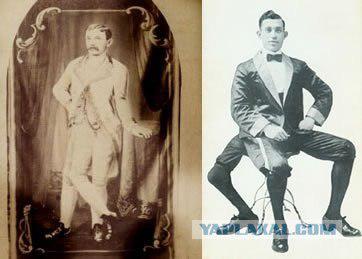 Georg Lippert was born in Germany in 1844, and later moved to the United States (where he became George). His third leg was fully formed and even had extra fingers, bringing the total number of toes to shestnadtsati.Tem Still, it was unusable. According to George, once it could act as a normal course, but because of the strong fracture fallen into disrepair. So was it really - is unclear, but we know that his career third leg lay motionless.
At the beginning of his career in America Georg Lippert she performed in the circus Barnum and received the title of "the only man with three legs in the world." But in 1898 he came from Italy Francesco Lentini and the title was lost. Looking ahead, we say that Francesco third leg was fully working and he even played it in football. So it is no wonder that his fellow-sufferers, the former unique, quickly proved useless and penniless.
It is reported that George had a very bad temper, and this is understandable - if life does not spoil and ordinary people, then what about the three-legged? This explains the fact that there are no pictures of George. In 1899, he was mired in poverty, but accidentally found a benefactor in the person of Mary Riggs flower from Salem. With it, he lived for seven years, until he died of tuberculosis in the summer of 1906, all the forgotten and abandoned, except for Mary.
However, after his death in autopsy transpired startling fact - Georg had two hearts. And one of them stopped a few weeks before his death. Doctors verdict - if not tuberculosis, Georg could live a very long time, even with one heart. So he was still a rarity. Unfortunately, his contemporaries could not appreciate it.
About George remained very little information, not to mention the photos. We know only two of his image, and one of them presented here survived thanks to the souvenir cards (from the personal collection of the author Human Marvels). How true it is - it is difficult to judge.
The fate of the Frank Lentini there was much more successful, and he lived a long life, even married and give birth to children. He survived not only George Lippert, but Myrtle Corbin - This example of successful adaptation to life. Francesco Lentini died already practically in our time - in 1966, at the age of 78 years. That's why we know about it as much more, and his image quite easily not only in literature but also in the network.
Francesco was born in 1889 in Sicily. In fact, he was born with four legs, like Myrtle, but the fourth limb was so poorly developed that it used to be considered a three-legged. However, he also had a total of sixteen toes. His third leg is fully working. But more than that, he had two sets of working male genitals.
At the age of eight years, Francesco and his family emigrated to America, where he almost immediately became a celebrity, replacing George Lippert from the post of "the only three-legged man." After Francesco was a child, he could play his third leg soccer stunts, and, above all, was very pleasant to talk to. For his outstanding abilities earned him the nickname King of Freaks (or "King of Freaks" in a more mundane translation) and "three-legged miracle." People respected him so much that it is often called simply "The King".
During an interview with reporters Francesco third leg used as a chair. He could run, walk, jump, ride a horse, bicycle or car. He also knew how to swim. He often joked that he has an advantage over conventional swimmers, as it can use the third leg as a wheel.
One of the most frequent questions for Francesco was a question about how he takes the shoes in the right quantities. He used to joke: "I take two pairs of normal, and then give the excess to his one-legged friend!".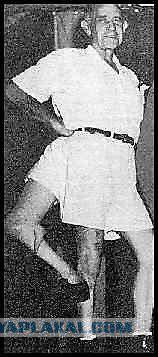 ...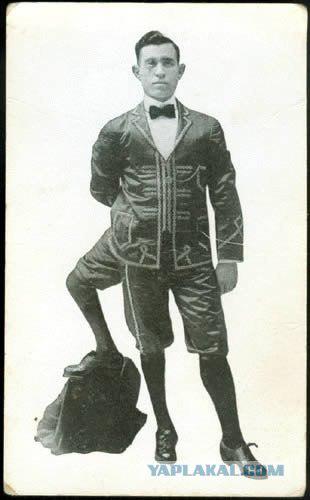 Serpentine Snake Woman and female mermaid.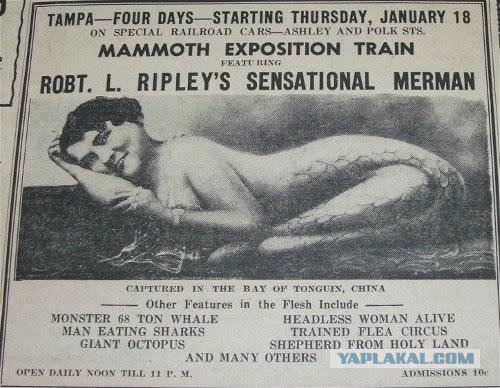 It was called the "eighth wonder of the world", "mystery of nature", "despair of doctors" - are just a few titles of this interesting lady ... She had no skeleton - just the skull. It was truly extraordinary creature ...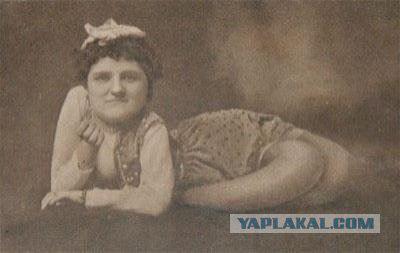 Not behind the serpentine Medusa baths Allen, who was born in 1908. Because of congenital bone defects of her body almost did not grow.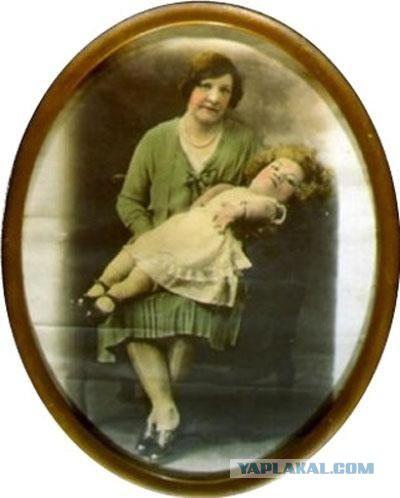 Her bones were so flexible that she could not move and was a lifetime in one position.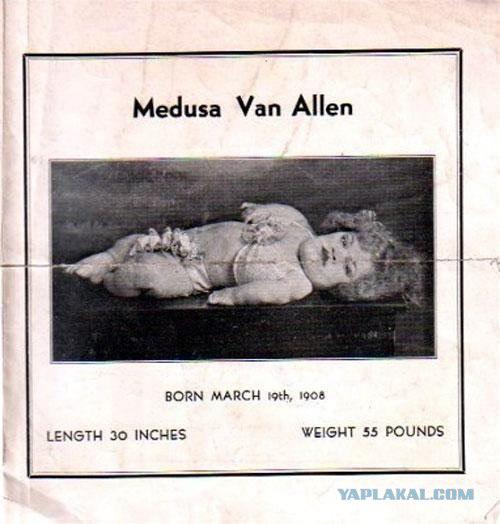 Roy Bard Harry Raymond Istlak suffered from a rare genetic disease - progressive ossifitsiruemym myositis, which causes the bone formation in the muscles, tendons, ligaments and other connective tissues. Bone bridge formed across joints, progressively restrict mobility. In this body not only produces excess bone tissue, but also creates an additional skeleton framing body, and locking in human bone prison from which there is no key.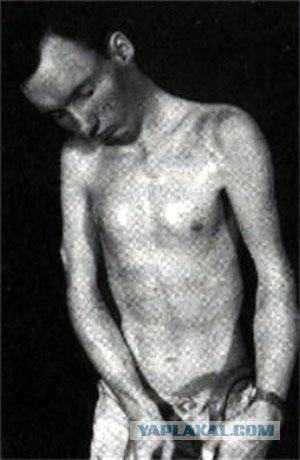 However, Roy Bard was very popular in the 19th century. The man found the strength to continue to live with their diagnosis - the only moving his place - his lips - he used to distribute aftograf.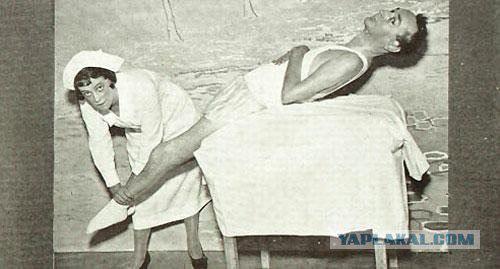 Harry Raymond Istlak born in 1930 suffers from the same disease that turned him into a "stone man." Harry was 10 years old when his body began zakostenevat ... At the end of life was able to move only his lips, but in show business came after the death - Istlak bequeathed his skeleton to the museum in Philadelphia.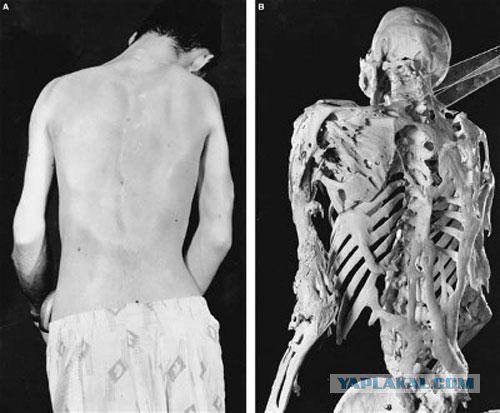 ...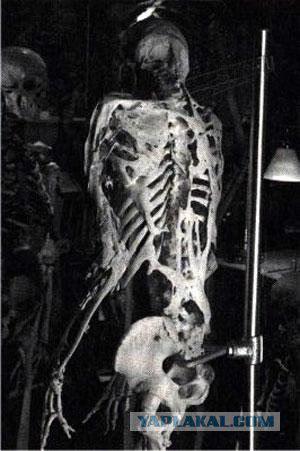 Other artists with abnormalities in the development of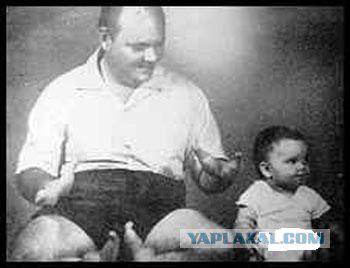 ...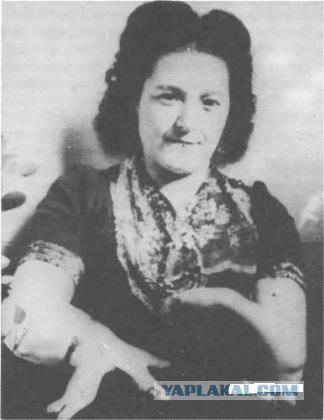 ...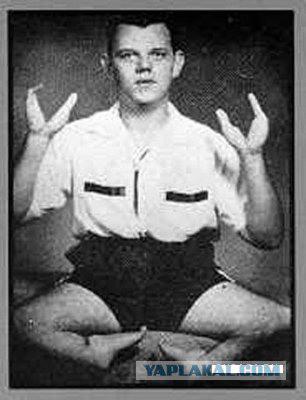 A family of people-lobsters. Their limbs were like claws.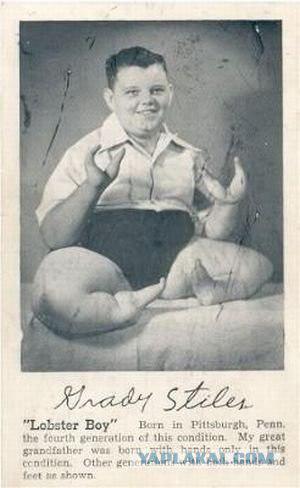 Great success in the circus freaks used antagonisms. Here, for example, pose pretty ugly son of a mother.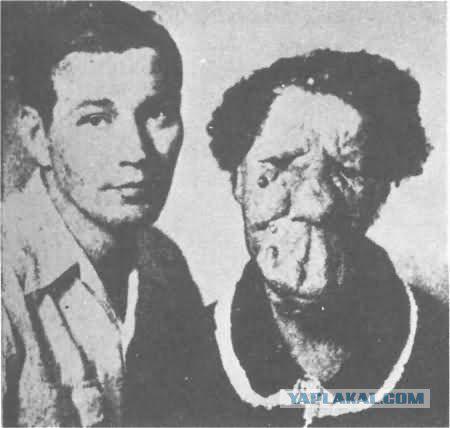 Margaret Clark underdeveloped twin brother.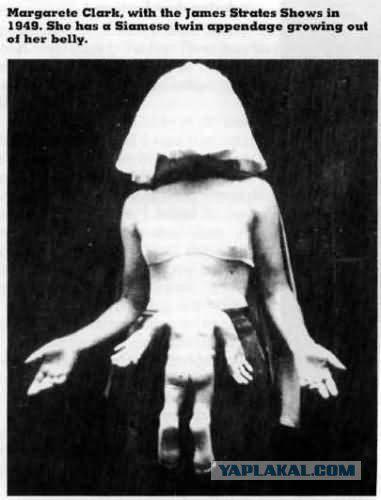 Coneheads, or "people, the Aztecs."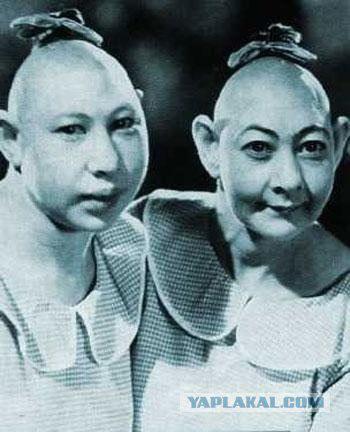 ...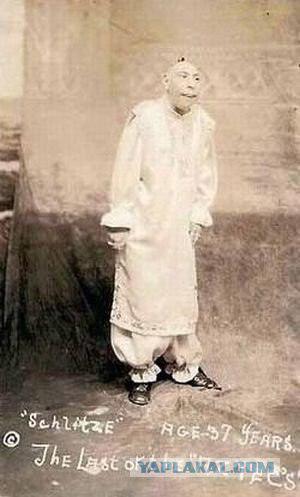 ...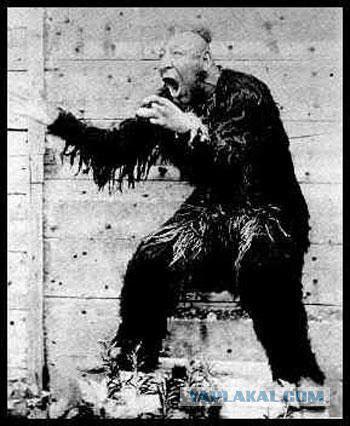 ...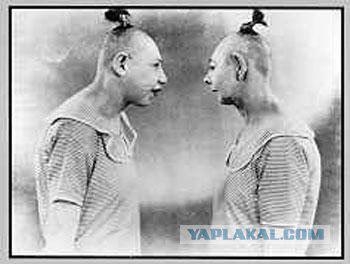 ...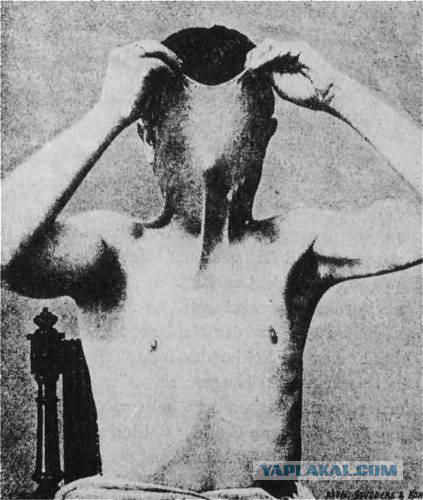 ...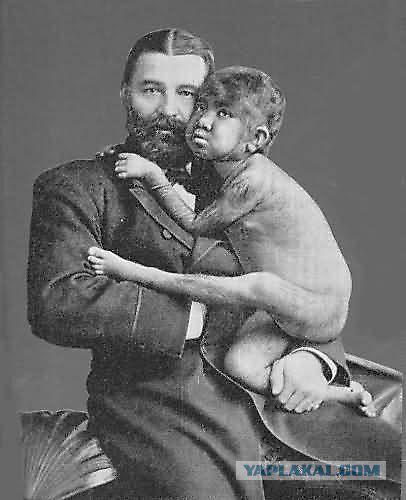 ...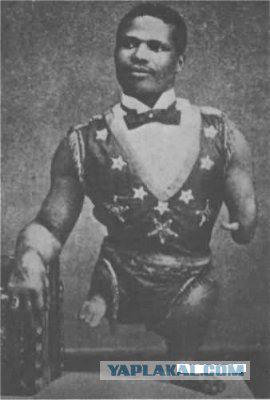 ...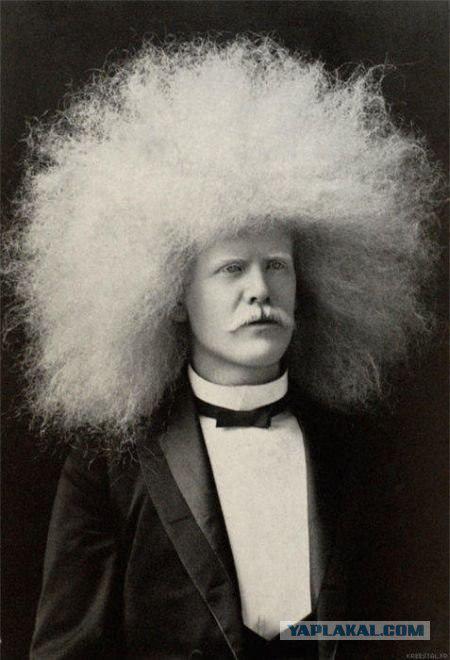 ...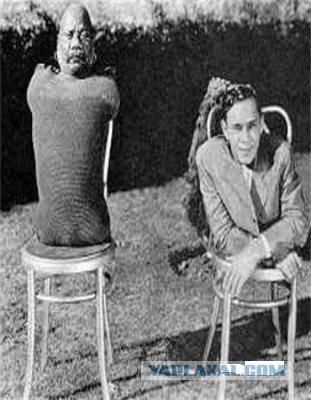 ......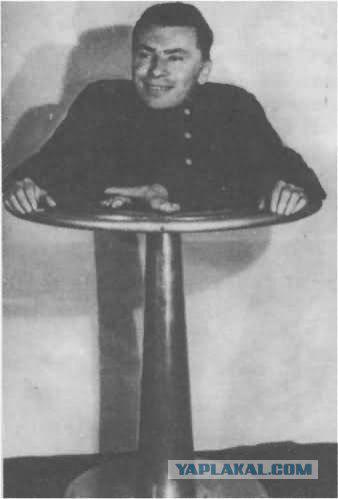 ...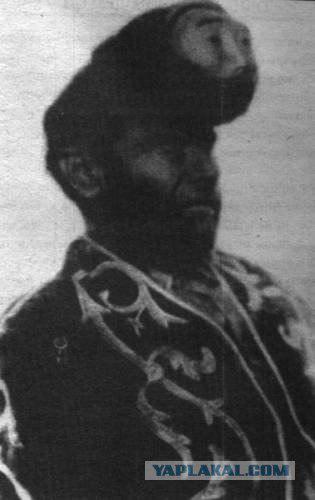 Source: