While the Los Angeles ceremony honored the winners of musical Grammy in 2012, London hosted a party nominees and winners of the 65th award of the British Academy of Film and Television Arts, or simply - BAFTA 2012. It is certainly not the "Oscar" with his haute couture dresses and mullions diamonds, but also on the red carpet of this event was something to see. In addition, the secular parties in the UK are always different from the Hollywood parties, and it is always interesting.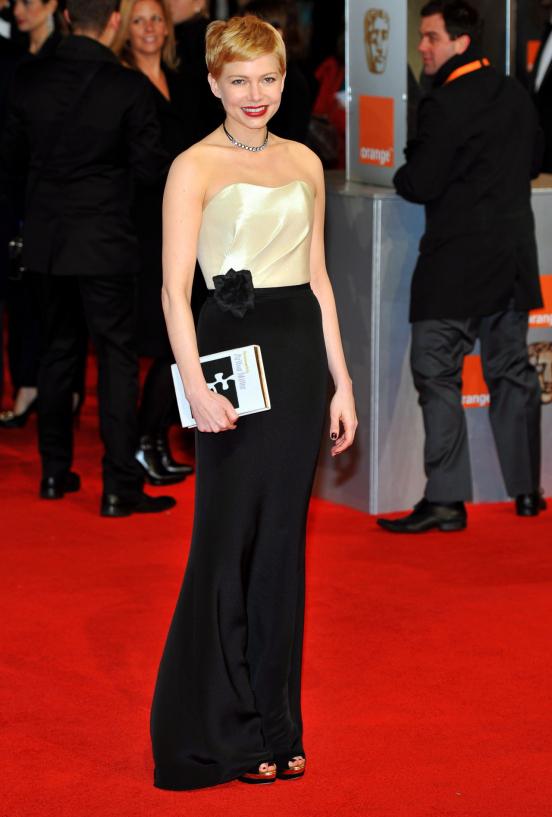 The event of the evening was Michelle Williams. No, not because she was the best actress with his film "7 days and nights with Marilyn" (he, by the way, did not get any awards). The point in the image that the actress opted for a red carpet - or rather, in a dress that is to everyone's surprise was not on vysokomodnogo designer, but from democratic brand H & M. The dress was quite simple, but very worthy of looking at the background of other clothes from the most famous designers. And I liked the original clutch in the form of a book - at once and not think that this lady's handbag.
Dresses with original features we were pleased with Penelope Cruz - straight neckline (on the chest and on the back) looked very original and noble burgundy shade was very becoming sultry Spaniard.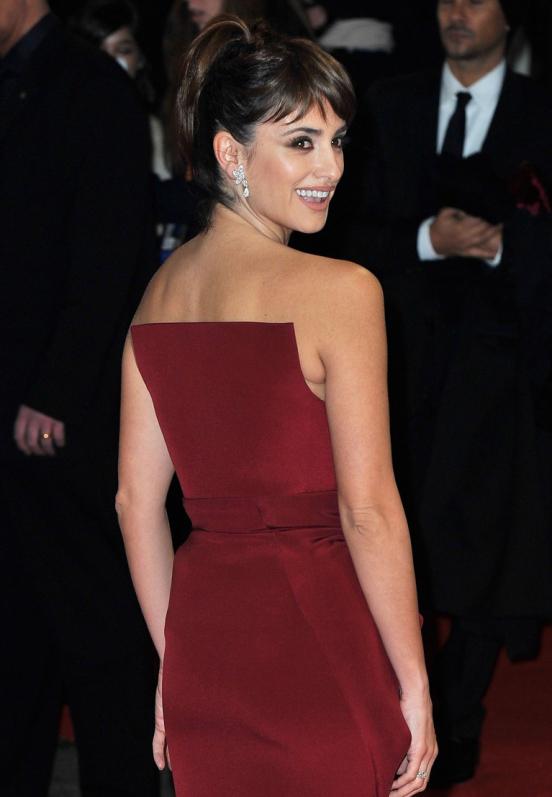 Jessica Chastain paced the red carpet in flowing toilet from Oscar de la Renta. The actress never was an abundance of love for detail and this outfit is no exception - a simple word of cut-type trim at the waist (right to emphasize the figure!) Looked rather reserved, but at the same time very effectively.
Another red-haired beauty - Christina Hendricks. That this woman knows their strengths and their always stresses - just look at her breasts. Another question - the color of the dress. I understand that the black color is appropriate, always and everywhere, but this black outfit to skukota.
But the choice of Bonnie Raitt's not boring. Vintage dress from Prada looks very original evening dresses on the background of other celebrities, but emphasizes the individuality of its owner. When all this is in the way that something is not right - whether improper shoes, or black tights extra ...
But true to his style and Tilda Swinton in a dress Celine. I like presents himself as an actress, but sometimes you can do it in a more saturated color, even without make-up, but rather in its invisibility.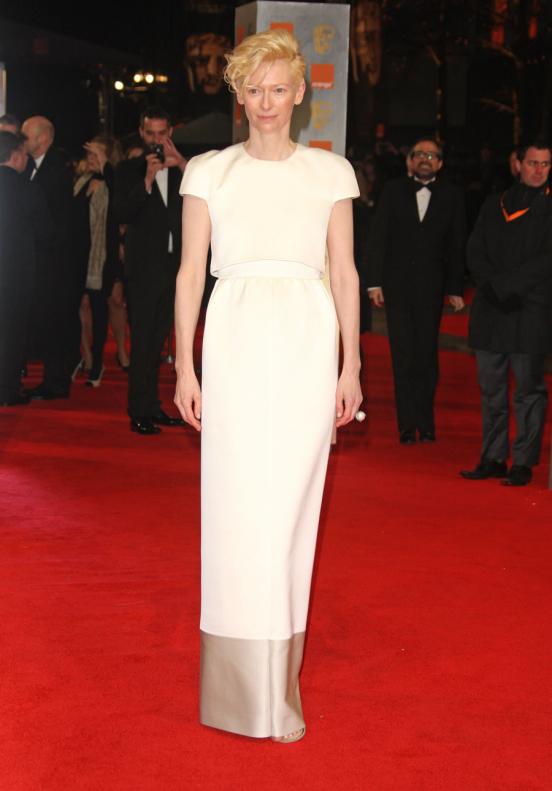 I am convinced that the best evening dress for pregnant women - a dress with a high waist. Elsa Patka with me would agree, otherwise it will not be put on the sundress decorated with crystals. Perhaps the actress just did not want to attract attention to your tummy, but why then sparkles in the same place?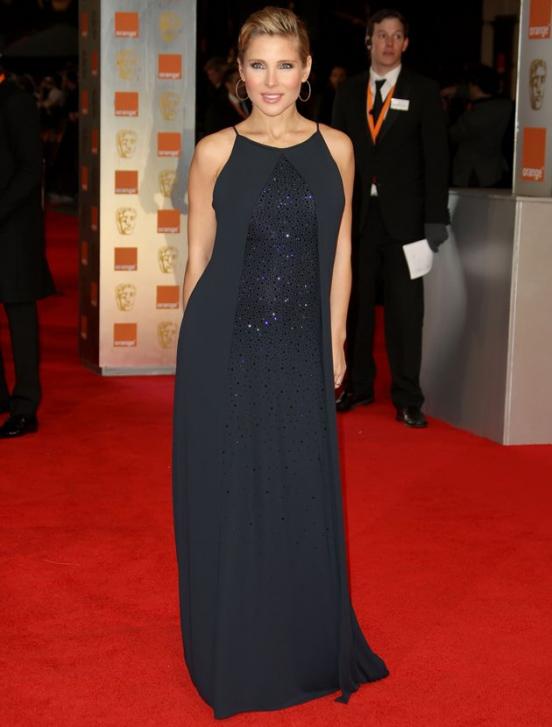 I really liked the color of the dress, which has chosen to pass on the red carpet Fern Cotton - such gentle love coral shades. The only thing that confused me - this "deafness" attire. In my opinion, a lighter, even translucent fabric would look spectacular.
Fashion critics vying to assert that the dress Christina Ricci by Givenchy Couture dress was the best red carpet BAFTA 2012. I am very long time to look closely to this dress, but did not understand its charm. Some crumpled metallic cloth of unknown species frill along the entire length dress ... Where beauty something?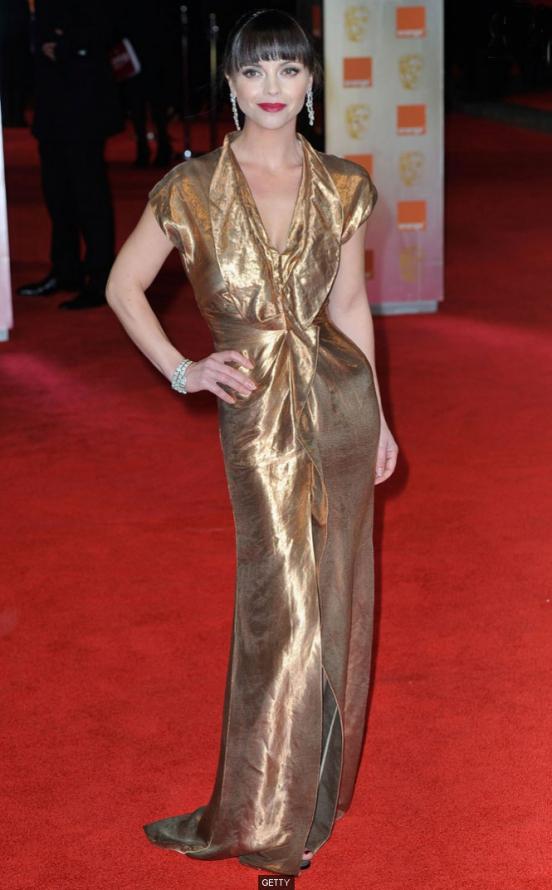 Just seeing Gillian Anderson dress, I noticed that it looks a bit old fashioned. It turned out that this vintage by Sybil Connolly, and it is quite another matter. In general, the image of a flawless: Decorations and hairstyle to match along the past years.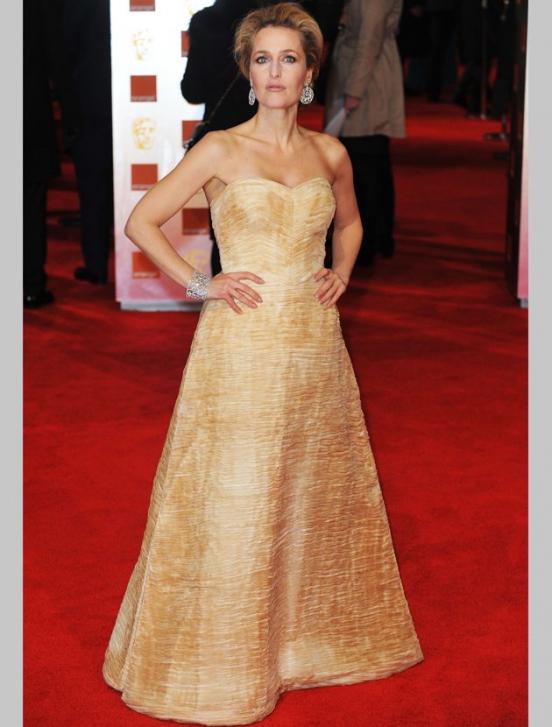 The title of the fatal beauty of the evening I did not hesitate to give Melissa George. Her whole way of just shouting about her sexuality and attractiveness, even though the dress was quite simple: iridescent dark gray dress with an elongated loop and long sleeves plus an interesting accessory - a tiny clutch with metallic fringe. In my opinion, the highlight of the image was in color of lipstick - Melissa choose instead of "fun" fuchsia any other color, the image would have turned out quite different.
Since then, both the motion picture screens out "Descendants' Shailene Woodley became a regular social events. This time the 20-year-old actress appeared on the red carpet in a cream-colored dress flying personally reminds me a nightgown. I love cream shades, lace and flowing fabrics, but this dress looks too "intimate».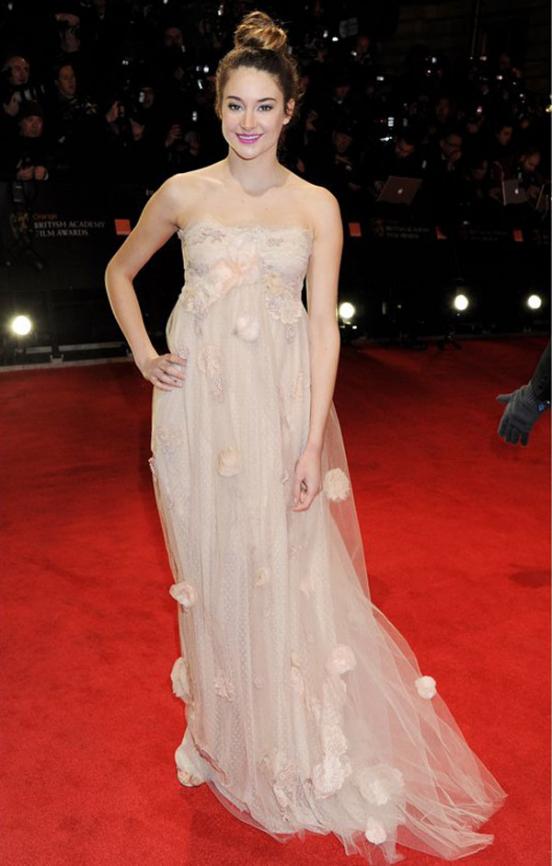 I think that hardly anyone doubts the talent of the actor Meryl Streep, but that's a style icon, she has never been. This dress from Vivienne Westwood confirms this fact.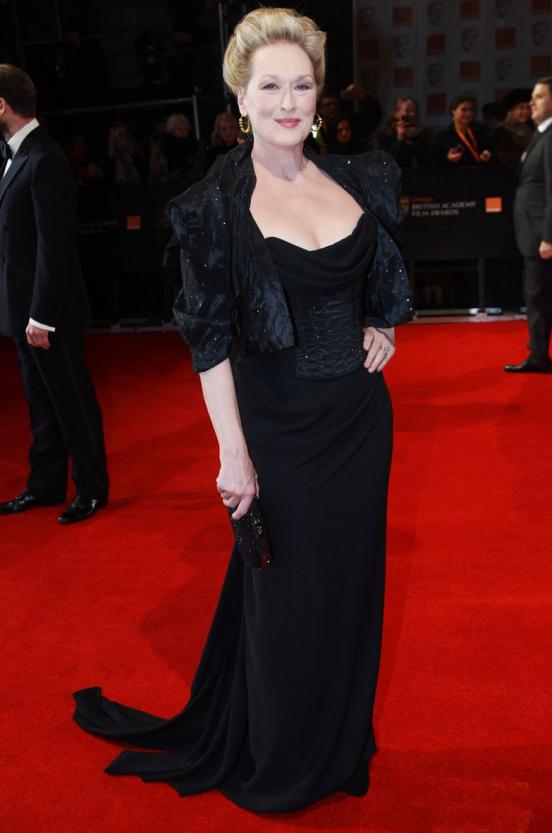 New Bond girl Naomie Harris sunny toilet from Pucci. I always like the way it looks yellow to dark skin, Naomi case is no exception.
I do not know who Holly Grainger (of course, she's an actress, but I did not see her any film), but I could not go past this charming flying dress as if created for the princess. Once again, the highlight was the image of lipstick - a coral shade perfect addition to, and does not make him faint.