It seems that nothing separates us from the "Oscar". Ahn, no! Right on the eve of the most prestigious film awards ceremony held another - Independent Spirit Awards 2012 prize for achievements in the field of independent cinema. The event was held in Santa Monica (of course, because Los Angeles is absorbed by preparations for the you-know-what) and it is something like a meeting of old friends: relaxed cocktail dresses, pantsuits, saturated colors, prints and mini length. No more multi-million dollar diamond and ballroom toilets - this beauty we will see tomorrow.
The star of the evening definitely become Kate Beckinsale. Just look at this wonderful suit from Diana von Furstenberg. First, look at the original background of dresses, and secondly, this color is just impossible not to notice - he was so bright and beautiful, and third, it looks perfect on Kate. A supplement coverall fuchsia gold accessories - a win-win and at the same time unbanal option. Kate - peerless!
Another girl who prefer skirts dresses, even pants and jeans (!), Shailene Woodley became the ensemble Christopher Kane. In general, its image looks quite good: black skinny-jeans and top with interesting floral trim plus excellent pointy pumps Chrisitian Louboutin, which, slovm actresses were very uncomfortable. Beauty requires sacrifice!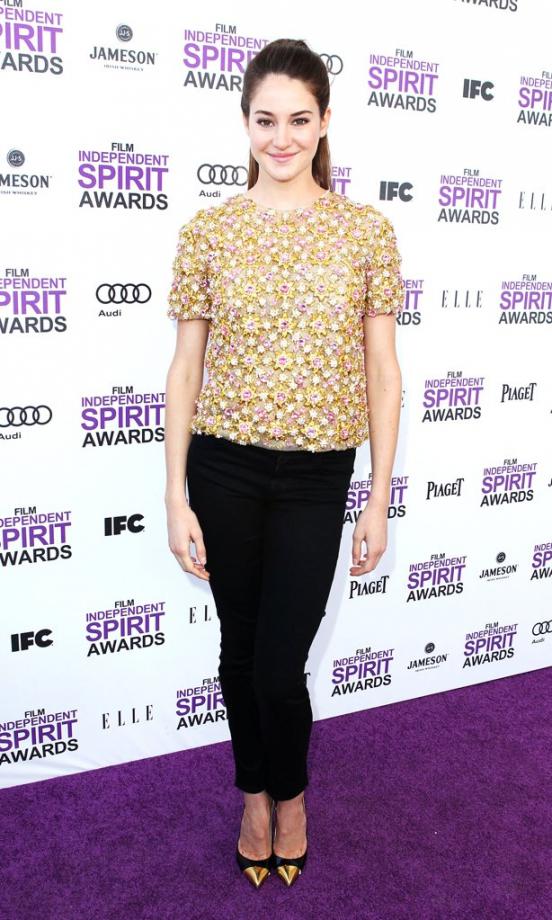 At the ceremony there and Julia Ormond. To pass on the carpet, which at this time was purple, the actress chose a silver dress in the office-holder style. All would be nothing if it's not spoiled black patent leather sandals. In my opinion, the image would have been more sophisticated, it come in elegant boats.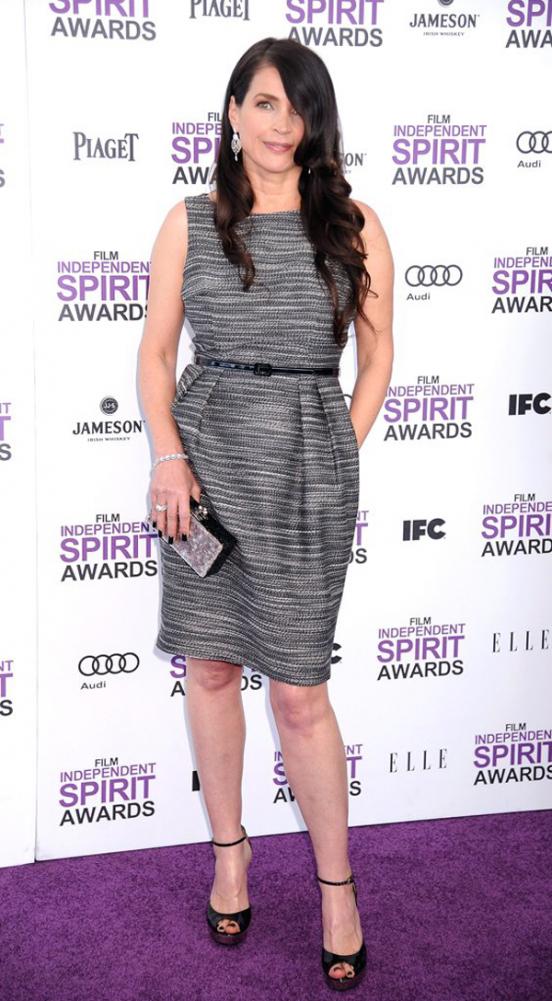 Elizabeth Banks, obviously, did not become the most stylish celebrities on this party. Her dress looked awkward due to the strange and incomprehensible cut the print on the skirt. Too much nudity - a cutout on the bodice is enough!
I do not know what tosay. You can accuse me of lack of taste, but I think this suit Jessica Chastain just awful. In such once I went to one of my school teachers. I understand that it is Armani, and that the jackets in the style of the 80s with his shoulder, and a dedicated line skirt A-line style 60's now in favor, but this dress looks like Jessica bluestocking.
In choosing costumes Jessica Chastain is equal to Michelle Williams - that's who looked luxuriously simple jacket with a white shirt and shorts shortened. This ensemble of Louis Vuitton was sewn especially for Michel on the occasion of the event.
And in the hands of the actress holding another wonderful accessory - clutch design Olympia Le-Tan, imitating the cover of the novel by Jerome Salinger's "The Catcher in the Rye." This is the second time Michelle pleases us like an intelligent accessory - at the ceremony BAFTA in 2012, she was holding a "book" Arthur Miller, the last husband of Marilyn Monroe.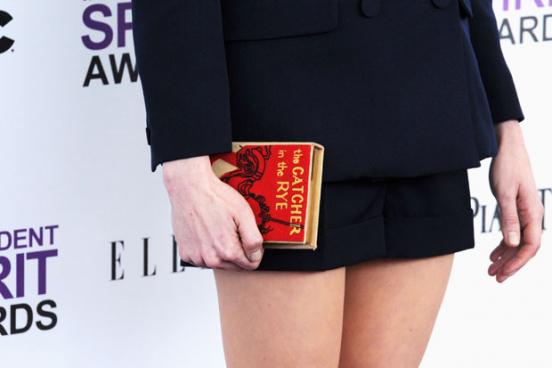 His choice of dress is very pleased with the fashion critics Zoe Saldana. Actress shone at a ceremony in Balmain short dress with a cut on the back. The highlight of the dress became an original floral print, complete with shoes neutral color.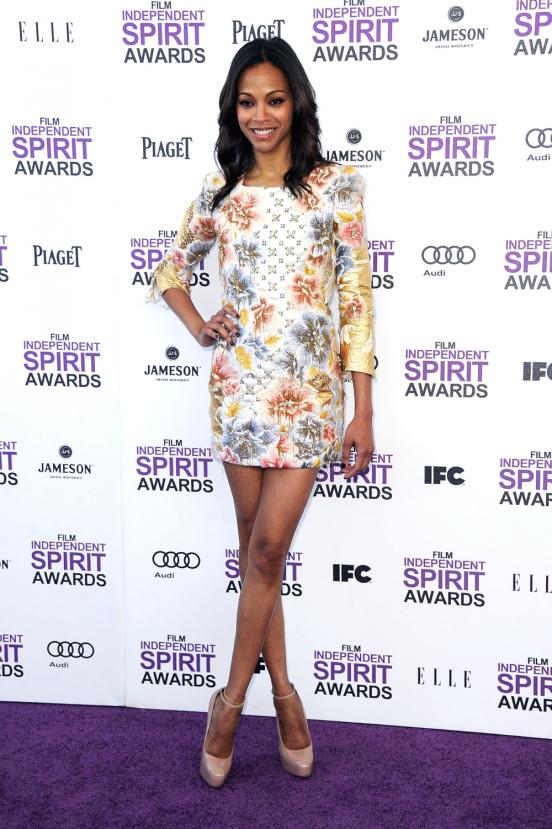 Only here with the quality of work done fashion house Balmain, this time led - on the hem of her dress dangling thread.
To be honest, I thought that the age of Busy Philipps nearing forty, but in fact she was only 32. Apparently, the actress has decided that so many years of her too much, and dressed in a dress on the similarity of the ones I wore in childhood garden. I have mixed feelings about this image, and if so, it is clearly not among the best at the ceremony.
I think that everyone noticed that Elizabeth Olsen is clearly not indifferent to clothes "do not age" - the actress often chooses outfits suitable for women, but not for girls. This case is no exception. Yes, the image was very flavorful and tender, "like fairy" (as called him recently, one of our sponsors), but Elizabeth is sometimes necessary to experiment with dresses «younger».
Olivia Wilde in flowing dresses from the collection of Gucci - a fascinating spectacle. Beautiful woman, beautiful dress. And I really like the floral print in the form of pansies.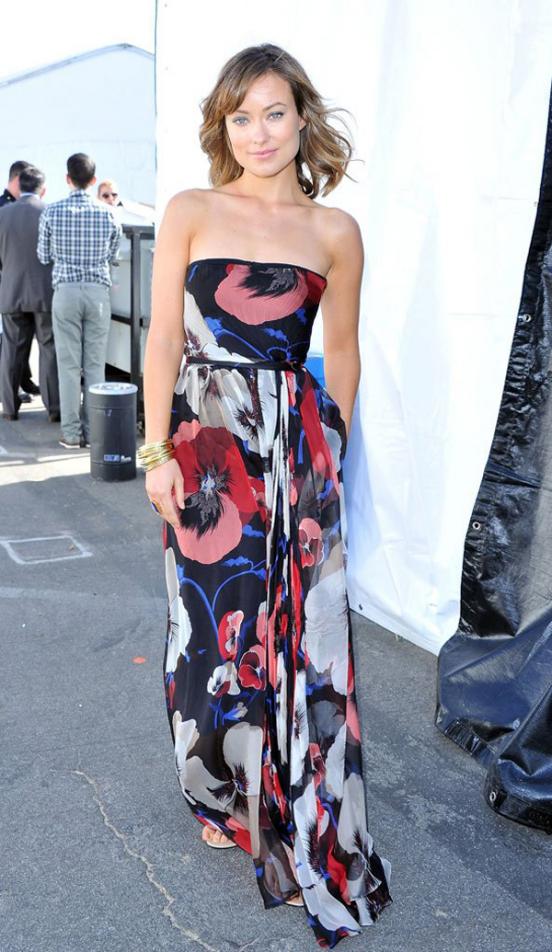 You know how old Kelly Lynch? And I know - she '53. Fifty three! Just look how it looks - the age on it has no control. Moreover, over the years it gets better. Certainly, there has been a plastic, but the doctor was very good - no evidence of surgical intervention were found. Now closer to the image. I liked her dress with lace Basques and I am glad that Kelly did not overload the image of the necklace - the decor are enough.
Kirsten Dunst looked better than ever in a white blazer and MCHP. To no way was boring, it diluted the black and white combination of colorful accessories - clutch and mustard-colored sandals with floral print.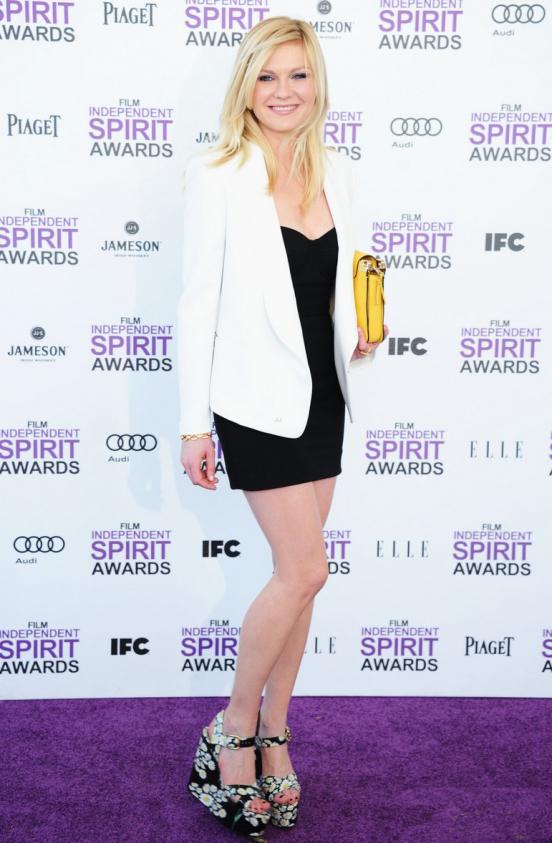 The title of the most beautiful women in the evening goes - tadadadam! - Anna Kendrick. No, that's not a typo, and I'm not crazy. Anna, maybe not the most beautiful girl on the planet, but this dress Alexander McQueen has made it so. Just look at this passionate print, this corset, giving the image of a light touch of BDSM, these studs! Do you still not hot ?!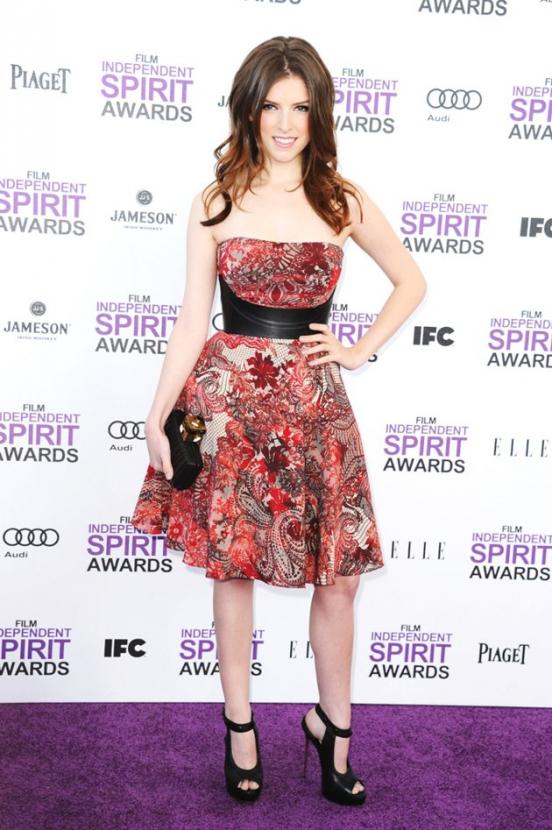 Rashida Jones in Oscar de la Renta. I fell in love with this dress for a beautiful combination of blue and green and the presence of a pocket on it (I love dresses with pockets). I am for!
The perfect dress for the passage of the purple carpet chosen Lucy Liu. Dress by Roberto Cavalli looks very simple, but the highlight is the tissue from which it is sewn, - a combination of three different types of lace plus delicate leopard print underneath.