Popular in the west portal of celebrity «Zimbio» which year of such ratings, but unlike other sites Editors «Zimbio» judged not subjectively and objectively (at least they try to prove it to us, here are publishing amusing spisochki). They have their own personal scale of the adjective "hot" with respect to the stellar pairs. They evaluate them on four criteria: popularity, success, attractiveness and achievement in the relationship. This year, under the criteria it got exactly 100 pairs, but the most famous hot and stormy relationship in 2012, 25 men and women, some of whom have already tied the knot, and some just getting ready to embark on this path. So, who are they?
1 scale - popularity (popularity) - the number of queries on Google and other systems, as well as a mention in the media.
2 scale - success (success) - s / n, succeeding projects in 2012 (shooting movies, magazines, record album).
3 scale - attractiveness (attractiveness) - external data on the results of several independent surveys.
Scale 4 - Achievements (staying power) - achievements in the pair - the duration of the relationship, marriage, children.
25th place - Adriana Lima and Marko Jarić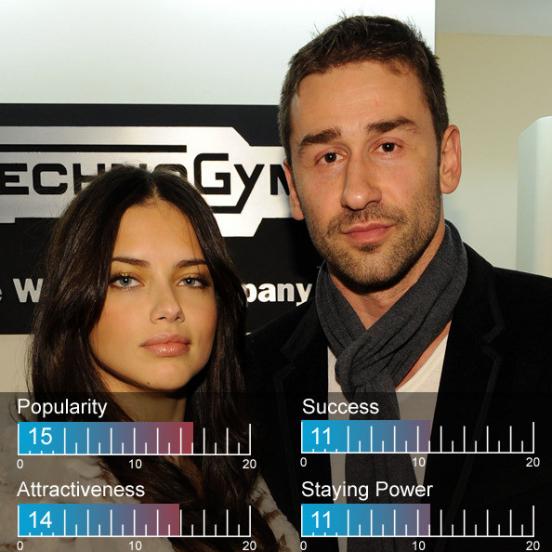 24th place - Nicole Kidman and Keith Urban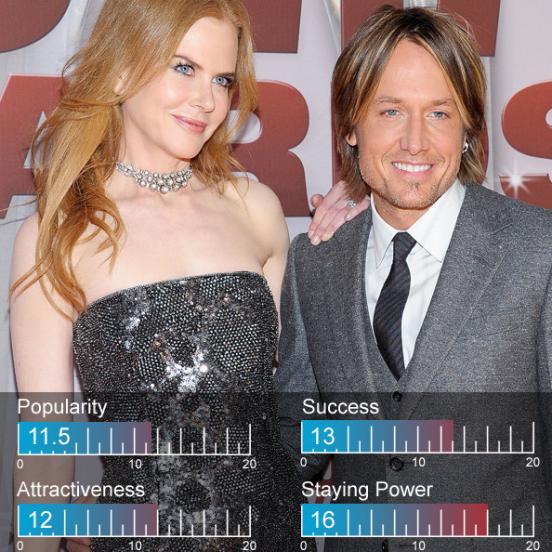 23 place - Penelope Cruz and Javier Bardem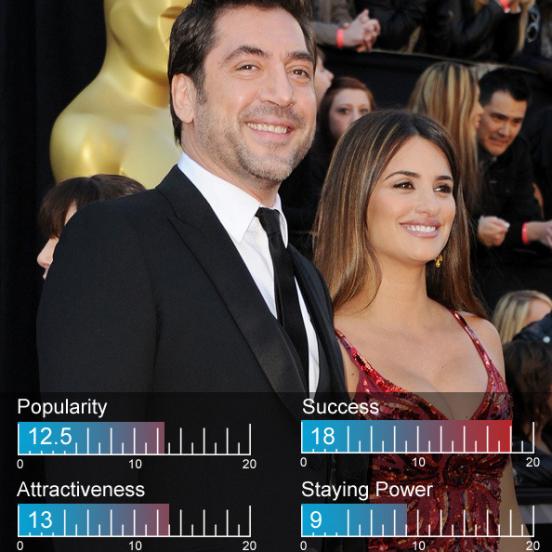 22 place - Gwen Stefani and Gavin Rossdale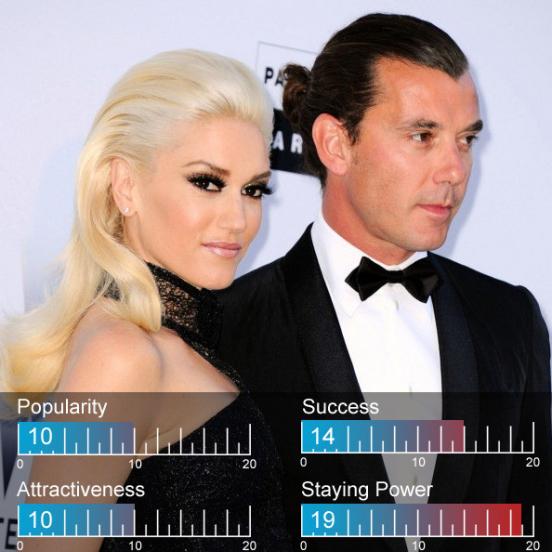 21 place - Vanessa Paradis and Johnny Depp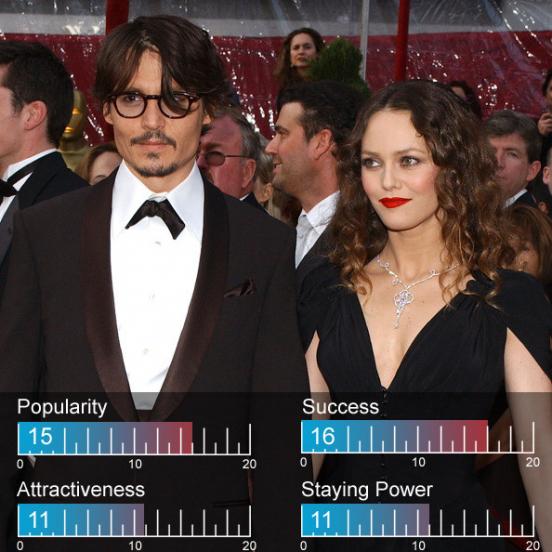 20 place - Jennifer Aniston and Justin Theroux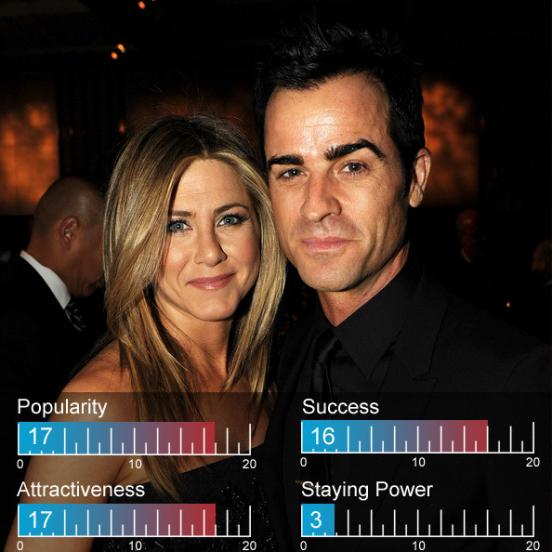 19th place - Rosie Huntington-Whiteley and Jason Statham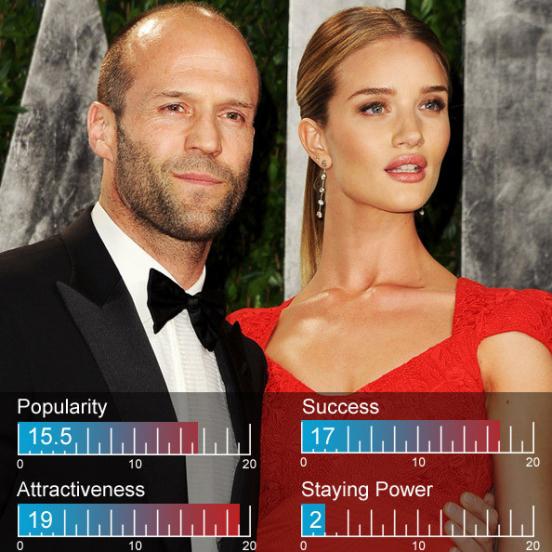 18th place - Gwyneth Paltrow and Chris Martin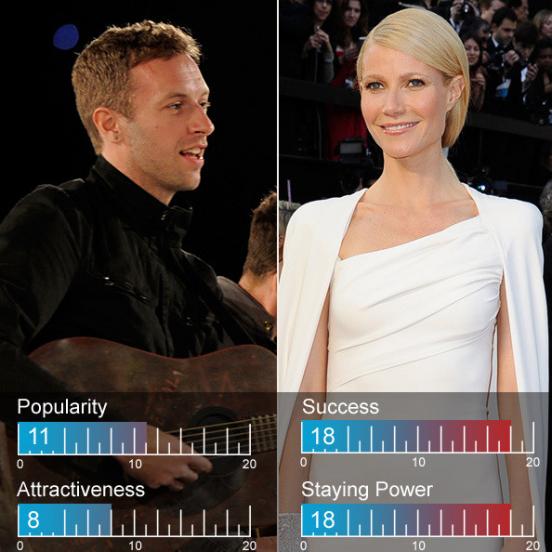 17th place - Kristen Stewart and Robert Pattinson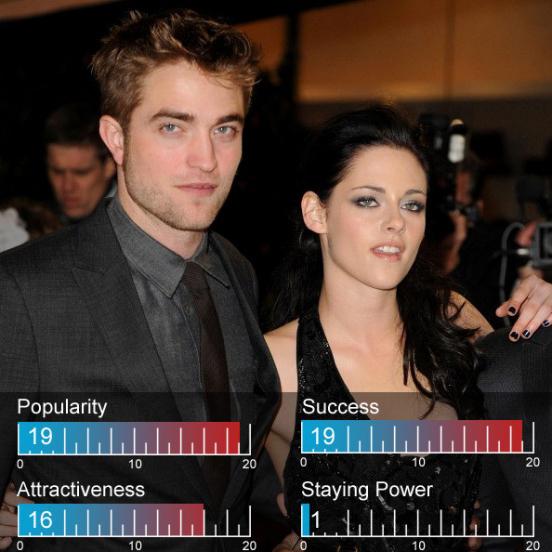 16th place - Eva Mendes and Ryan Gosling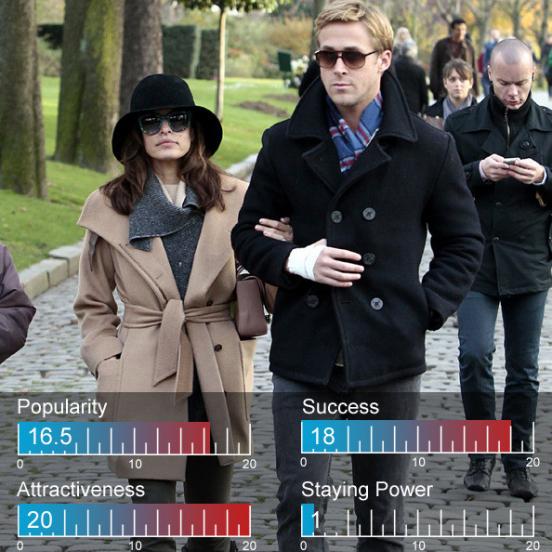 15th - Selena Gomez and Justin Bieber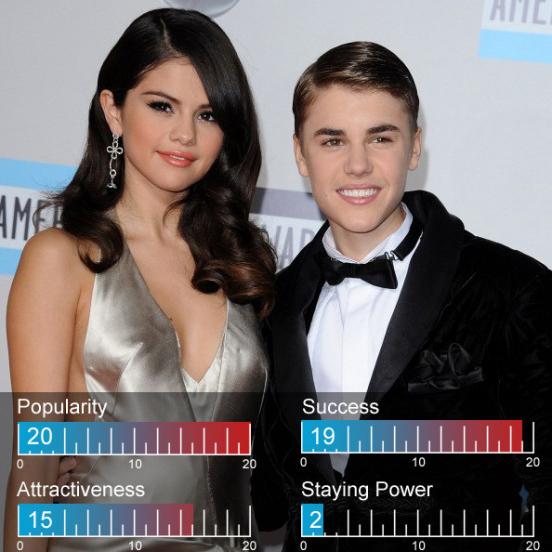 14th place - Miranda Kerr and Orlando Bloom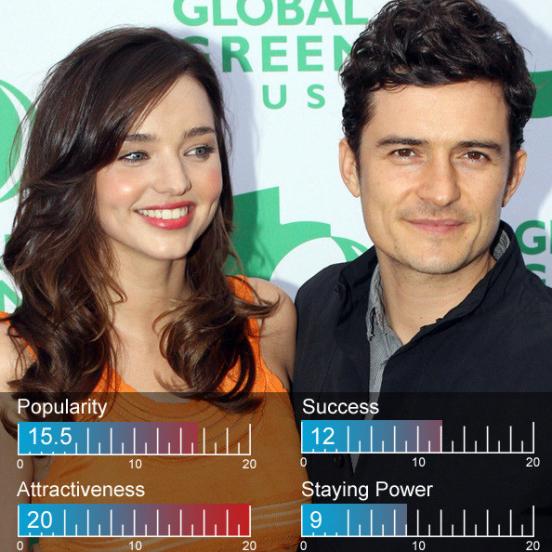 13th place - Alessandra Ambrosio and Jamie Mazur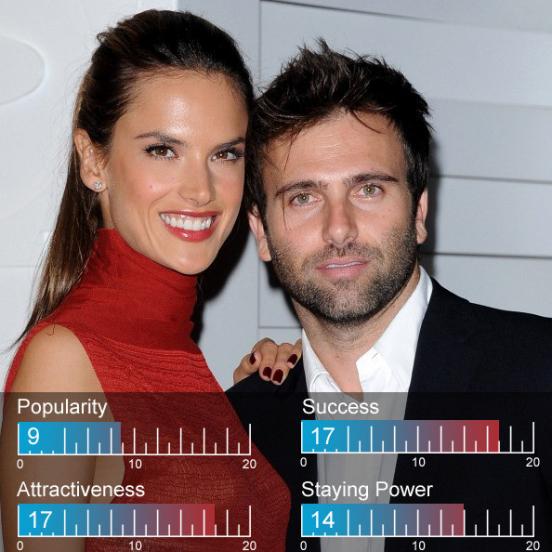 12 place - Miley Cyrus and Liam Hemsworth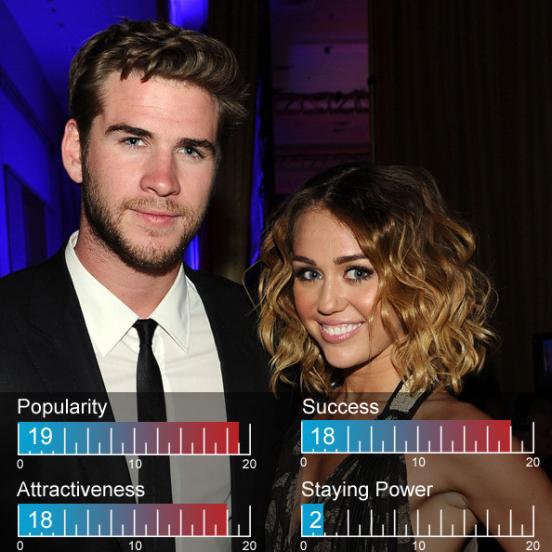 11th place - Mariah Carey and Nick Cannon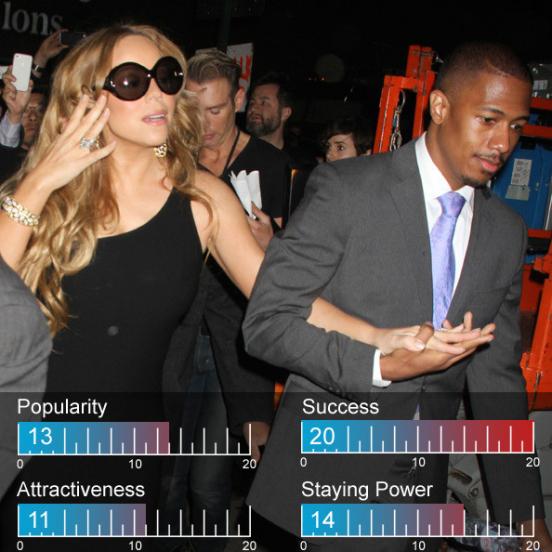 10th place - Jennifer Garner and Ben Affleck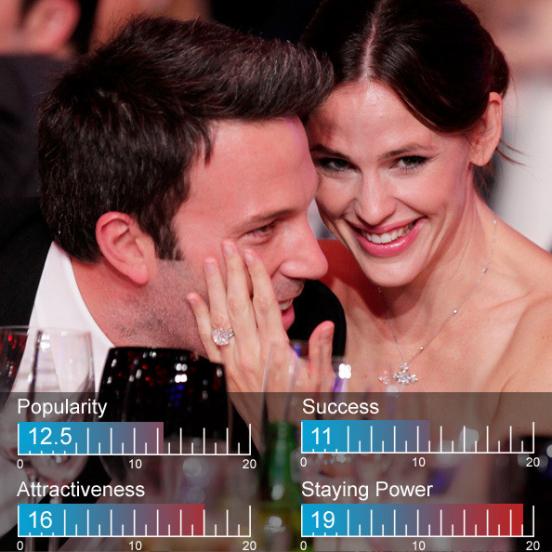 9 place - Jessica Alba and Cash Warren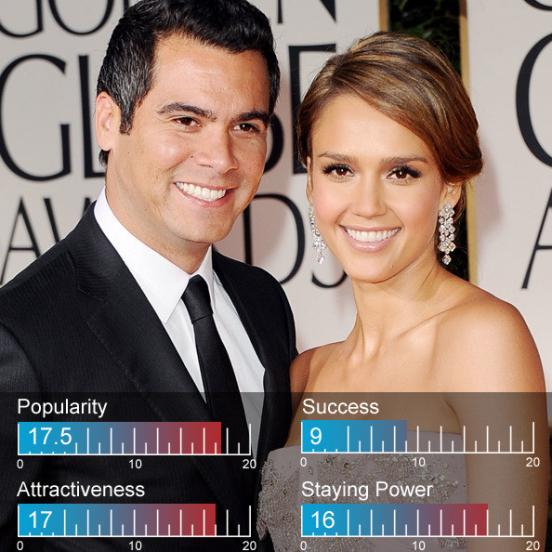 8 place - Katie Holmes and Tom Cruise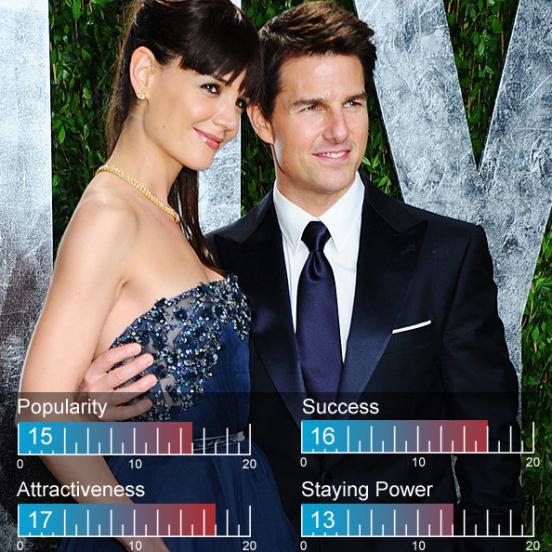 7th place - Irina Shayk and Cristiano Ronaldo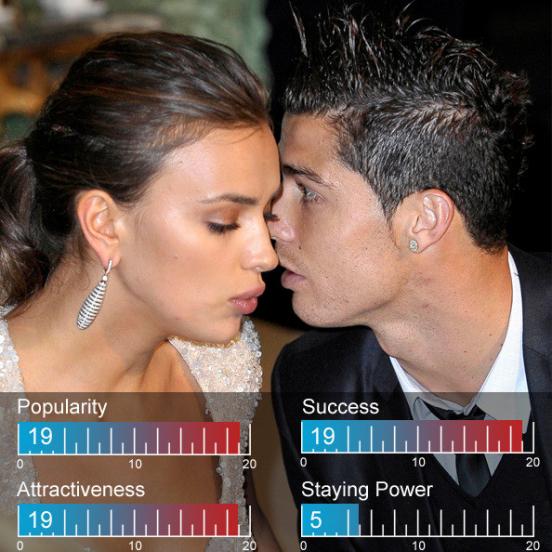 6th place - Jessica Biel and Justin Timberlake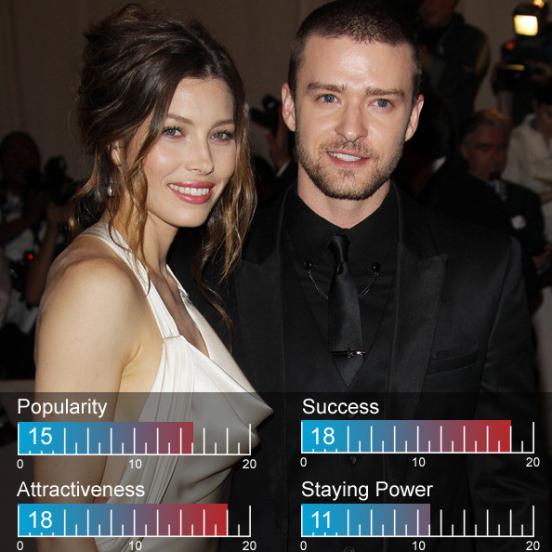 5th place - Gisele Bundchen and Tom Brady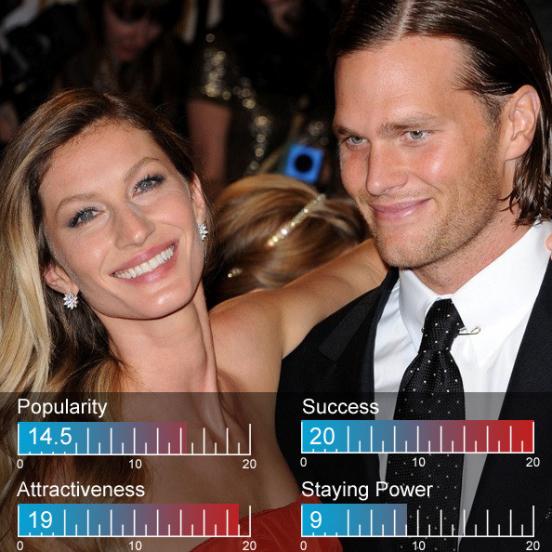 4th place - Kate Middleton and Prince William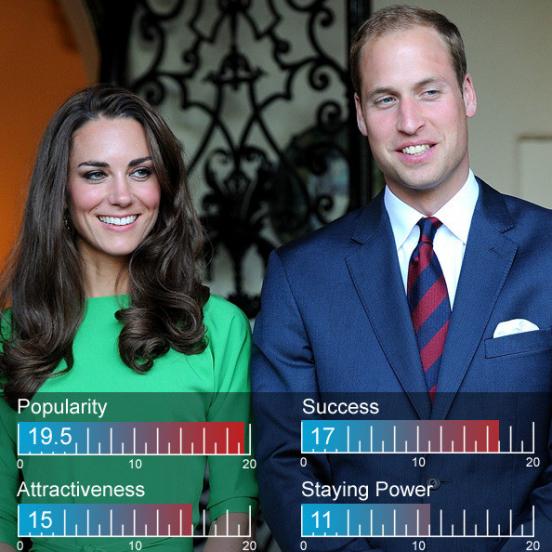 3rd place - Victoria Beckham and David Beckham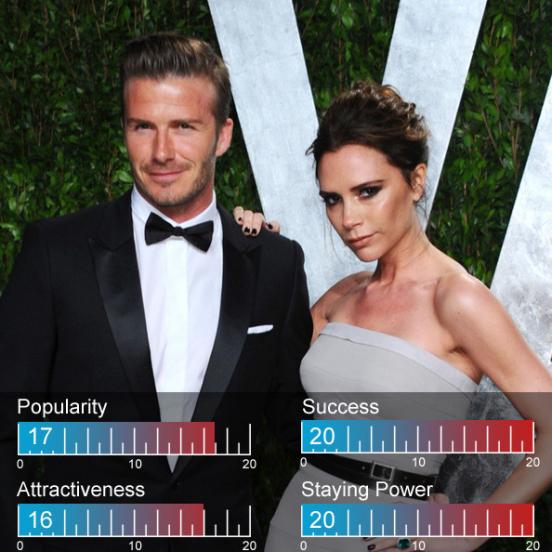 2nd place - Angelina Jolie and Brad Pitt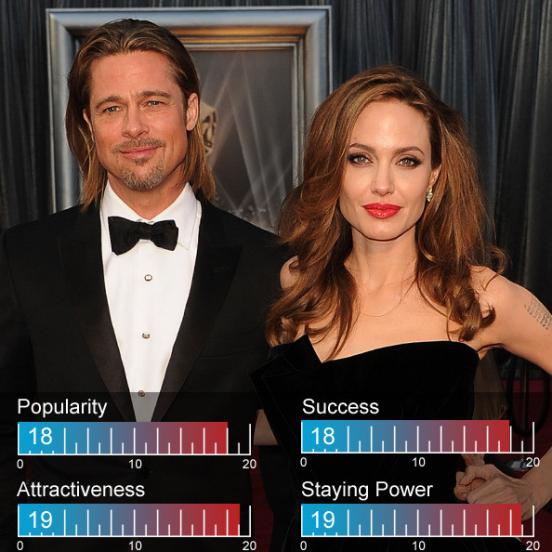 1st place - Beyonce and Jay-Z