Since the prize Emmy - award is a prestigious and highly coveted, to attend the ceremony on the occasion of her presentation was considered for the honor of the brightest stars in Hollywood. Hence an infinite number of dresses from the red carpet, we offer you the parts - it's too many of them.
The first part of the fashion review here.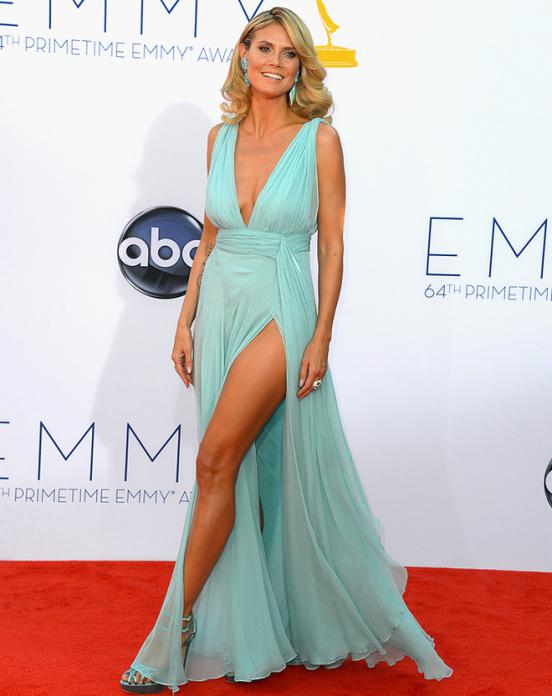 Despite the fact that the color of mint to be fed us over the summer, it still looks very nice and goes well with light tan. Total Mint Onion showed us on the red carpet Heidi Klum - her dress, accessories and jewelry were born exactly in this color scheme. Without a doubt, Chiffon dress Alexandre Vauthier emphasizes all the advantages of the former supermodel, but I have the impression as if the dress shouts: "Hey, I was still a luxury figure! Look at me! ". And it all look - on a woman's hard not to pay attention, even if she sometimes tries too hard to look perfect.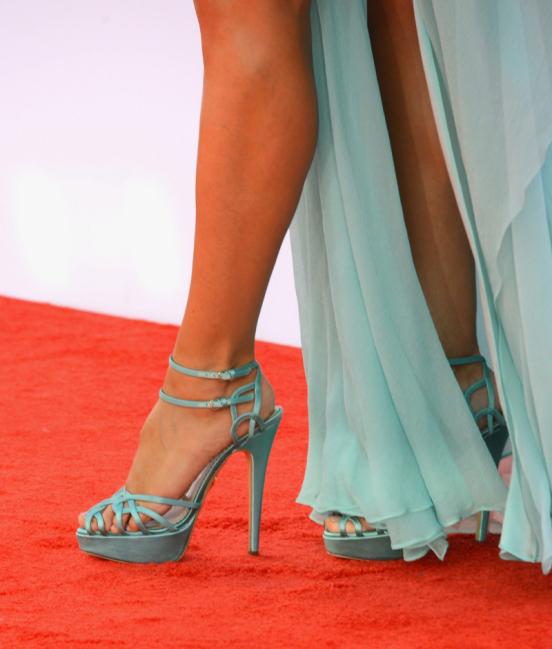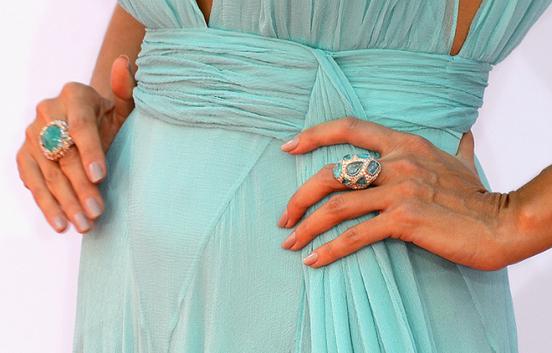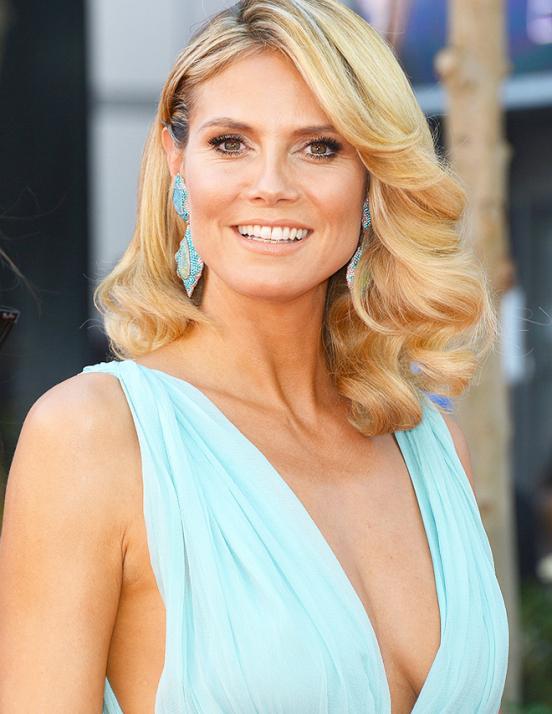 But despite all the efforts of Heidi, the most vivid image of the evening created Julianne Moore, an example of the very interesting evening dress by Christian Dior Couture. Bright yellow-necked dress with long sleeves and skirt the magnificent style simply amazing. It seems to be not in this outfit is nothing supernatural, but a custom color and material (a dress made of thick silk cashmere and) make his outfit from the category of "not for everyone", which means that it can carry only your favorites. In my opinion, Julianne just such.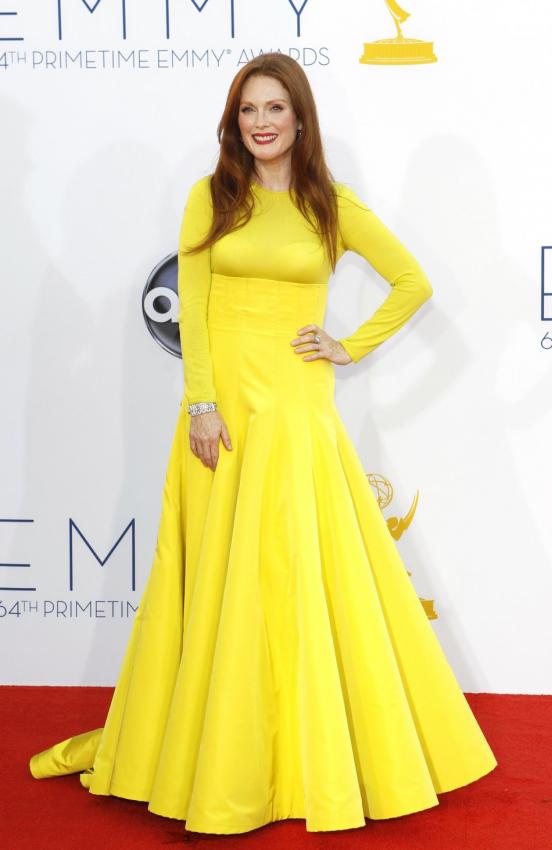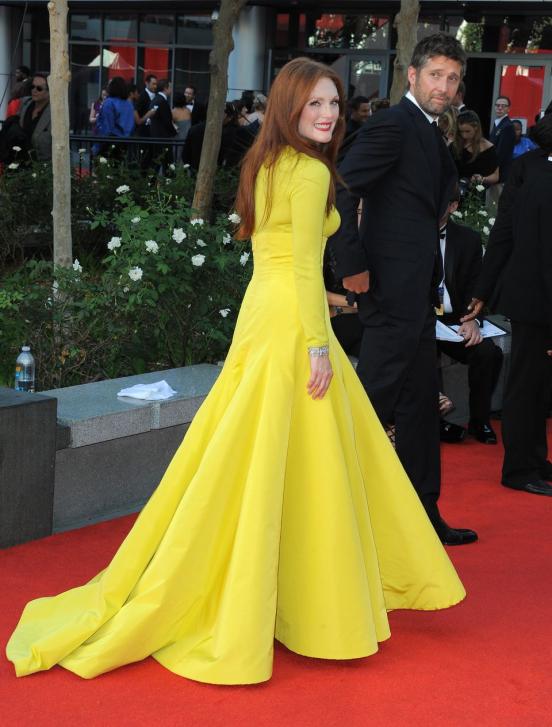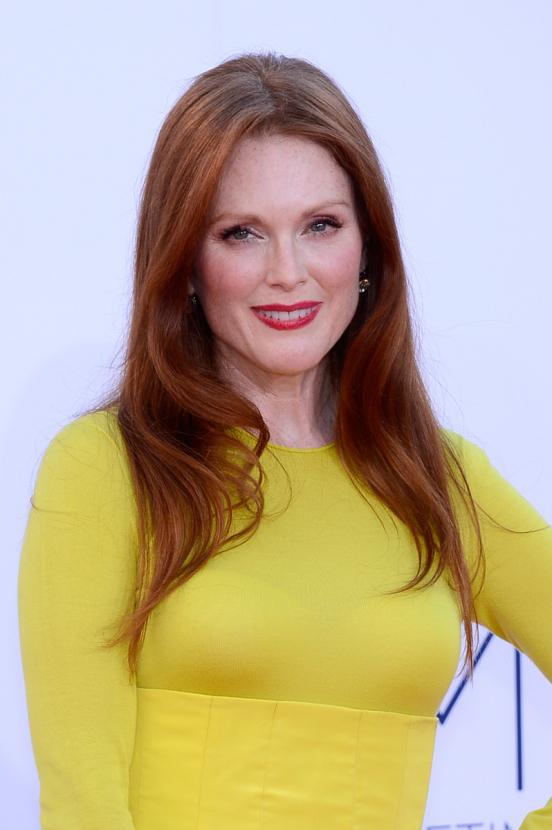 Actress Gretchen Mol, in spite of all prejudices, opted for the red carpet Red Onion Total. And I think that this image has the full right to exist. I am not happy with the style of dress, but playful accessories such as transparent sandals decorated with a cute ribbons create a very fun and gentle way (a rarity in the case of a red dress, which is usually associated with passion and hypersexuality).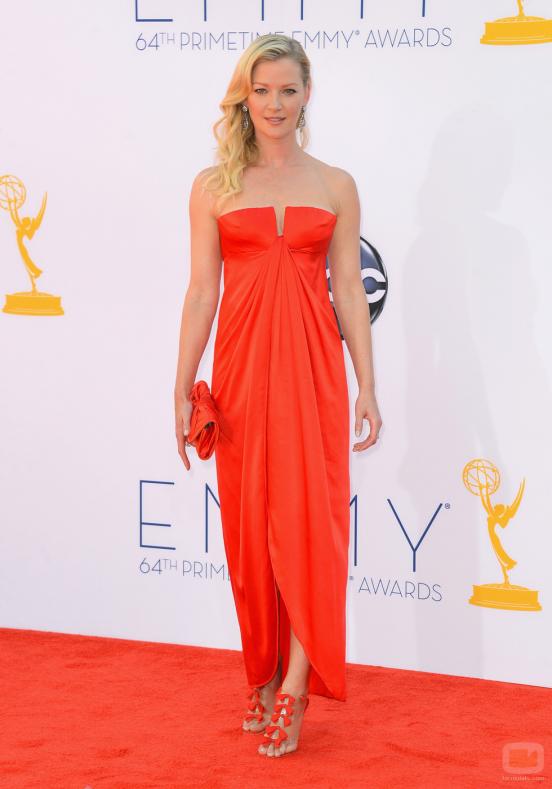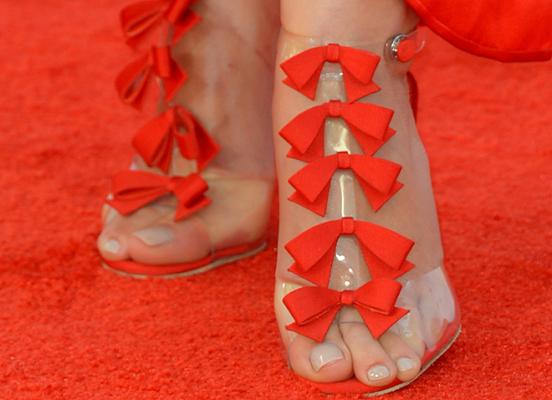 The young starlet Kiernan Shipka continues to delight us with their girlish clothes and, above all due to the fact that she chooses a dress by age (the actress 12 years). Is not it, the girl looks just wonderful in this cocktail dress of silk with silver decorative details on the shoulders? And all thanks to Zach Posen, which, though considered the king of mermaids dress, but still could not resist the charm of the 12-year-old little girls, and especially for her created this dress in retro style. Elegant sandals with heels and a small bag with Swarovski crystals beautifully complement the image.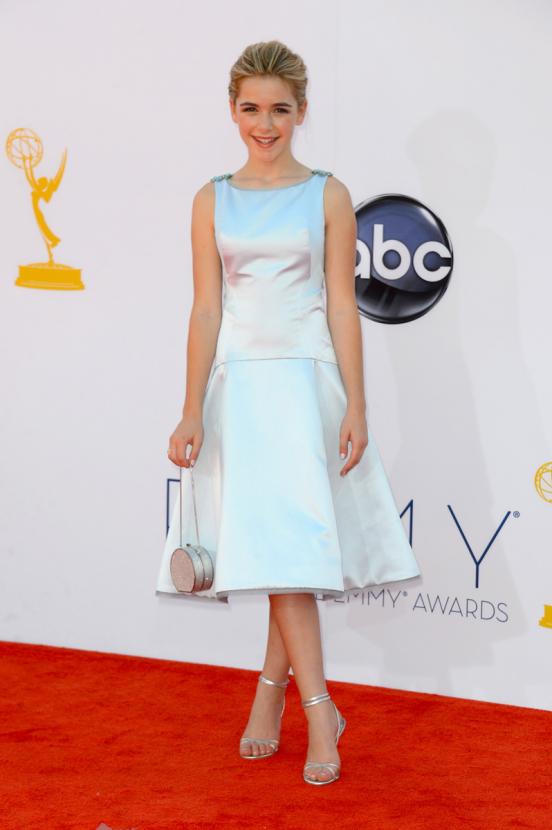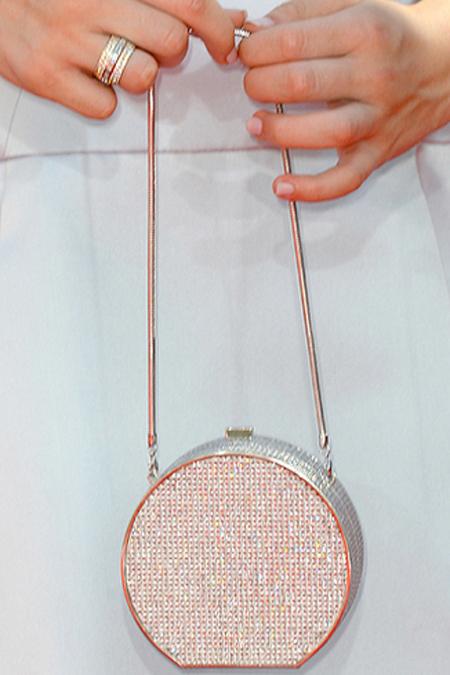 Another young actress, 14-year-old Ariel Winter, preferred to pass the red carpet dress with asymmetrical skirt and train of Katharine Kidd. In print the designer of the dress is declared as floralny, but personally I have this pattern conjures up thoughts of the underwater world, with its brilliantly colored corals and fish scales. In my opinion, the dress is perfect young actress, though I would have preferred to see in place of shoes cute sandals with decorative elements - it would solve two problems: first, the image would have made a more graceful and delicate, and, secondly, gone I have the feeling of being in a dress that is not enough.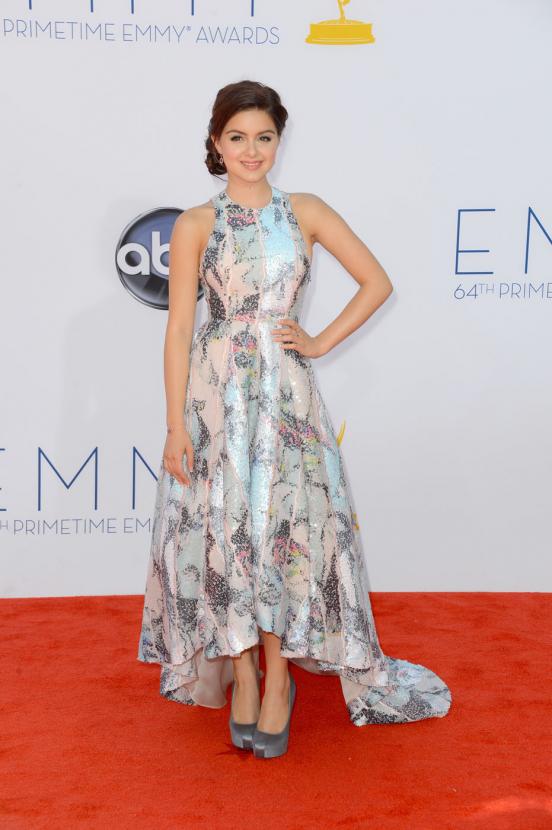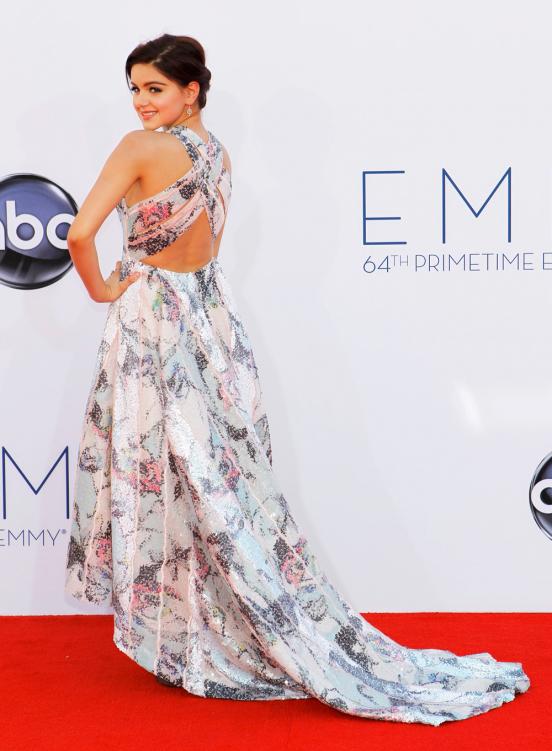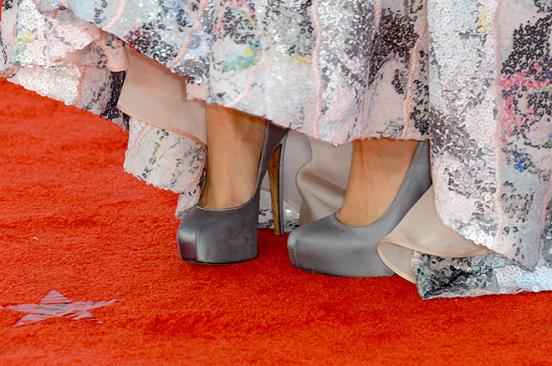 Attire Maria Menounos is hardly the best outfit in the evening, but it is also not a bad name. Very nice color and interesting texture of the fabric, but the style of dress, which, though very becoming his mistress, terribly banal.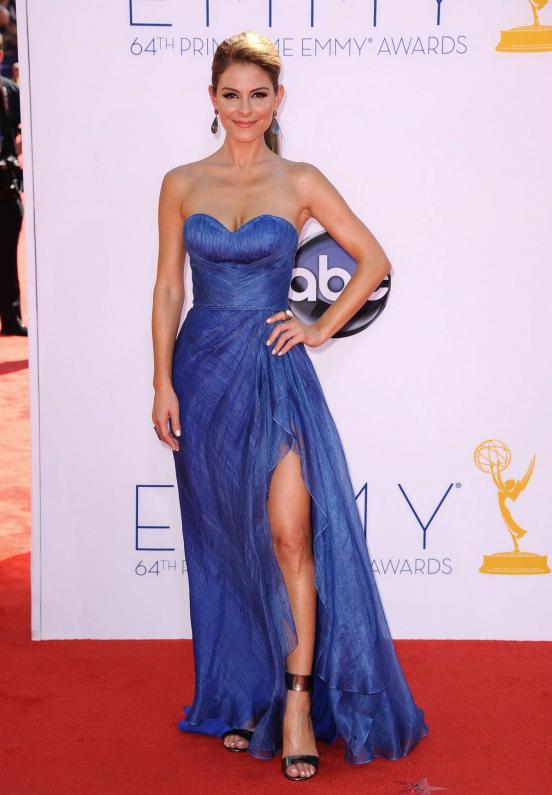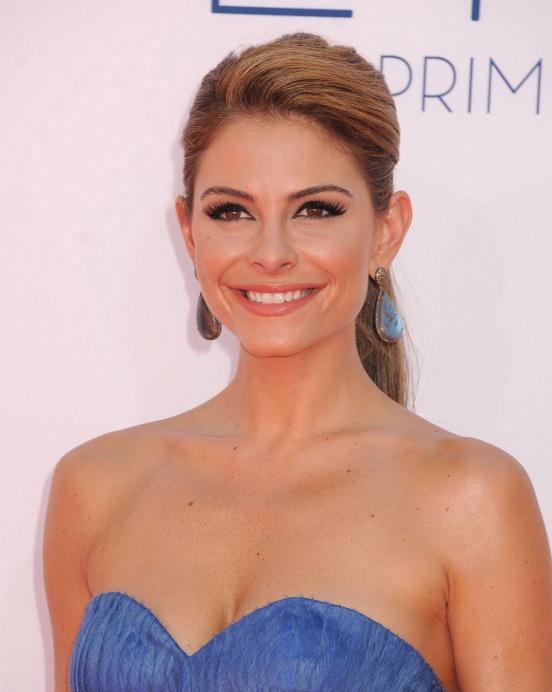 Owners of dark skin is very easy to draw attention to the person - is just put on a dress gentle tone that made Kerry Washington. Evening dress by Vivienne Westwood, decorated with sequins color pink pearls, look at it simply divine.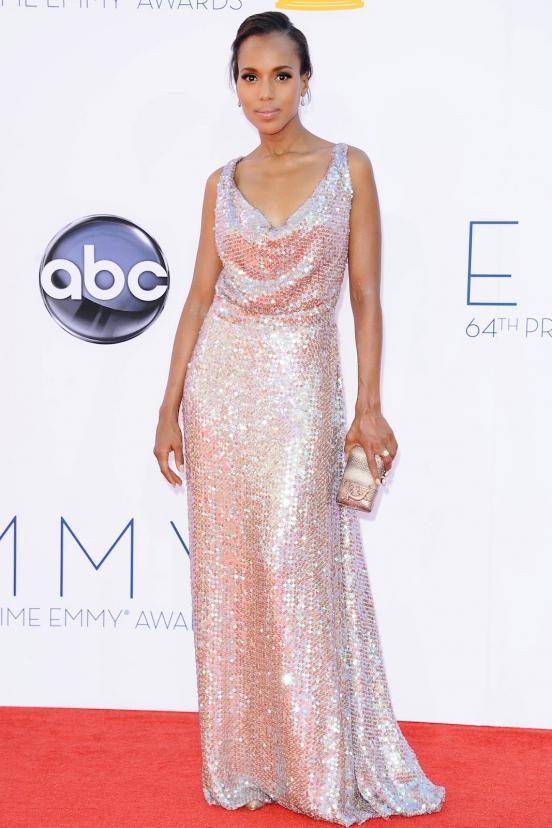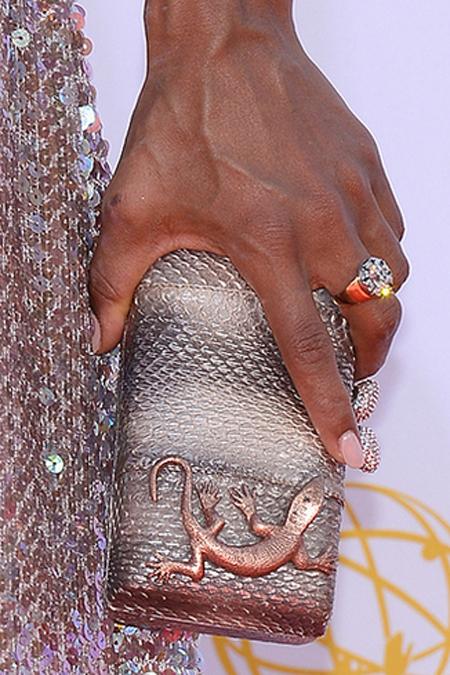 My question is - who released Ashley Judd on the red carpet in this way ?! It's just a horror of some - it is similar to the bride's mother from a very, very bad comedy. Scary dress from nightmare to nightmare fabric bow at the neck (by the way has done this miracle Carolina Herrera). And the hair ... I have no words.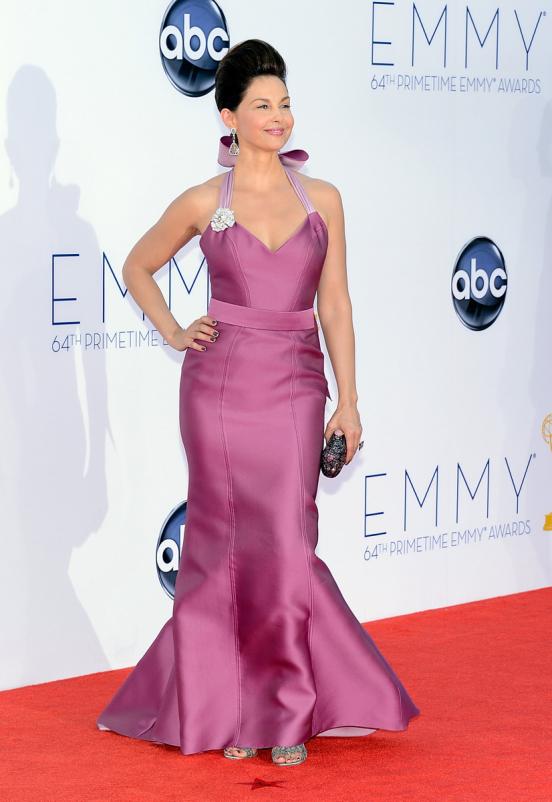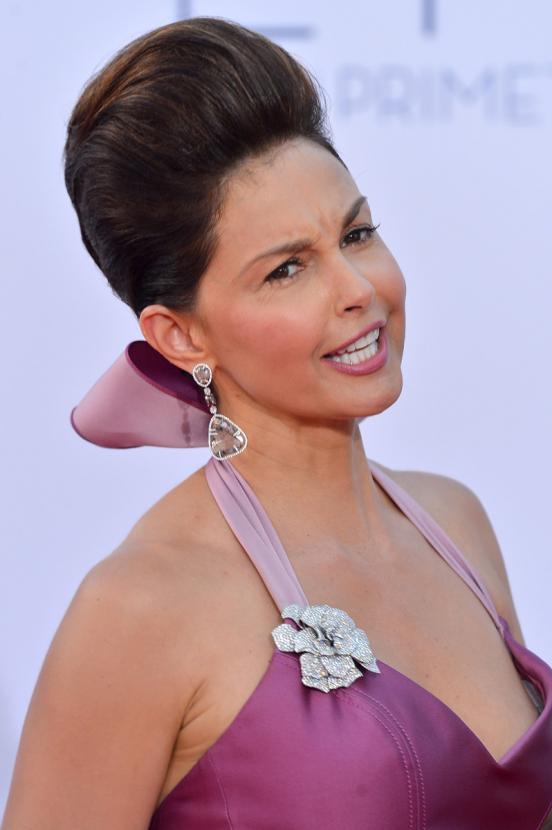 Indian beauty Padma Lakshmi walked the red carpet in a magnificent creation of the fashion house Monique Lhuillier. Actress looks luxurious! Style dress worthy of all praise, sits perfectly Strapping and the effect looks very interesting, but the most important thing in the dress - is, of course, color. Saturated shade of pumpkin (yes, this is a pumpkin, though many of us call it orange) is a very interesting choice for an evening dress, and very much goes to her mistress. Unobtrusive styling and modest by Hollywood standards ornaments made dress beautiful pearl color image.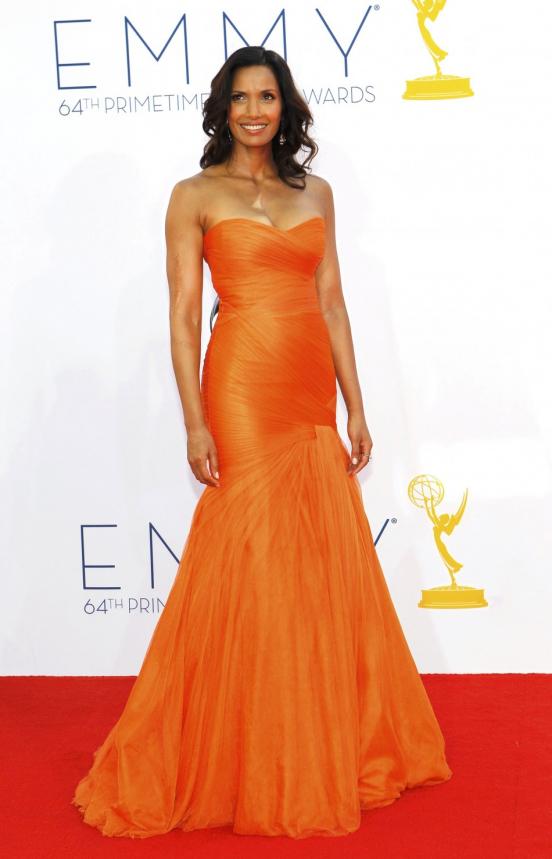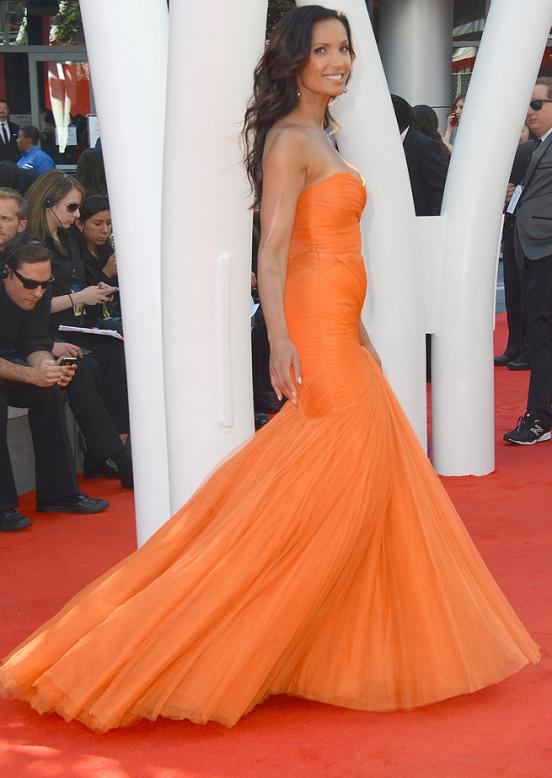 Unlike his colleagues, who painted the red carpet the most unusual colors, Julia Ormond opted for timeless classics and appeared in front of press photographers in a black dress. I admit, I was a bit bored, looking at all this, even glitter rhinestones did not dispel my boredom. In my opinion, it was worth a little open body or make chiffon inset on the bodice and sleeves a bit transparent.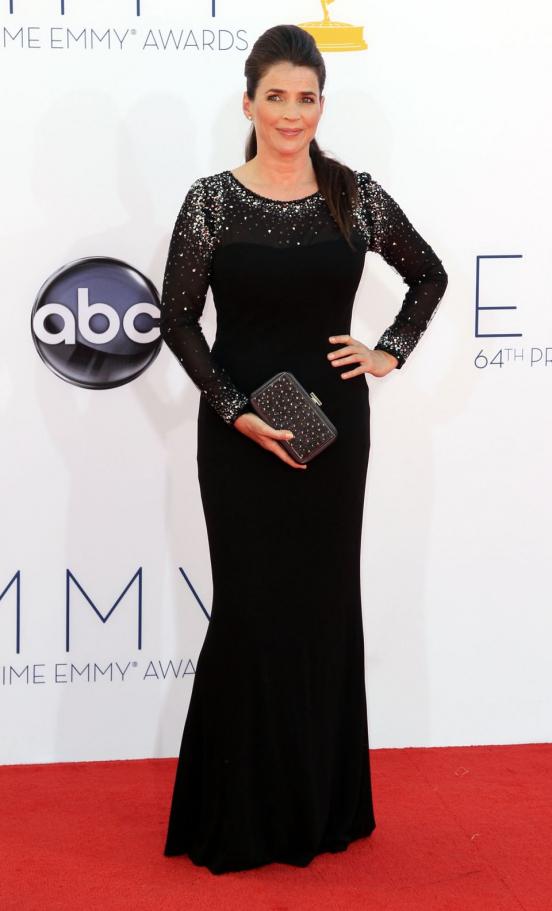 Expectant mother Claire Danes is clearly partial to dresses with draperies - this time the actress has chosen evening dress by Lanvin rich lemon-colored. I really like the color and the dress and I am even ready to forgive the actress careless crumpled silk fabric, but, alas, this shade does not go blonde and fair-skinned Claire. It is already not very bright appearance is lost in a bright color and no Aes Smoky will not help. But, in spite of not the right choice of attire, Mrs. Hugh Dancy managed to get the statuette in his piggy bank "Emmy" for Best Actress in a Drama Series "stranger among the».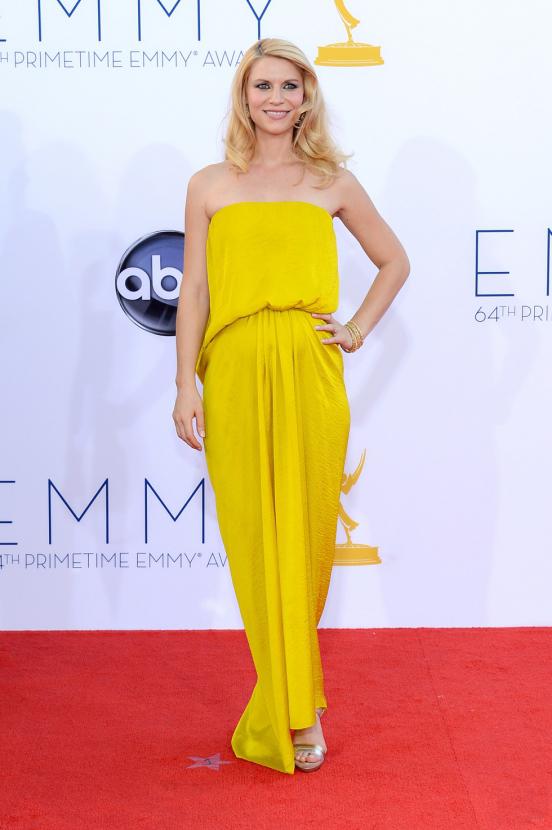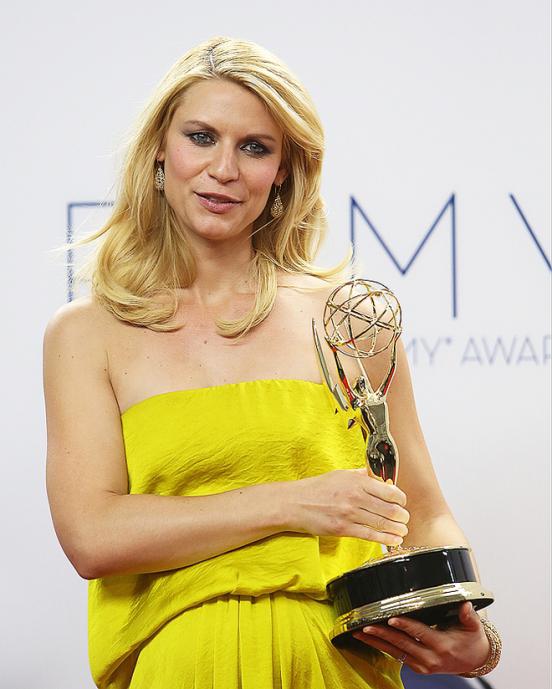 I may be wrong, but I think that the choice of evening dresses for women over 60 - not an easy task. It should in fact, and style to hide figure flaws, and that the color was perfect and not too frivolous, and that has not been revealed too much of the body, because in this age it is considered indecent. Like Glenn Close outfit meets all these requirements, but the actress is clearly printed the right decision - pattern of the dress, which consists of the three recurring elements, too active. Already in the eyes dazzled.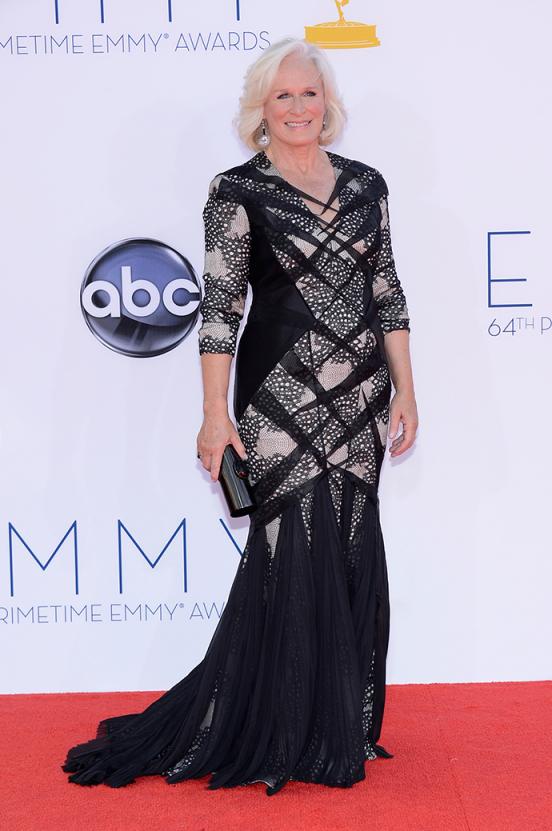 Elisabeth Moss in Dolce & Gabbana. I am delighted with the print - meadow flowers on a black background looks like a living, but the abundance of drapes and ruff in all the places I was a little confused. Personally, for my taste this dress overloaded decor, in addition, I see this dress is not black shoes, and light or green - similar to the color of the petals on the flowers or leaves of print.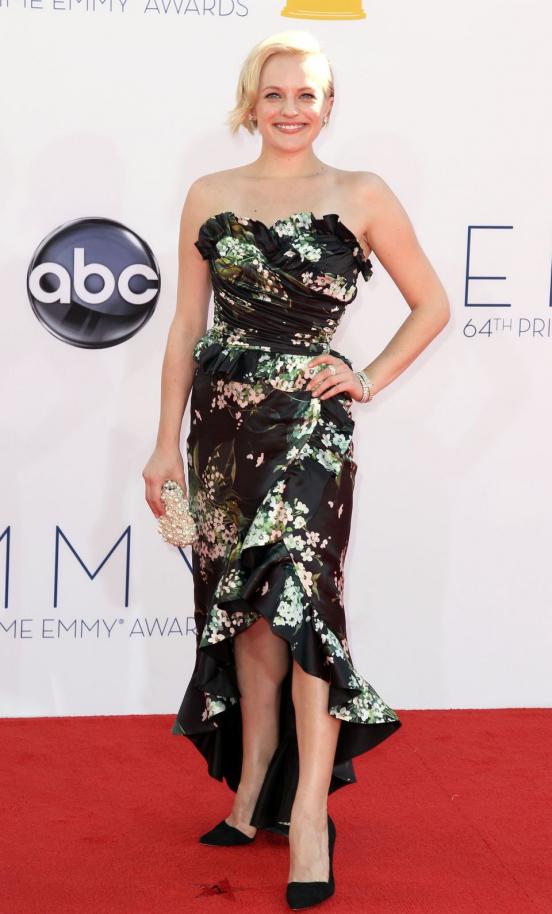 The gentle way appears to us Amanda Peet, dressed in a cream-colored lace by Calvin Klein. Yes, you heard right, Francisco Costa knows how to sew dresses not only minimalist monochromatic fabric with a clean texture, but also delicate materials, such as in our case. Although unusual for the fashion house choice of fabric, style and silhouette of the dress remains the same - thin straps, open back, straight leg, no frills. Amanda, despite the pallor of his skin, this dress looks very, very attractive. I like it.