Recently in Nashville took 46th in a row ceremony of the Country Music Association Awards. Visit an event considered for the honor of the brightest stars from the world of country music, which for a few hours entertained the audience sentimental songs and fiery dances. By the way, the fair sex in the evening proved that they know a lot, not only in songs with a guitar, but in modern fashion.
Perhaps Taylor Swift can be called one of the most stylish celebrities from the world of country music. She never change their preferences in clothing: weekdays singer opts cute image in retro style, and for red carpet prefers luxurious evening dresses to the floor with a rich finish. Despite the fact that the choice of clothing Tay most obvious, her carpet images always turn out just stunning. The singer appeared at a ceremony in nyudovom lace dress Jenny Packham with iridescent decor in the form of red buds. Very good choice, but I have a feeling of deja vu - I think I saw somewhere that dress. At Marchesa?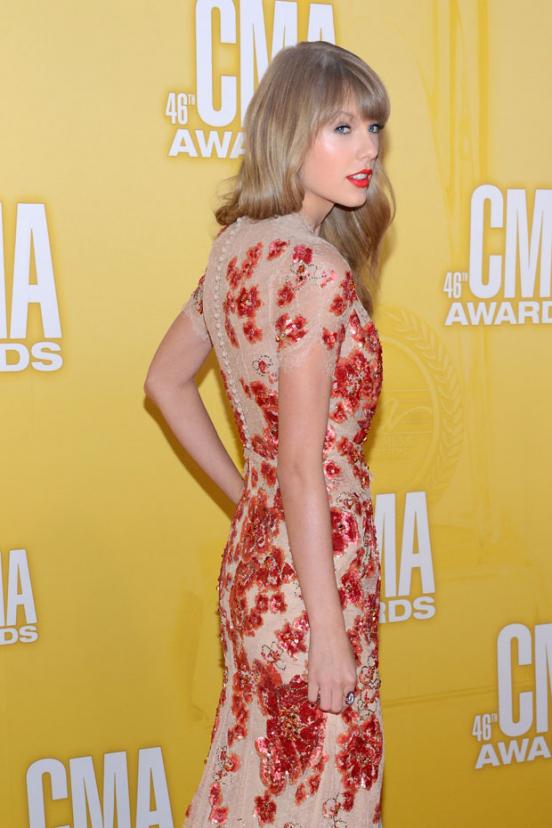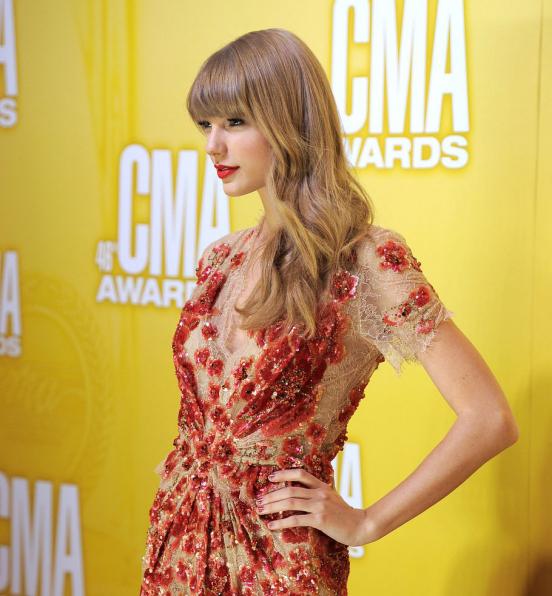 Red carpet Miss Swift overcame in style, but on the stage once again turned into a cute little girl in a polka dot dress.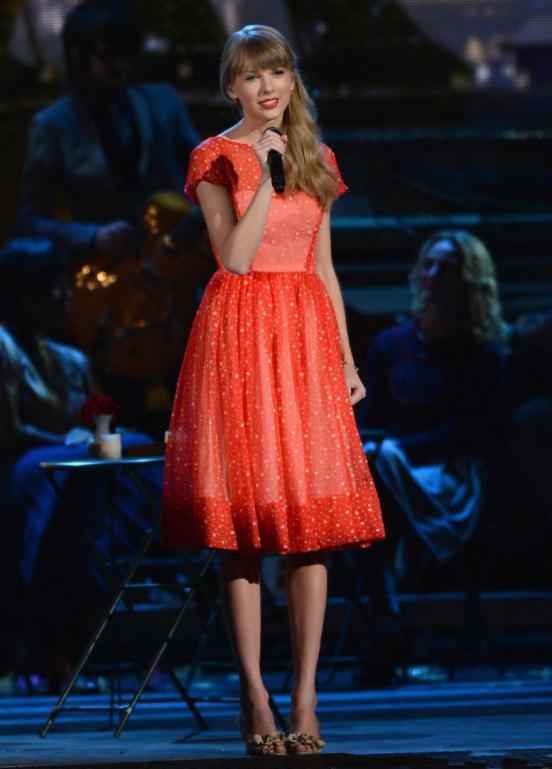 Lucy Hale at Moschino Resort. For those who are wondering, the star "Pretty Little Liars" has forgotten the ceremony, explaining - Lucy is not only a promising young actress and singer, her new album in the style of the country will be released next year. I always love the images of Lucy on the red carpet - they have some special charm and is difficult to confuse with other stars outfits - and this bow was no exception. The dress looks very interesting: delicate white lace cutwork decorated with contrasting black trim and the "wings" on the back add the image more dramatic. Red lipstick - the perfect size for this dress.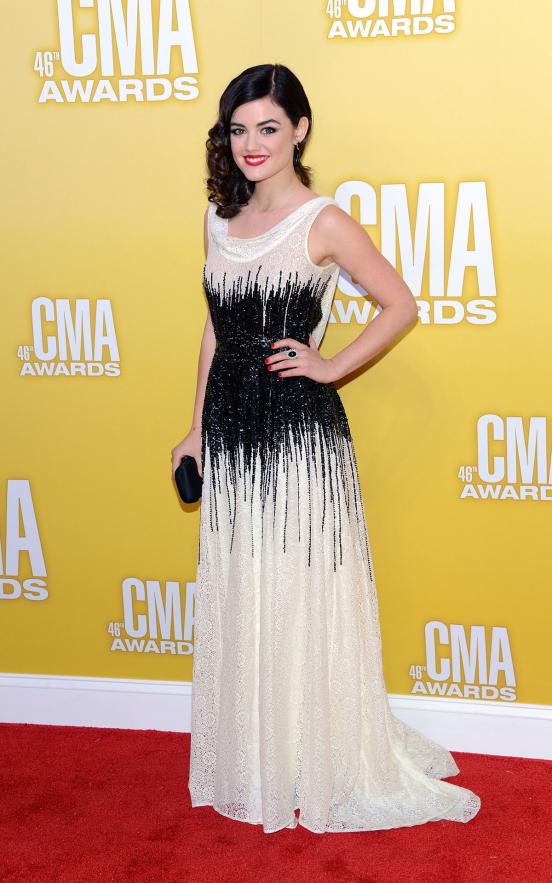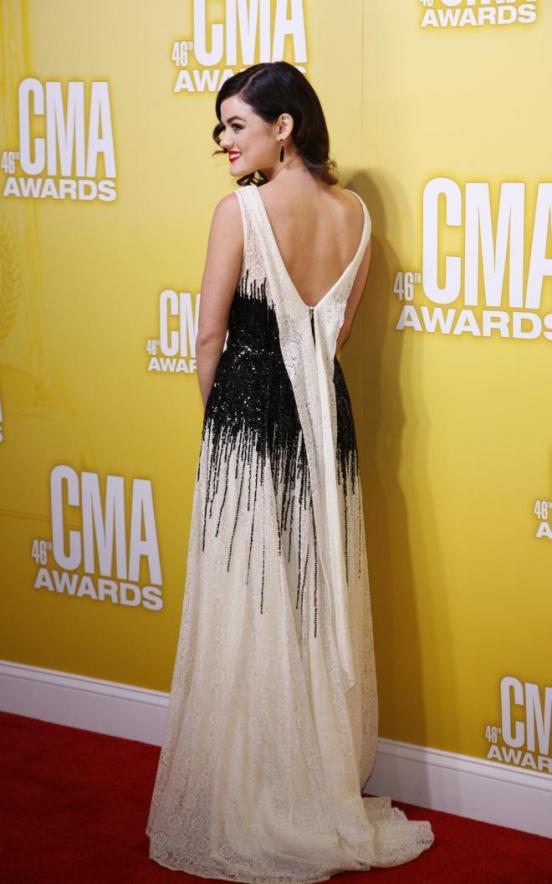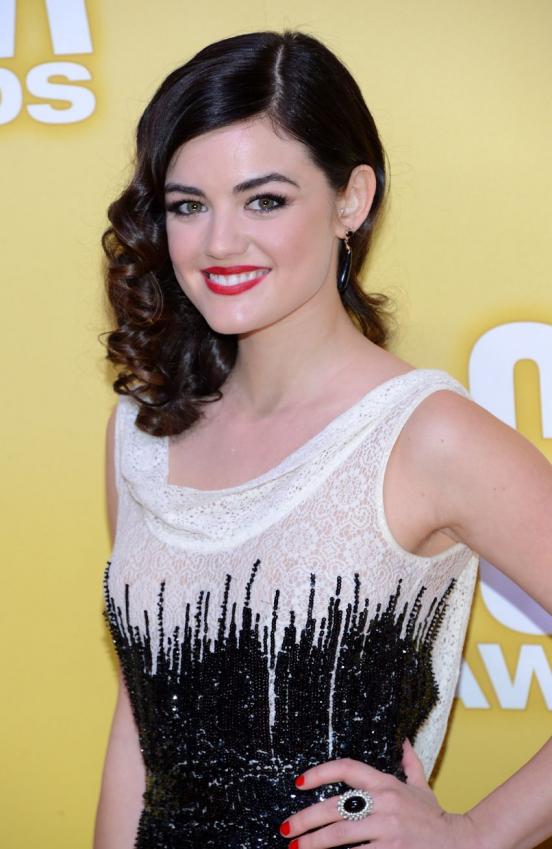 I do not know how long Kelly Pickler said goodbye with his blond curls, but this haircut is very to face the singer. By the way, Kelly decided to take such a radical step is not just so, and out of solidarity with his childhood friend, who was recently diagnosed with cancer. Bold and very nice thing to do.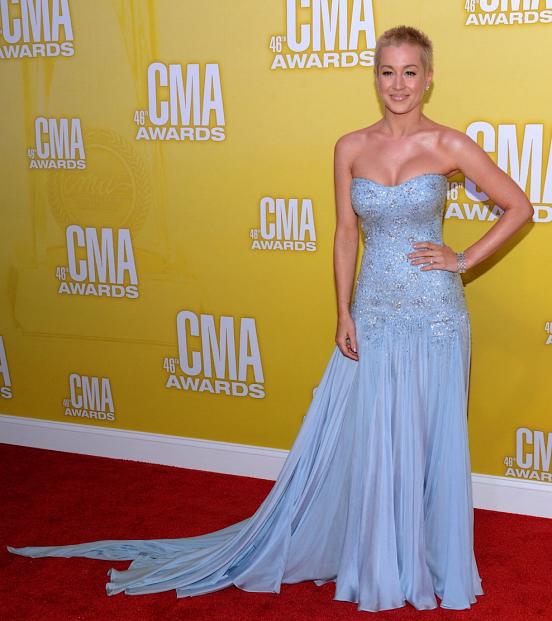 This evening at Kelly wore a dress by Pamella Roland ice blue hue. This outfit is created for all kanonan classic evening dress - tight corset, deep neckline, flowing skirt and certainly train. I can not say that I personally really like this dress, but in the case of Kelly, it looks fine. And instead of the banal contrast hedgehog curls makes this outfit more interesting.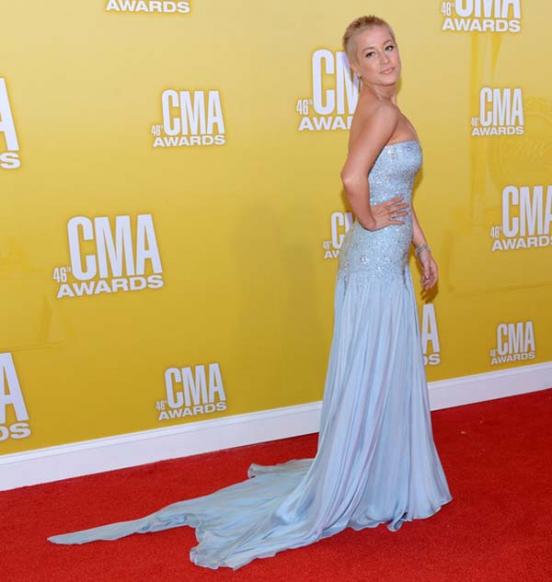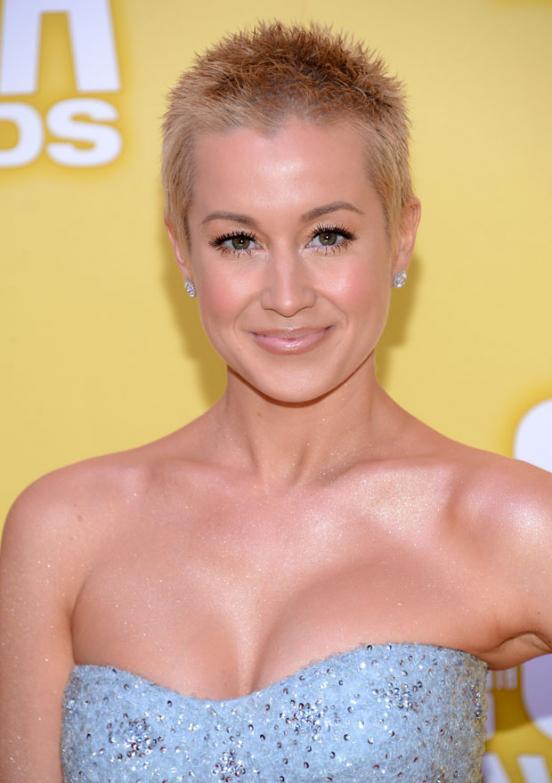 Nice to see on the red carpet bright scarlet dress - the color works very bodryasche, in contrast to the pastel shades, which are increasingly choosing clothes for their famous fashionista. Mistress flowing red dress with shimmering finish was the singer Lauren Alaina - finalist of the tenth season of "American Idol" and country music singer. Not to say that is super, but it looks very good, and crystal decorations on his chest, gently rolling in the decoration does not require any more ornaments, and it is very convenient. The only problem is that Lauren only 17. I think this outfit too heavy for a young girl.
Hayden Panettiere walked the red carpet in a magnificent creation of the Lebanese designer Georges Chakra. Cocktail dress with a touch of aesthetics of the 20s looked very modern thanks to the gentle mint color, which, though very refreshing outfit, but finally gives in fashion items. I'm just delighted with the finish of beads - it is not only adorns the fringe on the skirt, but also creates a beautiful drape of the threads on the back. Special attention deserve accessories. Clutch and emerald-colored shoes look very original - despite the fact that the combination of peppermint and emerald seems obvious, I do not recall such a combination in any of the recent images.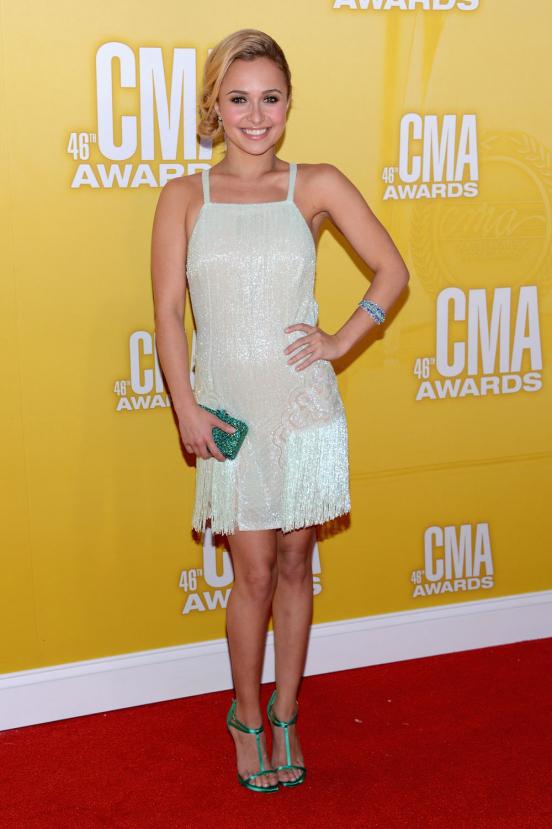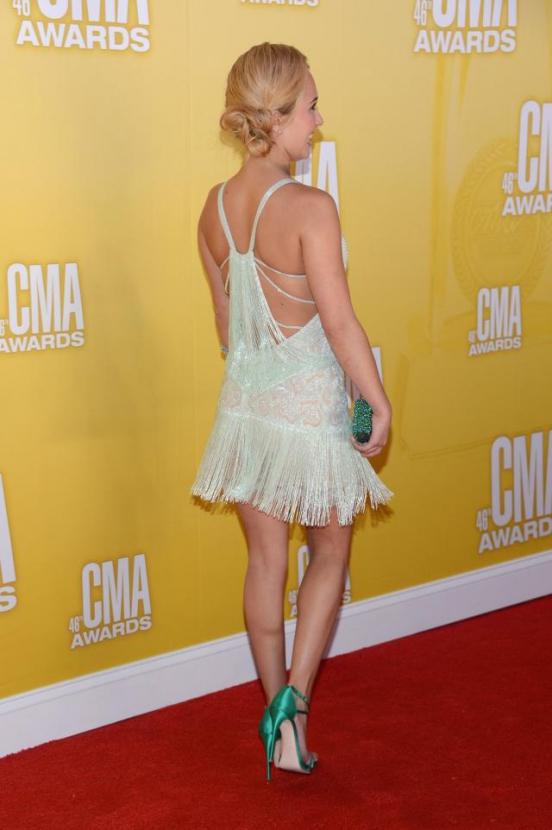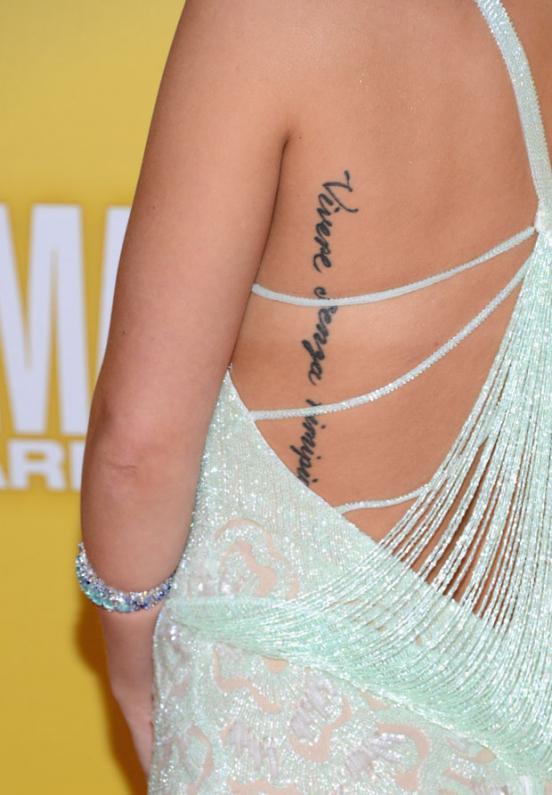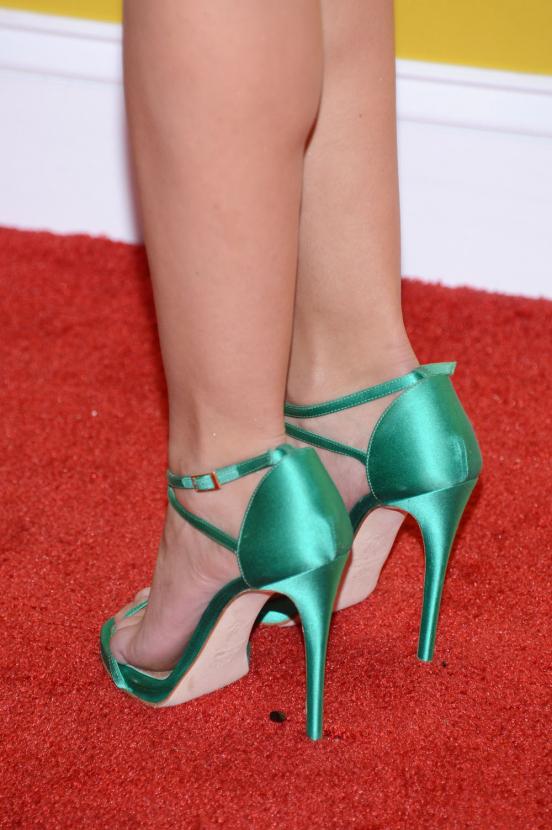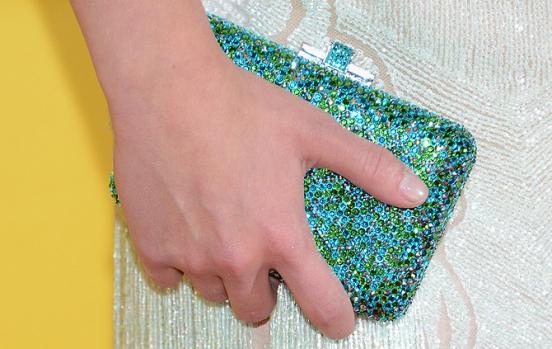 Some would say that on the background of their colleagues in shining toilets Faith Hill looked like a black sheep, and I will say that it is very advantageous to stand out from the crowd blinding eye. The singer appeared in front of the paparazzi in an elegant black dress Roland Mouret with puffed sleeves of contrasting cream-colored. In my opinion, the dress looks great, but worth a little work on accessories - more refined clutch outfit would have saved from boredom.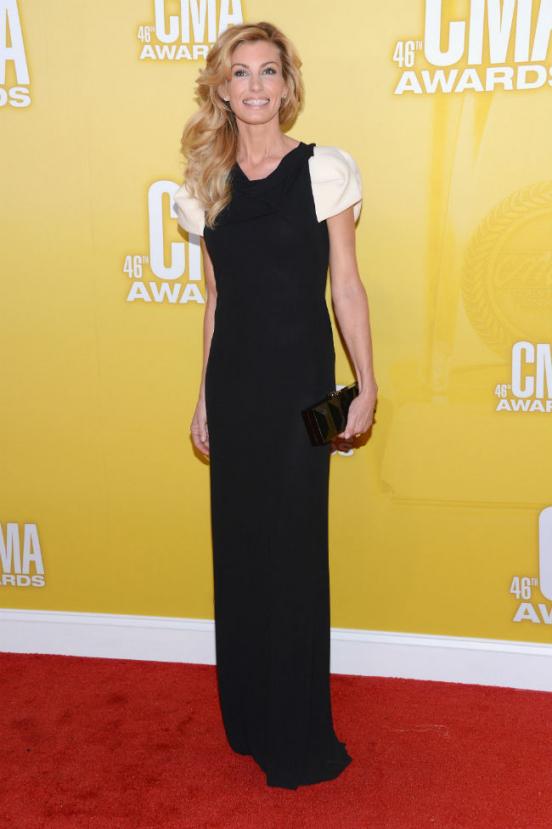 I do not think any of us are familiar with the work of 27-year-old country music singer Jana Kramer, but I still decided to publish its way from the red carpet in this post to show our readers how to dress is not necessary. I can not give this outfit a bad or terrible, because he no. The designer of this dress seems to be trying to create an evening dress with a classic silhouette and style, but dilute it all "unbanal" a combination of satin, leather and lurex. It did not work - the eye does not catch hold.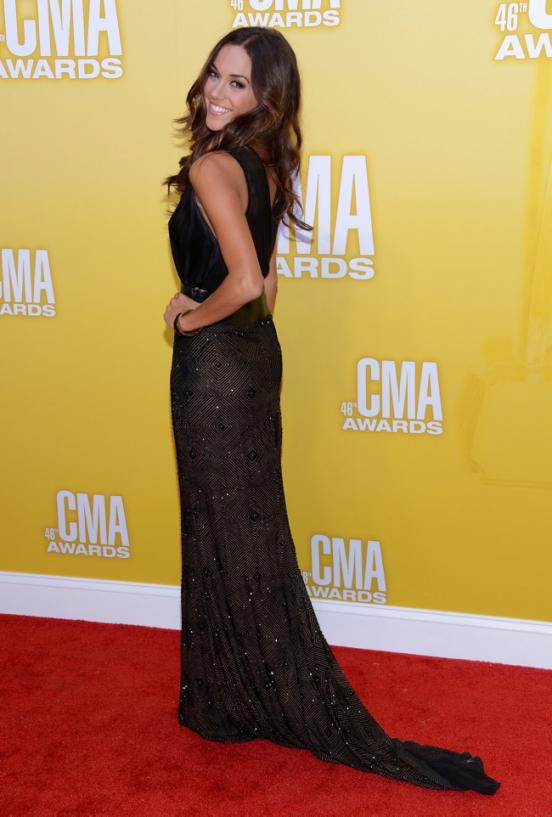 Very successful and talented singer Miranda Lambreth (for good reason, it is the third time in a row becomes a singer of the year by CMA), unfortunately, can not boast of success and on the red carpet. Style and color of her dresses are beautiful, but this outfit is clearly inappropriate Miranda. The bodice is unable to support her large breasts, in addition, this style makes the upper body more powerful and neck - even shorter.
Dress unfortunate, but the earrings are stunning.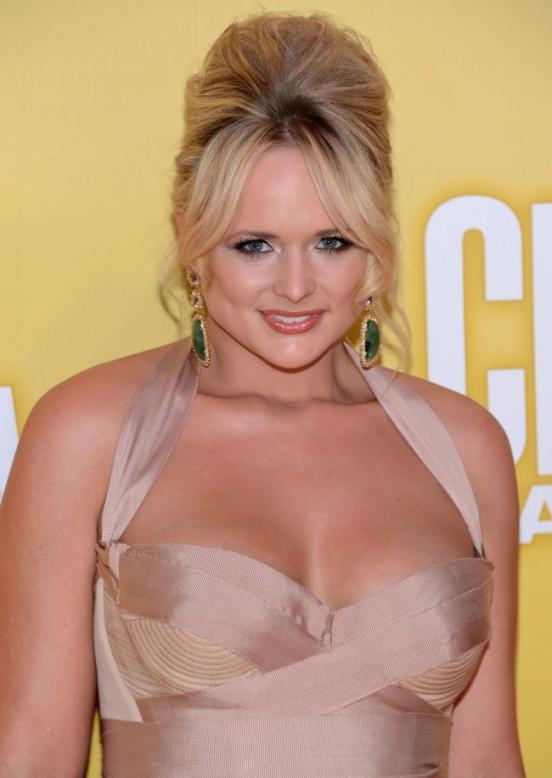 I am pleased that Carrie Underwood, finally abandoned their outfits a la Little Princess and chose a dress more suitable to her age and status as a married woman. Attire from Reem Acra perfectly fulfilled its function - the dress looks very elegant, but at the same time sexy and feminine. Such addition should still choose makeup easier (for such Aes Smoky eyes and is not visible), but in general, the image of Carrie is gorgeous.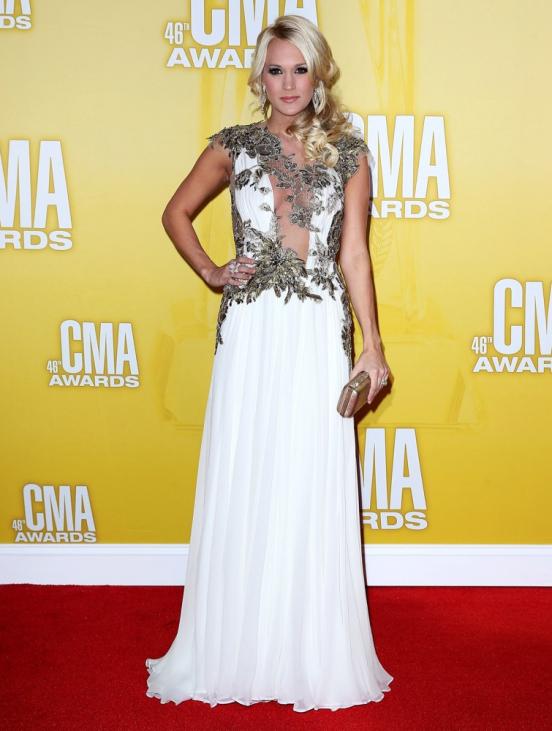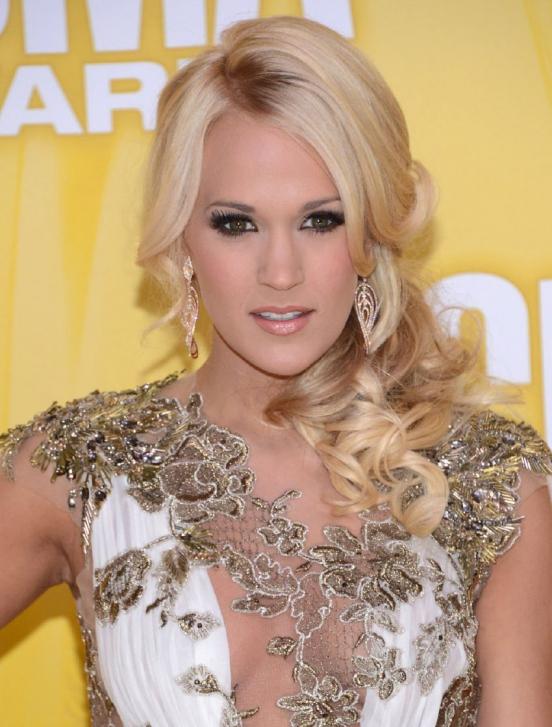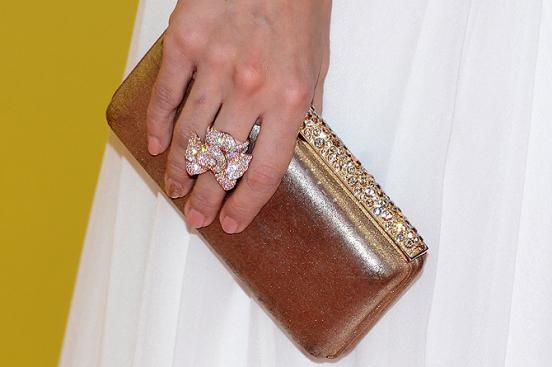 By the way, Carrie was not just guests of the event - it served as master of ceremonies ... the third consecutive year. During the show, the singer managed to change the 11 (!) Stage outfits. Even Anne Hathaway, as a leading "Oscar" in 2011, settled for a smaller number of dresses.