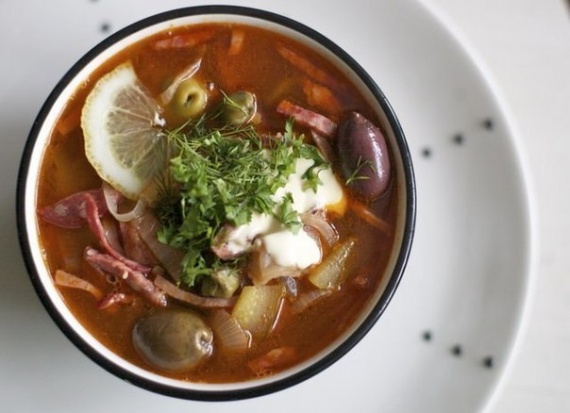 Ingredients (3 liters):
300 - 500 g beef
about five different kinds of deli meats weighing about 300 - 500g
150 g onion
200 g pickles
4 - 5 tablespoons tomato paste
3 tbsp Caper
black pepper
3-4 bay leaves
vegetable oil
lemon
greens
olives or olive
Preparation:
1. Put the meat to cook. Broth for soups right - there should be a strong, full-bodied. But, if you do it too - you can cook the broth with a small piece of bone and a strong broth diluted with water.
2. Cut the boiled meat, ham, sausage and hot dogs into thin slices. Pickles cut diagonally to form diamond shapes or thin strips. Chop onion rings.
3. fry onion and tomato puree with olive oil. Laying in the boiling broth meat, delicatessen - give a boil.
4. Then, cucumbers and onions - are also waiting to boil, fire diminish and give the cook for about ten minutes. Add the bay leaf, then green and black olives and capers to warmed.