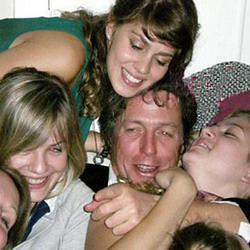 At the weekend the bar the Scottish city of Saint Andrews British actor Hugh Grant met with several students of the local university. Have fun in the institution, they have invited the famous actor to her house for a modest apartment.
To friends they had no doubt that they had a very Hugh Grant, the girls did some pictures for memory.
Grant fooling around with girls, drinking rum and Coke. One of the photographs 47-year-old Grant almost kissing one of the students, 20-year-old Caroline Hargreaves, who was probably still in elementary school, when he released his most famous film - "Four Weddings and a Funeral».