To increase sales, and sometimes to raise the image, companies are looking for any way. And co-operation of major companies in different fields very often is one of the best options. It seems one of the largest companies in the world Microsoft decided to follow in this regard once existed tandem Apple and Nike.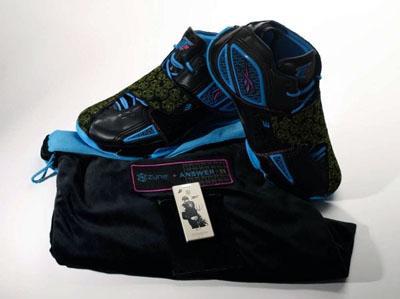 Great Softovaya Corporation will perform together with the famous sporting goods manufacturer Reebok. Attention of consumers will present a limited edition sneakers and players developed by the company and sold only in pairs. On sneakers will show off the emblem of Microsoft, and the player is used to decorate the emblem of Reebok and the image of the famous basketball player Allen Iverson and rapper. The athlete was awarded this honor by participating in advertising and the development of a new brand of Reebok.
Sneakers are excellent, the player seems to be simply to complement them, but in any case a very good gift for young people, promoting a healthy lifestyle. Only need to hurry, products appear in June in the amount of 60 pairs and, as they say, - who did not, that was late. Cost one set Reebok + Zune will be $ 300, well worth the price for such products.