Very few supercars achieve fantastic performance and the corresponding appearance as the Pagani Zonda, whose extreme nature won both opponents and loyal fans. But both sides are unanimous that it is - an impressive and high-tech car - it tells all of his appearance. Newest Zonda Cinque takes extreme character the car to a new level, because in contrast to the Zonda R, in fact, intended for urban routes.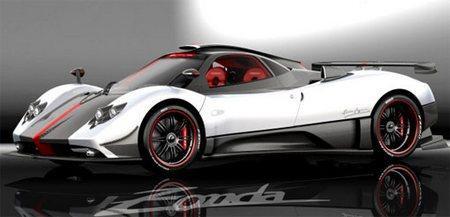 Extreme Pagani Zonda R was designed solely as a race car 750 hp, the release of which was limited to just 10 copies. The cost of this machine is completely made of carbon fiber, was 1, 2 million euros. In spite of everything, the car still went into production. It is expected that the Zonda Cinque will have the same body as the Zonda R. It will be even more exclusive, and every detail of the sports car will emphasize the strength inherent in its very essence. Readers who speak foreign languages, no doubt notice that the name of Cinque - the Italian version of the word "five". The choice of name is due to the fact that all five will be released similar cars.
Equipped with a 7, 3 liter V-shaped 12-cylinder engine, familiar from other models of the Zonda, 750 hp and torque of 710 Nm, Cinque accelerates from 0 to 200 km / h in just 9 seconds 8. This car is worth "only" 800,000 euros is a pretty profitable acquisition, and that its production is limited, make it even more valuable. The first images show the car is very similar to the 650-strong Zonda F, which showed a record time at the Nurburgring in October last year.