Chinese Wei Sheng stuck in your head, including the face and hands and chest 2008 multi-colored needles in honor of the Olympic Games in Beijing.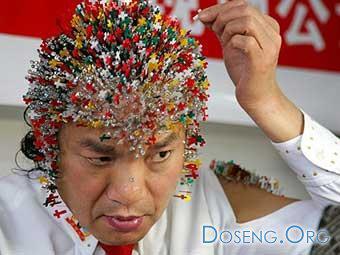 Rally in support of the Olympic Games at home Wei Sheng spent in the south China city of Nanning.
Note that Wei Shen is not the first time sticks a needle in such impressive numbers. In 2004, he got into the Guinness Book of Records by sticking his head in the 1790 needles.
The British publication said that Shane was not the only Chinese who have decided to mark the Olympics manipulations with your body. So, journalists mention of a sports fan who tattooed on his forehead logo of the Beijing Olympics, and decorated his chest symbols sporting event.