Aditya Dev, nicknamed "Romeo" is well known in his native Indian city Fagvara. Every day, crowds of people come to the local gym to see how it trains the smallest bodybuilder in the world rising to 84 cm and a weight of 9 kg.
Unlike many dwarfs, Romeo is more or less normal proportions and head circumference at it is 38 cm chest - 50 cm.
Romeo himself says: "I have been bodybuilding for two years, and now I think I'm the strongest dwarf in the world. I've always been healthy, and since then I started to swing, the force has brought me fame. My size has never let me stop. I have been with dumbbells as well as aerobics and dance. People are always happy to see me. I was invited on television shows and dance performances ».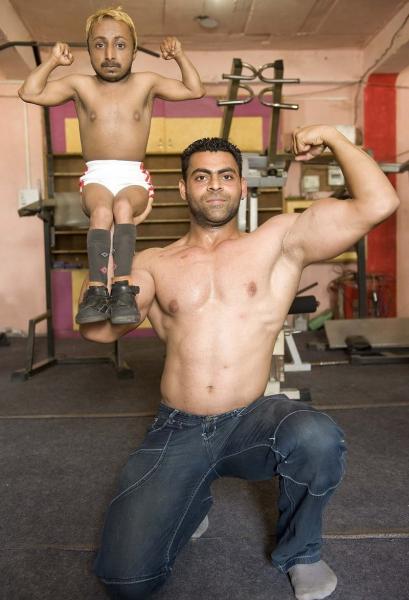 Romeo helps the body build his coach Ranjit Pal. "Because of his small stature, I do not give him a complex exercise. But Romeo trains about as much as the others, but it is much more purposeful "- says Ranjit. "When he first started, I gave him a month of basic exercises such as aerobics, push-ups and exercises to prepare the body. Then I made him special light dumbbells, "- he adds.
Romeo says, "I make good money with their dance performances and bodybuilding, but wealth does not interest me. My dream is to travel a lot and play in London with my idol, Indian singer Jazzy-B ».