The group of designers from «Crimson Collective» drafted a pavilion for music and art festival Kouchella (Coachella), which was held from 16th to 18th of April in the United States. The pavilion is called "Ascension" («The Rise"), and its unusual design is based on the image of an origami crane from famous Japanese legend Senbazuru a thousand paper cranes, get rid of the deadly disease. In the second half of the twentieth century, after the nuclear bombing of the Japanese cities of this image has become a symbol of peace, kindness and mercy.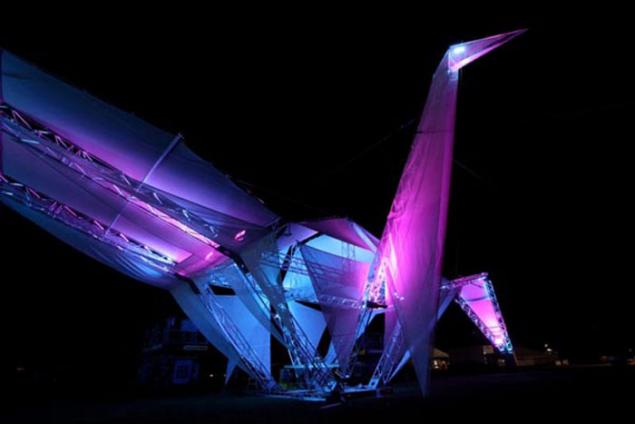 Pavilion "Ascension" has a height of 13 meters and a total area of ​​more than forty meters. It is made of modular aluminum panels and panels of white fabric stretched over a wire frame. Acting as an art installation, the pavilion is one of the feature attractions at the site of the festival and a popular meeting place for visitors. Metaphorically, it embodies the message of designers and architects with an appeal for peace and harmony. During the three days of the festival Kouchella art expositions and concerts will visit more than a hundred thousand people.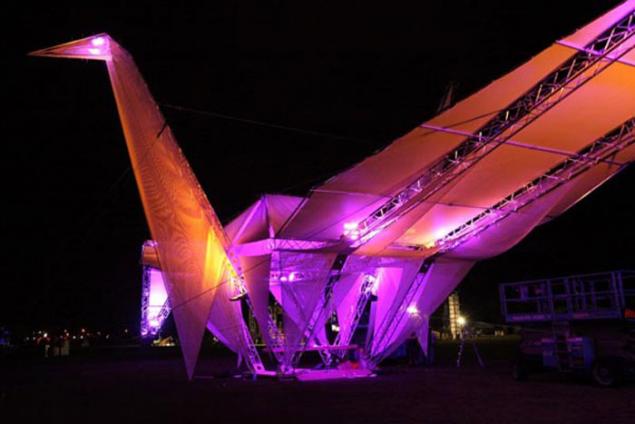 According to project managers, paper cranes has long been an international symbol of peace and goodness. Modern designers often draw their inspiration from the ancient art of origami, and in this case the silhouette of the pavilion resembles a crane, opens wings for flight. This image combines impetuosity, impulsiveness and rationality and foreboding heights.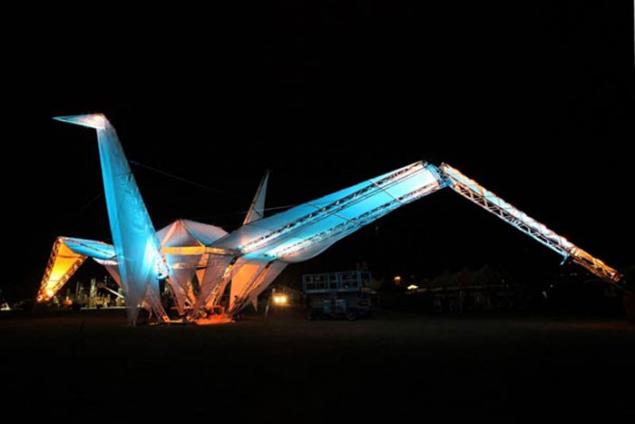 From a technical point of view, this architectural object based on the principles of balance tension and compression components. Strained cloth white cloth to form a plane, similar to the folded origami paper. Aluminum modules give a figure of crane stability and at the same time provide mobility design that is "off" crane can be repeated on almost any flat ground. Collapsible structure consisting of more than one hundred items, you can quickly and easily dismantle the structure to transport it to the forty-foot container anywhere in the world.
Near the pavilion has two solar panels that accumulate energy during the day. In the evening, the electricity is used for lighting design, providing complete energy autonomy of the object. The "body" of the crane is a big enough area that can be used for the organization of the exposition or by placing data marts.