Fifty thousandth "Donbass Arena" - the first in Eastern Europe designed and built in accordance with UEFA standards for stadiums category "Elite". The total cost of the project and the park, which is located around the arena, is $ 400 million.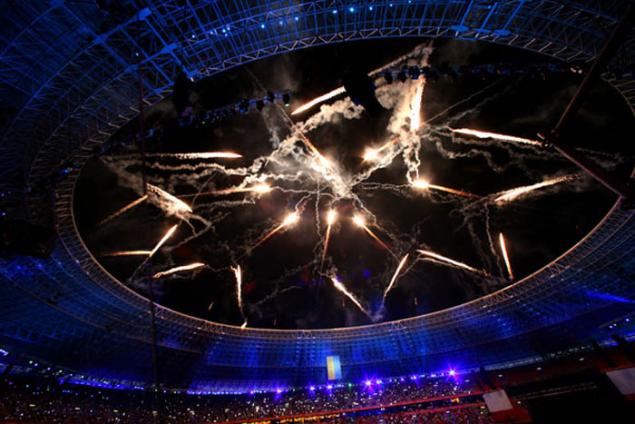 Start of construction of the object - in 2006. General contractor - the company ENKA. Completion of construction and opening of the stadium - 2009.
Design "Donbass Arena" developed by "ArupSport", at one time created the stadiums "Manchester City" (England), "Allianz Arena" (Germany), "Valencia" (Barcelona) and "Sydney" (Australia). Due to the unusual design decision Donetsk arena is shaped like a "flying saucer." The main feature of the stadium is the oval shape and a fully glazed facade. The roof of the arena is tilted in the direction from north to south, repeating the slope of the landscape, increasing natural lighting and ventilation field. The outer facade allows the stadium lights at night sparkle like a diamond.
The internal design of the arena is designed so that the audience sat in a bowl rather than in four separate stands. The uniqueness of the "Donbass Arena" - in a special atmosphere that arises due to the absolute visibility of a football field from any point of the spectator stands. Provided 196 places for people with disabilities and their carers.
The building of the stadium located three restaurants, four bars for holders of season tickets, a lounge bar, dozens of fast food restaurants, a fitness center. Here is the fan-cafe, museum and company store of FC "Shakhtar". For corporate clients, "Donbass Arena" operates a unique proposal for Ukraine - rent corporate boxes in which all conditions for comfortable viewing of matches in the company of business partners and colleagues.
In non-matchdays in the boxes and indoor arena is conveniently carried out corporate events: meetings, presentations, press conferences and business receptions. The stadium will also take international conferences and exhibitions.
On the "Donbass Arena" tours are conducted. The general concept of them is as follows: introduction to the unique characteristics and features of the arena, a visit to the premises where the players are, the Museum of FC "Shakhtar" and the finale - a hike in the Signature Club shop for souvenirs.
In addition to football matches, the stadium hosts concerts and shows. Equipment arena and speaker allow you to take is not only domestic artists but also foreign megastars.
Events taking place on the field at the same time broadcast on two LED screens - each with an area of ​​92 square meters. m. This is one of the biggest screens in Europe! Along the perimeter of the playing field is placed line of electronic billboards total length of 267 m.
"Donbass Arena" - the home stadium of FC "Shakhtar" and cultural center of the capital of Donbass. In addition, it is regarded as an arena for the finals of the Champions League and the UEFA Cup.