The earthquake, tsunami and nuclear meltdown — a triple catastrophe that overtook northeast Japan in March 2011, was the first call for many people. For Masayoshi's Dream, the founder, Chairman and chief Executive officer (GUIDE) Softbank Group, a Japanese multinational telecommunications and Internet Corporation, all really happening. Having survived the accident at the nuclear power plants in Fukushima, he felt the need to replace nuclear energy in safe and clean renewable energy for a better future.
To facilitate clean, safe and affordable renewable energy, he founded Renewable Energy Institute (REI), and in September 2011, "The Asia Super Grid (ASG)", was konzeptualisierung. ASG extends beyond Japan and includes other Asian countries that take advantage of a variety of facilities and resources to further optimize the use of renewable energy sources.
In September of this year at the international Symposium of the Institute REI celebrated its anniversary – 5 years, Sleep happily stated that his "concept of the ASG" was a step closer to materialisation.
"5 years ago, when I said about his idea, many said it was crazy, and also said that it is not possible neither economically nor politically," recalls a Dream. Despite the naysayers, he consistently achieves success.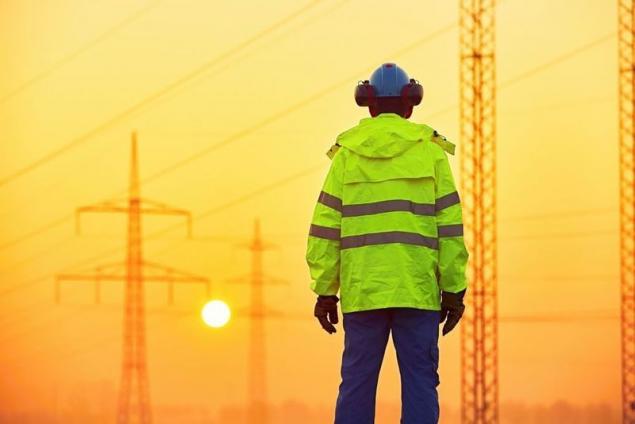 Part 1: Asian super network
The first step was the development of power plants in the country by creating a Corporation SBE Energy Corp., as part of the Softbank Group in 2011. Currently, the company has created and is working with 33 companies on renewable energy around the world, including a wind power station with capacity of 48 MW in the Prefecture of Shimane, and photovoltaic solar power station in the Prefecture of Hokkaido, with a capacity of 111 MW.
The company is outside of Japan for increasing the use of renewable energy sources. Mongolia has a vast wind resources and to use their potential, the company has established a Mongolian conglomerate Clean Energy Asia LLC c Newcom LLC.
A joint venture has secured the right to lease the land in the Gobi desert, for the development and operation of wind power capacity of 7 GW for the next 100 years. The company also established a joint venture SBG Cleantech Ltd in India with Indian Bharti Enterprises Pvt. and Taiwanese Foxconn Technology Group, for the development of photovoltaic solar power plant of 350 MW in the southern state of Andhra Pradesh.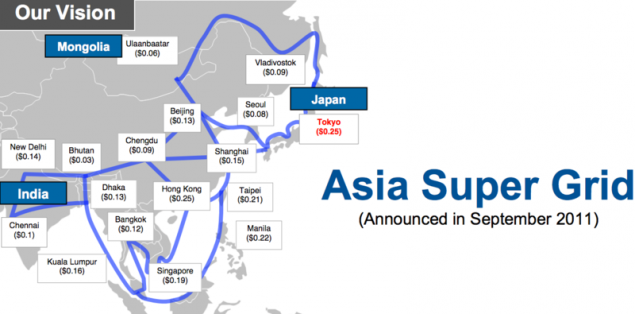 The MOU( Memorandum of understanding) between Japan, China, South Korea and Russia
The development of renewable energy is protected and is under development. At the moment, the question is how to transport renewable energy in Japan and throughout Asia.
"A miracle happened", says son. He met Liu Zhenya, the former Chairman of the State Grid Corporation of China (SGCC), and to his pleasant surprise, Jack had the same vision of merging the Asia network, renewable energy. Hwan-Cho Eyck, President/ GUIDE of public the South Korean company Korea Electric Power Corp. (KEPCO) also felt that the ultimate goal of KEPCO to unite Asia network energy, renewable energy, conceptualizarea as "Smart Energy Belt" (Smart energopac). Cho believes that it is difficult, but with the help of modern technology, perhaps.
In March of this year, these three organizations, joined the Russian grids, the Russian power company, has signed a Memorandum of understanding (MOU) to conduct a technical and economic justifications for establishing an international network of electricity transmission in North-East Asia.
"Golden Ring"(Golden ring), provides most of the electricity in Asia.
At the moment, given the MOU, wind energy developed in Mongolia could be delivered to Japan via China and South Korea via submarine cables, and hydro energy produced in Russia could be delivered to Japan via other countries. Sleep calls these two ways of energy transfer in North-East Asia - "Golden Ring"(Golden ring).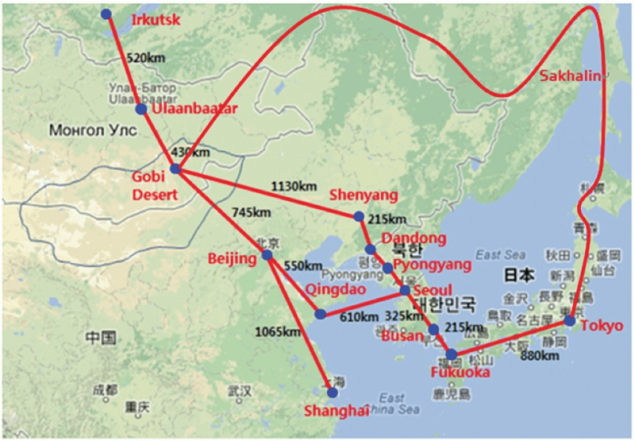 Part 2: Asian Golden ring
Asia accounts for about 2/3 of the world population. Generation of electricity by Japan, China, South Korea and Russia represents 76% of the total production of Asia, and the electricity consumption of these countries represents 77 % of the total electricity consumption of Asia. Simply put: Japan, China, South Korea and Russia together are a large part of electricity generation and consumption most populous region of the world. This can be interpreted as the connecting together of networks of northeast Asia maybe that is possible to connect networks around the world to address global energy issues. "Now I begin to see a bright future", says son.
The advantage of diversity of loads and resources
Mika Obayashi, Director of the REI, said that the integration of inter-regional networks can help in optimizing the use of renewable energy, which are scattered geographically. The benefits of connecting networks together is the reduction or change in peak load power plants, fossil fuel and sending excess renewable energy from one country to the next, allowing a producing country to refuse to cut production of renewable energy.
These benefits are possible because different regions have not only different profiles of renewable energy, but also different models of load, including peak periods. Speaking about the advantage of diversity of loads and resources, ASG can enhance the flexibility of the networks in each country.
Production of energy — reliable. Interaction for integration of a grid — formed. But does this project make sense financially? It also shows preliminary figures of economic studies. The cost of transmitting electricity generated hydropower from Russia to Japan via submarine cables is less than the 10.5 cents/kWh cost of electricity generated by coal-fired power station in Japan. The cost of generated wind energy in Mongolia and passed through China and then through South Korea, as well as less of 10.5 cents/kWh.
"Renewable energy — environmentally friendly and safe, but it's very expensive," says Sleep. "By separating energy with each other, now renewable energy is clean, safe, stable and cost-effective."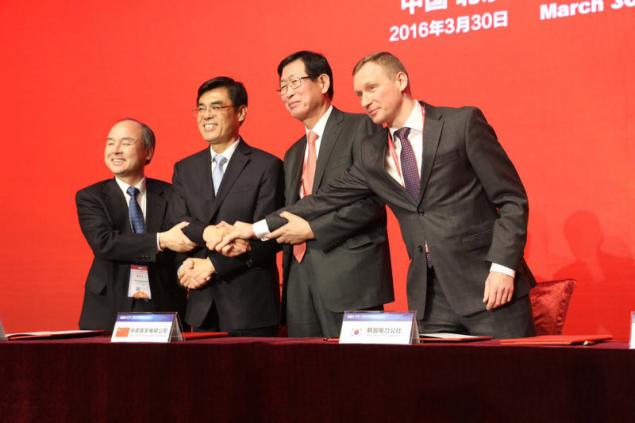 Economically possible. What's next?
Professor, Waseda University, Japan Ryuichi Yokoyama Isamu, says that certain conditions are necessary for the success of the project ASG: renewable energy is distributed among the participating countries should be developed from a variety of sources for beneficial cooperation, and thus to ensure a stable supply of energy; participating countries must be politically, economically and socially stable; they must have strong relationships among themselves. published  
Source: www.renewableenergyworld.com/articles/2016/10/the-asia-super-grid-countries-join-together-to-maximize-renewable-energy.html