SAG is a type of electric vehicles for the city as part of the dissertation research this car design. SAG – a real alternative to the city car, promising to reduce the typical problems related to pollution, pedestrian safety and traffic congestion.
The main objective of car is to maximize adaptability for different urban settings and individuals in accordance with the capabilities of existing technologies in the field of electric powertrains. This dual task has an impact on the vehicle architecture, which should be modular, and easy. Moreover, this city car with the structure of the body, meets the levels of protection offered by conventional cars could even drive on General roads.
In terms of design typology of car represents a new strategy that uses technical minimalism as a resource to reinforce urban performance and compliance with the requirements of the user. This design strategy considers the process of the automotive industry in conjunction with the product to integrate design and engineering, starting with the planning stage. The project also considers the integration of future technologies, such as managing without driver or augmented reality.
The result of the project is a new family of vehicles which will determine the development of urban traffic, providing a qualitative improvement in terms of performance cars, as well as unique design.
Well, it looks good. Just perfect for small urban journeys on the route home-work-shop. Let's hope that someday everyone driving in the city center by car will do so using this miracle of technology. Then the tube us not be afraid, and the planet to breathe.
Specifications:
— the Central engine with a maximum output of 20 HP.;
— lithium-ion battery of 9 kWh, providing a range mileage 80 km in real traffic;
— location of seats, 1+1, the footprint is higher than in a conventional hatchback and sedan;
— length x width x height: 2.2 m x 1.4 m x 1.5 m;
— the turning radius of 3.1 m;
— the structure of the housing: secure the camera with the front, rear and side deformation zones;
— weight: 370 kg.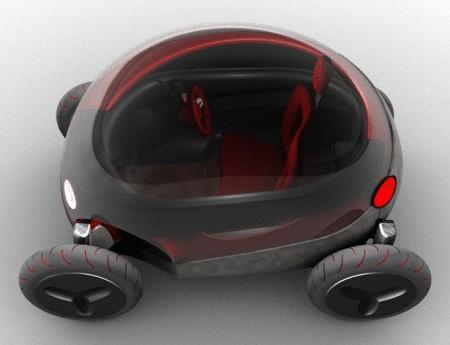 Source: /users/104