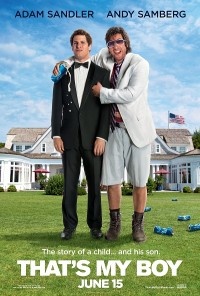 Original title: That's My Boy
Released: 2012
Directed by Sean Anders
Issued: United States
Duration: 01:48:35  
Starring: Adam Sandler, Andy Samberg, Leighton Meester, Milo Ventimiglia, Vanilla Ice, Peggy Stewart, Blake Clark, Megan Fay, Tony Orlando, James Caan
Difficult teenager and "Bad Teacher" have decided to indulge in amorous pleasures actually behind a school desk. Nothing would prevent the lovers to enjoy each other and disperse peacefully, if not for the sudden pregnant women. And then there arrived the power to accuse it of corrupting a minor!
Daddy has to educate young son alone when his mother was really sent to jail. As soon as my little boy turns eighteen, "Dad dosvidos" make legs and disappears from the life of Chad for many years. Apparently, in order to appear in his life before the wedding and turn everything upside down.
Infantile man and his son, whose childhood was far from ideal, trying to find a common language. Movie Online "That's My Boy" - a real tragedy, clad in unobtrusive comedy mask.