No, we are not talking about all sorts of perversions with green-hero of Marvel comics, and an exoskeleton HULC created a high-tech office in the dungeons of Lockheed Martin.
Though he, of course, looks absolutely sucks and makes any person apparently in-paralytic cripple, but nonetheless quite capable HULC confer soldiers very useful qualities.
So, what gives this exoskeleton average ordinary soldiers:
HULC allows you to lift the weight up to 90 kg (200 pounds) and travel with him to the extent sufficient for, say, weapons loading or unloading of heavy objects with little or no participation of human muscles - it only controls the actions of the exoskeleton.
Front can be hung or grip for heavy objects, as in the photo, or extra heavy armor.
Further, video and text ...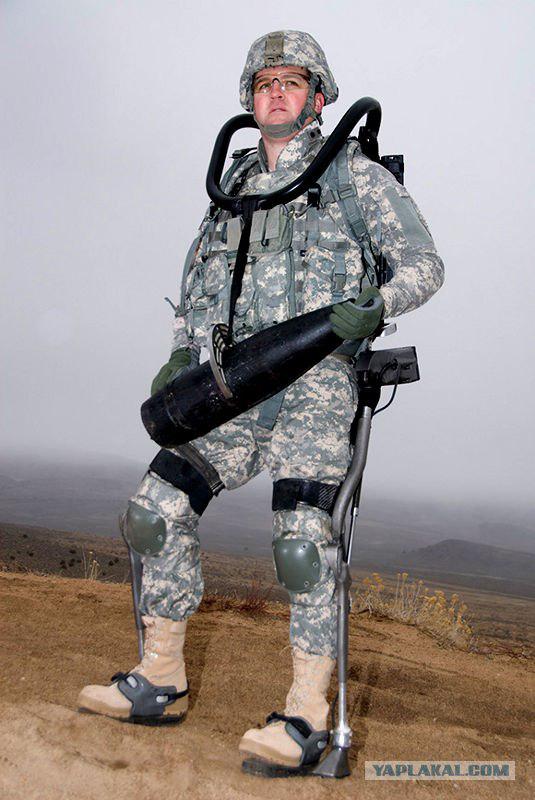 Without load exoskeleton allows a person to move at a speed of 7 miles per hour for long distances, or if necessary, to take short shots at a speed of 10 miles per hour.
The suit is controlled by the natural movements of the arms and legs, to recognize that he needed a micro-computer, but still holds down movements. Most effective in the standing position, in the supine gain virtually no
Amplification - hydraulic. The pumping capacity of 250 W electric motor.
Weight exoskeleton without batteries - 25 kg.
The power supply system - 2 lithium-polymer battery, 60 volt, 100 amp, each weighing 2 kg. Battery lasts for 1 hour.
Or there is an expanded version - quiet generator JP8 weighing 45 kg with fuel, which is enough for 72 hours of work suit.
Of course, the exoskeleton is not perfect. Judging from the video itself that the best use can be found in the fighter Hulk - a stevedore or a stand-up or machine gunner with heavy armor in front (by the way is also an option, but only against slabovooruzhennogo enemy. Well, or heavily armored sapper.
But it is - the first model of the exoskeleton, which is able to bring to production. So soon we will finalize and much more sovershennyem model.
Source: