What would you spend 101 million pounds (about 157, 7 million dollars) if they won the lottery? It is so much won by Dave and Angela Dawes. They are not married, but took the surname Dave Angela after her divorce from her first husband. Selection of the winning combination on the coveted ticket lucky trusted computer in one of the local supermarkets, and it has paid off. About winning heard on TV, when they saw the live broadcast of the draw. "We were watching TV, just walked lottery EuroMillions, we did not even think that we need something perepadet - says Dave. - When they began to fall out of the hotel, we got the tickets and watched in shock as one of them gradually built up a winning combination! We could not believe my eyes! By lottery hotline call was late, had to spend the night in suspense! ».
6 ph + letter via radulova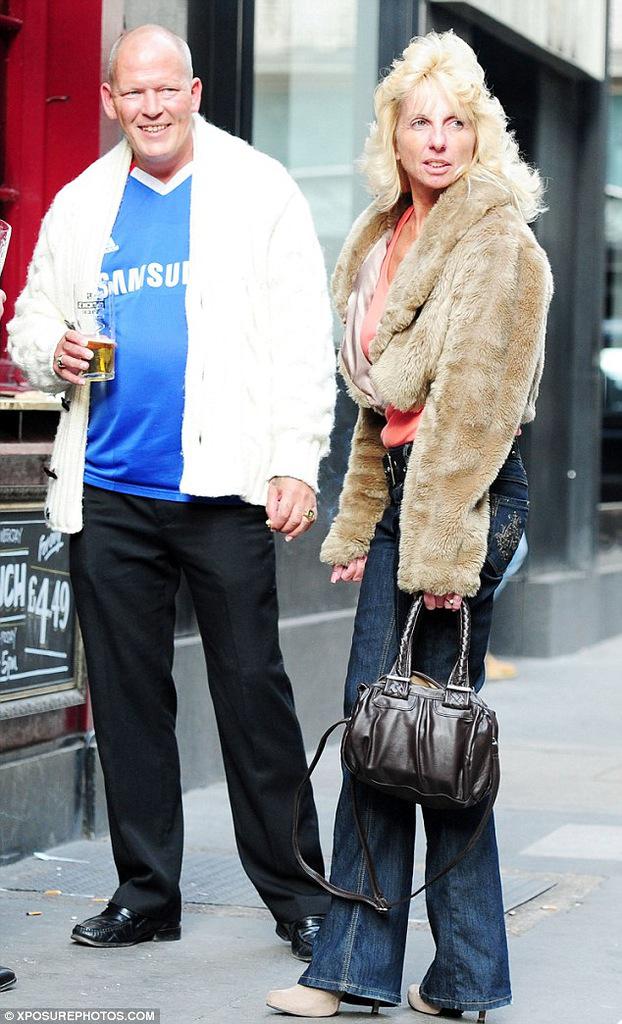 Until recently, Mr. Dawes worked in shifts 12 hours a truck driver in the company of Premier Foods, the largest producer of food UK. The day after winning the winner took time off for two days. Recently, the couple was spotted near the luxury boutiques - they walked and looked at designer clothes in the windows.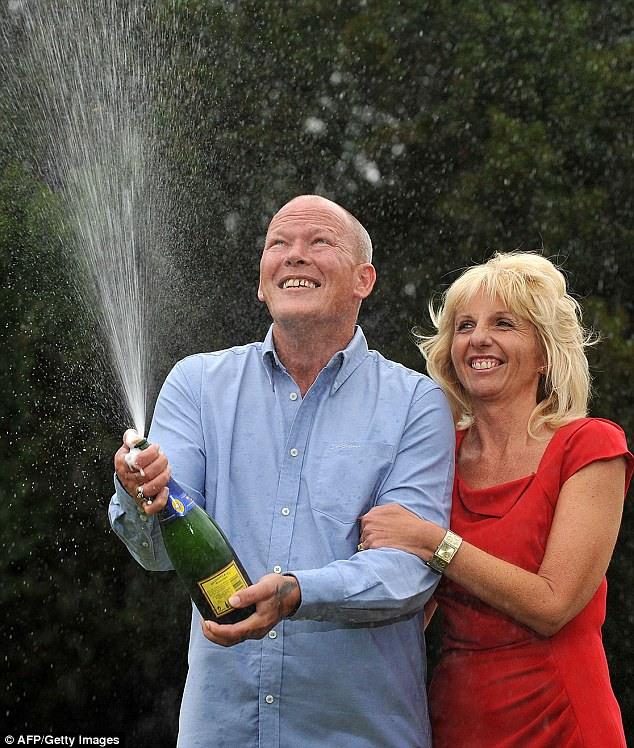 Jackpot immediately offered up a couple of 703 th place in the ranking of the richest people in the UK. They are now in the £ 1 million richer than David Bowie. To celebrate the winners said it will make 20 friends millionaires. According to Angela, they compiled a list of 15-20 people, which they have done millionaires. "We remember all those who have helped us throughout all these years - said Miss Dawes. - We have talked to several of them that are going to make. Our friends are quite impressed by our decision to help them with money. One thing is clear - this event and we are pleased they are equally ", - added Angela.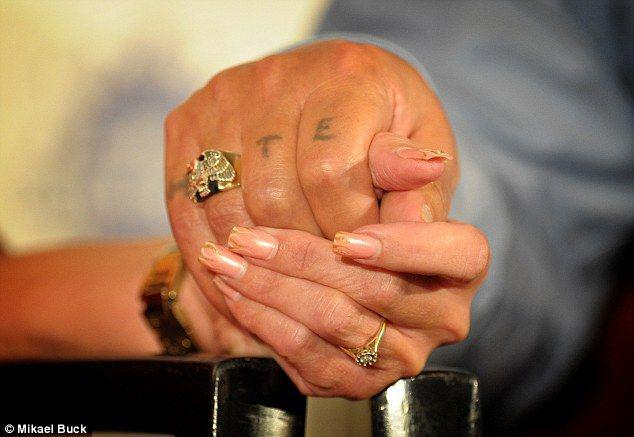 Mr. and Miss Dauers shot tiny apartment for 70 pounds a month (about 3, 5 thousand. Rubles), now they are ready to buy apartment in a prestigious area. Mr. and Miss Dawes lived together for four years now. Previously, they did not think about marriage, but in the light of new circumstances are prepared to arrange a wedding in Portugal next year. Dave's first purchase in the lottery money was an engagement ring for 800 pounds (about 40 thousand. Rubles). Lucky also intend to donate millions of pounds for charity.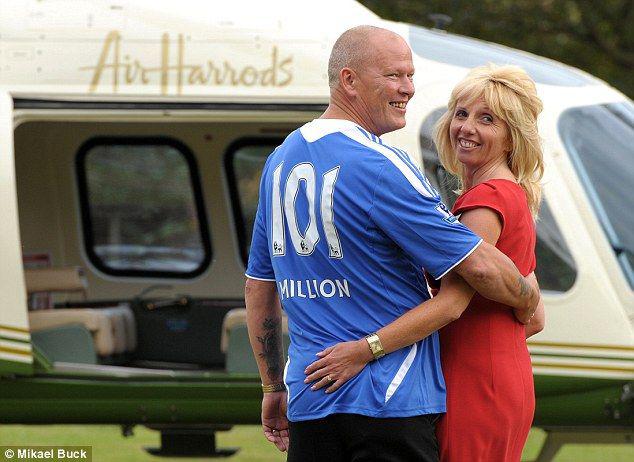 When Angela and Dave met Miss Dawes has just divorced her husband and wanted to completely erase his memory from his life. With the development of their relations Angela decided to take the name of Mr. Dawes. "We had no money to arrange a wedding, so we postponed the matter for the future, and I just took his name" - said Miss Dawes. On lucky winnings are going to buy property in London and abroad, as well as a trip to Las Vegas and go skiing in Switzerland.
Angela wanted to erase the memory of the former husband of his life, but at the same time has erased the memory of his son, which broke up when he was 12 years old. Now Stephen Liman seventeen years old, he is studying in college carpenter. His father brought up by parents. Stephen learned about winning the mother of one of his friends: "Well, actually, I heard on the news that someone hit the jackpot, but I did not know who it was. I have not seen my mother since 2006, I do not even know where she lives. She threw us out of the house with my dad when I returned from a trip to France with a class. I was only 12 years old. She burned all of Dad's clothes and would not return to me my own, which remained in the house. She even took the computer itself. Since dad works struggled to feed both of us. I never received a birthday card from her birthday, Christmas or Easter. In my opinion, I did not have my mother ».
According to Mr. Lyman, Jr., Miss Dawes all the money is not enough to heal the deep wound, which she had left in his heart. Currently, Stephen lives in his parents' home of his father, who works in one of the transport companies. Before the parents separated, the family lived in a house on wheels in town Uisbich. According to Mr. Lyman, Jr., divorce was very unpleasant. The son said, Mom and Dad owes them about 20 thousand pounds. In addition, Stephen said that Angela is full of other debts.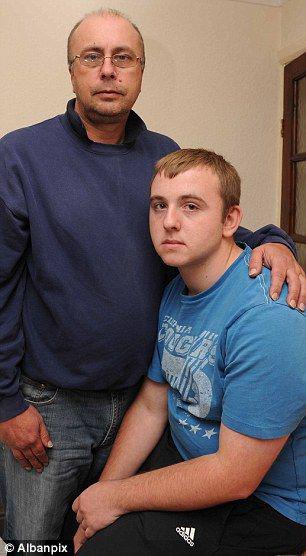 Ex-husband learned about winning Miss Dawes on the Internet. "Many people can not believe that she refused to Stephen, both on unnecessary things. I spit on her money, let alone return to 30 pounds in a week, she must be my son in law, - said Mr. Lyman Senior. - I became ill when it touted on television for charitable donations. She fled with her lover in the family, while I was on a business trip! »
John also states that the ex-wife did not fulfill their financial obligations. "She has not paid a penny of alimony from the day, when she left the family. And she started to change even before we got divorced. I worked 60 hours a week to pay her bills! - I continued to resent Mr. Lyman Senior. - I do not have a normal home furnishing, and it will now bathe in luxury! »
"Two days after she broke up our relationship, she called me and told me to come to the park. There she gave me a bag with clothes and Stephen said the following: "For me, both of you are dead" - says John. - Then it all stopped to chat with us. Angela always loved going to clubs, drinking, and the child to her was just a burden. When Stephen only went to school, it is not just forced me to take him to work, so it does not interfere with her entertained. It should return to my son everything owed, rather than try to put yourself in the best light ».
The very next day after the publication of these statements Miss Dawes made a response, which expressed concern about sharp remarks ex-husband, and said that he loved his son and would like to establish a relationship with him. Moreover, Angela says that much of what has been said about the divorce - not true and it is very painful to hear it from someone close once. "I always wanted to communicate with his son, who was very much" - said in a statement, Miss Dawes.
By the way, recently held a large-scale lottery EuroMillions poll. Respondents had to answer one question: "What would you buy if you won dzhepot?»
Most of the women interviewed stopped at a country house in a picturesque region of the elite, diamond rings and expensive shoes. In turn, the men mainly rests on the bachelor property (preferably somewhere on the top floor of the mansion on the island of Manhattan), a brand new Aston Martin Vantage 8 (worth about 97,000 pounds, or about 5 million rubles) and the iPhone 5. However, these men hotelok list is not limited. It also includes a private aircraft GulfStream G6 (about 36 million pounds, or about 1, 7 billion rubles), which is one of yachts from the shipyard Princess Yachts and, of course, the personal vineyard.
"We want people to share with us your wildest fantasies, which are feasible only when a very large jackpot win - said the representative of the lottery EuroMillions. - The results are simply stunned us. It was found that women spent the money on expensive designer goods, but also necessarily to buy something for the house. A man once made a bet on the vehicles and gadgets, with at the most recent developments, available at the current level of science and technology ».
More it was found that more than a third of the respondents of the fair sex would be engaged with a personal trainer to bring his body to the ideal of conditions. The list of designer stuff fell bag Chanel wedding dress from Vera Wang, Rolex watches and other expensive trinkets. Among the things for the house prevail firm SMEG fridge and vacuum cleaners firms Aga and Dyson.
According to the survey clearly shows that men are more likely "lose their heads" at the prospect of big money and are willing to spend their most random. Thus, in the list of the 20 most popular answers are such impractical in everyday life things like a racehorse and the castle. As for the vehicles, here represented by the widest range, from the Bugatti Veyron and a Formula 1 car and ending with the private helicopter. Among the gadgets mentioned for iPad 2, Nintendo 3DS and the clock Omega Seamaster.
However, only six out of ten respondents could say exactly what they would do with a large jackpot.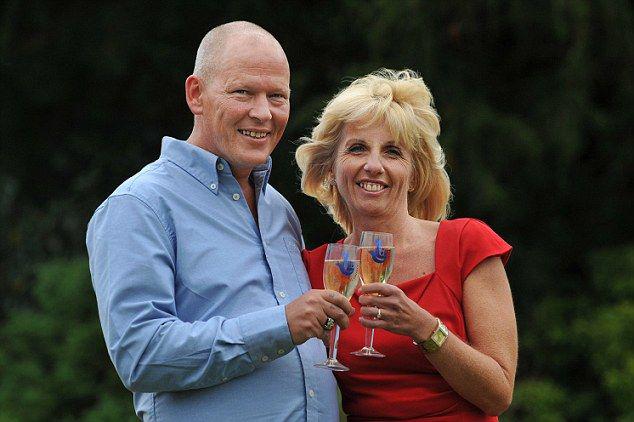 Source: