Enterprises of the Russian military-industrial complex collected the first three samples of armored vehicles on the basis of a single heavy tracked platform "Armata". On this, as reported by RIA Novosti, said the head of the Main Armored Directorate of the Defense Ministry of Russia, Alexander Shevchenko. According to him, it is a promising main battle tanks, heavy armored infantry Armoured Recovery Vehicle.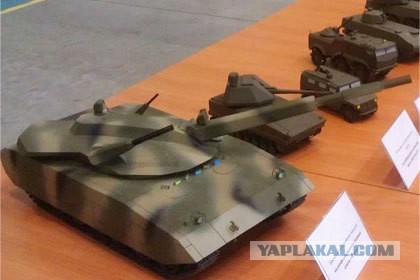 All the equipment is planned to create a prototype to show the leadership of the Russian Defense Ministry at the IX International Exhibition of Arms, Military Equipment and Ammunition (RAE-2013) in Nizhny Tagil in late September of 2013. Earlier, the director of "Uralvagonzavod", the head artist of the "Armata" Oleg Sienko said the public presentation of future tanks will not. "Do you think it is possible to make public the secret development?», ─ doabvil it.
The "Armata" secretive and technical details are not known. Officially reported only that the tank on the basis of "Almaty was" get a robotic combat module, the basic instrument with an autoloader that can fire both conventional ammunition and missiles. In turn-based combat vehicle "Almaty was" designed to be modular, it simplifies the subsequent repair and modernization.
According to the former head of the Russian Defense Ministry GABTU Colonel-General Sergei Maeva, the crew of the tank on the platform "Armata" will consist of three people, and they can replace each other. "The question of what the" Almaty was "there will be two members of the crew, is not necessary. Still, there will be three members of the crew. Another thing is that they will be interchangeable, which will allow the tank commander to operate this machine ─ it was before, but not to the extent as it is now. Today, technical tools make it possible to take control of the commander of a tank gun on himself », ─ told Maiev.
Russian Defense Ministry intends to purchase in 2014 of 16 tanks on the basis of "Almaty was" from the pilot batch for testing. It is expected that the main battle tank, based on the new platform will go into service Russia in 2015.
Source: