That summer began, and with it a series of summer award ceremonies such as the MTV Movie Awards 2012. Do not tire of repeating that I just adore such event (lower rank than the "Oscar", but still have weight among young Hollywood ), because the images that represent celebrities on the red carpet such, can be applied in our everyday life. In contrast to the pathos ball gowns, which hardly ever got a chance.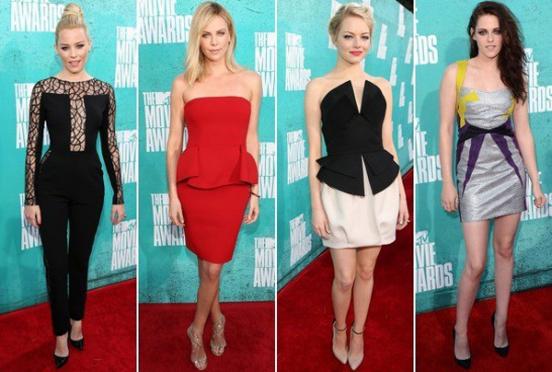 Let's start with the winners to know their heroes in person! Let me remind you that the winners are selected viewers MTV (12 and older), so that the choice is clear :)
Film of the Year - "Twilight. The Twilight Saga: Breaking Dawn - Part 1 »
Best Actor - Josh Hutcherson - "The Hunger Games»
Best Actress - Jennifer Lawrence - "The Hunger Games»
Breakthrough of the Year - Shailene Woodley - "Descendants»
Best Fight - Jennifer Lawrence and Josh Hutcherson against Alexander Ludwig - "The Hunger Games»
Best Kiss - Robert Pattinson and Kristen Stewart - "Twilight. The Twilight Saga: Breaking Dawn - Part 1 »
Best Comedic Performance - Melissa McCarthy - "Bridesmaids»
Best music for the film - Party Rock Anthem - LMFAO («macho and nerdy»)
The best on-screen transformation - Elizabeth Banks - "The Hunger Games»
Best Villain - Tom Felton, "Harry Potter and the Deathly Hallows: Part 1»
Best cast - "Harry Potter and the Deathly Hallows: Part 2»
Best sentimental moment - Kristen Wiig, Maya Rudolph, Rose Byrne, Melissa McCarthy, Wendi McLendon-Covey, Ellie Kemper - "Bridesmaids»
MTV Generation Award - Johnny Depp
From the winners in the best outfit.
This is not the first time we see Kristen Stewart's dress brand fashion GUiSHEM, but it is 100% reflects its style. The silver mini-dress with an interesting geometric print is very Chris and fully consistent with the occasion. I really like the combination of colors and open back, and make-up, hairstyle and the right selection of accessories complete the look perfectly. And once again convinced that Kristen Stewart is very beautiful eyes.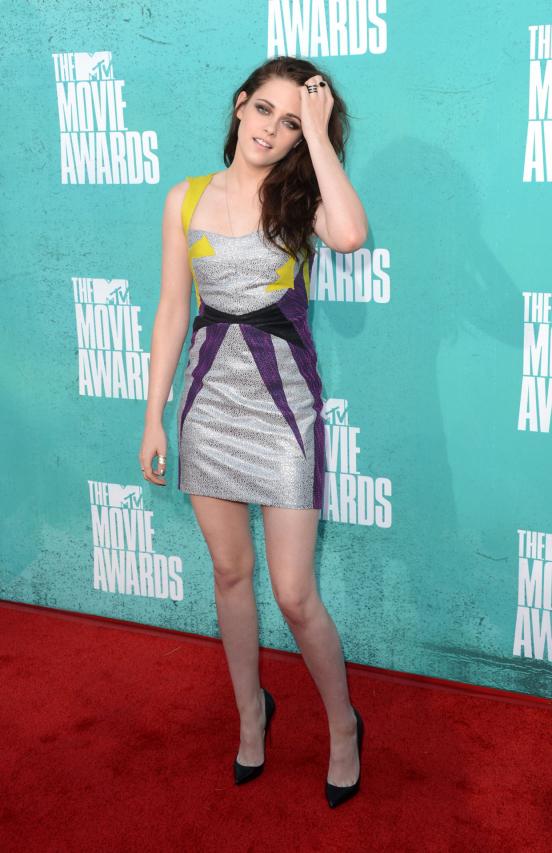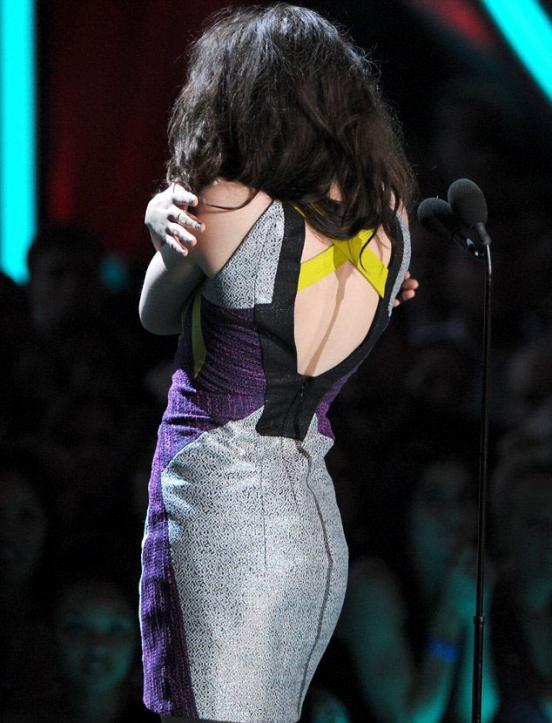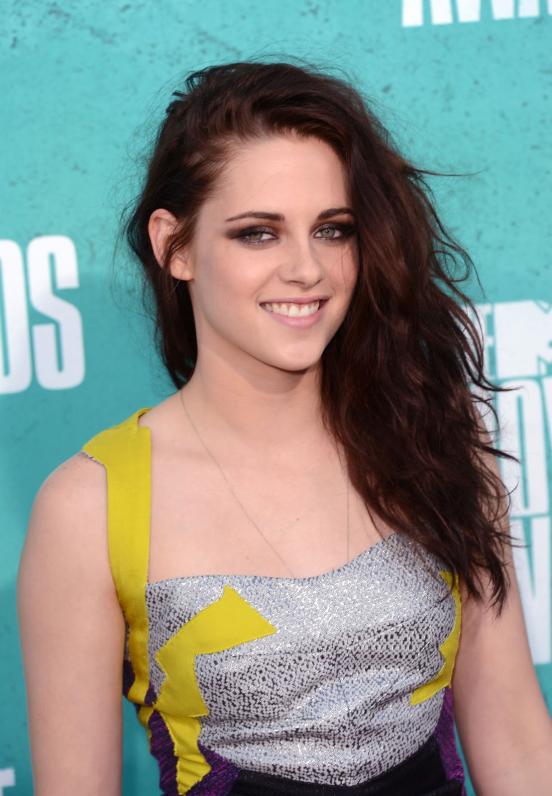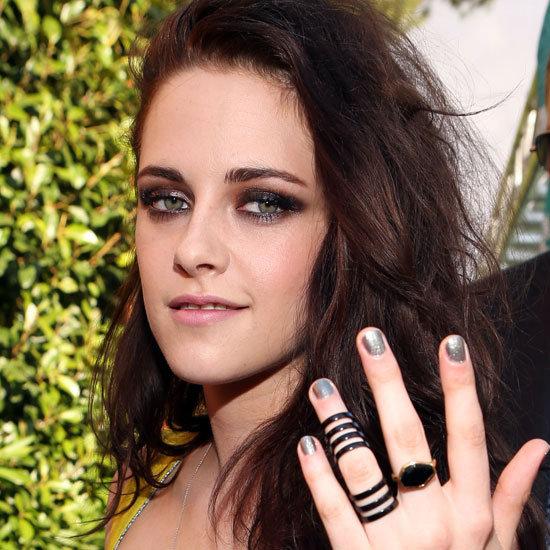 Hope British film Emma Watson also opted for a light small ceremony. Emma was wearing a dress in sporty style (which, incidentally, is now very relevant) by brand Brood. I have mixed feelings about this outfit (back view I like much more of a front view), but I was very pleased with the fact that Emma had changed his romantic style and try something new.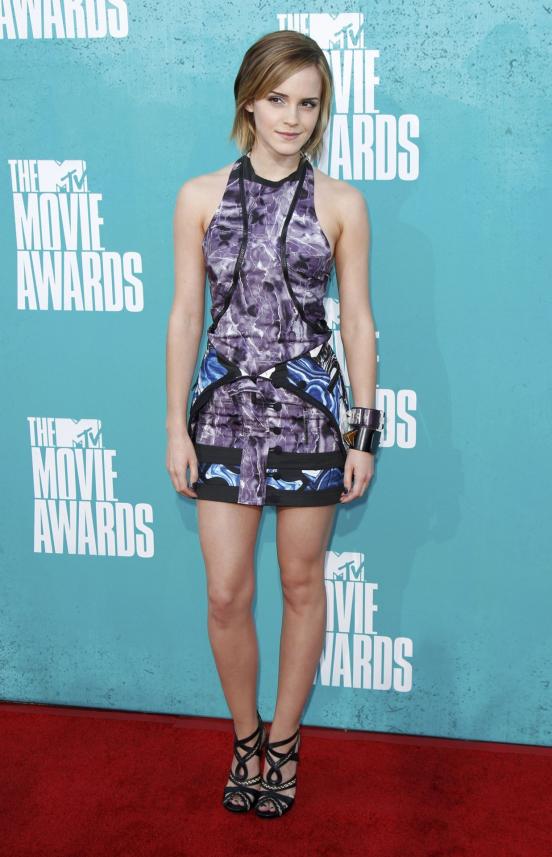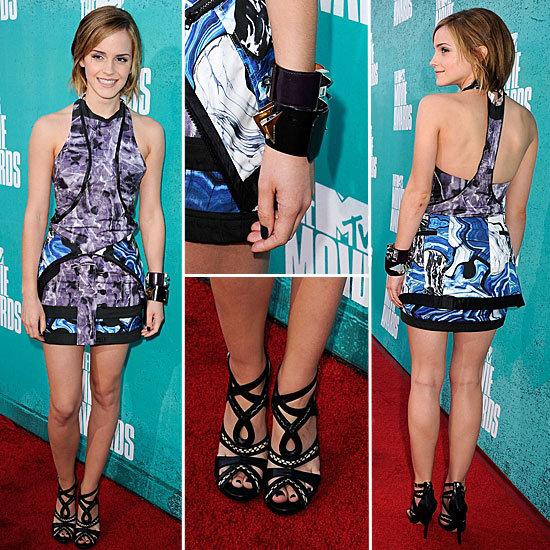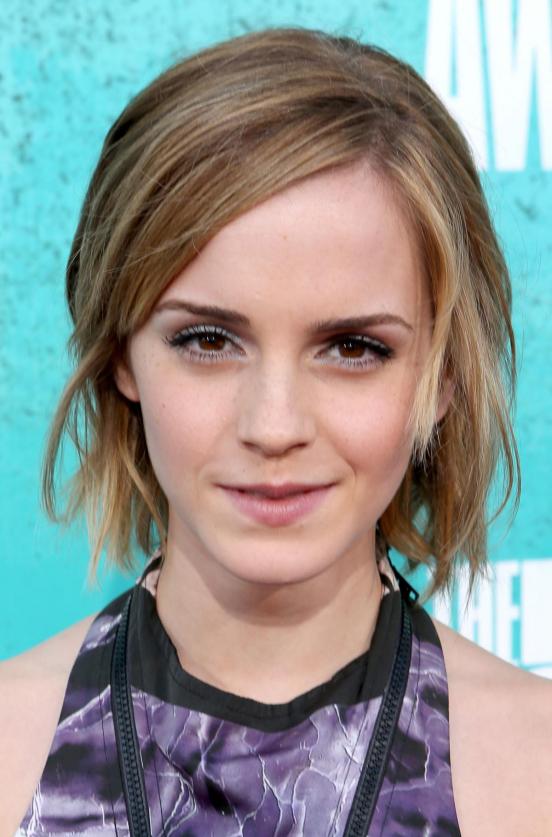 This time the red carpet at the MTV was rich unbanal images, one of which provided us with Jessica Biel. I am not thrilled with the big dress Chanel - looks interesting, but I do not like such a giant hose - but the image as a whole was very impressive. I think Jess to pick up her dress the other shoes, outfit would not have been so good, but the "refreshing" mint and white sandals from Barbara Bui saved him.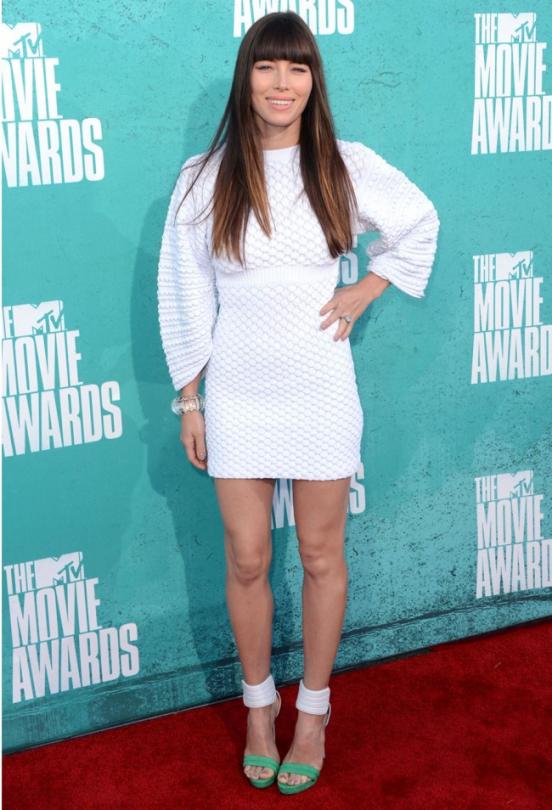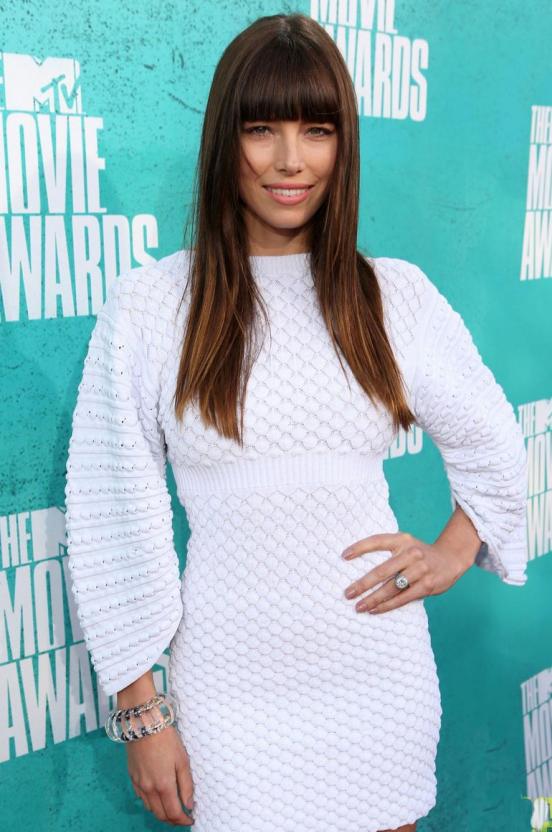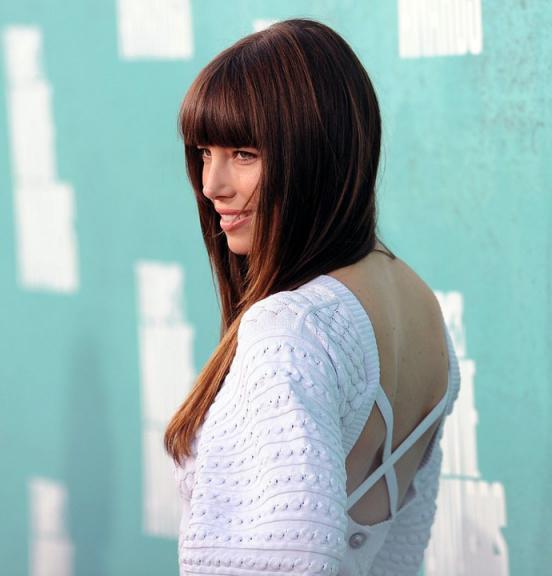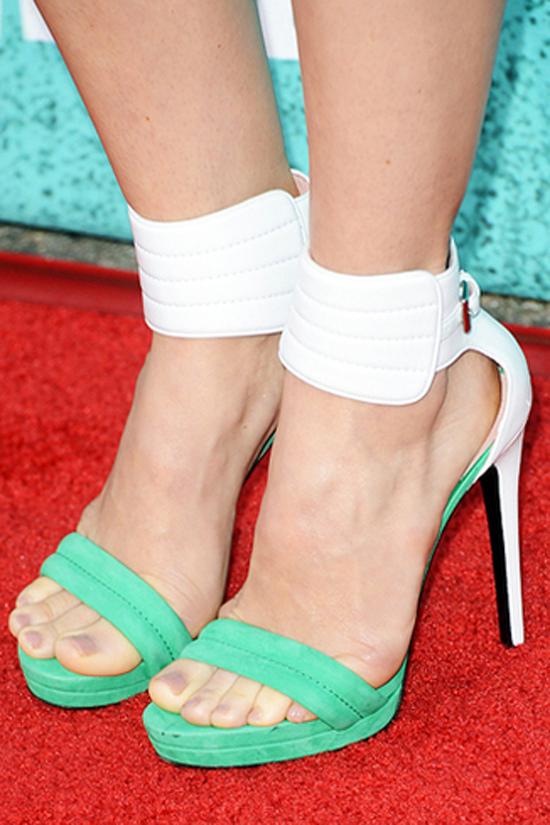 Amber Rose in a small mint dress. I suspect that this Marchesa - feathers, crystals and semi-transparent chiffon confirm this. Well, a wonderful dress, and I'm glad that it does not have cleavage, so beloved Amber, but I think that this outfit would have looked more successfully on a fragile girl.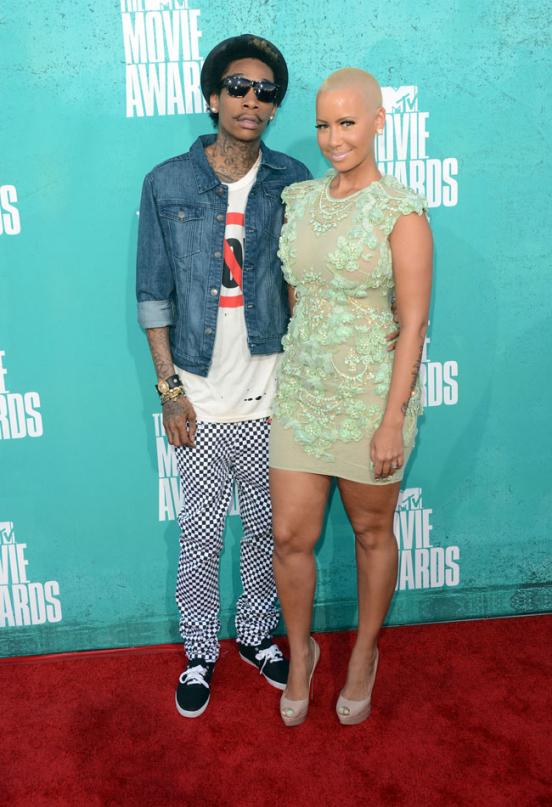 I first saw the actress Julia Jones (the one that played Leia in "Twilight") on the red carpet, and I like what I see. The dress is excellent - neon colors and seductive perforation balanced feminine silhouette with the Basques. Light make-up, simple hairstyle and classic beige pumps perfectly complement the image - this dress does not need other bright accents.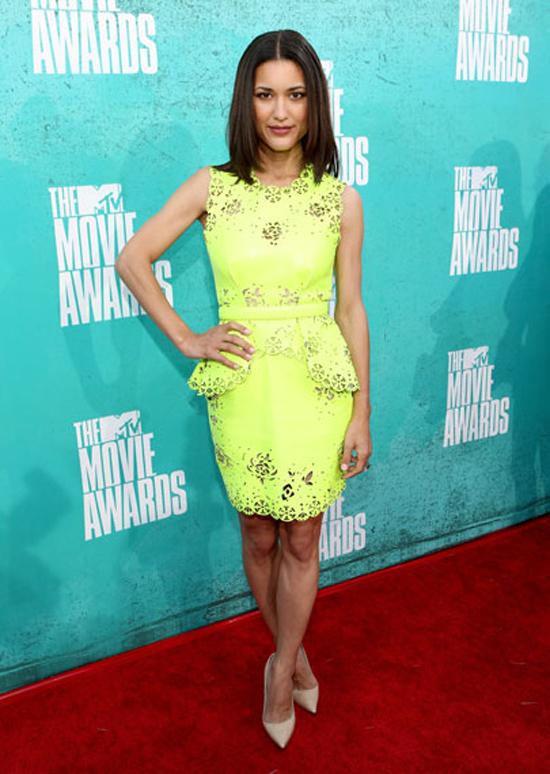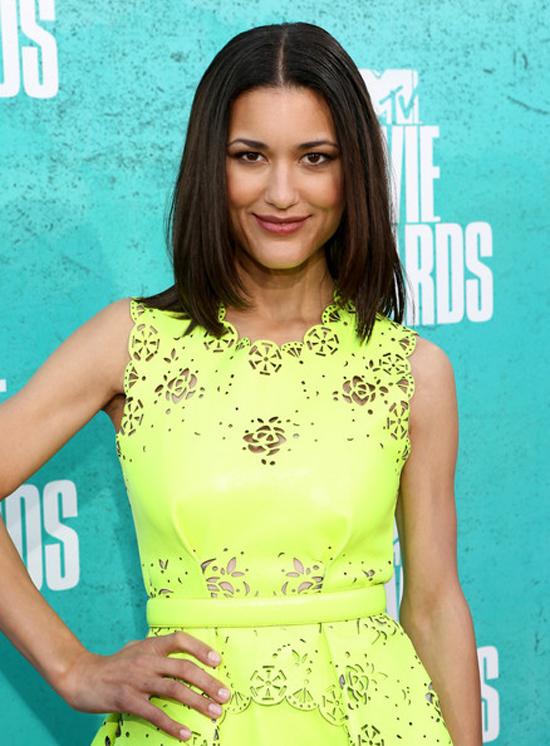 I'm a little disappointed with Mila Kunis in the way this time: even though it Fendi, but it looks cheap. I like to finish with colored sequins, creating the effect of splattered paint, but this length looks vulgar. And the fact that Milan has recently put on weight (most likely for the role) does not play on her arm - she reminds me, forgive me, her fans, nice little pig.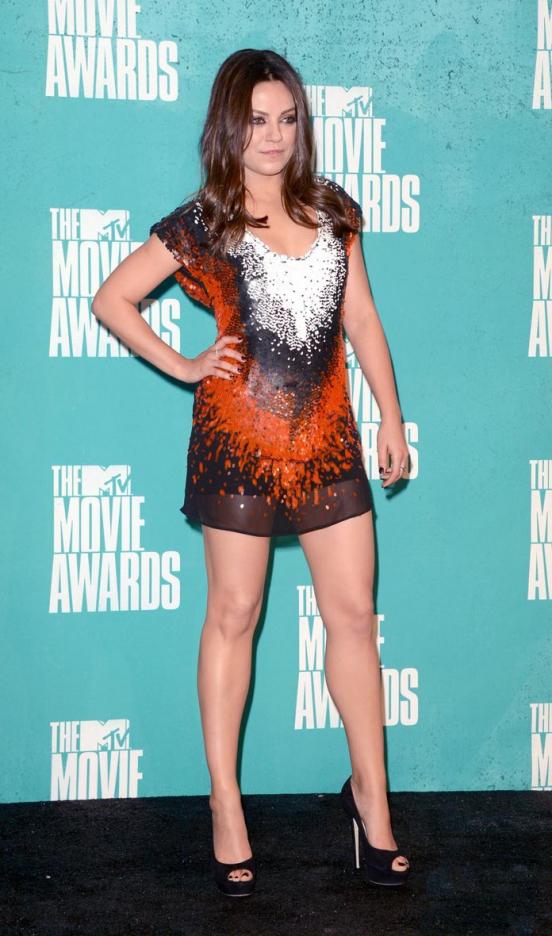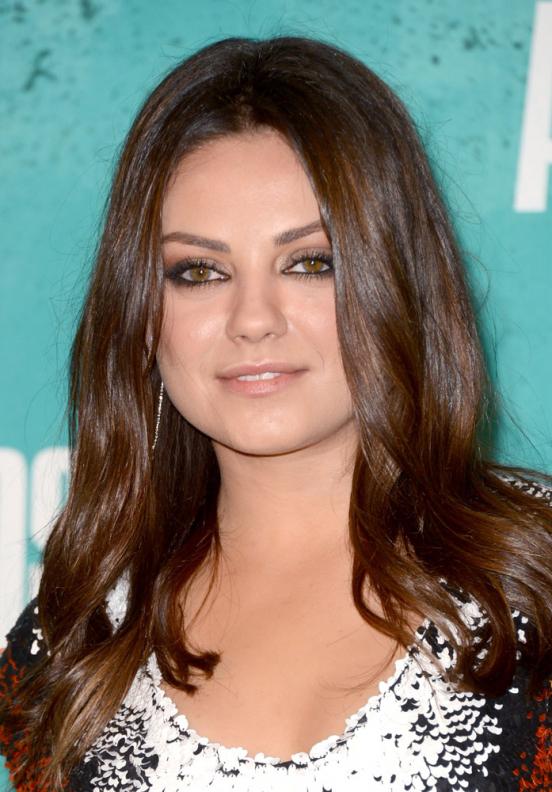 The ideal image we showed Emma Stone. The actress has once again become a blonde with this color came to her elegance, created a dress Martin Grant. Geometric black air passes into the light skirt, and supplemented by all this beauty pretty beige shoes with a heel ryushevym. In this way all great - and the dress and shoes, and hair, and even the color of lipstick is ideal for along.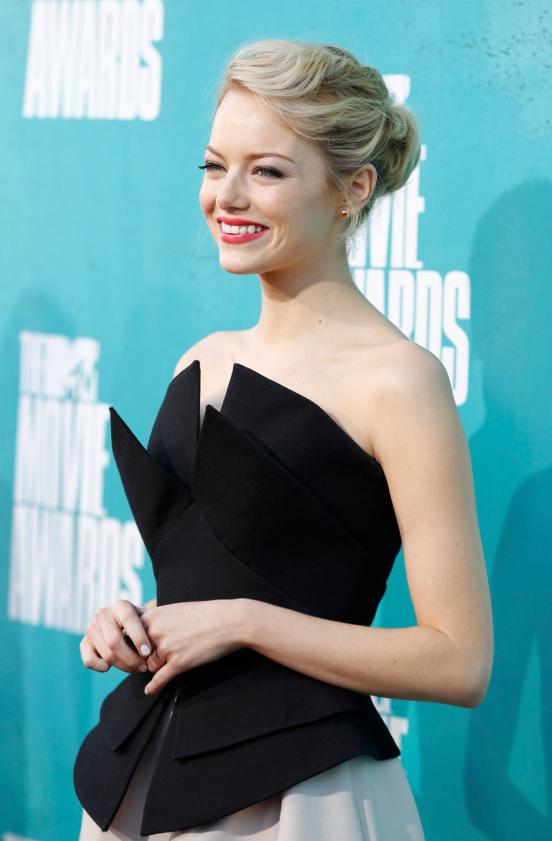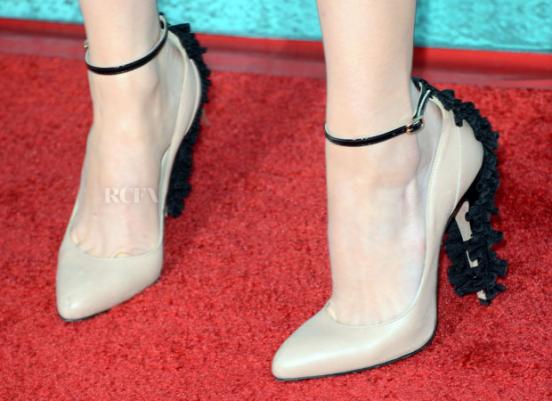 Singer Ciara in red dress with the smell of Balmain. I absolutely do not like this dress - it looks as if she took a piece of cloth and wrapped it around himself, smacks of a primitive age, and The Flintstones. Another question - decorations in the form of rings on almost all fingers: the original version, but if you really draw attention to your hands, should pay special attention to manicure ... or even erase the bits of old nail polish.
The star of "Pretty Little Liars" Lucy Hale in the dress from Catherine Malandrino. The dress looks good (although the combination of colors turned out somewhat unexpected), but I never liked silk skirt - they risk be crumpled, and it spoils the impression.
Elizabeth Banks on the red carpet MTV. Actress wore a black jumpsuit with Elie Saab erotic lace accents on the bodice, sleeves and pants and she looked at him supereffektno. I love Liz's hair and makeup - give the image of a kind of brutality and sexuality. Noteworthy is also the fact that for such original along as lace jumpsuit, the actress picked up not just an accessory - big rings, shoes on the fantasy heels and black clutch bag in the shape of the lips, which are not only overloaded the image and made it just perfect.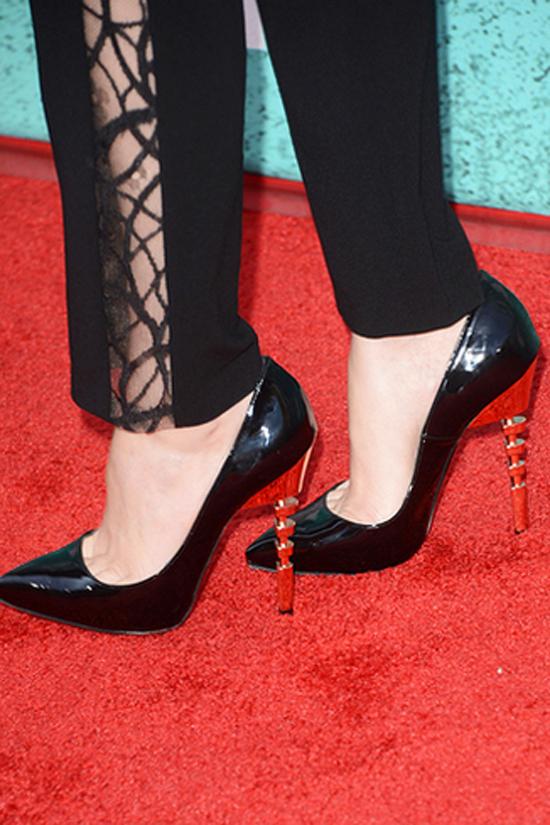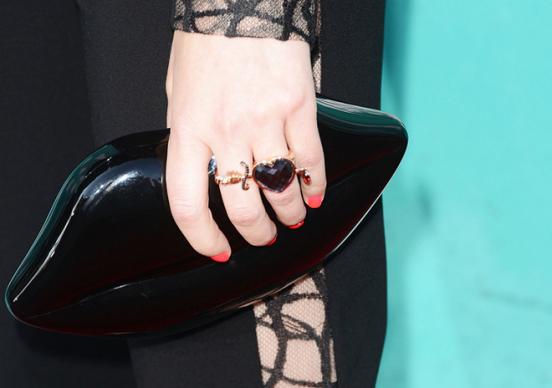 Charlize Theron for the umpteenth time proved that the femininity and elegance - the best choice for the red carpet. Actress, finally committed suicide in black and wearing a red dress with the Basques by Lanvin, adding his golden sandals Jimmy Choo. A very simple way, but it looks like Charlize simply divine.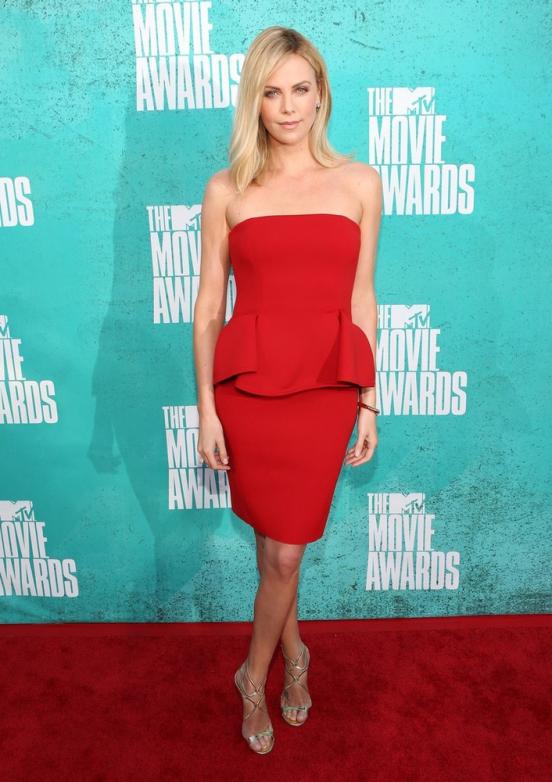 20-year-old Shailene Woodley in seductive tuxedo by Stella McCartney. Prior to that, we have not seen anything like this on Shayleen, and I believe that such a change was it absolutely necessary. The image turned out just fine - a suit sits well, sandals ideally suited to it, and careless braid gives the image of lightness and airiness.
Nikki Reed bestowed at the ceremony, accompanied by her husband Paul McDonald. Actress was of gold, studded with beads dress in the style of Art Deco by Randi Rahm. The only thing that bothers me in this manner, as is the choice of shoes (I would prefer sandals instead of shoes), but otherwise everything is just fine.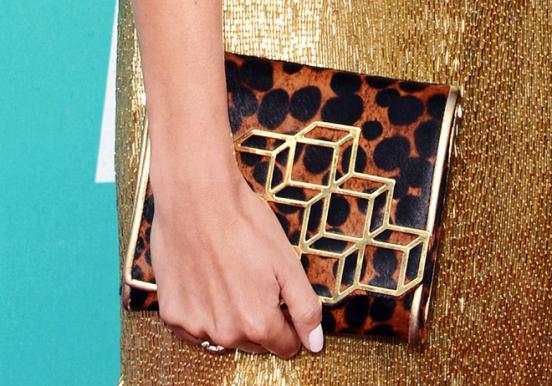 Beauty Leighton Meester appeared on the red carpet with a new, lighter hair color - perhaps at the time of the actress wants to move away from the image of Blair and give yourself a little break. Leighton favorably with their counterparts in cocktail dresses, and all because they chose for the ceremony of the summer suit jacket without sleeves and light shorts and pale blue top with a very trendy watercolor print. I'm just in awe of this image - the perfect summer version and golden accessories and coral lipstick adds to its lightness and freshness.
Channing Tatum's wife Jenna Dewan - another girl, whose image can be called absolutely years. The actress was a gentle mini-dress consisting of a light-colored chiffon blouse mint and white multi-layered skirts straight silhouette. All this has been lacquered accessories in smoky silvery tones. It is a pity that Jenna is not often appear on the red carpet - her images I 'liking.
Against the backdrop for original dresses stylish girls images of Paris and Nicky Hilton looks very well, boring. With the appearance of Nikki still somehow possible to reconcile, but the blond-solar bows Paris look just creepy. Despite the fact that the recent Paris with all its millions yet learned to look more or less stylish, it is unlikely to ever be able to become the queen of red carpet.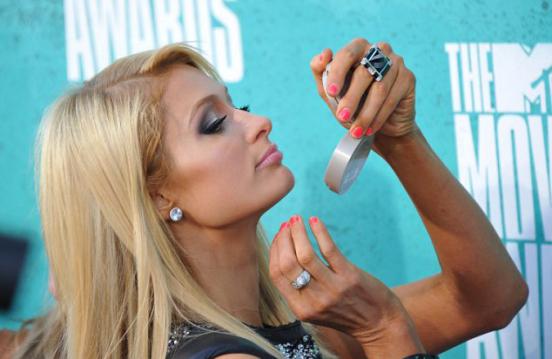 Kate Beckinsale in a beige dress uncomplicated design. The dress looks very simple, but I really like the way he looks at Kate - very fresh and perfectly sets off the tan. Of course, this is not the best image of the actress, but also not the worst.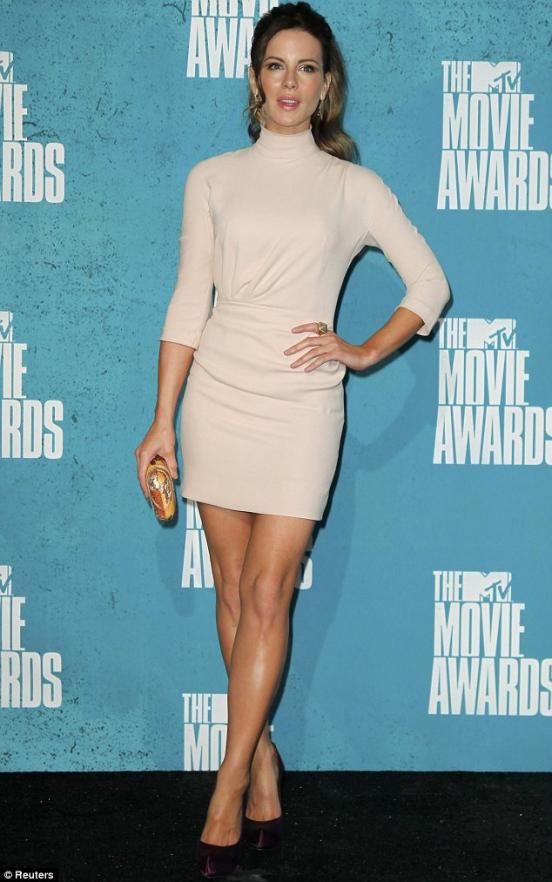 Christina Ricci has appeared on the red carpet in a dress handmade by designer Christian Siriano (one of the winners of the "Podium"). The silhouette of the dress was not surprising - a bustier dress traditional long, but finishing really struck by its originality. Christina bodice was covered with a clock face! Very original decor, although I would have changed the dress more pleasant - it looks unattractive and cheap.