Events tape will occur in 2029 in the world,
post-apocalypse, where a large part of humanity
destroy the robot. John Connor (Christian Bale)
He becomes the leader of a small group of rebels.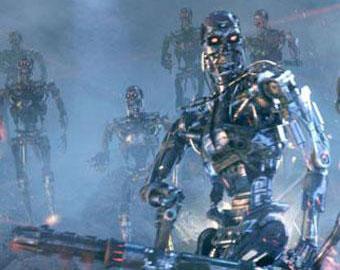 Filming of the fourth installment in the franchise began today. And producer Halcyon Co. have announced that they intend to make a film, which will be rated PG-13 (that is, some material may be inappropriate for children under 13 years, and because adults are advised to accompany them during the sessions). All previous trilogy honored Rated R, which meant no one under the age of 17 for a session without an adult can not be tolerated.
Exactly the same thing happened before in the "Die Hard". The first three films are rated R, and the fourth, which was released last year, - PG-13, resulting in 382 collected 1 million. In worldwide box office and became the most successful in terms of box office, ribbon franchise. Halcyon Co. also aims to reach a wider audience and increase the expense of the charges.
Previous movie trilogy grossed 1, 03 billion. Dollars, which made the "Terminator" one of the most profitable franchises in the history of cinema.
The tape should go out May 22, 2009. He became the director McGee before noted the "Charlie's Angels." The script written by John D. Brancato and Michael Ferris, who worked on "Terminator 3". Gloss brought Oscar-winner Paul Heggis ("Crash").