In October, at the Paris Motor Show, Mazda plans to introduce its new compact car.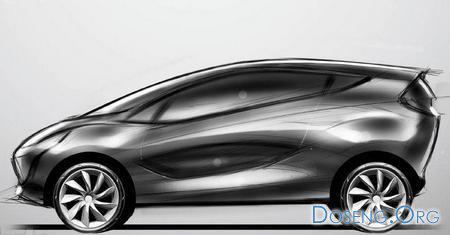 Japanese mikromobil first will be released in the form of the concept, and in late 2009 production model Mazda1 go on mass market and will be able to compete with "classmates» Volkswagen up! and Toyota iQ.
As far as can be judged on a single sketch, this new product will be the first model to embody the concept of Nagare design into reality. Sporty look supermini given by the high roofline, which provides more space over the heads of the passengers, but the key parts cars are spectacular relief body lines and short overhangs saved.
Rather, the concept city car from Mazda will be made of plastic, Perspex, and will receive a sliding side doors and seats, which adds the car practicality.
Presumably, the prototype will be equipped with power-plant combining the use of fuel cells and batteries. Also in August, at the motor show in Moscow, Mazda will present a new compact SUV, made on the basis of the model Kuga from Ford. In addition, the Japanese designers are now working on replacing upopno model RX-7, the design of which will also remind Nagare.