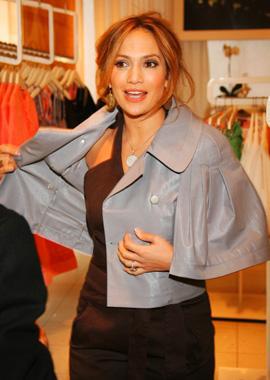 June 7, 2008, after a speech at the VI ceremony of MUZ TV Awards, the singer Jennifer Lopez for the first time visited the boutique JLo by Jennifer Lopez in the Crocus City Mall. This is the first boutique brand in the world, which the company Crocus Group opened in May 2004.
During his visit to the boutique star he was in a great mood, constantly joking, having fun and photographed several times changed clothes in the clothes of their own brands JLo and Sweetface. At that time, her husband Marc Anthony spent time in pleasant conversation with Emin Agalarov and Irina Agalarov. By the way, Jennifer Lopez really liked the interior of the boutique. "This is my best boutique in the world", - said the star.
The interior of the boutique architects "Kramer Design Group" embodied the idea of ​​interactive shopping, inseparable from the brand and image of Jennifer. Boutique atmosphere captures the spirit of great nightlife, their energy in a blaze of discus throwers. Graceful fitting, special mannequins, bright colors in an area of ​​more than 350 square meters - everything is done to maintain the atmosphere of fun and energy of the spirit of Jennifer Lopez.