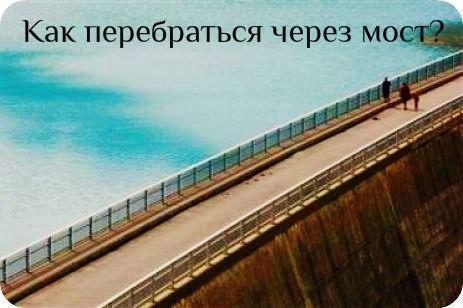 During the Second World War, the gap between Germany and Switzerland was a bridge. His guarded German sentry. He was ordered to shoot anyone who tries to escape from Germany to Switzerland over the bridge and return back those who do not have permission to enter Germany. All was on the German side of the bridge. He sat in the booth and every three minutes went outside to inspect the bridge.
There was one woman who had to urgently get to Switzerland. She could not get permission to do so. She knew she could penetrate the bridge when hour sitting in the booth, but to go all the bridge, took five or six minutes. On the bridge there was nowhere to hide, and the time could easily shoot her if he saw that she was going to Switzerland. How she was able to cross the bridge?
Answer:
.
.
.
.
.
.
.
.
.
.
.
The woman waited to watch went into his booth. Then she entered the bridge and went to the Swiss border. It was about 3 minutes, then stopped, turned around and went back to Germany. All went outside and saw her. When she came to him, he saw that this woman does not have permission to enter Germany, and so sent it back to Switzerland.