All say that the little black dress is the most important and versatile piece of women's wardrobe. But we believe he has a very serious competitor — blouse, because it can be combined with anything. You can wear it with jeans, skirt, pants, shorts, or tie on top of bodycon dresses. So if you want to update your wardrobe, start with blouses.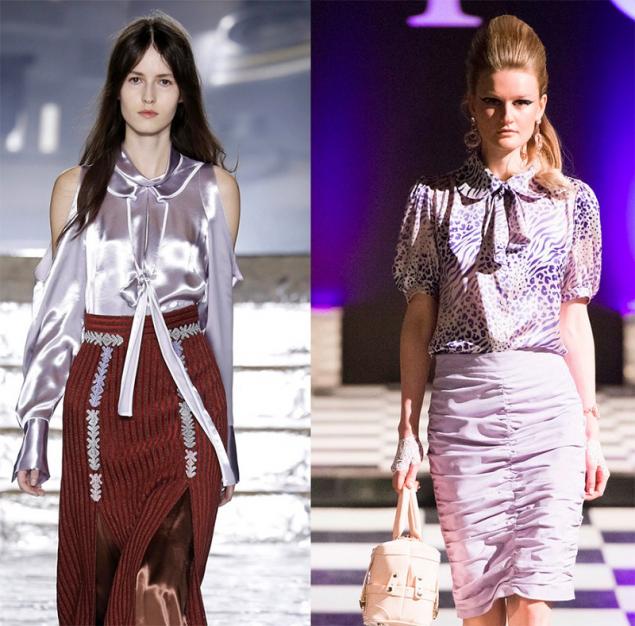 This year in fashion lightweight fabric and mesh. Forget about the unisex shirts and boldly wear
a feminine blouse
with bell sleeves, a deep neckline and lace. You need to look elegant, but sexy. The editors of
"Site"
has prepared for you a selection of interesting models.
Fashion blouses — 2017
In 2017 it is fashionable to expose parts of the body. So semi-transparent lace or net blouses the best in the business assistants.




Bare shoulders are in trend since last year. I agree, these things look like very feminine. They can be absolutely any cut.




The combination of translucent fabrics with velvet looks amazing. Very stylish to wear under such a thing lace bodice or top. But this bold variant is suitable only for women with toned figure.




Stripes and polka dots, too, can surprise, if you move away from the usual black and white.




Not surprisingly, the fashion collections of famous designers are the most common white blouse. This is a universal thing, which can complement both business attire and festive attire, and even casual bow. Pay attention to the asymmetrical design.



Floral and animal print continues to delight fashionistas. Only it should not be very bright and aggressive.



To decorate your shirts, the designers used numerous flounces, bows, fringe, ruffles. As for the size of the bow, then there are no rules. It can be huge, can be average. Importantly, the color looked good on you and the blouse was comfortable.



Combine loose tops with pants or skirts with high waist. Looks very cool.



All the designers used embroidery in their spring-summer collections. It can be completely different: flowers, ornaments, animals.



The top two buttons to fasten is not worth it. After all, the fashion house took a course on sexuality. Acceptable necklines to the navel.



Another fashionable trend that has moved on tunics and blouses. Different geometric shapes assembled on the clothes in a fancy pattern. When well-chosen instance, a full lady not only wearing fashionable, but also visually drop a few pounds.



Every fashionista owes this year to add to your wardrobe a blouse with a flared or voluminous sleeves.



Don't forget about the fresh and delicate colors.



The blouse with the choker on the neck is very relevant. They look very feminine.



Blouses one shoulder will add flavor to any look. Look very interesting and unusual.



Just get
stylish blouse
which will complement the already existing images. As you can see, this article of clothing was presented in a variety of colors, with different necklines neckline, long sleeveless, with a variety of decorative elements.
Follow fashion, but don't forget about individuality. Share your selection with friends!
Now everyone can publish articles
Try this first! To WRITE an ARTICLE the Author

Oksana Dudnik Loves painting, ready to admire the pictures all the time! Oksana knows a lot about perfumes, well versed in fashion trends and will give odds to many well-known beauty bloggers. Her love of sport supported by sports category in sailing! Xenia prefers meat dishes, can not imagine a day without them. Favorite book charming girls — "the Emperor" Niccolo Machiavelli.