Good day, comrades!
Today I replenish hub
old iron
another post about computing production GDR.
As you remember, Habré was already scoping post computer
Robotron CM 1910
, and judging by the number of comments and pros clones gourmet computers made friends from the German Democratic Republic, still not impress fans of museum exhibits.
This time we will focus on PC XT compatible computer
Robotron EC 1834 , which is also like its predecessor Robotron CM 1910 for a long time (right up to 2001) was used in one of the Russian NII.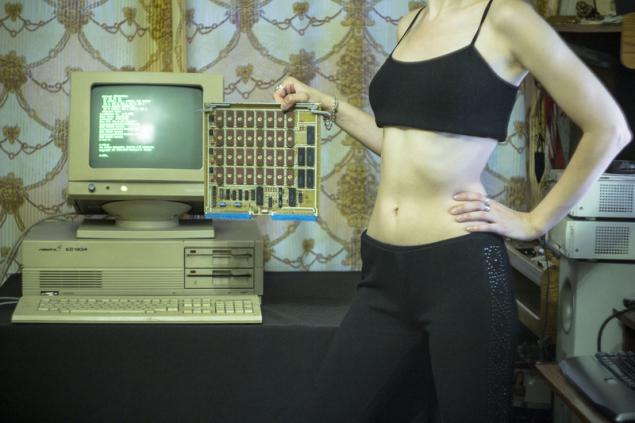 Computer Robotron EC 1834 - the first of a series of computer EU PC < / a>, produced since 1986 factory VEB Robotron-Elektronik Dresden and Fachgebiet Geräte E2 in Karl-Marx-Stadt (now Chemnitz, Germany), as well as the company VEB Robotron-Büromaschinenwerk "Ernst Thälmann" in Sommerda. The cost of a computer in 1988 amounted to 59,589 German marks, and you can save much money by buying a model without a hard drive (such a model is completed with four drives for a 5 & quot; floppy disks) for only 39,044 DM.

In the Soviet Union and the countries of the CMEA computer Robotron EC 1834 has been widely used in many fields of industry and research programs, including:


as part of the CAD / GAP, for example in engineering, electronics and construction; to solve economic problems in accounting, in invoicing, maintaining control over inventory, payroll, graphic image parameters and t. n.; to solve scientific and technical problems, such as modeling, problem of measuring equipment and small tasks knowledge processing; in the search and information systems to support decision decisions and others. Specifications computer Robotron EC in 1834.


Processor: K1810BM86 or similar. Clock Speed ​​- 4, 9152 MHz. Coprocessor: K1810VM87 or similar compatible with Intel 8087. Memory: 256KB on-chip RAM on the motherboard. Expandable to 640kB via expansion card or K3575.10 to 1MB using two such boards (unconfirmed information). Hard disk: MFM, volume - 20, 9 MB (model K5504.20), sometimes 43, 5Mb (model K5504.50). It is possible to install two hard disks in the presence of a second HDD controller and the free space in the mounting sleeve. Drive: 5 & quot; DD 360K / 720KB, 2 pcs. Installation of 4 drives (on the seats for the HDD). Graphics card: monochrome or color MON K7031 COL K7033.10 (maximum resolution - 640x480, CGA- and EGA-compatible) . Simultaneous operation of two video cards (MON and COL). Slots for expansion cards: 8 pcs, EFS (connectors with 96 pins in three rows). Modification EC 1834.01 (EC 1834.M) had EFS and 6 pcs 2 pcs ISA. According to unconfirmed reports, export models are fully equipped with a slot ISA. port controller: parallel port - expansion board K6075, serial port (V.24 / IFSS) - expansion board K8075. 10 adapter Rolanet - K8625.10 expansion card and other. Display: computer supplied with one of these monitors -
12 & quot; monochrome (black and green) monitor K7229.25, 80x25 characters in text mode, the maximum resolution of 640x480 dpi in graphical mode, the horizontal frequency of 32 kHz, vertical frequency of 50 Hz. 14 & quot; K7233 color monitor with characteristics similar to the monitor K7229.25, palette of 4 colors. Sound: speaker-tweeter (Speaker). Operating System: DCP-DOS (clone of MS-DOS), < a href = "http://robotrontechnik.de/html/software/mutos.htm"> MUTOS1834 (clone of Unix). Power consumption: 180 W . Weight: 28, 5 kg. Appearance.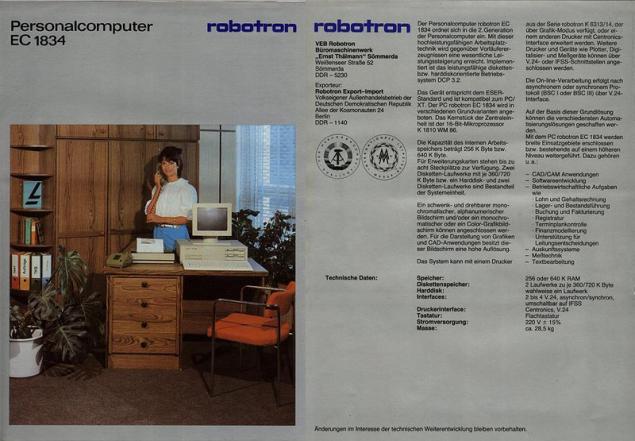 Appearance computer Robotron EC 1834 is no different from conventional IBM PC XT.

The system case is made of thick metal, front and rear overhead panels are made of plastic.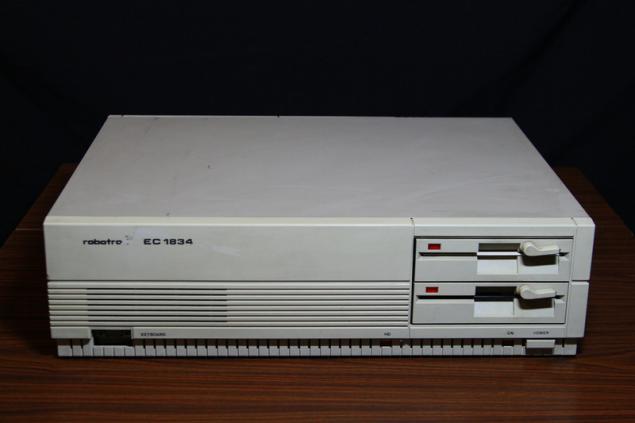 The front panel power button, two compartments for 5 & quot; disk drives, a pair of red LEDs and a connector for the keyboard. The Reset button is missing.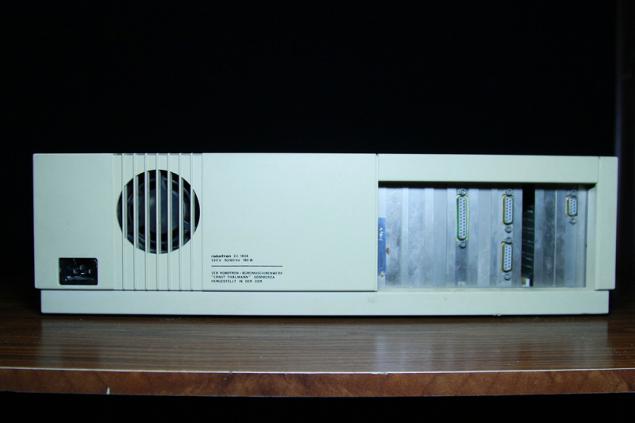 On the back of the computer located: power connector, fan bays for expansion cards.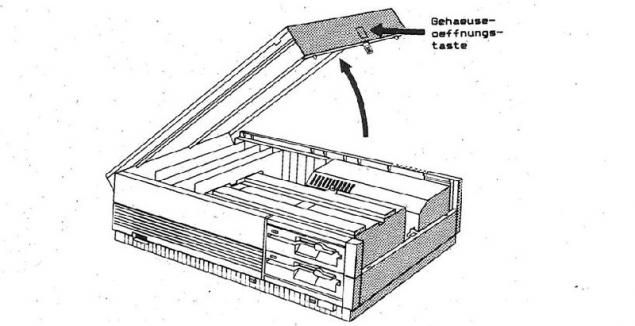 The cover of the system unit is fixed in the closed state special latch. To open the case, you should click on the button located on the right-hand wall.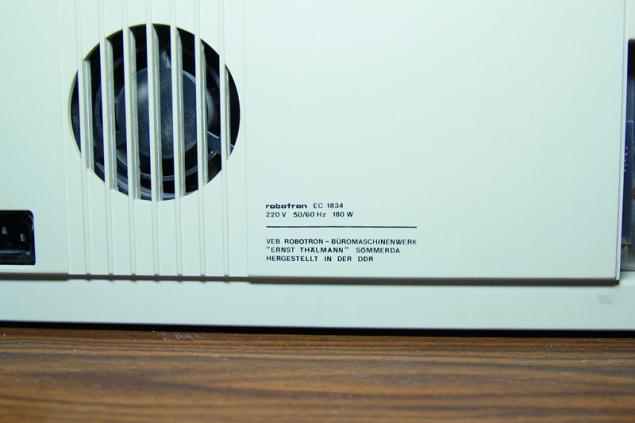 As you can see, this instance computer Robotron EC 1834 was released in Sommerda.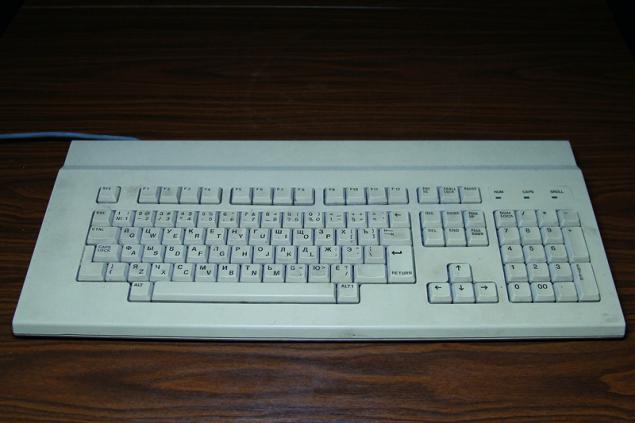 Keyboard K7673.03 has practically standard button layout and layout adapted for Russian users.

Monitor K7229.25, get me a computer Robotron EC 1834 - monochrome, black and green, with a diagonal of 12 inches. Monitor case is made of metal. Top and bottom ventilation openings.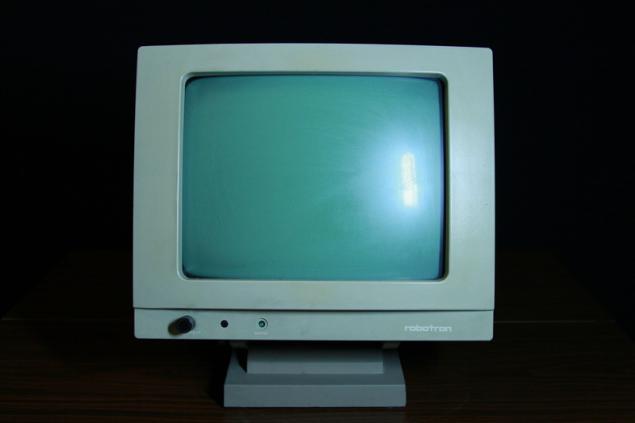 On the front of the monitor cabinet, just below the screen of a cathode-ray tube is the power indicator light and the brightness adjustment knob.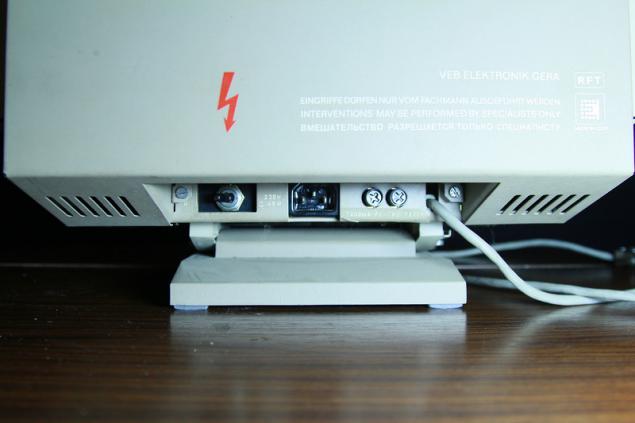 On the back side of the case is the toggle switch power connector for the power cable and a couple of fuses.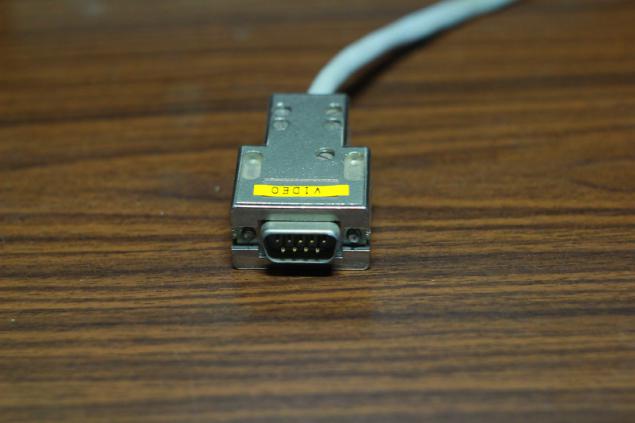 Monitor Connector - DB9.

Internal device. B>

Monitor. I>

In the post about Robotron CM 1910 I was too lazy and did not photograph the insides of the monitor. Who will correct this misunderstanding: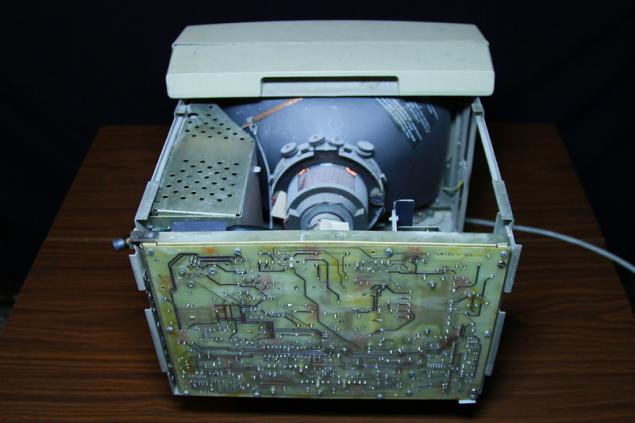 Monitor with removed rear wall.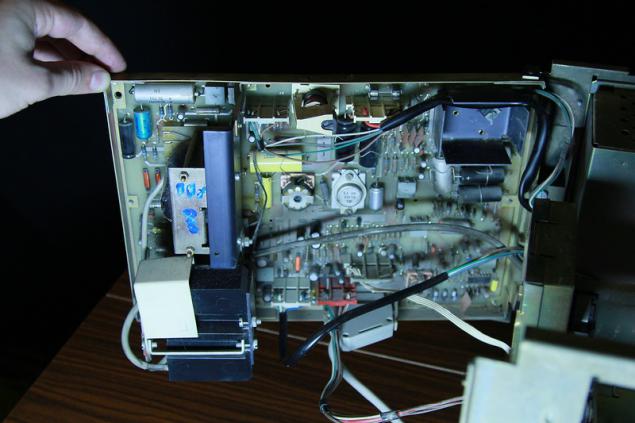 Chassis with electronics.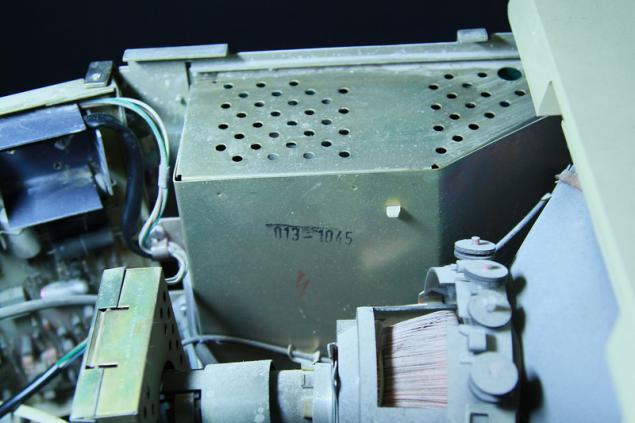 Power supply monitor.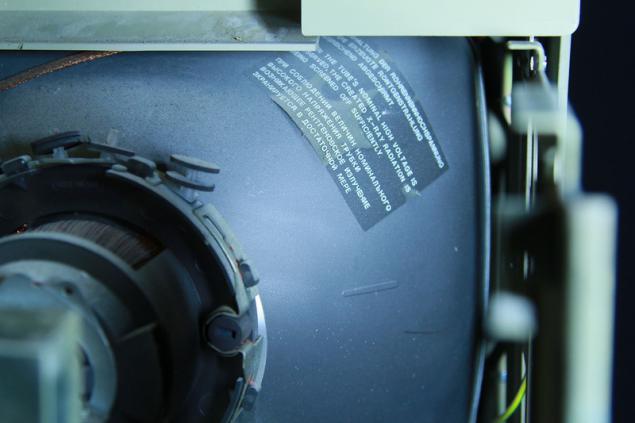 Kinescope with soothing inscription in three languages.

The contents of the system unit. I>

Easy access to computer components Robotron EC 1834 is provided by an original cover, hood, attached to the computer by using loops. It is fixed without screws, only one button latch and hinges allow you to completely remove the cover in one easy motion (to make this action necessary towards the rear of the case, of course keeping open the lid by hand).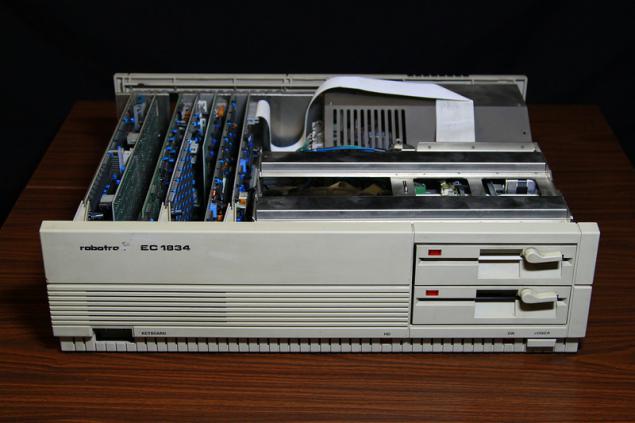 Front and rear plastic overlay is also attached absolutely no screws, using plastic grooves and latches.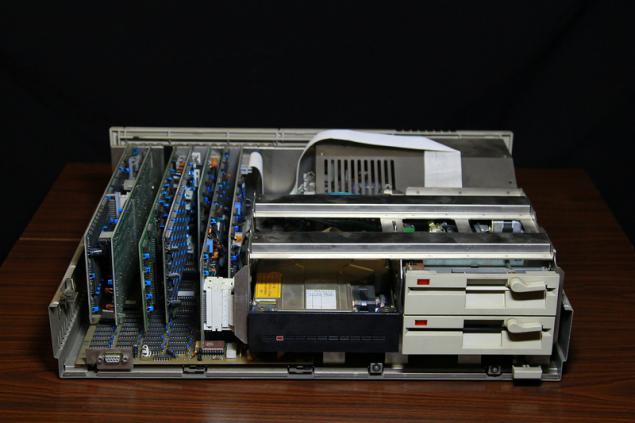 Remove the above parts of the body.

Shopping for hard disks and drives natural position is fixed with two screws and a metal tongue.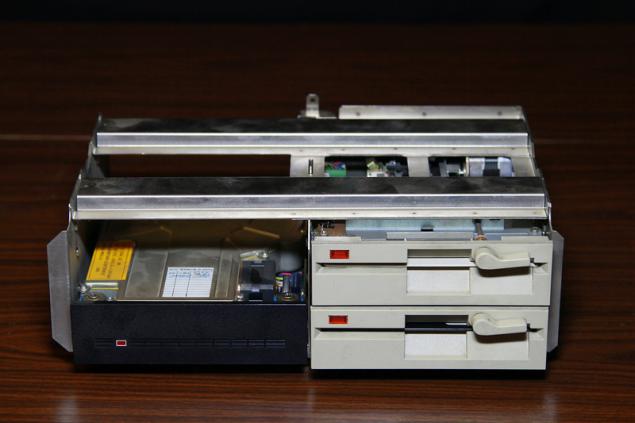 Unscrew the two screws above and pulling up the tab, you can remove the basket from the computer together with all its contents. Just remember to disconnect the cables and power cables from the drives and HDD, otherwise nothing happens.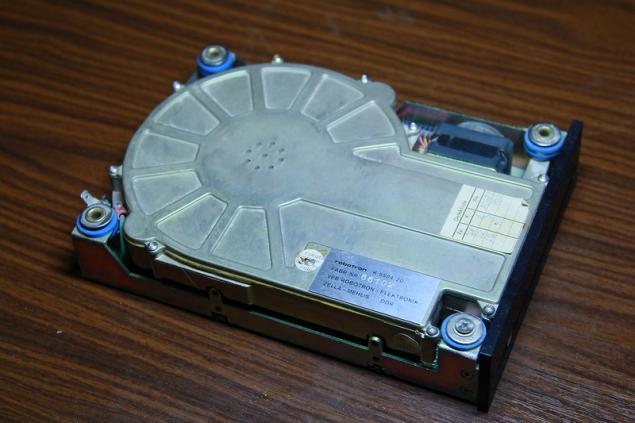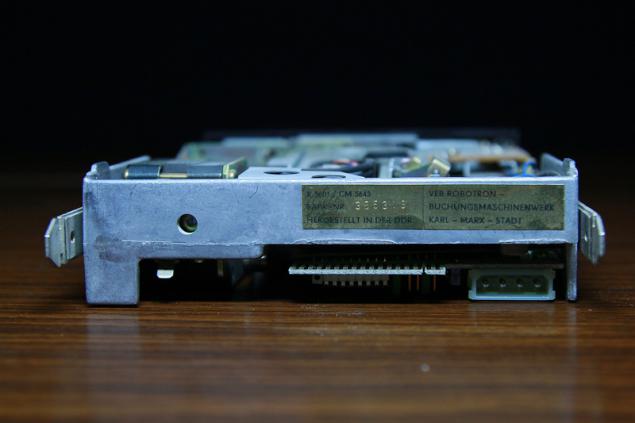 In the cart there are two 5 & quot; Drive K5601 / CM5643 double density floppy to the hard disk and 720KB K5504.20 of 20, 9Mb.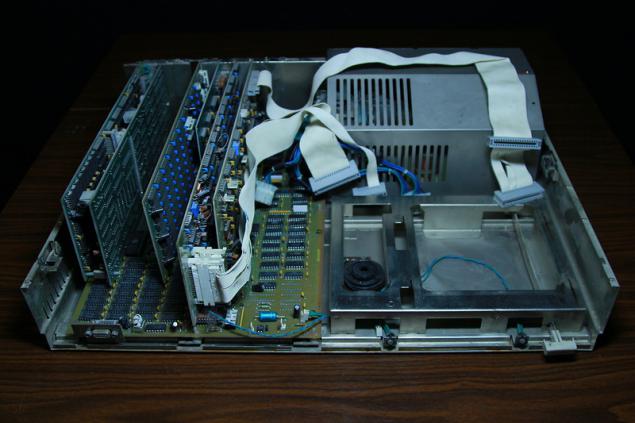 Just behind the basket is a power unit with 180 W output voltages +5, +12, -12, -5 V. He, like all decent power supplies, fixed to the housing with screws.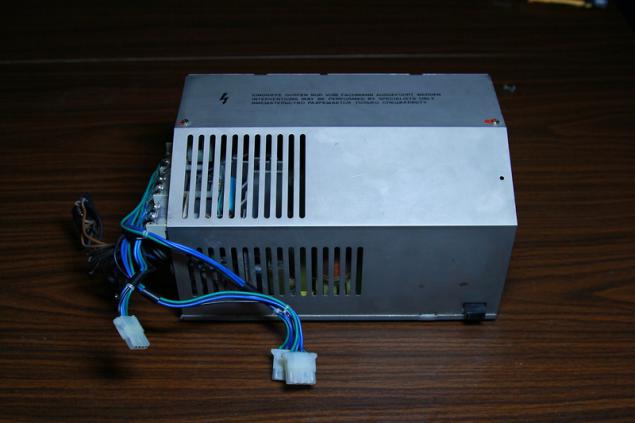 Remove the power supply.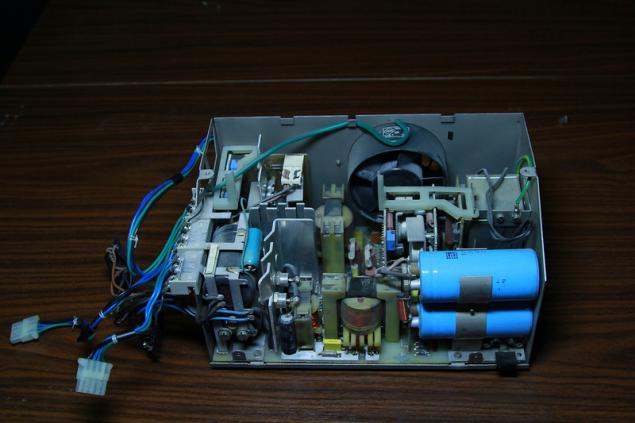 You can now open the metal casing BP and chase bugs and spiders from his insides.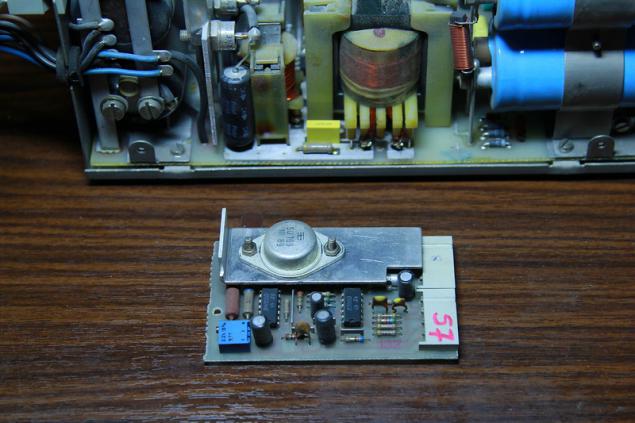 Inside the power supply are small modules, which are very easy to change in the event of their failure.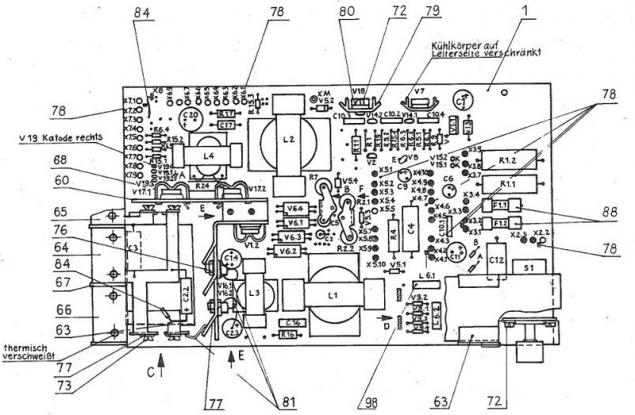 Location of electronic components on the main board of the PSU can be seen in this image.

Close the power supply, look no further.

Motherboard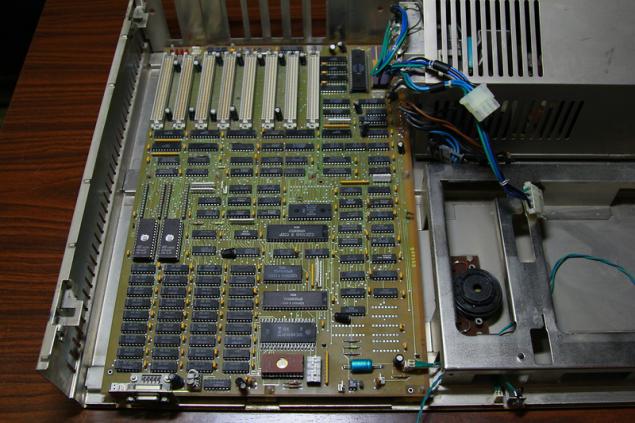 Indeed, unlike the computer Robotron CM 1910 , a model Robotron EC 1834 you can see the very real motherboard!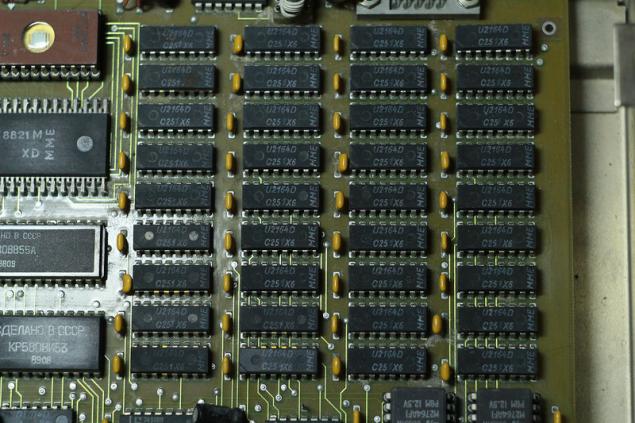 Quite a large part of the parent chamber occupy chip RAM U2164D (analog Soviet KR565RU5D) Volume 64 kb in the amount of 36 pieces. The total amount of RAM soldered on the motherboard is 256Kb.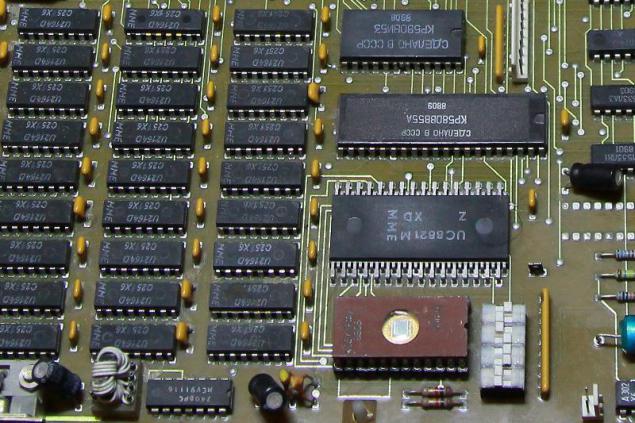 Computer Configuration (RAM, the presence of the coprocessor, the number of drives and so on) is set using DIP-switches.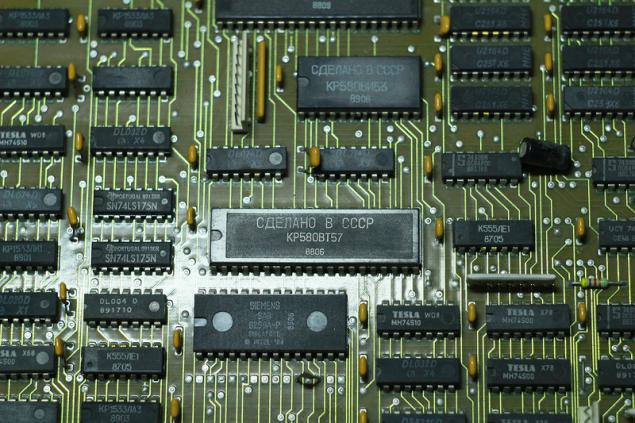 Due to the absence in the CMEA countries controller DMA, similar i8237, in ES1834 controller applied KR580VT57 (this chip proudly says "Made in USSR") with three additional 4-bit registers for addressing. Such a circuit solution has led to the loss of the possibility of transferring information from one memory location to another.

To put it mildly, the domestic production of chips used very little. Instead of trying to put processors K1810BM86 similar chip SAB8086-P production: Siemens, therefore found in the nature of "real" Soviet processor is difficult. But I was lucky, and in one of my existing copies of the computer Robotron EC 1834 has been set here is such a handsome man: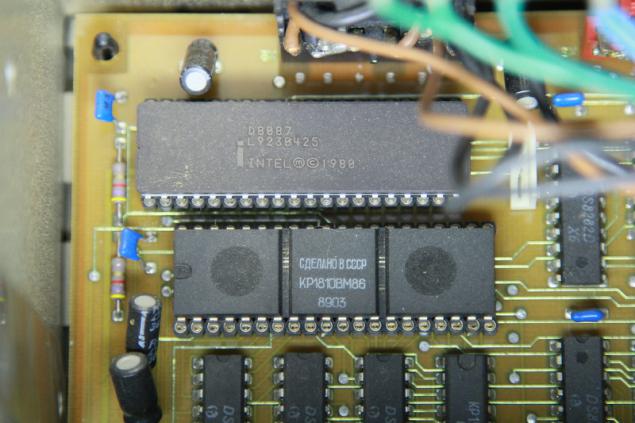 K1810BM86 processor, made in the USSR.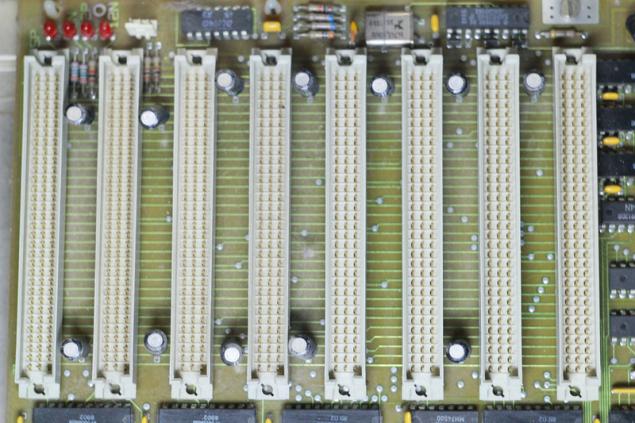 Expansion cards are installed in slots EFS, having 96 contacts arranged in three rows. This motherboard has 8 connectors EFS for expansion cards, but there were other modifications motherboards (eg models and EC 1834.01 EC 1834.M), which used a standard slot ISA, allowing to use "Western" components, such as video or networking adapters.





Since the 16-bit bus IO computer Robotron EC 1834 has been almost completely compatible with the ISA, it was possible to connect a conventional ("bourgeois") expansion card and without soldered on the motherboard slots ISA. For such a perversion only need to solder the appropriate adapter.

For those who want a better view of computer motherboard Robotron EC 1834 , I suggest download picture similar charges in high resolution.

Computer motherboard Robotron EC 1834 allows the simultaneous use of up to 8 cards. A short list of these maps is shown in Table № 1.

Name
Model
Short name
Purpose
Note
013-1201
K3575.10
OPS
Memory
384k RAM
018-1216
K5132.10
HDC
hard disk controller
support two hard drives
013-1203
K7031
MON
monochrome display adapter
text mode only
013-1202
- ASC
Serial Port Adapter
support two ports with interface V.24
013-1207
K8031.10
KIF
controller interface KIF
expansion card to connect to a compatible PC with a standard ESER
013-1211
K8075.10
ASK
Serial Port Adapter
support two ports V.24 or IFSS
013-1213
K8075.20
ASL K8075
Adapter for serial communication over fiber optic cable
Interface Board for the two fiber ports (asynchronous, full duplex), 50-19200 baud, 1000 m.
062-9315
K5131.10
HDC
another hard disk controller
support two hard drives
062-9325
K7033.10
COL
color video adapter
video card that supports graphics mode
062-9326
K8625.10
ROL
Adapter Rolanet
controller LAN ROLANET (Robotron Local Area Network)
093-3200
K6075
PRI
LPT port adapter
parallel port to connect the LPT printer
093-3200
K5175.10
FDC
controller drives (FDD)
Support for up to four drives K5601
?
- LAN
LAN adapter
LAN controller LOTUNET
?
K2075.10
BK600
expansion card ("accelerator»)
Expansion card with an additional processor U80601 (by the way, Intel 80286 compatible! !!!) and 1 MB of RAM
Table number 1. I>

Let's see how they look on cards that are in my computer Robotron EC 1834

Color display adapter COL K7033.10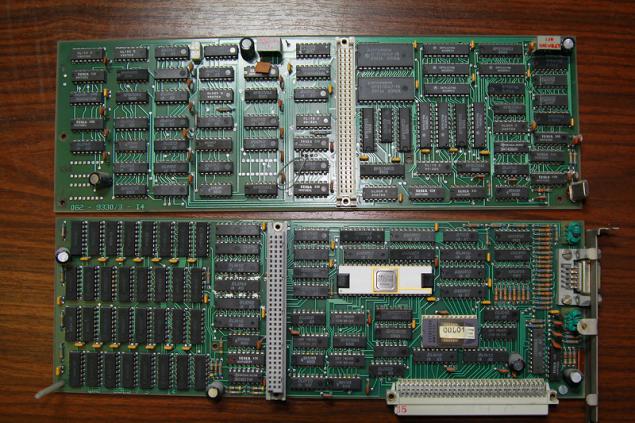 Video card K7033.10 comprises two PCBs interconnected by a connector with three rows of contacts. Installed video card because of his size occupies two expansion slots, and thus only six slots remain free.

The heart of this card is a graphics processor NEC D7220AD, and video memory chips recruited from 32 labeled 4164/15.

To pair the monitor with a video card, use the connector K7033.10 DB9. However, due to the peculiarities of the video mode of the graphics card, you can connect your computer Robotron EC 1834 to most modern VGA monitors junction appropriate adapter, which you can find the pinout below:

15-pin VGA
9-pin Video
3 5 2 4 1 3 10 2 11 1 13 9 < 14 8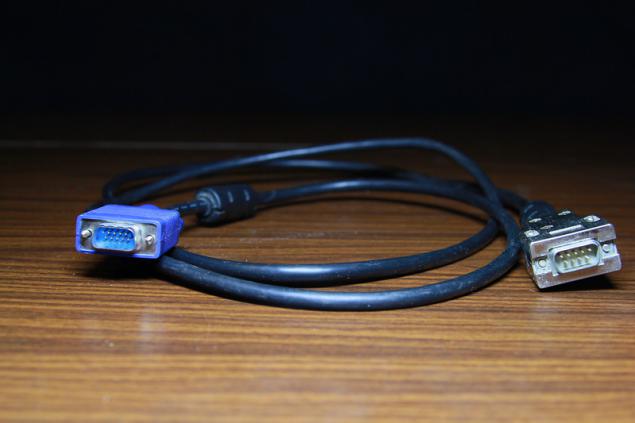 The result should get something similar.

Just want to warn you that some of the monitors connected on such a scheme may not work or not work correctly (artifacts). For example, the monitor Samsung SyncMaster T190GN flatly refused to display images on the screen, while the LG Flatron W2343T monitor was not as finicky: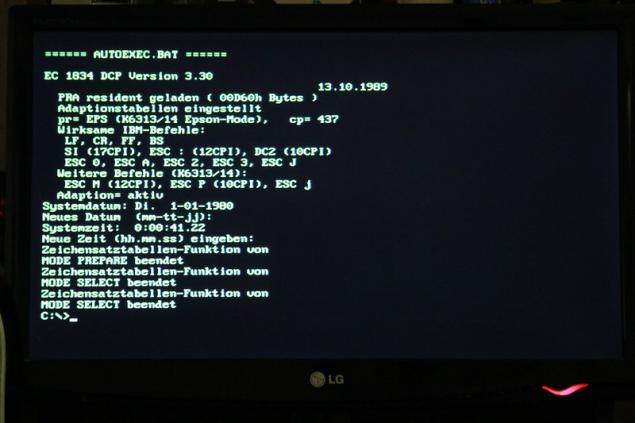 Computer image Robotron EC 1834 on the LCD monitor LG Flatron W2343T.

Parallel port PRI K6075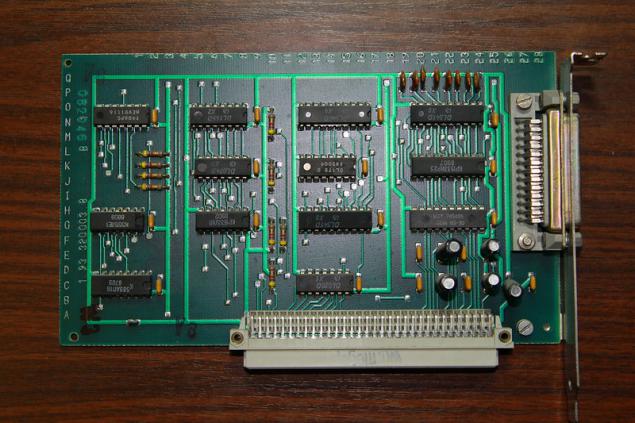 Parallel port adapter is not anything interesting.

Map Expansion RAM OPS K3575.10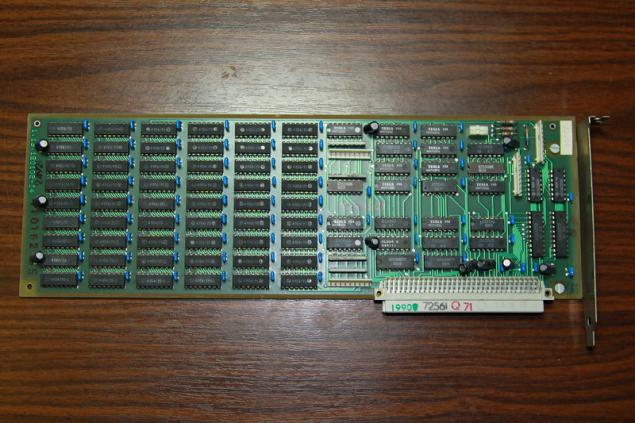 Extension card has 54 chips 4164/15. Total: 384kb RAM.

Hard Drive Controller HDC K5132.10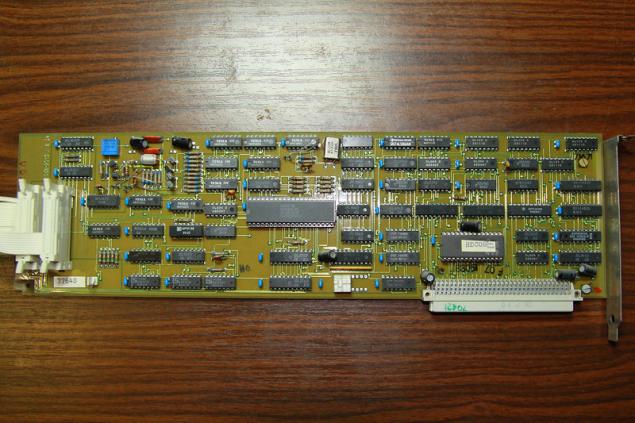 The basis of the hard disk controller chip is WD1010A-PL.

Serial Port Adapter ASK K8075.10




This card has two 15-pin connectors, each of which can act as a V.24 interface or IFSS.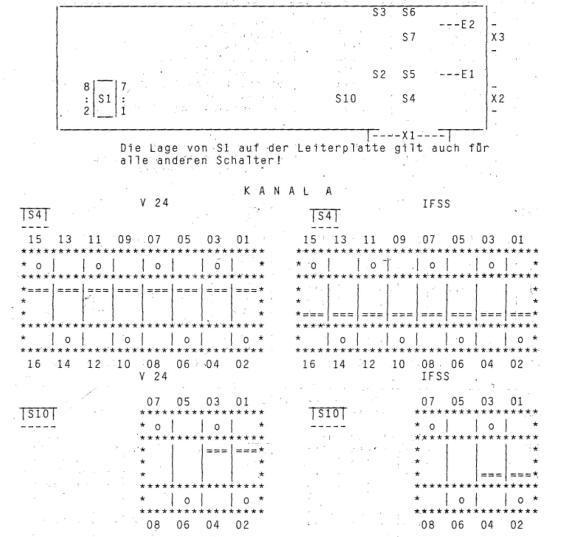 Adapter Configuration ASK K8075.10 performed using DIP-switches.

floppy controller FDC K5175.10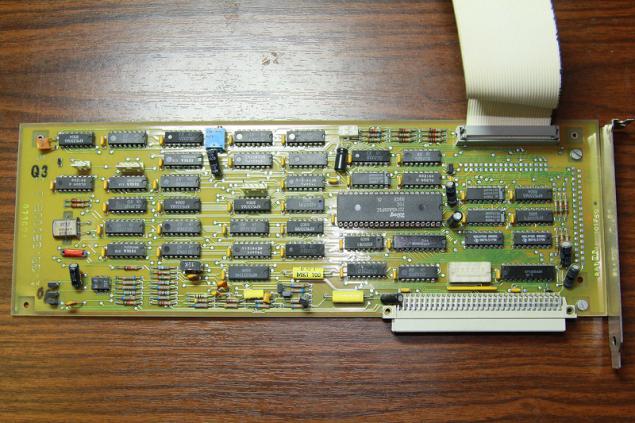 Work floppy controller provides specialized chip Zilog Z0765A08PSC.

Software

Operating Systems. I>

Computer Robotron EC 1834 is running an operating system DCP-DOS 3.30 or MUTOS1834.

DCP-DOS 3.30 - clone OS MS-DOS, taking into account the features of the software and hardware of computers Robotron EC 1834.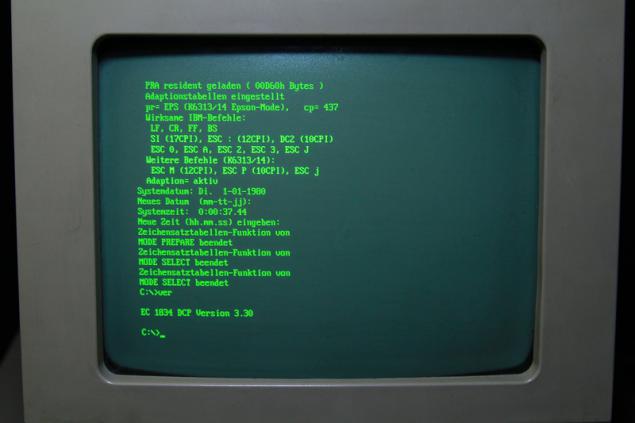 Commands and utilities are included in the DCP-DOS operating system in most cases perform similar functions as in MS-DOS, except for the specific drivers and utilities for configuring the hardware.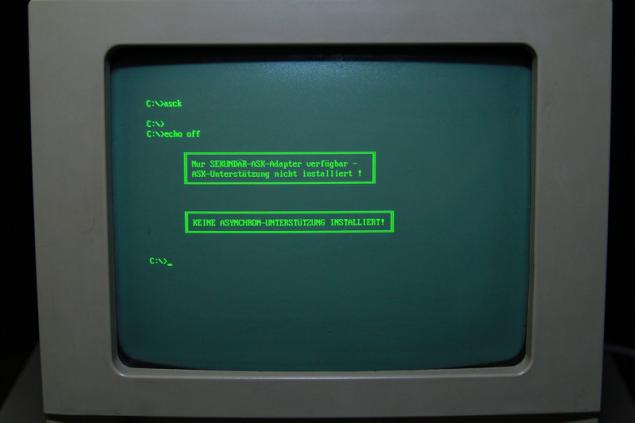 For example, in the DCP-DOS 3.30 guest team ASCK, designed to ensure compatibility of programs that interact with the controller serial ports on standard IO address IBM PC XT with expansion cards ASK / ASC.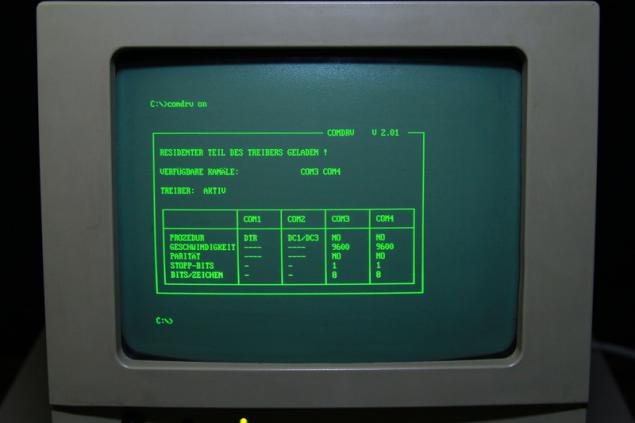 A driver is required for interaction COMDRV application with serial port IO via interrupt INT 14H.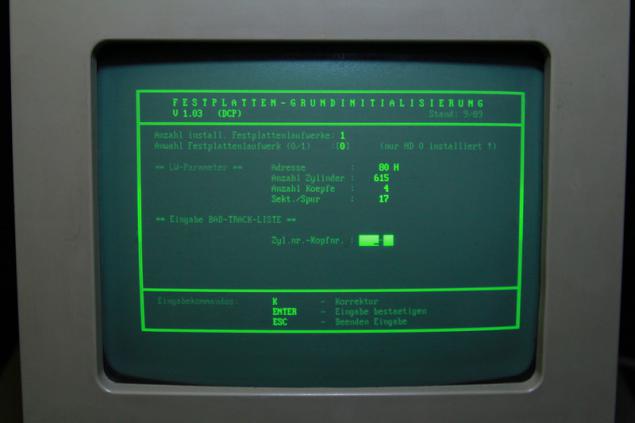 In addition, in the DCP-DOS 3.30 includes a utility for low-level formatting MFM hard drives HDINIT. Her, and she should only use when you have problems with the HDD. Low-level format of the program written for the IBM PC XT working on a computer in 1834 Robotron EC incorrectly - or does not define a hard disk, or when formatting complain sector not found.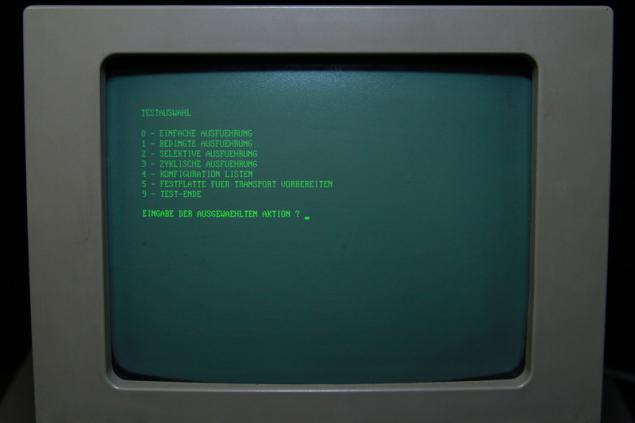 Given the specificity of the hardware, upsetting the absence of diagnostic programs as part of the OS DCP-DOS 3.30. However, the diagnostic program itself, of course, exists, and is called quite uncomplicated: ECDIAG .

MUTOS1834 is the operating system Unix, adapted for Robotron EC 1834.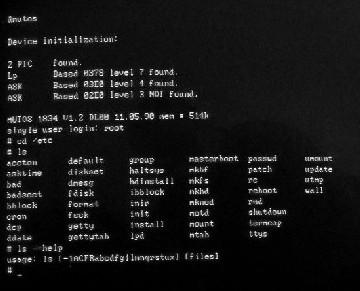 Source: robotrontechnik.de i>

Unfortunately, I have not had to deal with it, and the Internet has no floppy disk image of the operating system.

In addition to these operating systems, the computer Robotron EC 1834 can use any version of MS-DOS, but the specific hardware (controllers, serial ports, network adapters, and so on) in this case will not work due to a lack in the composition of OS MS -DOS custom drivers and utilities.

Application software. I>

It is worth noting that there was quite a large number of software developed for daily needs as well as for industrial use. Given the fact that most programs written for the IBM PC XT can be run on a computer Robotron EC in 1834, the scope of this computer is not particularly limited.

Design software: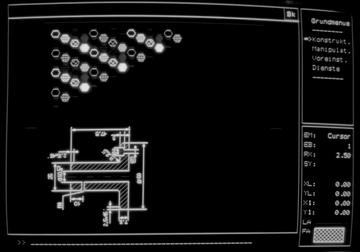 GEDIT 2. Source: robotrontechnik.de i>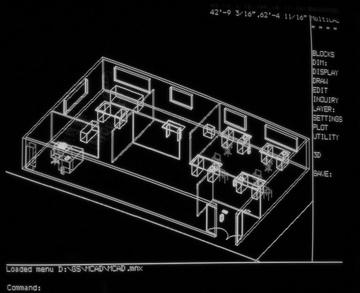 MultiCAD. Source: robotrontechnik.de i>

Programming: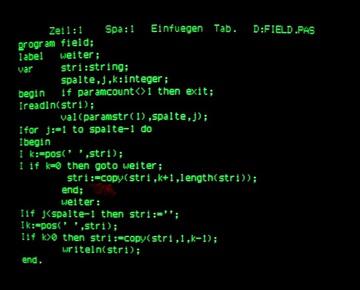 Pascal. Source: robotrontechnik.de i>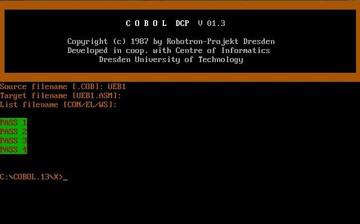 COBOL. Source: robotrontechnik.de i>

Text editors: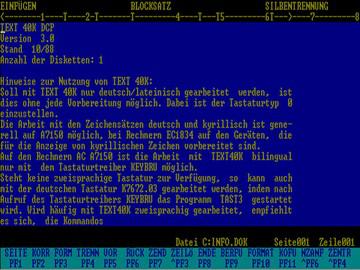 TEXTnet40. Source: robotrontechnik.de i>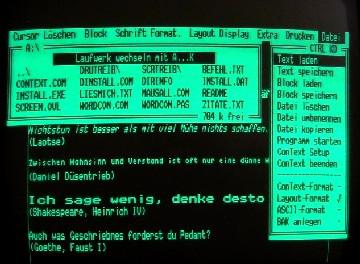 CONTEXT.