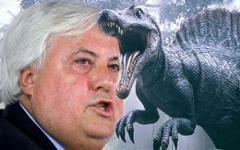 Australian coal magnate Clive Palmer intends to resurrect dinosaurs and to create in Australia, near his resort in Brisbane, Jurassic Park. It is reported by KSL.
Businessman has already started to implement its plan, he agreed with the scientists involved in the cloning of Dolly the sheep. Palmer hopes that preserved dinosaur DNA to help them revive.
The billionaire has bought a large plot of land, enclosed on all sides by water. As planned by the initiator for the lizards could be organized in a natural habitat. Palmer does not consider variants with cells similar to those that normally live animals in zoos. Also in the plans of a businessman - accommodation in the park of a giant ferris wheel and hotels.
Palmer's idea aroused skepticism of scientists and experts. They argue that genes such ancient creatures have been razed to the swept, and bring them back to life will never succeed.
Spring 2012 mogul announced his intention to create an exact copy of "Titanic" and send it to sea in 2016, ensuring compliance with all safety measures.